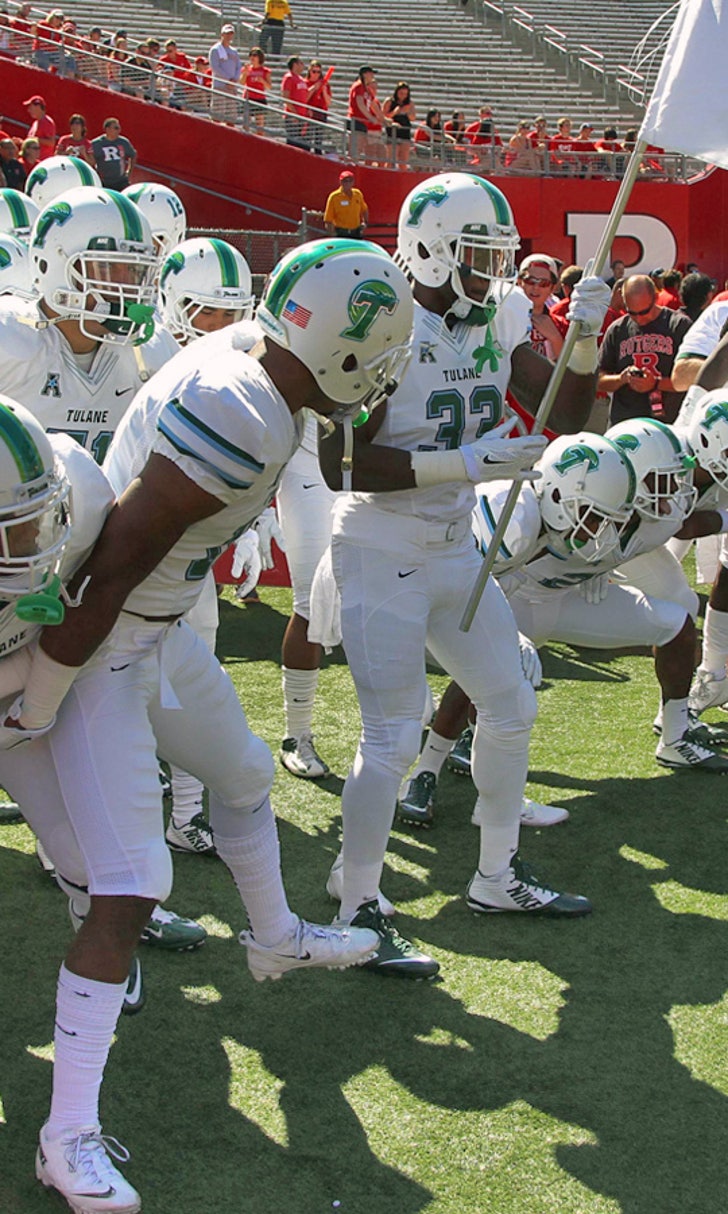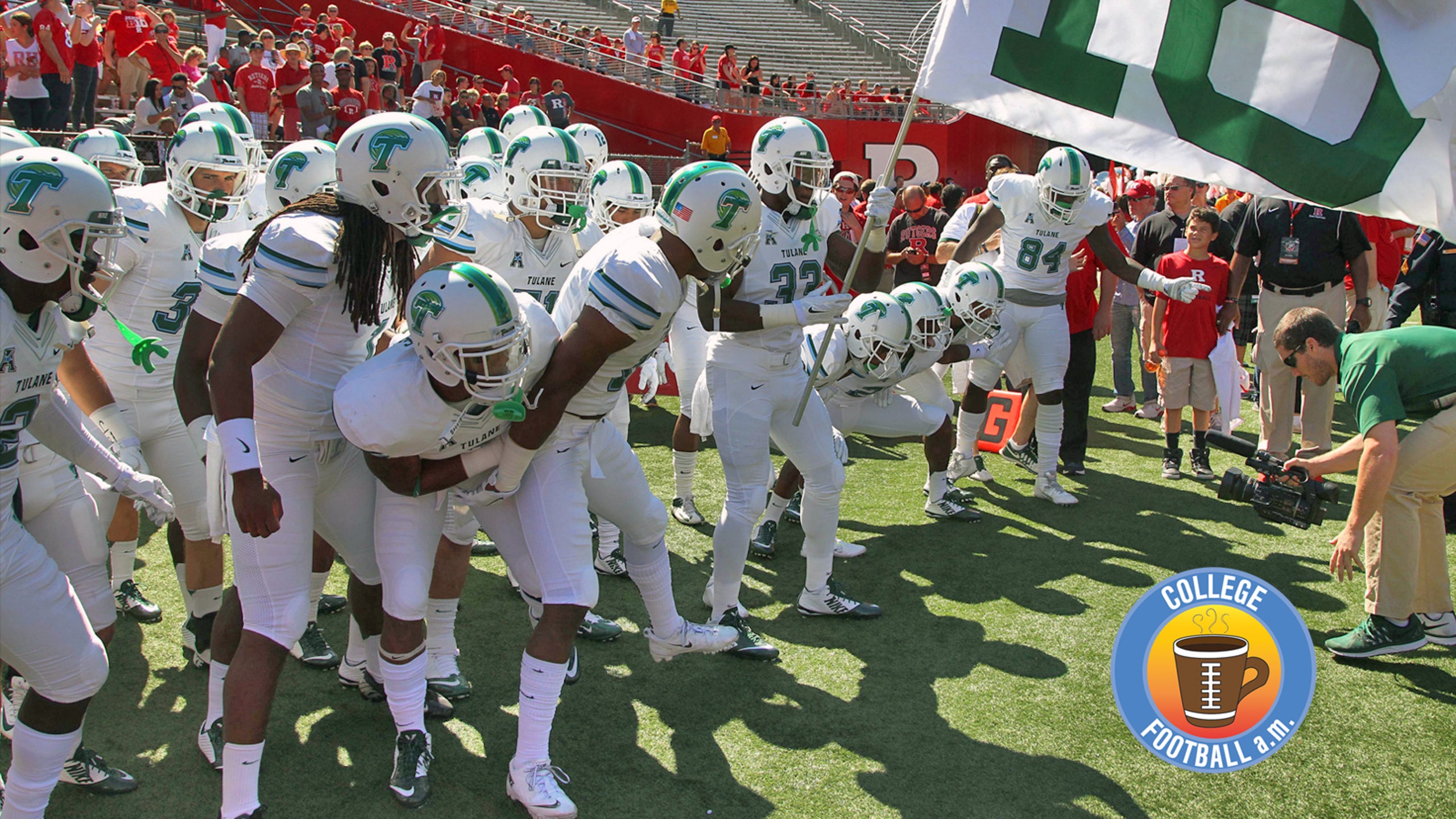 CFB AM: Watch Tulane senior crush anthem before his last game ever
BY Teddy Mitrosilis • December 9, 2014
Kenny Welcome will always have this.
On Senior Night last Saturday, the Tulane defensive tackle put on an incredible performance – before the game.
Welcome, a redshirt senior, sang the national anthem before the Green Wave played Temple. To get the gig, Welcome auditioned by singing Stevie Wonder's "Isn't She Lovely" to the Tulane marketing department. They loved it and told Welcome he'd sing the Star-Spangled Banner.
It just happened to also be the last football game of Welcome's career. A redshirt senior, Welcome is a role player at Tulane and not an NFL prospect, and the 3-9 Green Wave won't be going to a bowl game. So this is the end of the road for Welcome's playing days. What a way to go out.
Here's the video. If this is any indication, Welcome's musical journey is just beginning.
THREE THINGS YOU NEED TO KNOW
1. The Heisman Trophy finalists were announced on Monday: Oregon QB Marcus Mariota, Alabama WR Amari Cooper and Wisconsin RB Melvin Gordon will be in New York on Saturday night. It should be a runaway Mariota victory, which won't lead to a lot of interest in the trophy presentation, but I hope that doesn't mean nobody pays attention. These three have had incredible seasons, and Mariota has had an all-timer that I'm not sure we'll see again for a long time, if at all. It's precision, efficiency and execution beyond words.
2. For whatever it's worth: Despite some chatter that Miami coach Al Golden would be better off at another program, Canes AD Blake James reiterated on Monday that Golden has the support of UM administration and will be Miami's coach next season. ''As I said earlier, 6-6 isn't acceptable at the University of Miami,'' James said. ''We need to get better as a program and I'm confident we have the guy that's going to do that. I'll continue to support Al.''
3. Central Michigan is heading to the Bahamas Bowl, and how the staff revealed it to the players was brilliant. They put six bowls on a projector and, one by one, dropped them off as the Jeopardy! theme song played. They finally got to the bottom two – Quick Lane (Detroit) and the Bahamas – and used a countdown to reveal the winner. You gotta watch this video. It's great.
THREE THINGS YOU SHOULD KNOW
1. Bruce Feldman ranks the top 10 bowls this year. Like everyone else, I can't wait to see Nick Saban against Urban Meyer and one Heisman winner (Jameis Winston) against what will be another this Saturday (Marcus Mariota), but I'm looking forward to that Cotton Bowl as much as anything. Michigan State against Baylor will be a fantastic game, and not just because of MSU's D against Baylor's O. The Spartans' offense deserves its own respect.
2. Fired coach Brady Hoke attended the Michigan team banquet Monday night and got a standing ovation. Numerous players, in addition to AD Jim Hackett and president Mark Schlisel, spoke about the impact Hoke made on the Wolverines during his four years with the program.
"Coach did not have to be here tonight, but he is here," wide receiver Anthony Capatina said. "He's here because he is a man of integrity, a man of honesty, and a man that does things the right way. Thank you, coach."
Punter Will Hagerup, who was suspended from the team in 2012 and sat out all of 2013: "I want to be very clear, so please listen up: Brady Hoke, [director of athletic counseling] Greg Harden, Michigan football saved my life. Coach Hoke risked everything for me. He took bullets for me and my team the entire season. When it comes to caring and believing in his players, Brady Hoke does, more than any head coach in this country."
Cool to see the respect and outpouring of love from the players, which is a reminder of the impact coaches can have on college athletes. Yes, their jobs are defined by wins and losses, but they really do go well beyond that.
3. Navy is ditching its traditional gold helmets for this new look against Army this weekend. I dig it.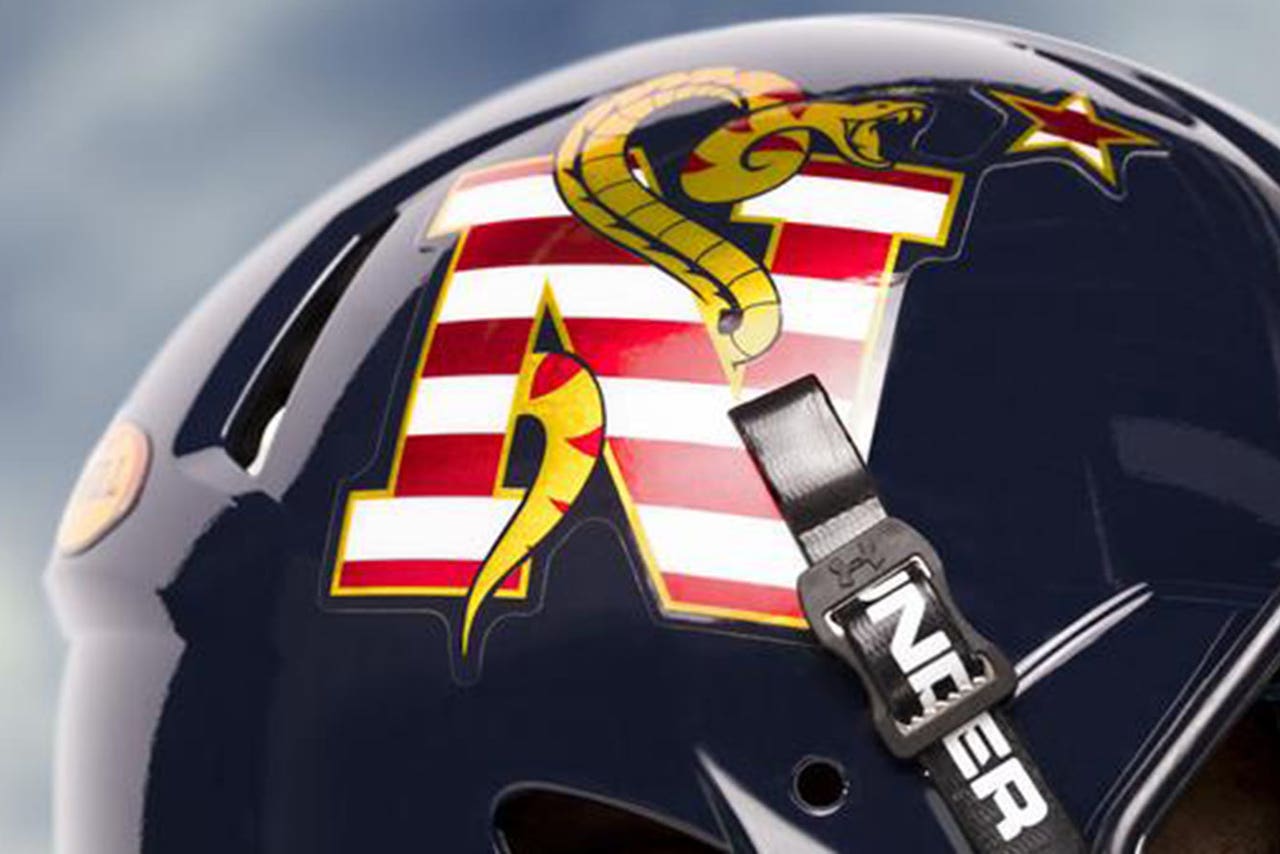 THREE THINGS YOU MAY WANT TO KNOW
1. Butch Jones' name has been tossed around a bit in the coaching rumor mill, with some assuming Tennessee won't be able to keep him long-term, but the Vols are doing their part to make Jones their guy for the long haul. They gave him a raise and contract extension so he can continue his work of rebuilding the program. With Jones' relentless positive energy, there's no reason he can't make Tennessee an elite program again and a playoff contender (being in the SEC East helps). He doesn't need to go anywhere else.
2. Feldman's boy, Arizona linebacker Scooby Wright, was rewarded for his terrific season with the Bronko Nagurski Award, which honors the nation's top defensive player, Monday night in Charlotte. "Coming out of high school I didn't really have too many colleges knocking on my door -- actually nobody really wanted me except Arizona," Wright said. "So I always have that little chip on my shoulder. You always remember those people who didn't think you were good enough. It still motivates me to this day."
ICYMI: Feldman wrote a piece last week about that chip Wright talks about and how he uses it as fuel.
3. Couple coaching notes: Houston head coach Tony Levine will not be back next year. Derek Mason fired defensive coordinator David Kotulski, which now makes four Vanderbilt assistants gone after their first season with the program.
LASTLY
* Texas A&M OC Jake Spavital is playing mind games with WVU head coach Dana Holgorsen, as the two friends and former colleagues will see each other in a bowl game.
* Nick Saban respects the way Urban Meyer and Ohio State recruit.
* Here is a list with all of the gifts (good and bad) bowls will be giving out to players this year.
Have a great Tuesday, everybody.
Teddy Mitrosilis is an editor and writer for FOXSports.com. Follow him on Twitter @TMitrosilis and email him at tmitrosilis@gmail.com.
---