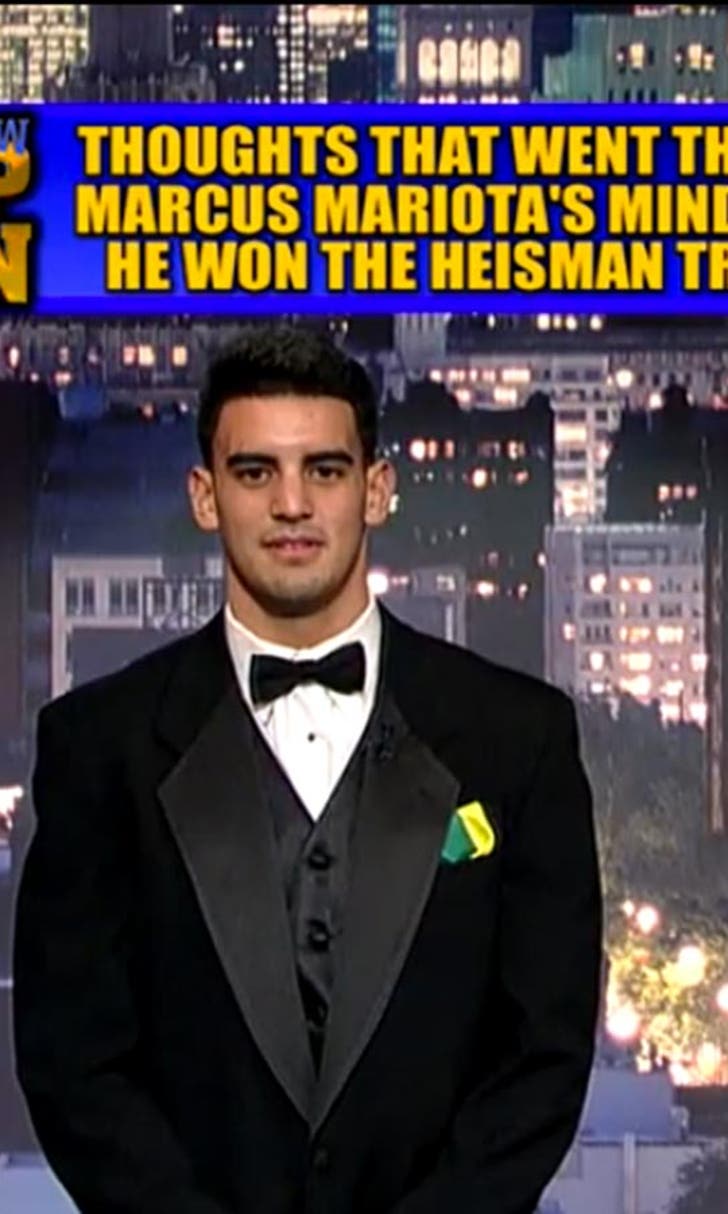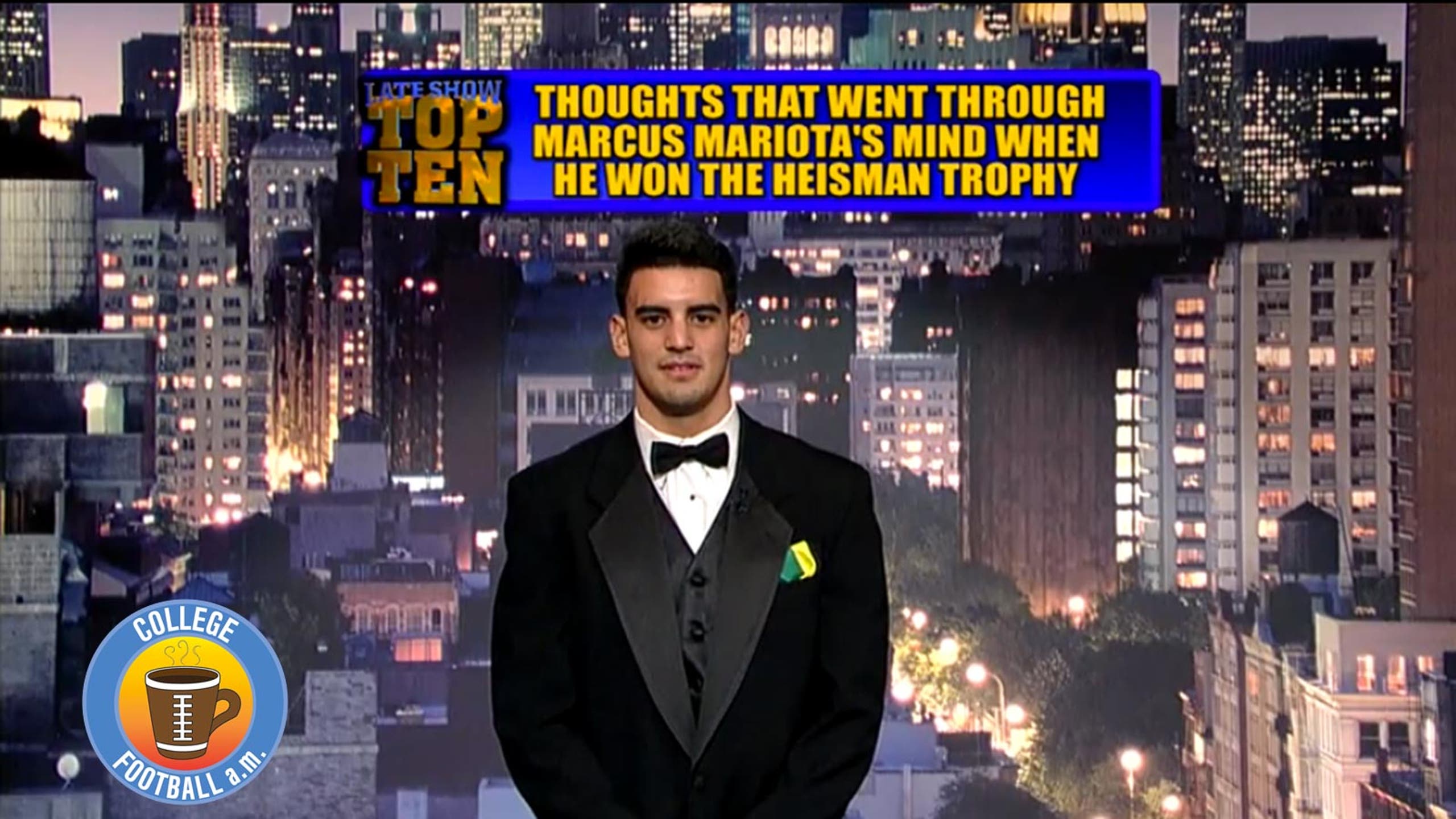 CFB AM: Watch Marcus Mariota diss NFL in David Letterman's top 10
BY Teddy Mitrosilis • December 16, 2014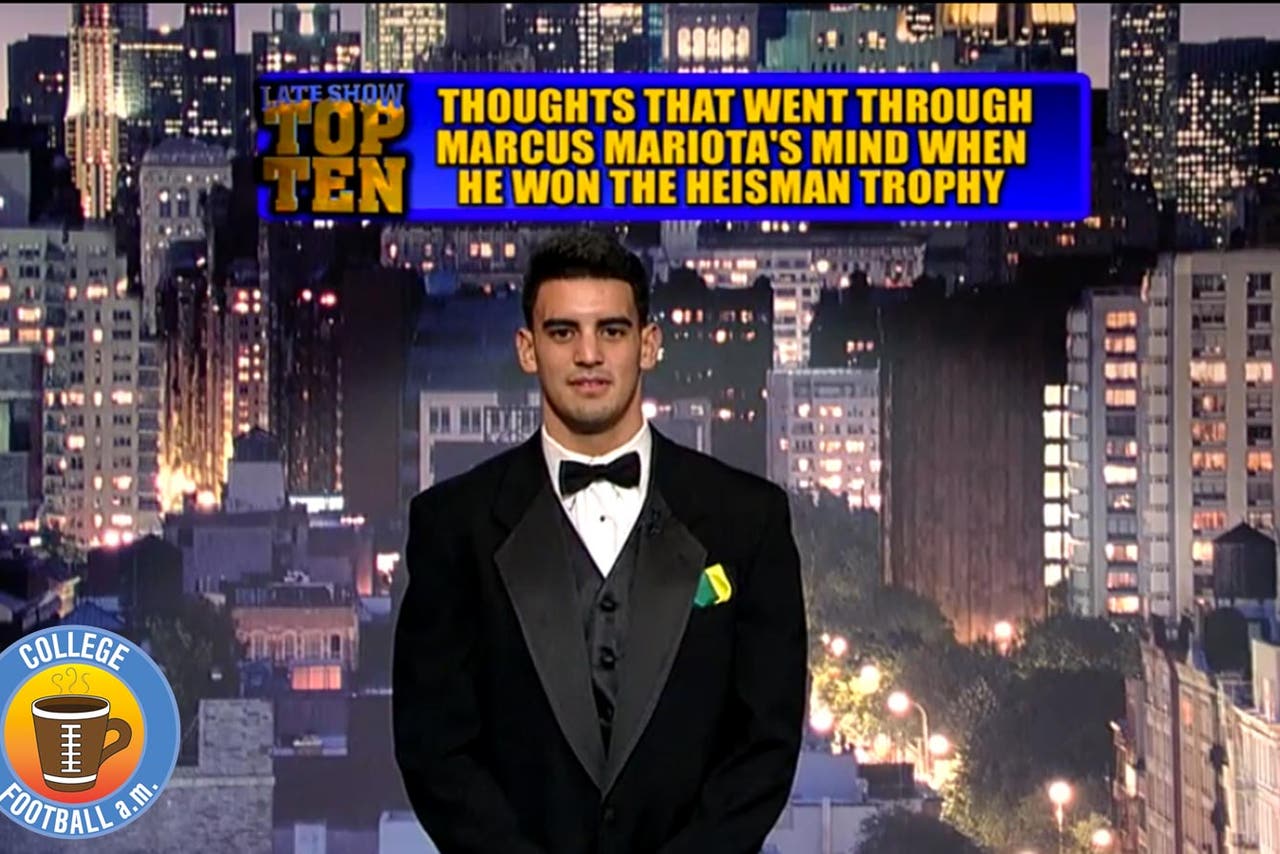 Oregon quarterback and 2014 Heisman Trophy winner Marcus Mariota ended his trip to New York on Monday in the way only Heisman winners can --€" by doing the top 10 on the Late Show with David Letterman.
"The top 10 thoughts that went through Marcus Mariota's head after winning the Heisman" was the specific angle.
Mariota has a great sense of humor but would probably rather be anywhere but doing the top 10 on Letterman --€" like preparing for Florida State on Jan. 1 and the NFL Draft next spring -- which is why it's particularly funny when the iconic host walks him into punch lines dissing the NFL.
Letterman makes Mariota deliver a Dancing with the Stars joke at the NFL's expense before setting up this zinger: "I'd like to play in the NFL," Mariota says on No. 3. "Does New York have any professional teams?"
Ouch. Letterman's reaction is priceless, as he digs the knife into the Giants and Jets and knows Mariota would never say something like that on his own.
Here's video of Mariota's full appearance on the Late Show. Enjoy.
THREE THINGS YOU NEED TO KNOW
1. Houston has found its new head coach, and that guy is Ohio State offensive coordinator Tom Herman, a source told our Bruce Feldman. Herman is working out a five-year deal with the Cougars and will remain with the Buckeyes through the College Football Playoff, according to Yahoo Sports. Herman, who has spent time around Texas in coaching stops at Texas, Sam Houston State, Texas State and Rice, is widely expected to be a success at Houston. The 2014 Broyles Award winner, honoring the nation's top assistant, has become known as something of a quarterback guru due to his work with Braxton Miller, J.T. Barrett and now (yes, it's only one game) Cardale Jones. Should be fun to see what he can do with the Cougars. There will be points.
2. Les Miles said neither he nor his agent has had any contact with Michigan, and on Monday he reportedly informed LSU officials that he wouldn't be going anywhere. Miles didn't want to speak at length on record about the Michigan rumors but did want to clarify his intent as various reports have been tossed around about him being a candidate for the job. So there's that on the record.
3. Auburn Tigers WR Sammie Coates has declared for the 2015 NFL Draft, so the Outback Bowl against Wisconsin will be his last in an Auburn uniform as he bypasses his senior season for the pros. Coates graduated last week with a degree in public administration. He's a freak athlete and was a ton of fun to watch these last couple years in Gus Malzahn's offense. Best of luck to Sammie in the league.
THREE THINGS YOU SHOULD KNOW
1. One other notable draft entry from Monday who deserves special recognition: Louisville safety Gerod Holliman will forgo his final season with the Cardinals and turn pro. Holliman just wrapped up a regular season in which he tied the NCAA single-season record with 14 interceptions. He'll have a chance to set the record if he can record a pick against Georgia in the Belk Bowl, and then Holliman will prepare to be a first-round pick next spring. He'll be an impact player in the NFL for a long time and a lot of fun to watch.
2. Villanova QB John Robertson won the Walter Payton Award Monday night, which honors the best FCS player in the nation. Robertson passed for 2,846 yards and 35 touchdowns with only three picks this season --€" he missed Villanova's quarterfinal playoff game last week, a 34-31 loss to Sam Houston State, with a concussion. "I have never been a part of a team that played with so much passion," the junior said. "I cannot say enough about my teammates and about my offensive line, running backs and receivers. They are the ones who got me this award."
3. New Kansas coach David Beaty is off to a quick recruiting start, securing five commitments over the weekend after hosting recruits. Four of those players are from Texas, which should be fertile ground for the Jayhawks as Beaty continues to work the pipelines he established while on the Texas A&M staff.
One other little recruiting nugget: Stanford picked up a blue-chip running back.
THREE THINGS YOU MAY WANT TO KNOW
1. Texas is launching a student-athlete center focused on cultivating character development and leadership, along with innovation, financial literacy and other initiatives. This is wonderful. Kudos to Texas for applying its vast resources in a significant way here.
2. I missed this on Monday, but it's worth seeing again because it's so funny. On Sunday, the New York Post released a new campaign for the Jets.
3. Solid day for Florida State: A FSU QB commit won Florida's Mr. Football award, while the Noles also picked up a commitment from the top tight end in the Class of 2016.
LASTLY
It's that time of year when Christmas lights get set to fight songs -- in this case Penn State's.
Have a great Tuesday, everybody.
Teddy Mitrosilis is an editor and writer for FOXSports.com. Follow him on Twitter @TMitrosilis and email him at tmitrosilis@gmail.com.
---