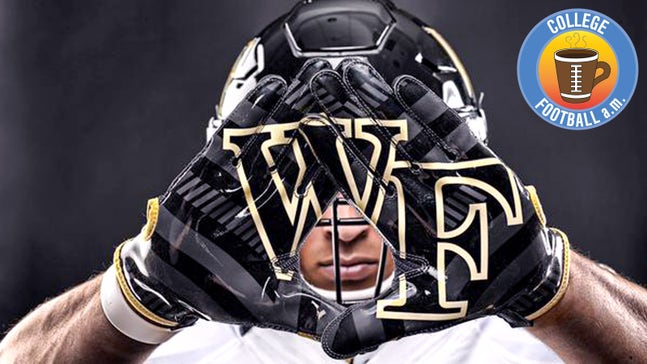 CFB AM: Wake Forest unveils 27 new uniforms for 2015 ACC title run
Published
May. 6, 2015 9:45 a.m. ET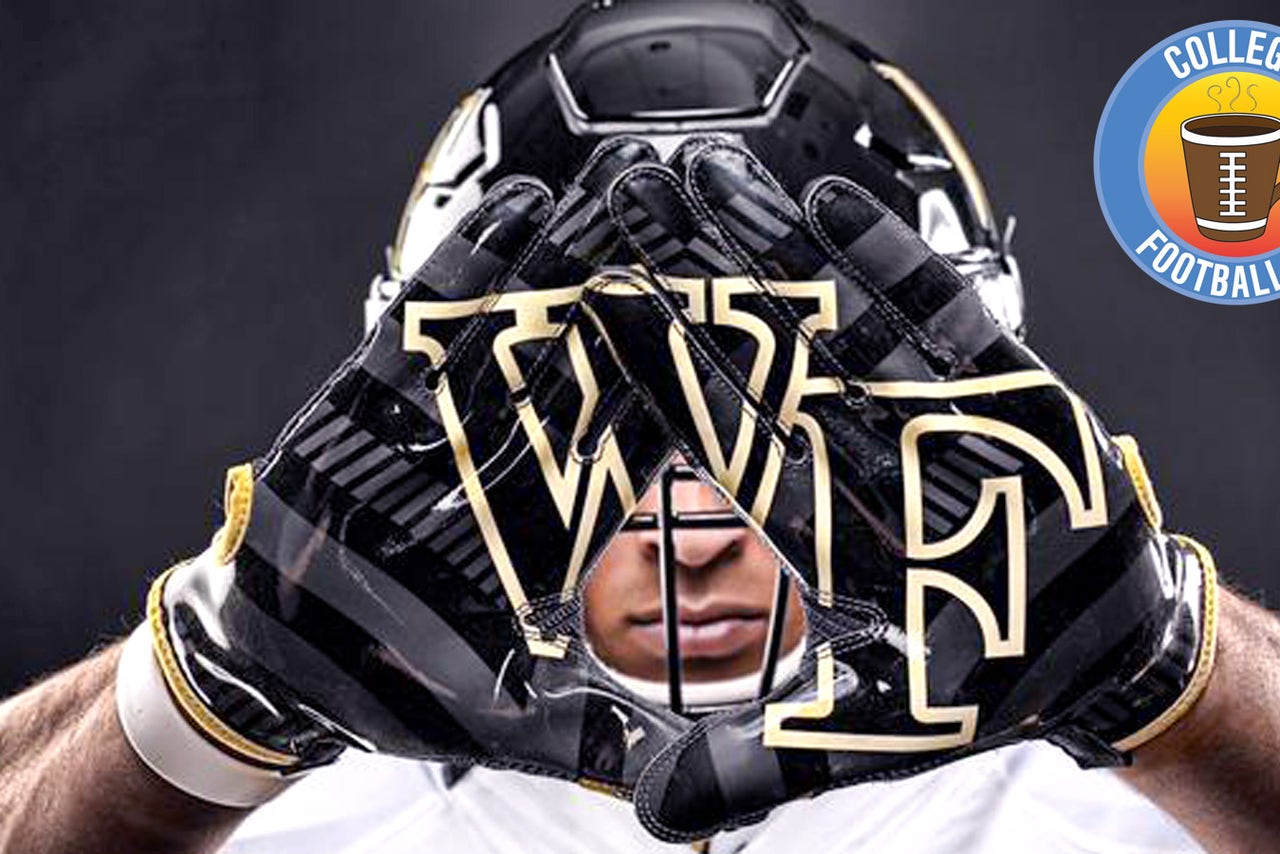 Fine, fine -- maybe "ACC title run" is a bit strong.
The Demon Deacons did go 3-9 (1-7 ACC) last year and have to climb up through a division that includes Florida State, Clemson and Louisville. Good point.
But hey, Wake is clearly trying to mark the beginning of a new era heading into Dave Clawson's second season in Winston-Salem, and the best way to do that and grab future recruits' attention?
New swag, of course.
Wake Forest joined the list of programs to unveil new uniforms for the 2015 season, and the Deacons came out with 27 different combinations of their new styles.
No, it's not Oregon-esque, but what is?
Here's all 27 new uniform combos in one graphic (view them all individually here):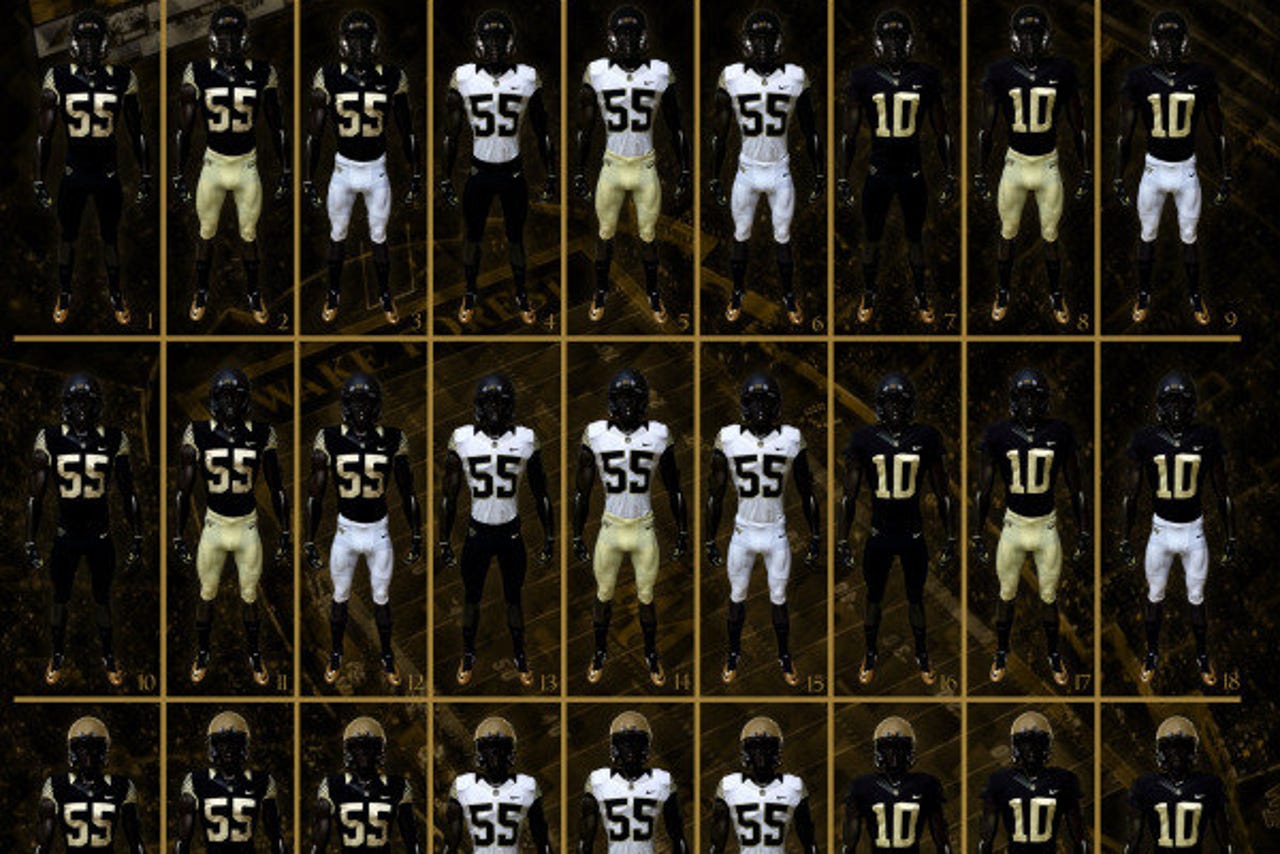 Wake has three basic foundations to build from: black jerseys and gold pants for home games, an all-white look for away games and an all-black alternate option. They'll mix and match from there.
Here's a little bit from Wake Forest's press release explaining some of the tradition-based details in the new uniforms:
"The new uniform design takes cues from the school's rich history, campus architecture and the Demon Deacon mascot. The black and gold uniform features a new custom number font honoring the university's founding in 1834. The numbers feature angled notches at 18 and 34 degrees, top and bottom respectively.
"The jersey sleeves feature a new pattern providing an unmistakable connection to Wake Forest's history. Drawn from the University Shield and the wrought-iron architectural details that punctuate the campus, the graphic forms a stylized 'W.' Its arching branches are suggestive of growth and collaboration -- keys to success as Coach Dave Clawson enters his second season with the Demon Deacons.
"The jersey collar references the Demon Deacon mascot, adopted by the university first as a term to describe the football team's play in the 1920s, and then introduced as a physical presence at games by students two decades later. Further graphic details include the words 'Deacon Tough,' symbolic of the program's fighting spirit, embroidered on the back of the neckline of the jersey, and Wake's 'WF' logo on the hip of the pant."
And here's the video Wake put together:
I'm fully on-board with an all-North Carolina ACC championship game in 2015. My Tar Heels out of the Coastal and the Deacons out of the Atlantic, which makes me one of five people in this country to be on that board.
Come on up, there's plenty of room. A-C-C! A-C-C! A-C-C!
THREE THINGS YOU NEED TO KNOW
1. Jim Harbaugh doesn't want to be Michigan's savior. My colleague Bruce Feldman spent some time in Ann Arbor with Harbaugh recently and wrote this piece about the trip. Two things are abundantly clear: 1) Harbaugh doesn't care if his personality comes off as awkward or occasionally abrasive, which is probably both a positive and negative quality; 2) his perspective of his purpose at Michigan is entirely different than the fan base's. Harbaugh doesn't want any part of the narrative that he's in Ann Arbor to "save" the program --€" it's just another great challenge for him, with a lot of work involved, and he's embracing the process of that work. In time, I'm sure he believes Michigan will win. But there's no resurrection happening here. Bold prediction: It's gonna be really hard to keep drilling home a message of patience and process when Wolverines fans are so starved for a relevant team again.
Meanwhile, Harbaugh's love for Judge Judy continues with his wish that she be on the Supreme Court.
2. Big 12 backs off title game talk. Last week at the College Football Playoff meetings in Texas, Big 12 commissioner Bob Bowlsby stated pretty clearly that he believes not having a league title game puts his conference at a disadvantage in the eyes of the playoff committee. After the first day of meetings in Phoenix between Big 12, Pac-12 and other leagues' coaches and officials, Bowlsby has tweaked his message to: Yes, there's a disadvantage, but I won't say how much and we're not overreacting and implementing a championship game this year. As SI's Andy Staples writes, a one-year sample is not enough for the Big 12 to draw a real conclusion -- in 2015, not having a title game could just as easily help the league. It makes sense to wait. What the Big 12 will do is proceed with seeking deregulation --€" meaning, it could have the option of implementing a league title game with only 10 teams instead of the currently required 12, if it so desired --€" as well as finalizing a tie-breaker system so that "co-champions" aren't something we all joke about again for the league with a marketing slogan of One True Champion.
While we're here and kinda, sorta talking about bowls: More bowls have been approved, and there will be a record 42 in 2015. I'm all for more college football, but that's a ridiculous number. There are not 84 Division I teams deserving of bowl games in a given year.
3. Is Texas A&M turning Texas into SEC country? This will surely irritate every Longhorn fan, but it's an interesting question worth considering, as my colleague Clay Travis does here. A recent survey showed the Aggies have become more popular in the Houston and Dallas metro areas than Texas, which is another sign of A&M's SEC affiliation paying off for the program. I think it's too early to declare this will have a drastic negative effect on Texas -- UT is still grabbing more of the state's top recruits than A&M, as it did in 2015, although that margin is slim -- but Clay's larger point is the real issue for Texas: It doesn't have to worry about just A&M scooping up top in-state talent -- it has to worry about those players going to other, out-of-state SEC schools because they want to play in that conference. When coveted talent starts regularly picking places like Arkansas and Ole Miss instead of Texas, that will be the oh-crap moment for UT.
(Wait, that's already happening? Oh, crap.)
LASTLY
Before we go, I want to point out something spectacular that happened Tuesday evening. TNT broadcaster Ernie Johnson won an Emmy for best studio host and presented the award to Stuart Scott's daughters, the iconic ESPN broadcaster who passed away earlier this year after battling cancer. Johnson, a cancer survivor, said this to Scott's daughters:
"Like a lot of people in this room, I love your dad. And having gone through cancer, and he and I would text back and forth, and I would just tell him ... You may have cancer but it doesn't have you. And you just fight. And you just lean on people who love you. We love Stuart Scott. This is your award."
Here's the video. What a touching gesture and special moment from a man who seems to be universally beloved in the industry. Well done, Ernie.
Have a great Wednesday, everybody.
Teddy Mitrosilis works in content production at FOX Sports Digital. Follow him on Twitter @TMitrosilis and email him at tmitrosilis@gmail.com.
---