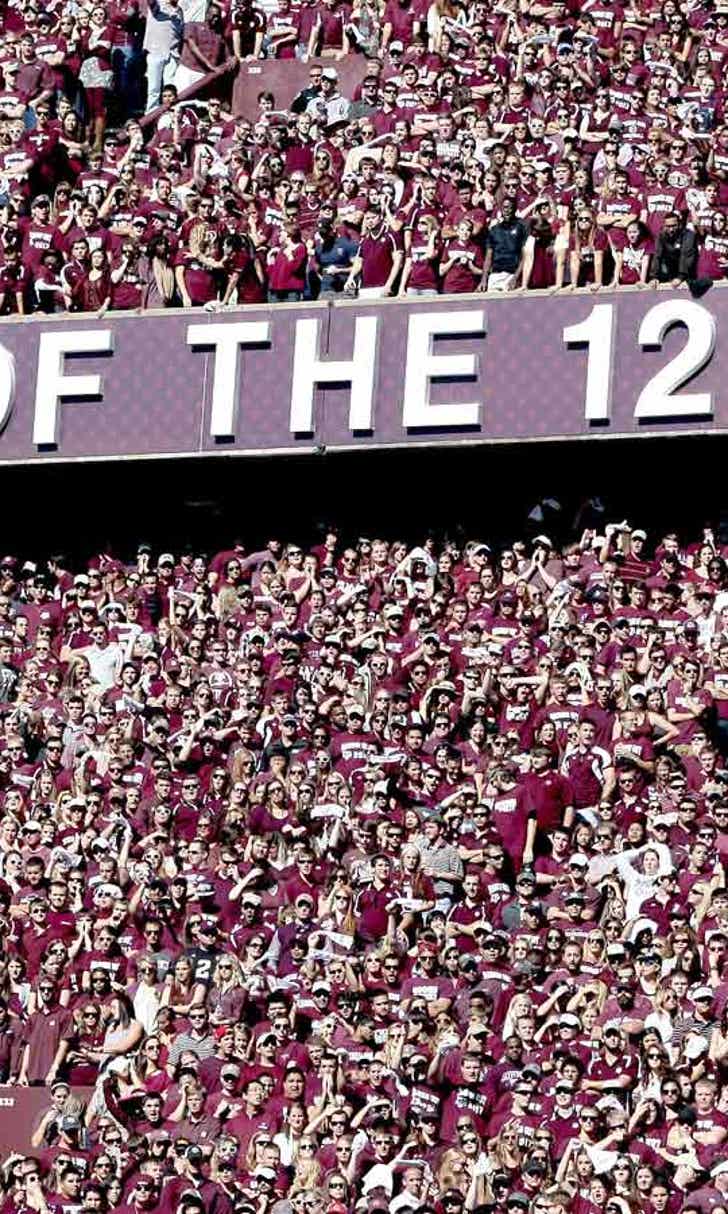 CFB AM: Texas A&M chancellor takes blatant shots at Longhorns
BY Teddy Mitrosilis • May 11, 2015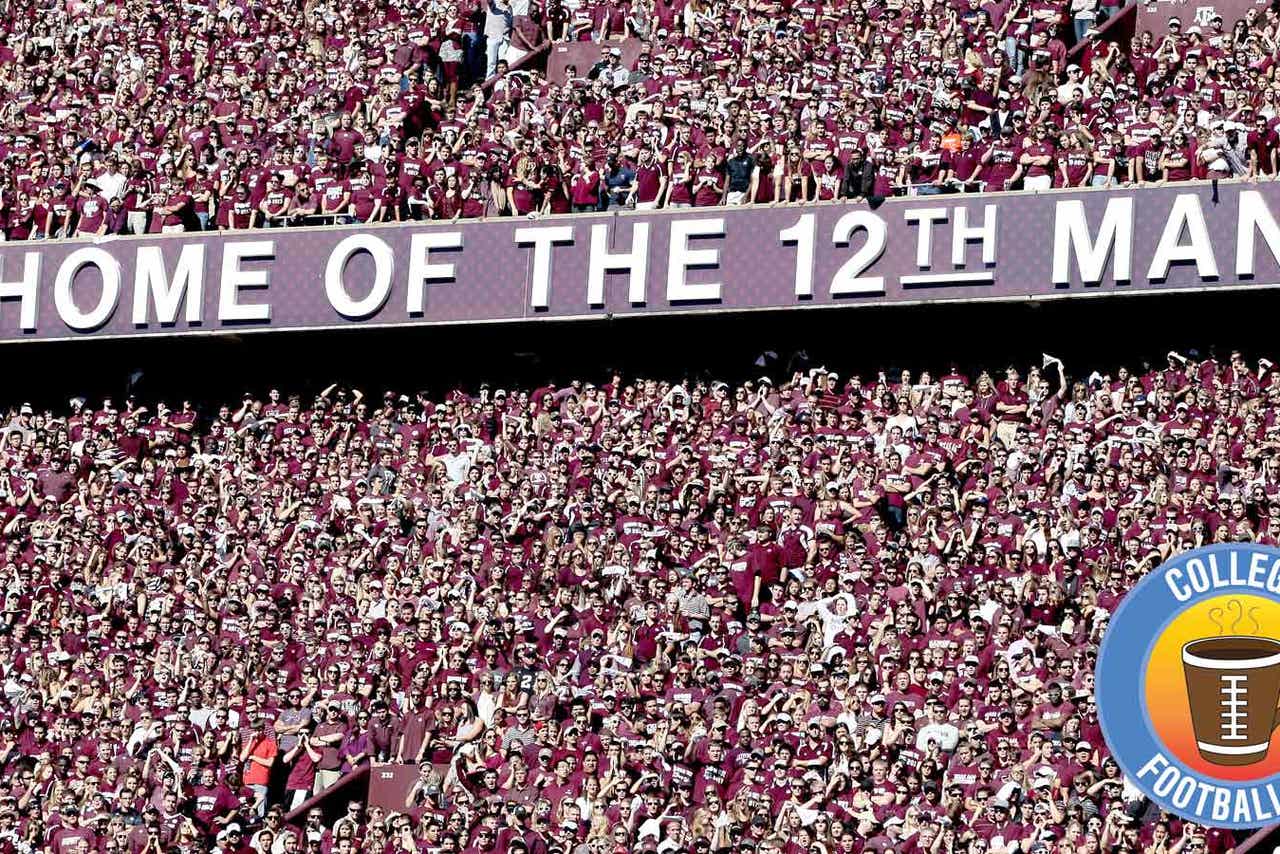 At some point you'd hope Texas A&M and Texas would stop flirting and just hook up already, because this is getting awkward.
The two rivals continue to trade shots in the public with no current outlet for settling scores, because the schools don't play each other on the field.
The latest fuel for the rivalry comes from Aggies chancellor John Sharp, who did an interview last week with the Texas Tribune and took a couple different shots at the Longhorns.
First Sharp said that he approached Texas about the possibility of scheduling the rivalry game again, and that didn't go very far. Longhorns AD Steve Patterson is on record saying the Aggies made a choice to leave the Big 12 for the SEC, and so bringing the rivalry back now has to make good business sense for UT. At this point, Texas is probably more likely to play a football game in Dubai than College Station.
In Texas' defense, A&M has made it clear its new allegiance with the SEC has been quite beneficial for the school -- it's helped the Aggies take more control of the state of Texas -- and it now prioritizes further developing its SEC ties over playing an in-state rivalry game just for the hell of it.
So all of this leads to nothing productive between the two sides, and we get the Aggies' chancellor saying stuff like this:
We asked them to play. I will say there is less enthusiasm among the Aggie network now than there was back then. We have new friends and we like playing LSU and we like playing these folks. We're hopeful that sometime in the future there will be a bowl game that we're able to play in, you know, if [Texas] gets there. But the great thing about playing us is that you can get on real TV if you play us.
Oh. Well then. That would be a shot at Texas' recent on-field futility --€" although it did make a bowl game last year --€" and its Longhorn Network, which looks like a colossal failure when stacked up against the SEC Network that the Aggies now enjoy.
At some point, all of this talk needs to return to the field. Both Charlie Strong and Kevin Sumlin have been publicly supportive of the rivalry returning, but for now it's a battle between men in suits.
Here's the clip where Sharp drops his barbs on UT:
THREE THINGS YOU NEED TO KNOW
1. Notre Dame is playing hard ball with Golson. Quarterback Everett Golson announced last week that he would be leaving Notre Dame to play his final year of eligibility somewhere else, which he can do without sitting out a season because he's a graduate transfer. On Sunday, Bruce Feldman reported Golson won't be able to pick just any program in the country. The Irish are restricting him for transferring to any school Notre Dame plays in 2015, which includes Texas, one logical destination for a graduate transfer QB. There might also be some issues with Golson going to an SEC school due to his academic suspension at Notre Dame. He will likely need a waiver from the SEC office for him to attend somewhere such as South Carolina, LSU, Georgia, Florida, etc. Once again, this underscores the idiocy of a school being allowed to dictate where a player can and can't transfer to.
2. Auburn picks up four-star CB from Ohio State. There's been an odd story brewing in Columbus for a few months now. Jamel Dean, a four-star CB in the Class of 2015, and Ohio State have not agreed on whether or not Dean is healthy enough to participate in on-field activities. Ohio State did not medically clear Dean due to some undisclosed knee issues, instead offering the player a medical hardship for 2015, which would keep him on scholarship but prevent him from playing this fall. Dean insists that he's healthy and was cleared by Dr. James Andrews, which gave credence to the complaints from Dean's high school coach that Ohio State was "pushing him out." Dean has now reportedly landed at Auburn -- where Andrews is the program's physician. If he is indeed healthy, he's a talented kid who would appear to have a shot at substantial playing time on Will Muschamp's defense this fall.
3. Dogs -- all the dogs. SB Nation's Rodger Sherman has ranked all 28 live dog mascots for your enjoyment. I don't care what anyone says, Rodger Sherman. You're doing the Lord's work. And by the way, nothing is cooler than UConn's Husky.
Have a great Monday, everybody.
Teddy Mitrosilis works in content production at FOX Sports Digital. Follow him on Twitter @TMitrosilis and email him at tmitrosilis@gmail.com.
---