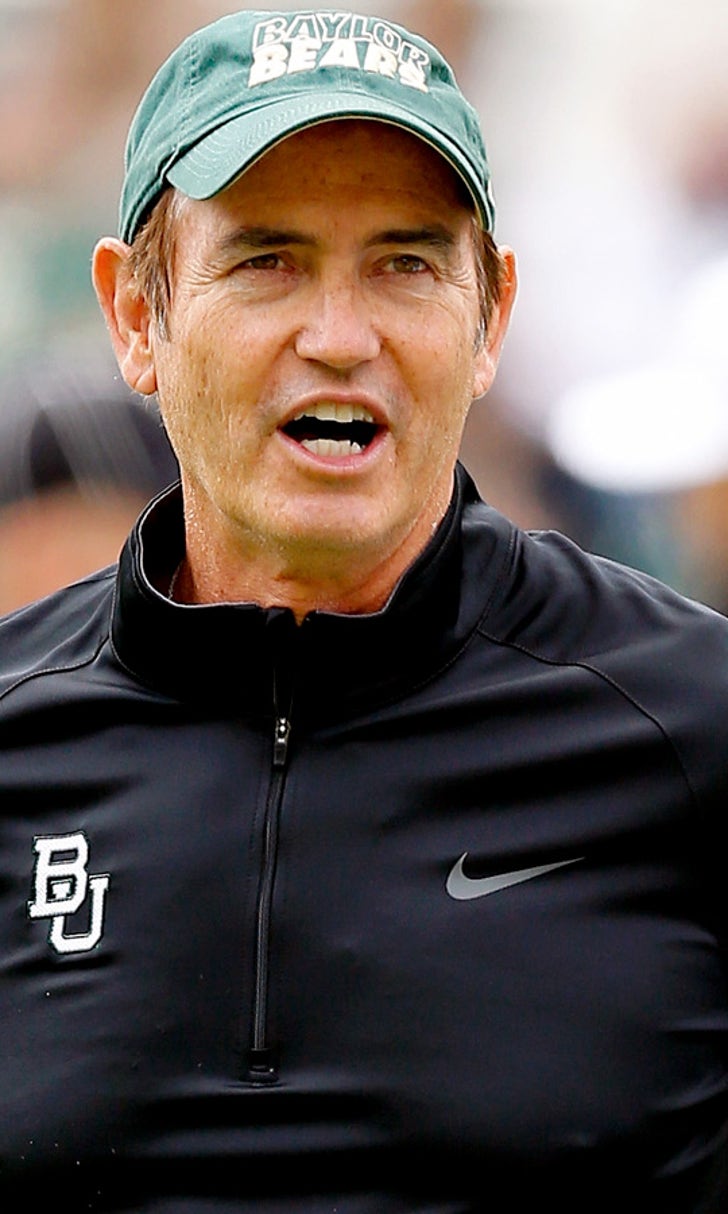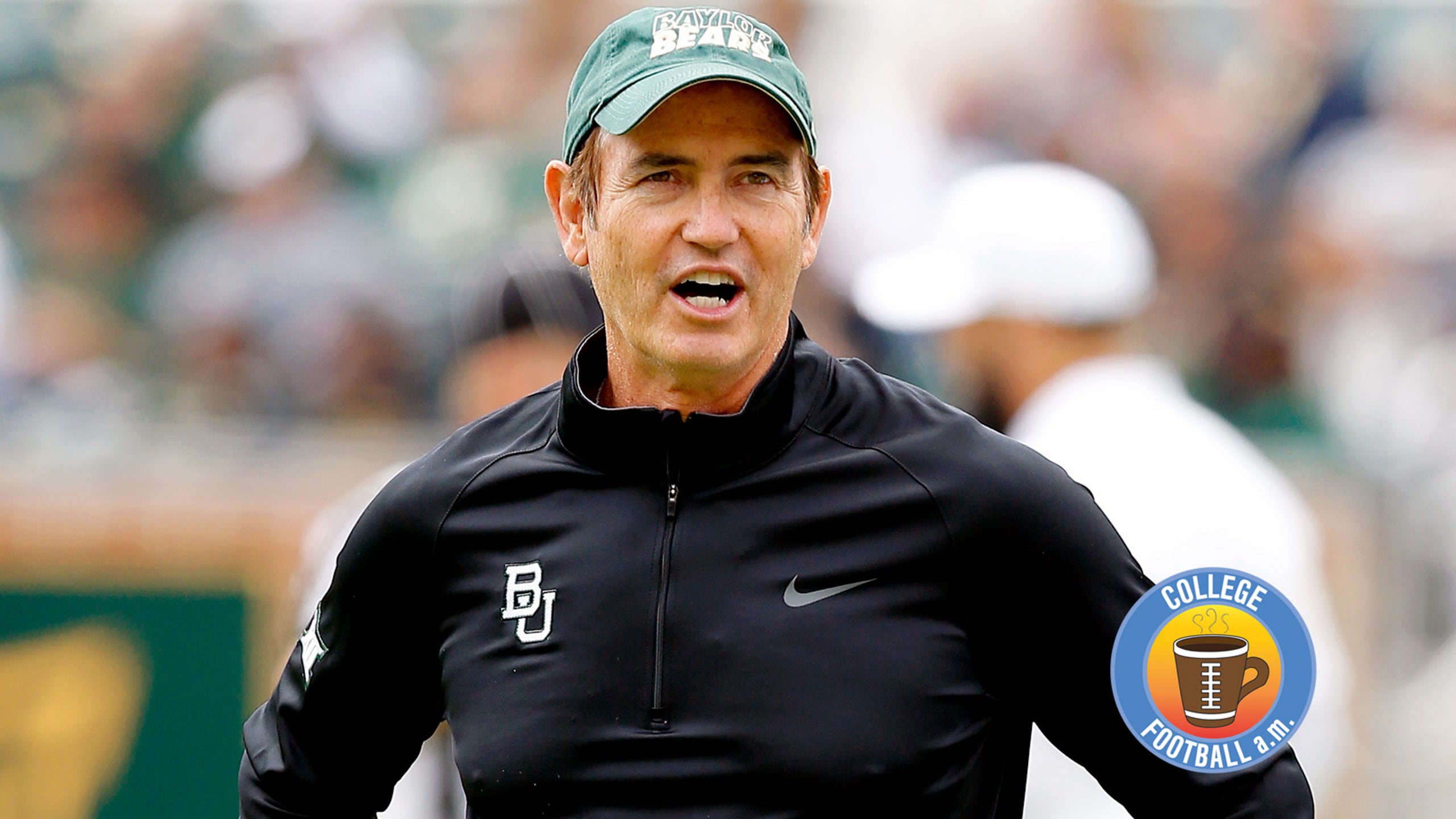 CFB AM: Art Briles blasts playoff system after Baylor gets snubbed
BY Teddy Mitrosilis • December 8, 2014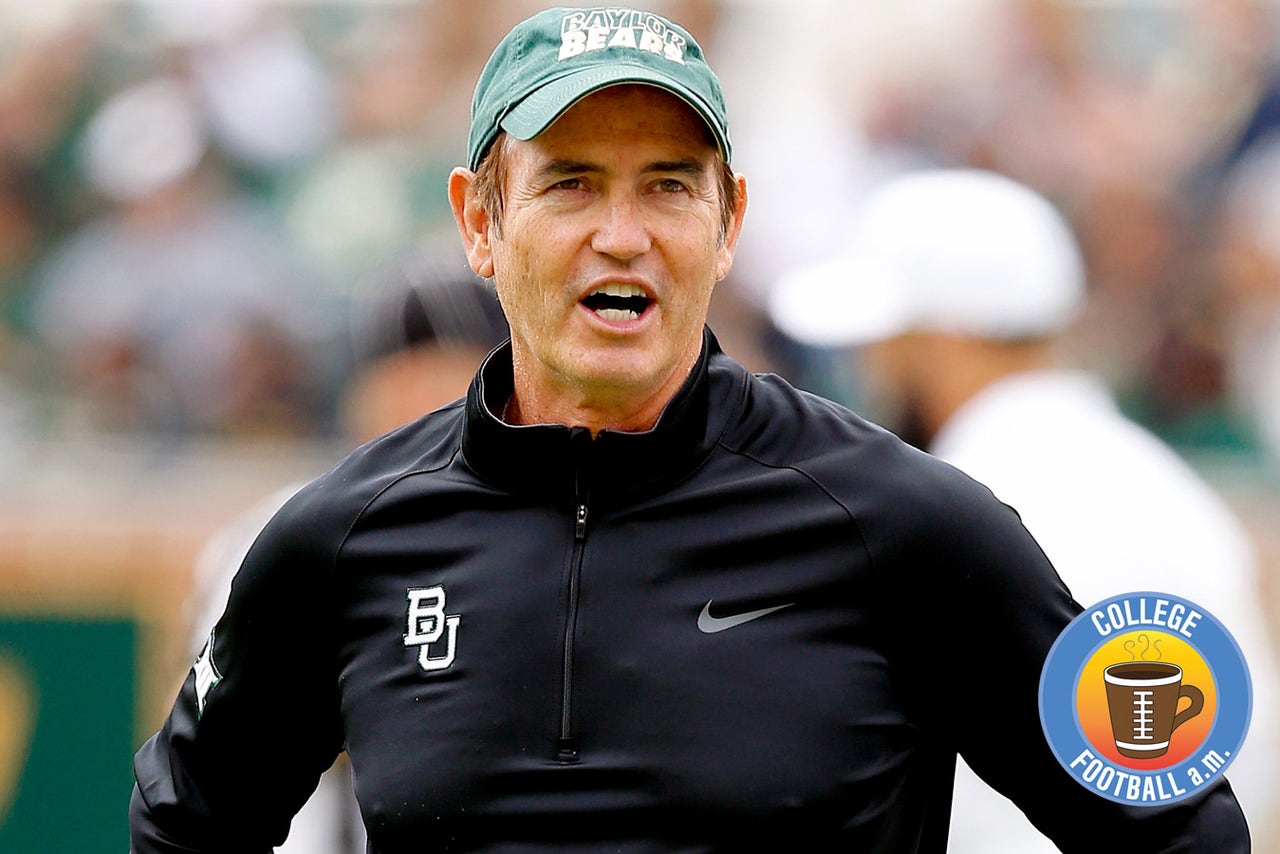 After being snubbed out of the College Football Playoff, TCU coach Gary Patterson went on national TV and began by congratulating the four teams that made it and ended by wishing everyone happy holidays.
Let's just say Art Briles is handling Baylor not getting into the final four a little differently.
The Bears' head man called out the playoff committee on Sunday after Ohio State got the No. 4 seed in the playoff field, saying Baylor and the Big 12 weren't properly represented.
"My opinion, since people are asking? I think the committee needs to be a little more regionalized with people that are associated with the south part of the United States," Briles said on Sunday. "I'll say that. I'm not sure if there's a connection on there that is that familiar with the Big 12 conference. To me, that's an issue."
Except that West Virginia AD Oliver Luck is on the playoff committee, but go ahead.
"When Archie Manning went off, I said we're in trouble," Briles said. "I know Archie. He's a friend. He understands football down here. When he went off that committee, we were in trouble. We need a voice. We need a voice."
It's fair if Briles wants to argue the committee needs to add a Southern voice, since Luck isn't a "Southerner," but it's not fair to say he doesn't "understand football down here" or isn't a legit representative of the Big 12. He's an AD in the league – I think he gets the Big 12.
What Briles really wants is not a Southerner, though, but rather someone with Texas ties who understands the state's football culture better. He mentioned Mack Brown, former Texas Tech coach Spike Dykes and former Texas A&M coach R.C. Slocum as names he'd like to see be considered for the committee.
Those state of Texas recommendations come after Briles called out the committee's ex-coaches and their school/regional ties on Saturday night after Baylor beat Kansas State. "Coach (Tom) Osborne, who's a Hall of Fame coach: If Nebraska had our résumé, would you have them in the final four?" Briles said. "Barry Alvarez with Wisconsin: If Wisconsin had our résumé, would you have them in the final four? Tyrone Willingham. Stanford, Washington, Notre Dame. If they had our résumé, would you vote them in the final four? That would be my case. Look at the résumés and then make a decision."
Briles has plenty of reason to be upset; Baylor deserved that fourth spot just as much as Ohio State or anyone else. But I think emotion got the best of post-snub reaction.
THREE THINGS YOU NEED TO KNOW
1. College football history was made on Sunday, as the first-ever College Football Playoff was announced. Alabama got the No. 1 seed, followed by Oregon at No. 2, Florida State at No. 3 and Ohio State at No. 4. So our national semifinals on New Year's Day will be Alabama-Ohio State in the Sugar Bowl and Oregon-FSU in the Rose Bowl. The Big 12 was completely snubbed out of the playoff, as both Baylor and TCU were passed up by the Buckeyes. It was pretty simple, writes Stewart Mandel: Ohio State had a clear advantage over the Big 12 schools by playing in a conference championship game and dominating.
2. A few playoff links from around the country: Mandel leads off his Week 15 Forward Pass by looking at what the playoff committee got right and wrong in Year 1, namely its process of producing weekly rankings that only teased the audience and really didn't mean anything in the end. Pat Forde has 10 takeaways from the first year of the playoff. Urban Meyer offered an early scouting report of the Crimson Tide, writes Michael Casagrande. The Buckeyes went nuts upon seeing their name pop up in the final four, writes Bill Rabinowitz. In Marcus Mariota and Jameis Winston facing off in the Rose Bowl, we have "two of the greatest of all time at their position," says Oregon coach Mark Helfrich.
3. The committee's final top 25 and the rest of the bowl games were also announced on Sunday. In addition to the semifinal games, on New Year's we also have: No. 25 Minnesota vs. No. 16 Missouri (Citrus); No. 18 Wisconsin vs. No. 19 Auburn (Outback); No. 8 Michigan State vs. No. 5 Baylor (Cotton). The playoff committee also seeded the Peach Bowl on Dec. 31, which will be No. 9 Ole Miss vs. No. 6 TCU. Here is the complete bowl schedule for 2014-15.
THREE THINGS YOU SHOULD KNOW
1. The Big 12 admits "it's back to the drawing board" after getting neither of its co-champions into the playoff. It's time for the league to make changes, writes David Ubben. Currently, the Big 12 has 10 teams and by rule you need 12 plus divisions to have a conference championship game. I'd imagine commissioner Bob Bowlsby will work hard to get that rule changed so the league can have a conference title game next year, which would be an easier fix than recruiting two more schools into the league to get to 12. At the very least, the Big 12 should control what it can control, which is its process of defining a conference champion. Having co-champs hurt the league when it should have presented Baylor as its league champion, as the Bears held the head-to-head tiebreaker over TCU.
2. A piece of non-playoff/bowl news: The Heisman Trophy finalists will be announced today, and Jameis Winston waits to hear whether or not he'll be invited back to New York the year after winning it. In my opinion, that would be a total waste of time, as Winston hasn't come close to matching up with the best QBs in the country this season. Oregon's Marcus Mariota will be a runaway winner, but I'd also extend invites to Wisconsin's Melvin Gordon, Alabama's Amari Cooper, Indiana's Tevin Coleman and, in honor of my colleague Bruce Feldman's man crush, Arizona's Scooby Wright.
3. The one thing I wished we had this year: A playoff bigger than four teams. It's a shame any of the top six teams needed to be left out. We took the top 16 from the committee's final rankings and put them into a bracket for a little fun.
THREE THINGS YOU MAY WANT TO KNOW
1. Football is officially done at UAB, as the Blazers learned they won't be going to a bowl game less than a week after learning the football program is being discontinued. Sad.
2. Love Nick Saban's reaction to seeing Alabama get the No. 1 seed in the playoff. Then it was back to film study and practice reports.
3. SB Nation's Bill Connelly ranks all of the bowl games on watchability (sort of backed by science).
LASTLY
What do coaches do now in the lull between the end of the regular season and bowl games? Recruiting, for sure. Here's the highlight reel of linebacker prospect Fotu Leiato, a little-known prospect, and good Lord is it violent.
Have a great Monday, everybody.
Teddy Mitrosilis is an editor and writer for FOXSports.com. Follow him on Twitter @TMitrosilis and email him at tmitrosilis@gmail.com.
---