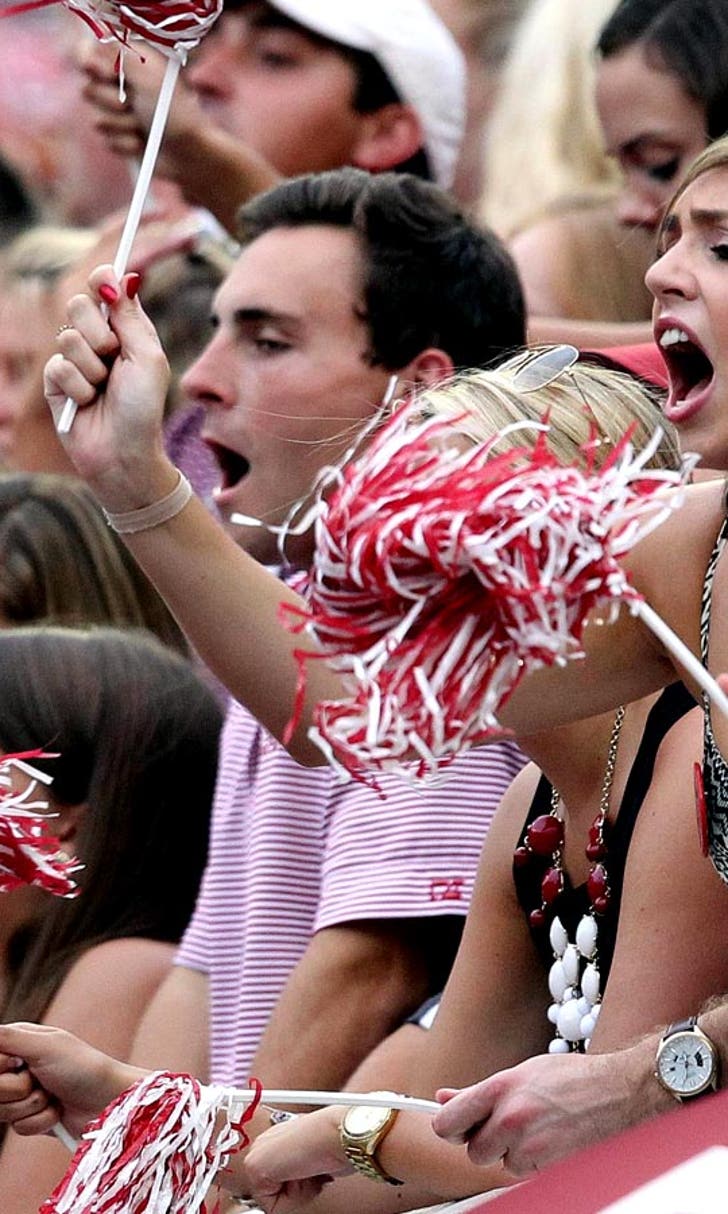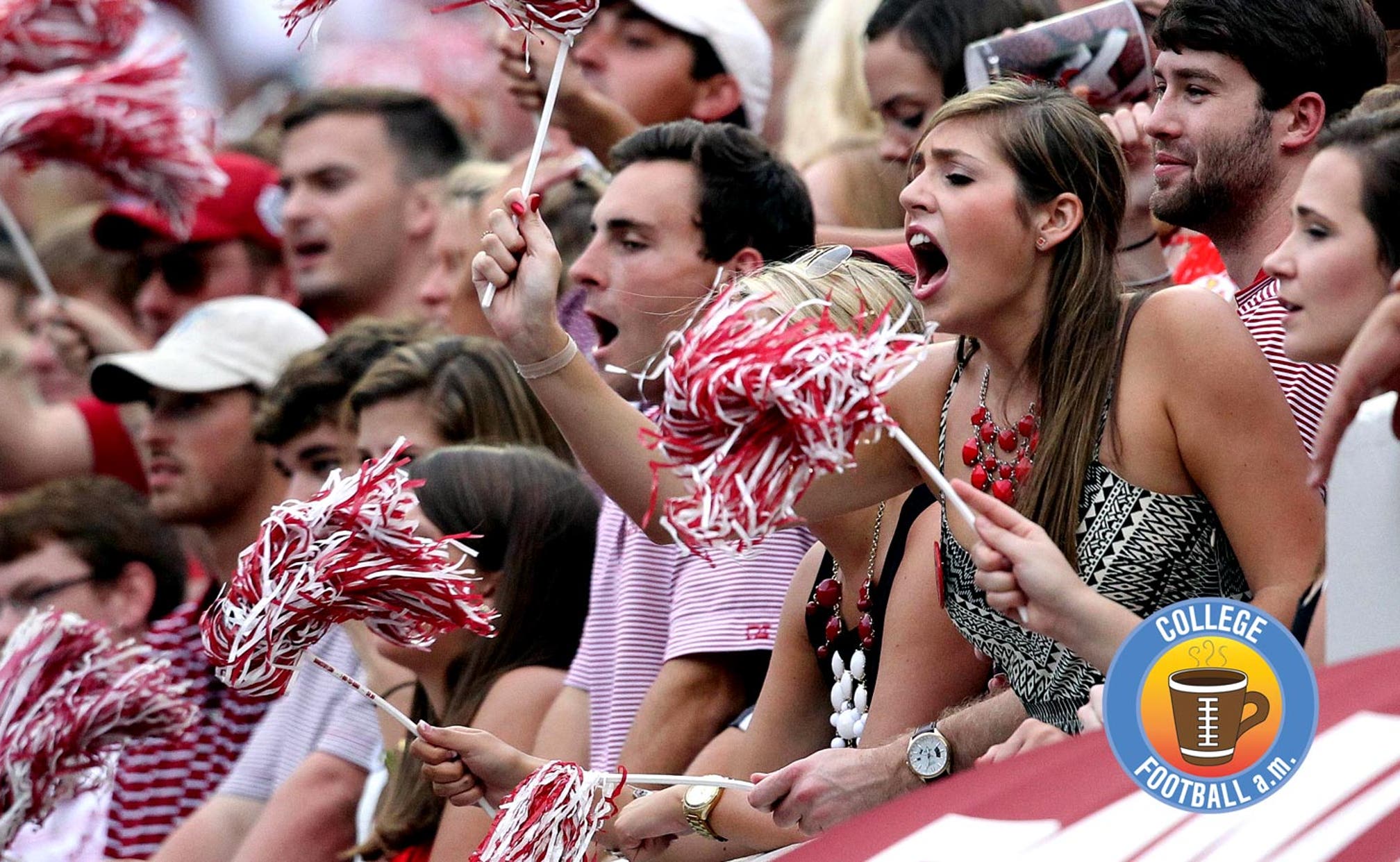 CFB AM: Alabama fan defends Nick Saban's dynasty with all-time radio rant on Finebaum show
BY Teddy Mitrosilis • October 7, 2014
"Phyllis from Mulga, Alabama" has become something of a famous character on Paul Finebaum's radio show.
A rabid Crimson Tide fan, she is well-known for her explosive rants and overall hilariousness.
So, of course, we should have expected some fireworks on Monday.
After Alabama lost to Ole Miss last Saturday, Phyllis was fired up and called Finebaum, a popular radio host in the South and an analyst on the SEC Network, to defend Alabama's dynasty and refute the critics who say it's coming to an end.
"How can you say, after the dynasty took all these years, all these decades, one game is gonna mean Saban's dynasty is over," Phyllis yelled. "You're out of your freaking mind!"
She concluded, and all caps are necessary to reflect just how pissed Phyllis is here: "THE DYNASTY IS NOT OVER! BAMA'S DYNASTY … HAS JUST … BEGUN! KISS MY BUTT! ROLL TIDE! [hangs up]"
Phyllis is a beauty. Enjoy this incredible video.
THREE THINGS YOU NEED TO KNOW
1. Some serious and disappointing news out of Gainesville: Florida freshman quarterback Treon Harris is being investigated on accusations of sexual assault. He allegedly assaulted a female student in a residence hall on campus early Sunday morning. Earlier that day, Harris had replaced Jeff Driskel at QB and helped Florida come back to win on the road at Tennessee. Most presumed Harris would be named the starting quarterback going forward, but now he is suspended indefinitely as the investigation plays out.
2. If you missed it over the weekend, Iowa State athletic director Jamie Pollard lashed out at the league's officiating after the Cyclones were on the wrong end of another questionable call. As Pollard expected, the Big 12 disciplined him on Monday, slapping Pollard with a $25,000 fine.
Said commissioner Bob Bowlsby in a statement: "Mr. Pollard's public statements called into question the integrity and competence of game officials and the conference's officiating program. To imply that games are called unfairly to negatively impact a program is irresponsible and completely baseless. Accordingly, the seriousness of this violation warrants a public reprimand and a financial penalty. We take pride in our officiating programs and will continue to strive for the highest possible standards and the fairest competition."
3. You probably saw Alabama running back Kenyan Drake break his leg at Ole Miss, a gruesome and unfortunate injury for a good player. What you might have missed – but social media didn't – was the Rebels' Trae Elston kicking Drake while he was down with his leg bending at an unnatural angle. On Monday, Ole Miss coach Hugh Freeze announced Elston will be suspended for the first half against Texas A&M this weekend.
In other injury news, BYU QB Taysom Hill's broken leg turned out to be worse than expected. He tore every major ligament and needed eight screws and a plate inserted to stabilize his leg. Damn. Get well, Taysom.
THREE THINGS YOU SHOULD KNOW
1. Stewart Mandel had his post-Week 6 Forward Pass column on Monday and ranked the Top 5 teams that lost last weekend by most likely to get back into the playoff. He also has good stuff from TCU coach Gary Patterson, Arizona coach Rich Rodriguez and much more. Give it a read if you have a couple minutes.
2. Northwestern unveiled new gothic uniforms that it will wear against Nebraska on Oct. 18. Here's a video. Like or dislike? I'll give 'em a like, although replace the name and they can easily become Washington uniforms (which loses points in my official uniform book).
3. This is a fun little coaching carousel nugget: SMU has reached out to Mack Brown about its vacant head coach job, and he reportedly has interest in the job although his attorney, Joe Jamail, said he's "not interested in coaching anywhere right now." The final two words are the key here – right now. Brown, currently working as an ESPN analyst, said he'll make a decision in December whether he wants to return to coaching in 2015. My guess is that he does. Brown misses coaching already, and the Dallas-based school would be a great place for him to leverage all of the work he's put into relationships around Texas over the years while finishing out his career in a place that doesn't burn so hot. The SMU job would be about marginal improvement and setting a foundation for the future.
THREE THINGS YOU MAY WANT TO KNOW
1. Penn State coach James Franklin is dropping in on high school football games in helicopters again. Must be nice to have more than $1.5 million to spend on recruiting alone.
2. Washington State fired its special teams coach. Makes sense. The special teams coach is, after all, responsible for a defense that ranks 65th in yards allowed per carry and 96th in yards per pass allowed.
3. A high school recruit says he was "catfished" into committing to Florida.
LASTLY
* Georgia Tech's season could be turning into something special, writes Jeff Schultz.
* Kyle Bonagura went behind the scenes on Richard Sherman's visit with Stanford recently.
* Jeff Metcalfe of The Arizona Republic has an in-depth piece on Penni Graham, wife of Arizona State coach Todd Graham.
* Steven Godfrey writes about being in Oxford for Ole Miss' huge win over Bama.
* Mississippi's governor names Oct. 4 'Football Celebration Saturday.'
 * This is a light-hearted video to end the day on: UConn's Husky mascot had a doggy birthday party for turning 1 year old.
Have a great Tuesday, all.
Teddy Mitrosilis is an editor and writer for FOXSports.com. Follow him on Twitter @TMitrosilis and email him at tmitrosilis@gmail.com.
---