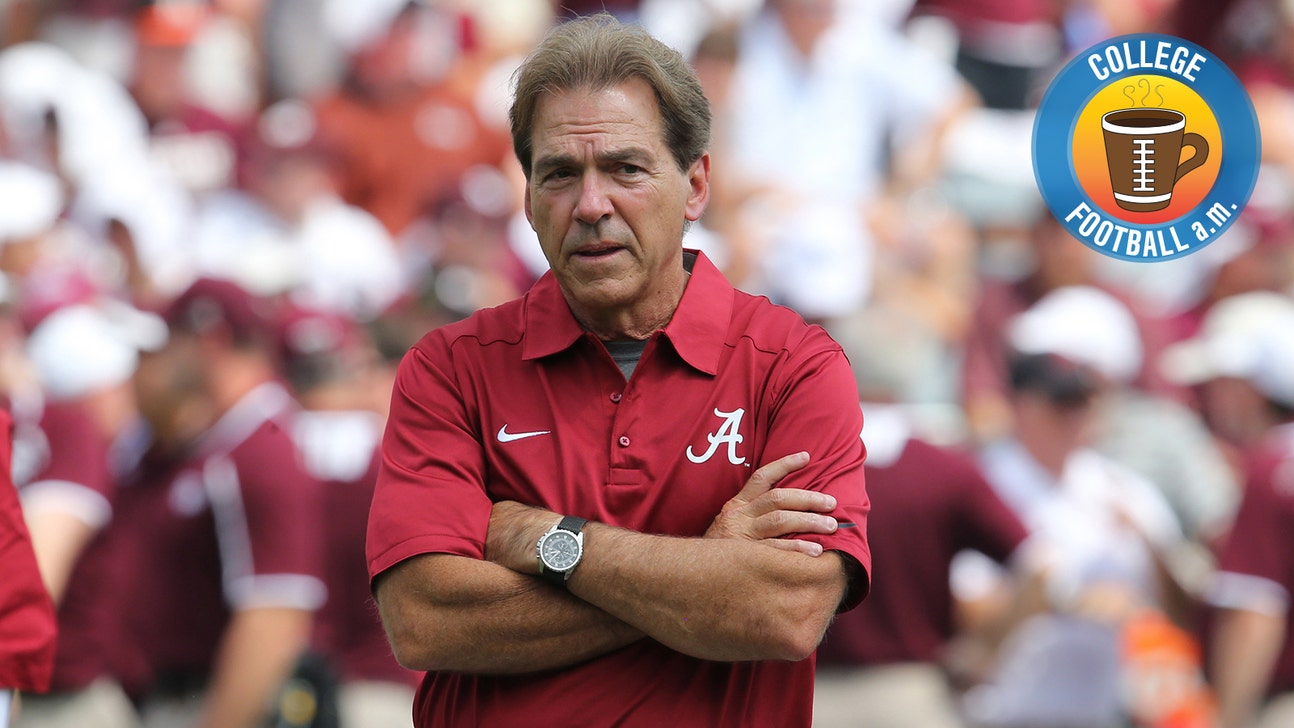 CFB AM: Alabama fan camps out five days to get eighth Saban autograph
Published
Aug. 4, 2014 9:00 a.m. ET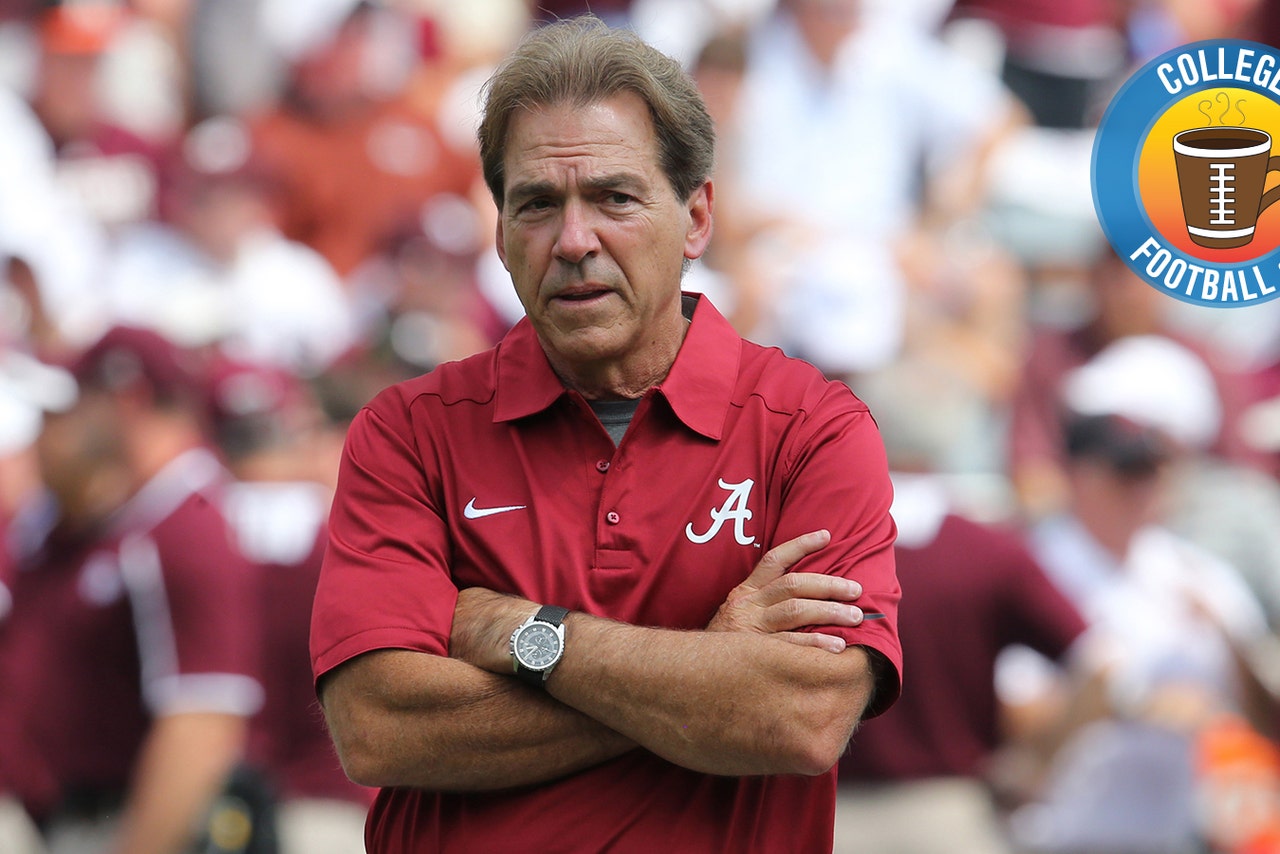 Alabama held its Fan Day on Sunday in Tuscaloosa, an event in which Tide supporters can view the one open practice of fall camp and get autographs from players and coaches afterwards.
You already know Alabama fans are among the most passionate and devoted in college football. This is not news.
But what happened Sunday at Bryant-Denny – and in the days leading up to Fan Day – reinforces the feverish intensity surrounding Alabama football.
First, let's roll it back to last Wednesday. That's when Bobby Hunter arrived outside Gate 31 at Bryant-Denny for Fan Day. Yes, the same Fan Day that was held on Sunday.
Hunter has a tradition of being first in line to get head coach Nick Saban's autograph, so he beats people not by hours but by days to ensure his top position in line. He packs a cooler of cold cuts, sits upright in a folding chair for four consecutive nights and shuns any kind of normal shower during that time. In 2009, he brought his five-week old son so Saban could sign his onesie.
On Sunday, when Hunter met Saban again, he had waited outside Bryant-Denny for more than 100 hours. It was his eighth Saban autograph.
As fantastic and insane as all that is, Hunter's level of devotion to Alabama isn't even really uncommon (he may be an outlier, but not by much). There was a whole football field worth of fans waiting for Saban to sign something.
The best part, though? When the Bryant-Denny gates opened for the autograph session, hundreds of Crimson Tide fans sprinted to Saban's line. Here's the video; it's somehow incredibly mesmerizing.
Perfect. Alabama fans inspire me to step my fan game up.
THREE THINGS YOU NEED TO KNOW
1. Couple other things out of Tuscaloosa. New offensive coordinator Lane Kiffin met with the media, as did defensive coordinator Kirby Smart. Smart said priority No. 1 for his defense this year is learning to defend up-tempo offenses better. Given Saban's policy of not allowing assistants to give interviews, this is the only time you'll hear from Kiffin and Smart until bowl week.
Saban also held a press conference and gave an update on Jacob Coker, who seemed to make a sizable leap in just one day of practice. On a non-football related note: In the wake of the Ray Rice news and college players getting caught up in domestic abuse cases, Saban decided to bring in a speaker to educate his players on the issue.
2. You can hardly go a week without something smart coming from Steve Spurrier, which is why we all love him. The South Carolina coach was talking about his schedule this season, which includes a non-conference game against East Carolina. That kind of game may not happen in the future, when the SEC requires all members to play at least one non-conference game against a 'Power 5' opponent – teams in the ACC, SEC, Pac-12, Big 12 or Big Ten – which Spurrier doesn't necessarily agree with. So what did he do? Knock one of those rival leagues.
"Playing East Carolina is maybe a little bit better than playing one of those bottom-tier Big Ten teams," Spurrier quipped. He's right, of course. BYU and Boise State are two other programs that immediately jump out when looking for non-conference opponents who'd be more formidable than some in the Power 5 leagues. It's just funny Spurrier would target the B1G. The SEC isn't devoid of poor teams.
3. We're pretty much in full fall camp swing now, as more programs get going this week. Some notable camps opening today: LSU USC, UCLA, Penn State and Texas.
THREE THINGS YOU SHOULD KNOW
1. South Carolina reported 22 minor infractions, and one was for too much icing on cookies. Never change, incredibly ridiculous NCAA rules.
2. The Air Force Academy has launched an investigation into its athletic programs after information regarding a couple parties was reported, exposing drug use and sexual misconduct. In addition to the self-investigation, Air Force superintendent Lt. Gen. Michelle D. Johnson demanded all coaches place a higher premium on character in the recruiting process.
3. The Austin purge seems to be complete, as Texas coach Charlie Strong officially announced discipline for eight Longhorns.
THREE THINGS YOU MAY WANT TO KNOW
1. Notre Dame offensive coordinator Mike Denbrock will miss the first few weeks of fall camp after having surgery to treat an undisclosed medical issue. Head coach Brian Kelly will pick up offensive duties while Denbrock is out.
2. The things college football will make fans do, vol. 349: An astronaut got NASA to set up the SEC Network in space.
3. Florida State QB Jameis Winston has $8-10 million in loss of value insurance, and the Seminoles will pick up the tab (around $60,000). This is the same situation as Texas A&M's Cedric Ogbuehi, which Bruce Feldman reported last month.
LASTLY
* If you missed it late last Friday, Auburn coach Gus Malzahn said QB Nick Marshall – who was cited for marijuana possession earlier this summer – will not start Week 1 against Arkansas but will play. Malzahn said he has not decided when Marshall will enter the game.
* A couple Texas A&M fans got married and produced this incredible wedding cake modeled after Kyle Field (oh, and congrats on the marriage):
Have a good Monday, all.
Teddy Mitrosilis is an editor and writer for FOXSports.com. Follow him on Twitter @TMitrosilis and email him at tmitrosilis@gmail.com.
---