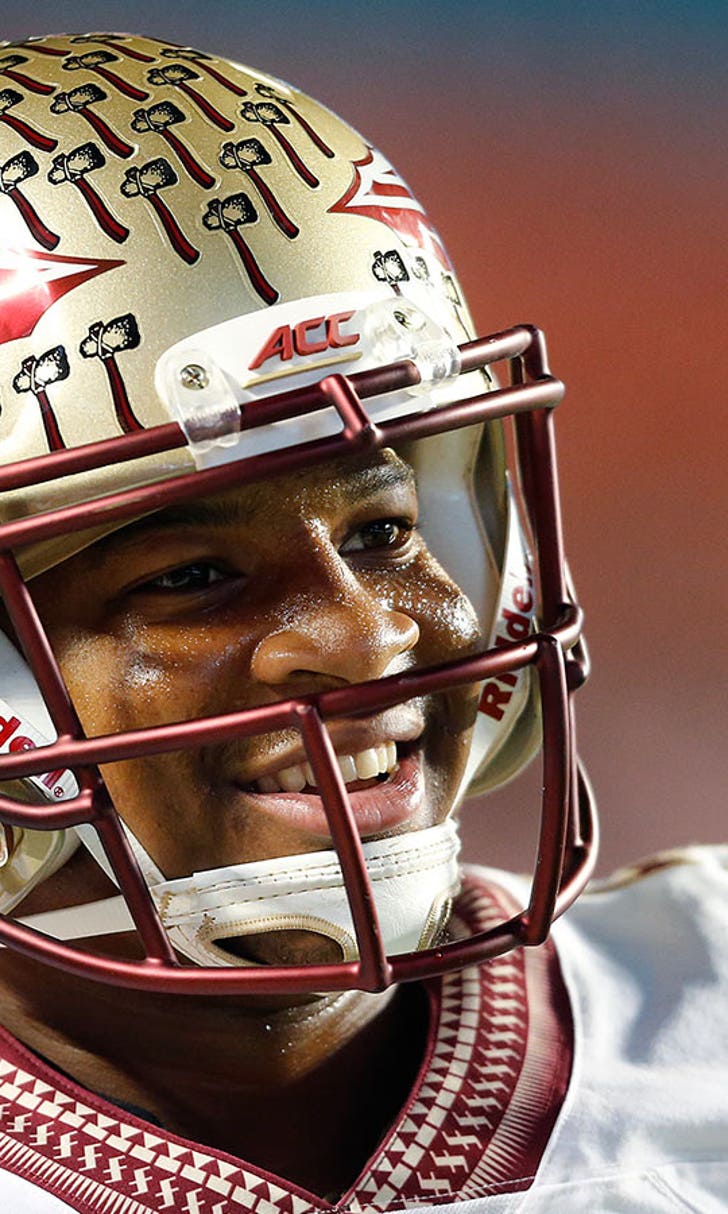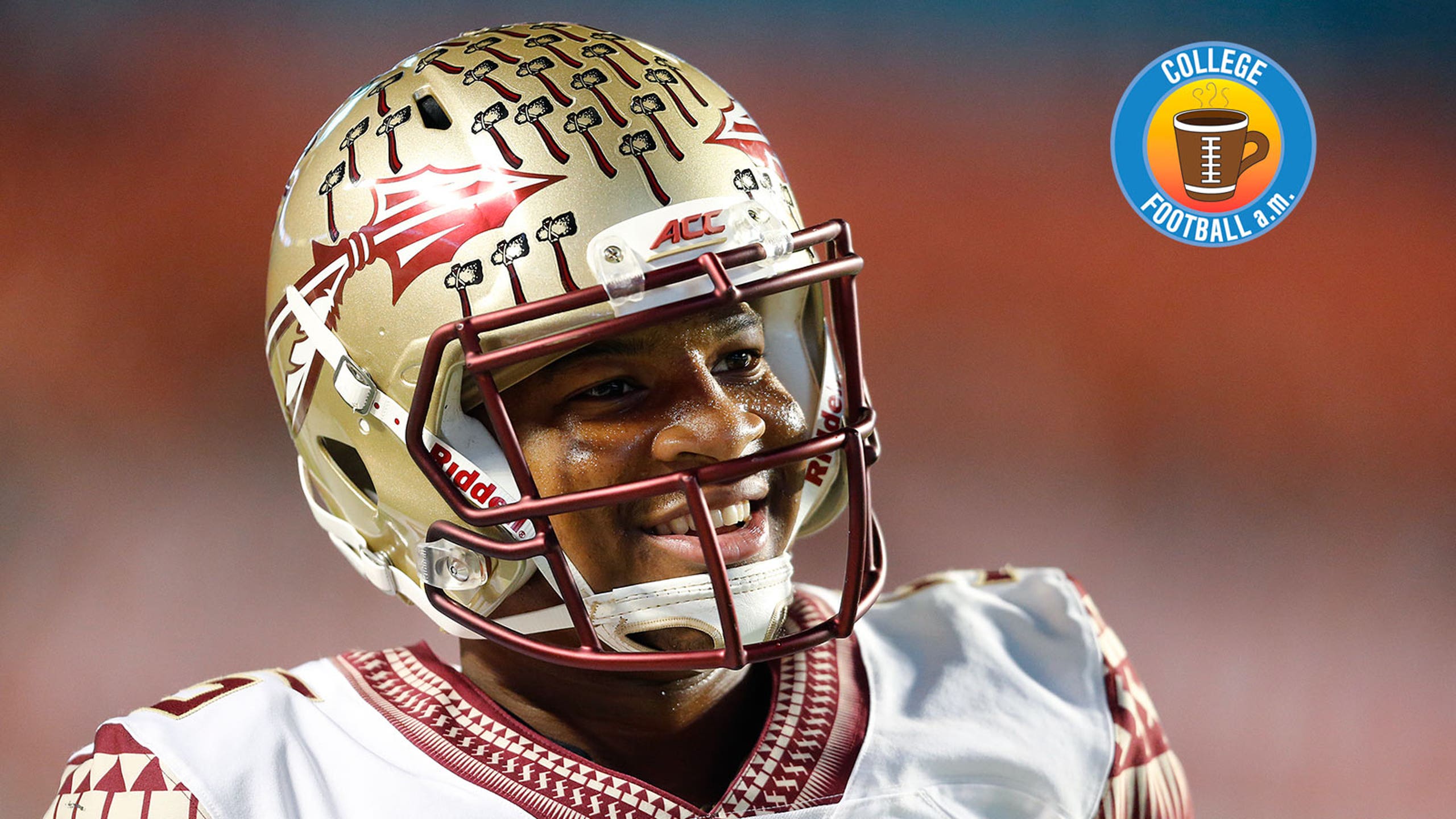 CFB AM: ACC says nothing wrong with Jameis Winston pushing official
BY Teddy Mitrosilis • November 24, 2014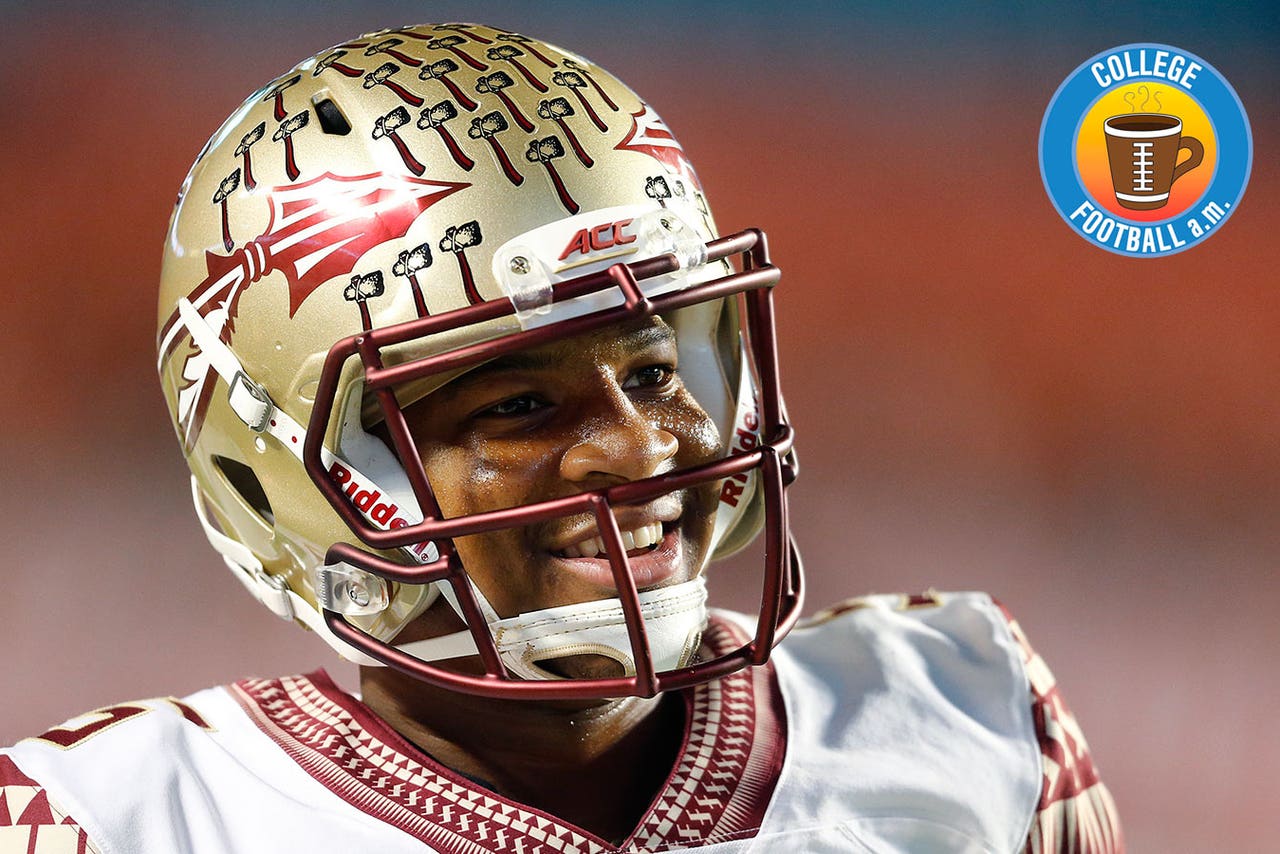 On Saturday, the Internet practically blew up when word started floating around about Florida State quarterback Jameis Winston pushing an official.
Winston was trying to get up to the line to snap a fast-tempo play, and the center judge was holding him up to allow the defense to get settled after FSU had substituted.
Here is a look at the incident from the side:
And here's a look from behind: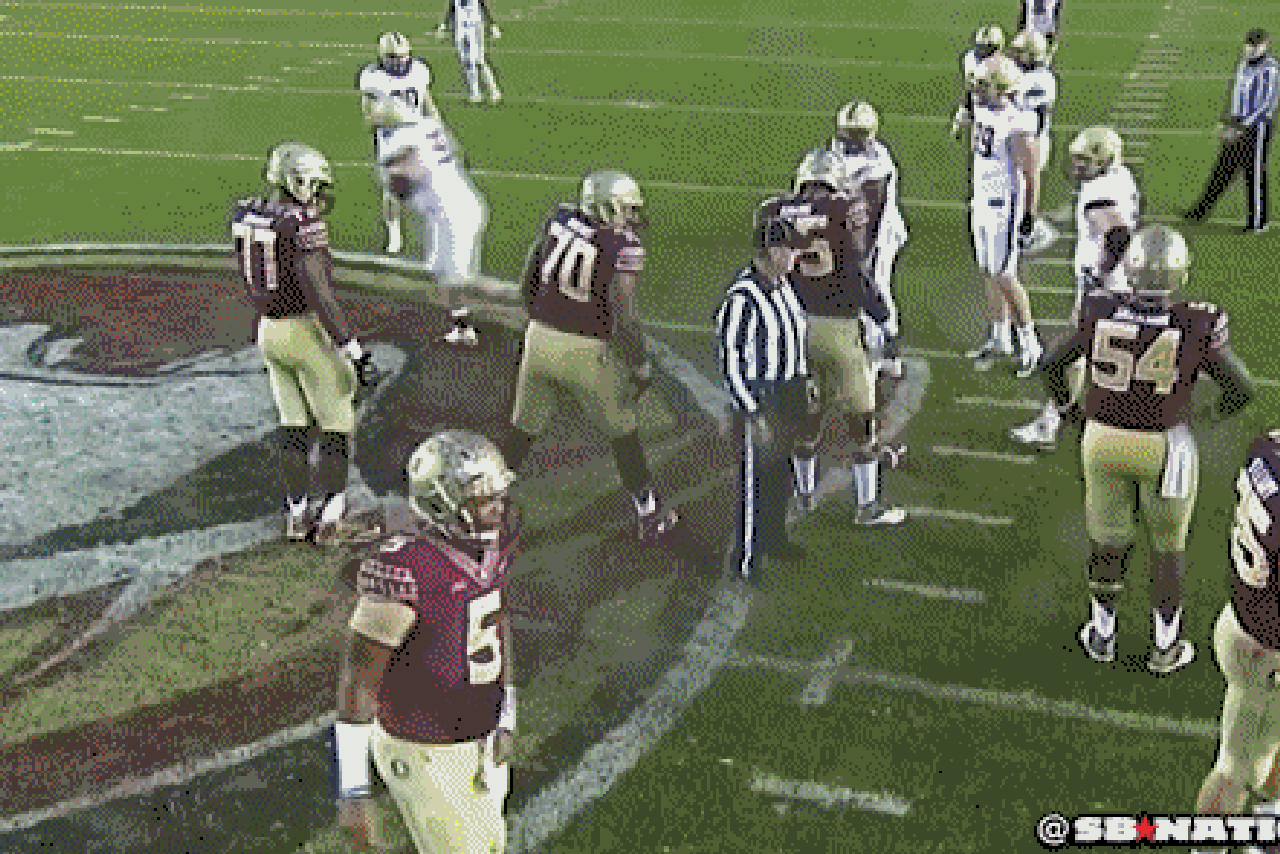 FOX Sports rules expert Mike Pereira wrote that, in his opinion, Winston should have been ejected for this kind of contact with an official. On Sunday, the ACC issued a statement saying Winston didn't do anything wrong and shouldn't have been penalized.
"The center judge's positioning, which was due to the experimental year of having an eighth official, combined with the late substitution and by rule the need to allow the defense to match up, led to contact between himself and the player," ACC coordinator of officials Doug Rhoads said. "The official believed the contact was incidental and insignificant and did not rise to the level of unsportsmanlike conduct and automatic disqualification."
Winston said after Saturday's game, "He was just holding me because he said we had a substitution. It was actually a fast-tempo play, so I was trying to get up under there and let it ride."
FSU head coach Jimbo Fisher applauded how the officials handled the situation.
''He never had an official be there before,'' Fisher said of Winston. ''It's always standing over the ball. I know that sounds crazy, but it's the truth. ... He didn't push. You can see him, he's trying to get his shoulder in there to get in there and get the ball. It had never happened to us before.
''He meant no ill will and I thought the official did a tremendous job. ... He wasn't trying to push. He wasn't yelling. ... There is incidental contact.''
Fisher noted, however, that anything involving the Heisman winner seems to become headline news.
''We all want a controversy,'' Fisher said. ''And I think part of it is, too, is because who he is and what goes on and everything he does is a lightning rod. There was ... no ill malice.''
For the record, I wrote on Sunday that I didn't think the contact was worthy of ejection, although a flag would have been understandable.
THREE THINGS YOU NEED TO KNOW
1. Our latest FOX Four came out on Sunday night, and Oregon jumped Florida State to take over the No. 1 spot. Alabama comes in third behind the Seminoles. Really, the top three teams are a toss up – only two total points separates No. 1 from No. 3. We also had a new team in the fourth slot this week.
2. In the new AP Top 25, Florida State remains No. 1 while UCLA climbs into the top 10 after beating USC this past weekend. In the coaches poll, the Crimson Tide are the top-ranked team. So there are three different polls with three different No. 1 teams after Week 13. Yep, that pretty much explains this college football season.
3. It's officially Iron Bowl week, and Auburn is hopeful it will have receiver Duke Williams back to face the Tide. Williams hasn't played since suffering a knee injury against Texas A&M on Nov. 8.
THREE THINGS YOU SHOULD KNOW
1. Bruce Feldman's Week 13 Big Picture column is loaded with good stuff, leading with Arkansas' resurgence and how the Hogs have become a team nobody in the SEC West wants to play. Also reporting on the hot seats at Miami and Nebraska, some stuff on UCLA's Brett Hundley and more. Give it a read if you have a few minutes.
2. If a game-winning touchdown pass happened at almost 3 a.m. ET in Hawaii … did it actually happen?
3. We need to give a hat tip to this Yale punter for faking out a Harvard rusher. Who says Ivy League punters aren't athletes?
THREE THINGS YOU MAY WANT TO KNOW
1. Now this is a nasty touchdown catch: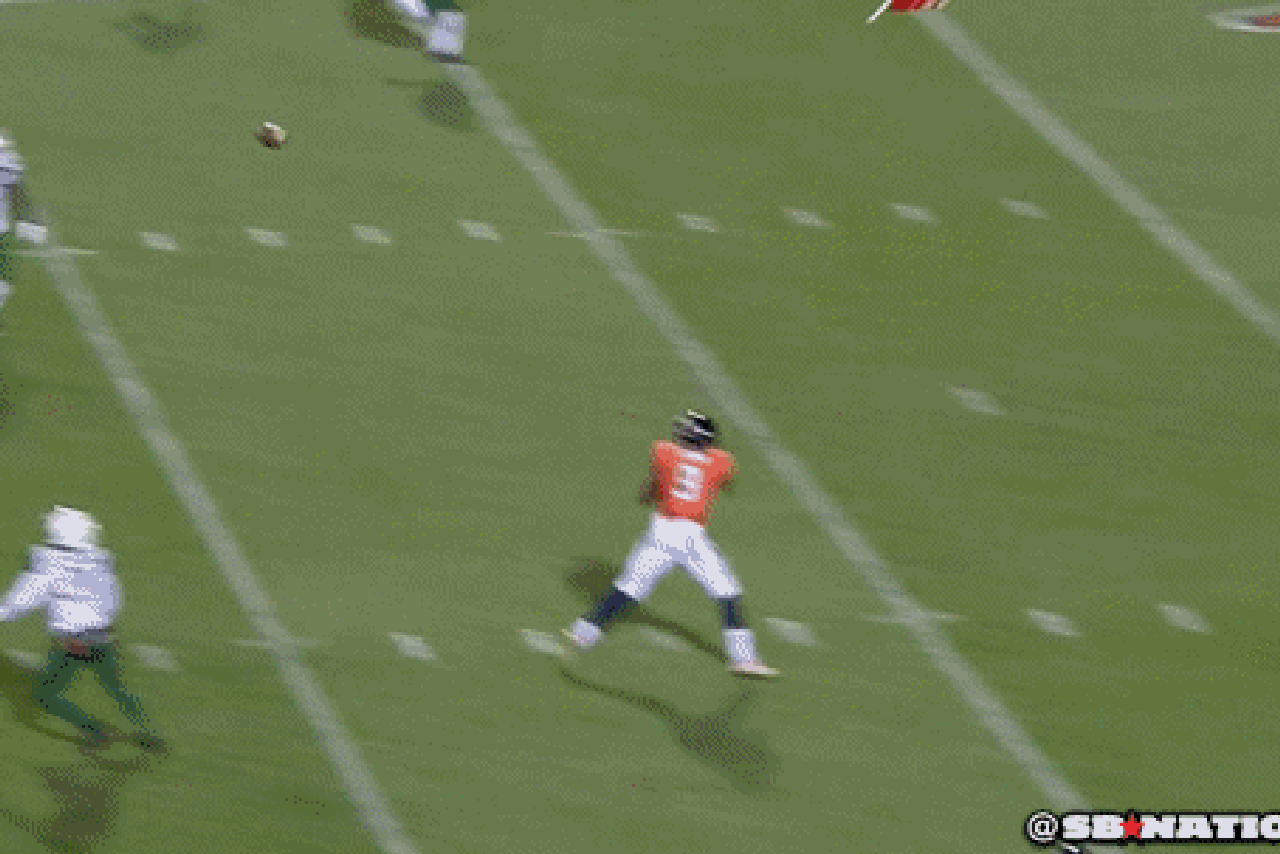 2. How Minnesota-Nebraska came to play for the "$5 Bits of Broken Chair Trophy." Entertaining post here by Patrick Vint.
3. A Florida State starter was in the FSU library when a shooting took place last week. Thank goodness he was OK.
LASTLY
• Michigan State tried to run an end-around with a guy who weighs more than 300 pounds. Not surprisingly, it didn't go very far.
• Happy Monday, everybody. Attack the day like you're this Virginia fan singing into a goose.
The Associated Press contributed to this report.
Teddy Mitrosilis is an editor and writer for FOXSports.com. Follow him on Twitter @TMitrosilis and email him at tmitrosilis@gmail.com.
---