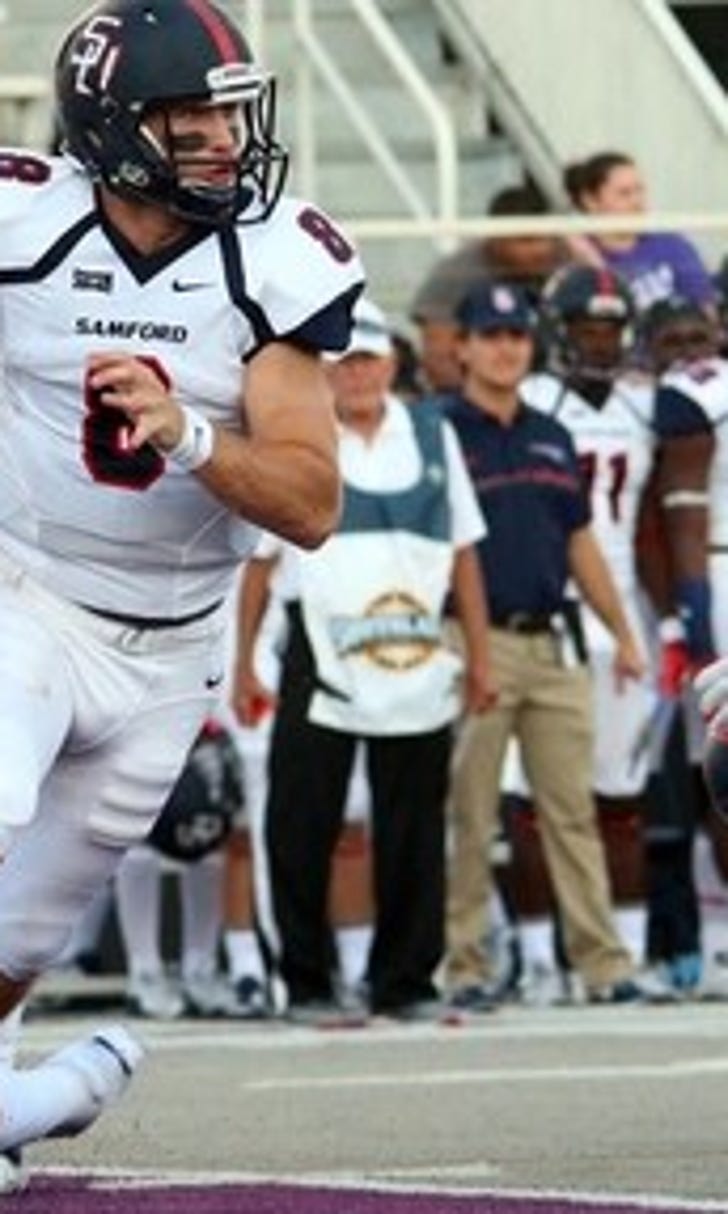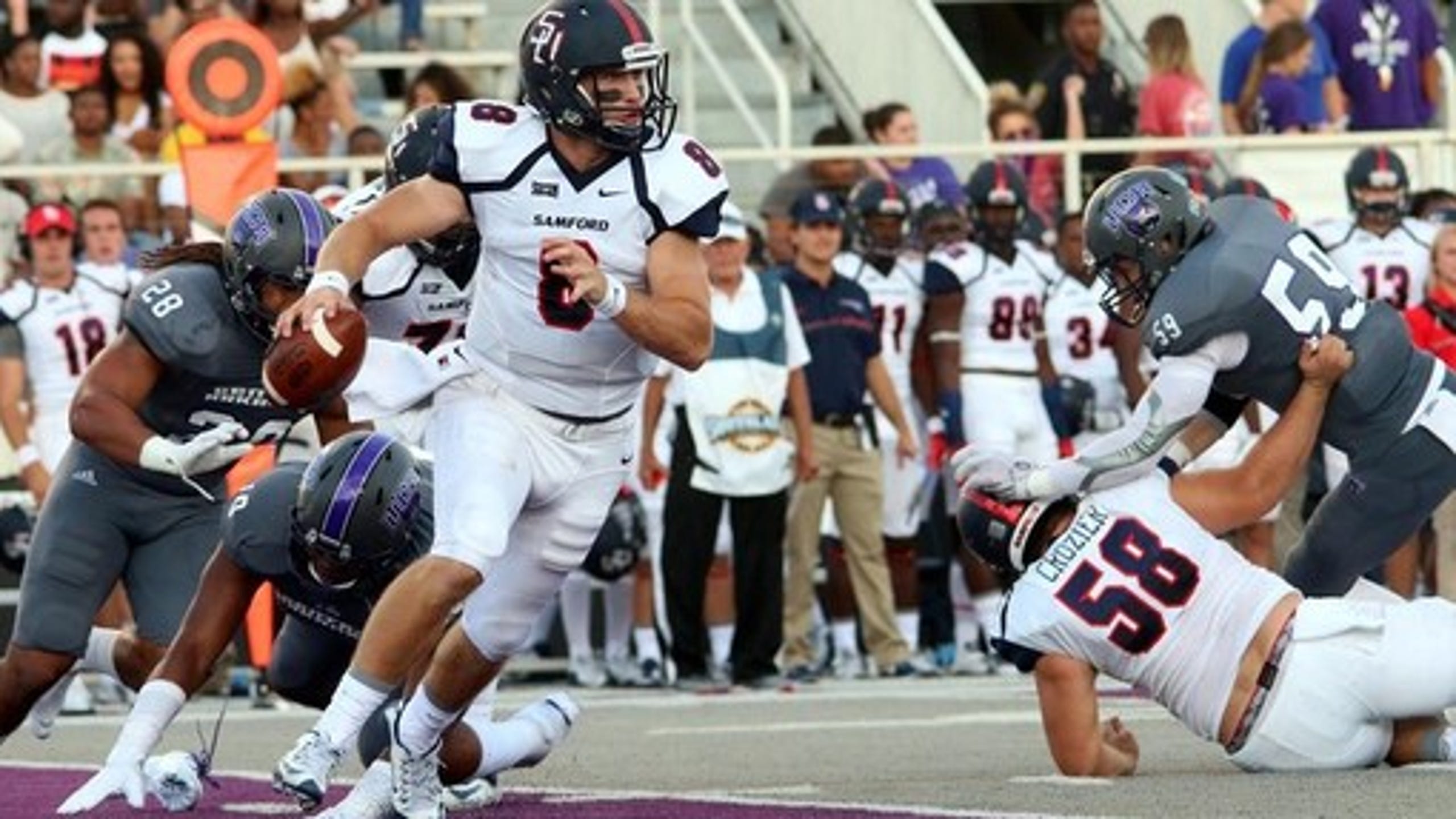 Central Arkansas, Samford rise in Top 25
BY foxsports • October 24, 2016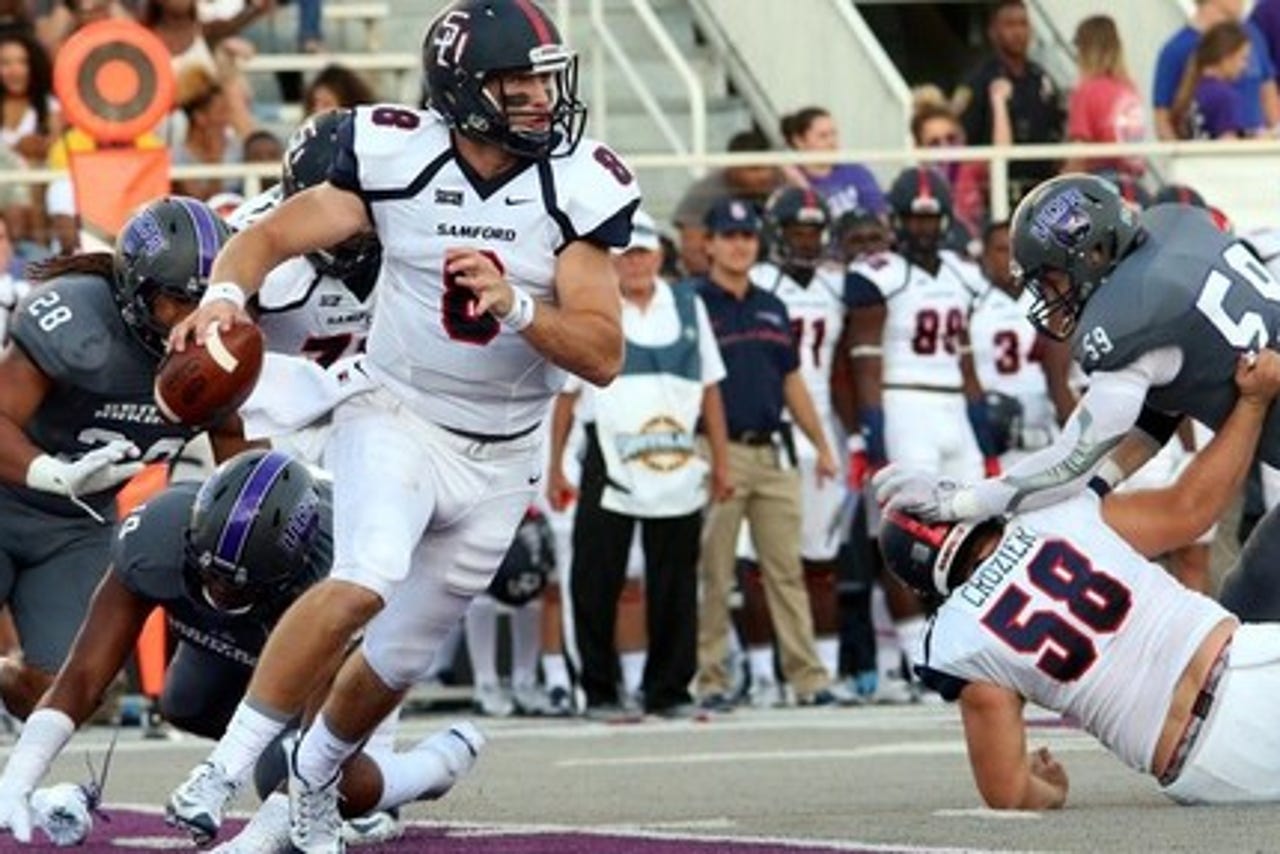 (STATS) - They met in a terrific intersectional game that could have been overlooked on a busy early September evening, but Central Arkansas and Samford are commanding attention as the regular season nears its final month.
They can be found in their conference title races and moving up the STATS FCS Top 25. On Monday, Central Arkansas reached No. 19 and Samford rose to No. 20.
The first nine spots went unchanged in the national media poll, with Sam Houston State continuing on as No. 1, gaining 120 of the 163 first-place votes. Jacksonville State, Eastern Washington, North Dakota State and The Citadel also received first-place votes.
Samford beat Central Arkansas 35-29 back on Sept. 10 and both teams have been impressive since then.
UCA (6-1) has won five straight games, including one over FBS opponent Arkansas State, as well as 22-12 over Lamar this past Saturday, which pushed the Bears to 5-0 in the Southland Conference and a half-game behind Sam Houston in the standings.
Samford's only loss is to Chattanooga, so the Bulldogs (6-1, 4-1) are one game behind The Citadel and in third place in the Southern Conference, but after playing at Mississippi State this week, they have an Oct. 29 game at the conference leader.
Linked by their early-season game, UCA's team mantra may as well be Samford's because both surging teams hope to win their conference title and qualify for the FCS playoffs.
"We started off our year with our motto being 'Finishing,'" UCA coach Steve Campbell said. "Last year, we played well at times and did some good things. But our whole deal is about finishing and making sure that we're getting better each week."
Sam Houston (7-0) is getting better, winning each of its games by double digits, including 38-21 at Nicholls this past Saturday (the Bearkats built a 24-0 halftime lead). Coach K.C. Keeler's team will step out of the conference schedule on Saturday by hosting Texas Southern and then wraps up the regular season with three more Southland games. They will host Central Arkansas on Nov. 19, the final day of the regular season.
The other teams in the Top 5 also received first-place votes: Jacksonville State (6-1), which beat Eastern Kentucky 24-7 in the Ohio Valley Conference, had 16; Eastern Washington (6-1), which topped Montana State 41-17 in the Big Sky Conference, had 18; North Dakota State (6-1), which held off Western Illinois 21-13 in the Missouri Valley Football Conference, had six; and The Citadel (7-0), which beat Wofford 24-21 in overtime in the Southern Conference, had three.
CAA Football leader Richmond (7-1) was sixth, meaning the top six teams were from a different FCS conference. South Dakota State (5-2) was seventh, followed by James Madison (6-1), Charleston Southern (4-2) and Chattanooga (7-1), whose one-spot rise was the only change in the Top 10.
Villanova (6-2) and North Carolina A&T (6-1) climbed to a season-high No. 11 and 12, respectively. Then it was Western Illinois (5-2), Cal Poly (5-2), Youngstown State (5-2), Montana (5-2), North Dakota (6-2), Coastal Carolina (5-2), Central Arkansas and Samford.
Rounding out the Top 25 were No. 21 Grambling State (5-1), Stony Brook (5-2), Eastern Illinois (5-3), Harvard (5-1) and Tennessee State (5-2). Harvard moved back into the ranking, while Albany fell out.
Ten conferences had at least one representative in the rankings, led by the Big Sky, CAA Football and Missouri Valley with four each.
A national panel of sports information and media relations directors, broadcasters, writers and other dignitaries select the STATS FCS Top 25. In the voting, a first-place vote is worth 25 points, a second-place vote 24 points, all the way down to one point for a 25th-place vote.
The Top 25 is released every Monday afternoon during the regular season, except for Sunday morning, Nov. 20, prior to the selection of the 24-team FCS playoff field. A final Top 25 will follow the FCS championship game, which will be held Jan. 7 in Frisco, Texas.
---