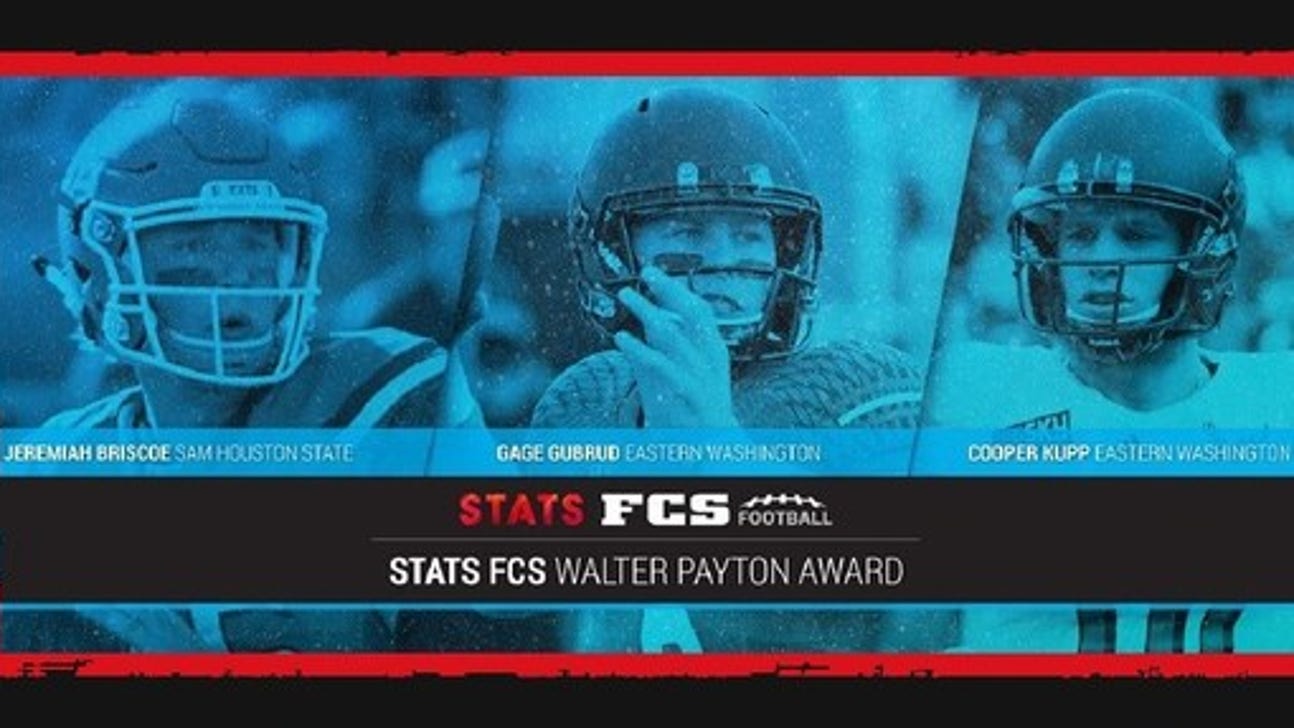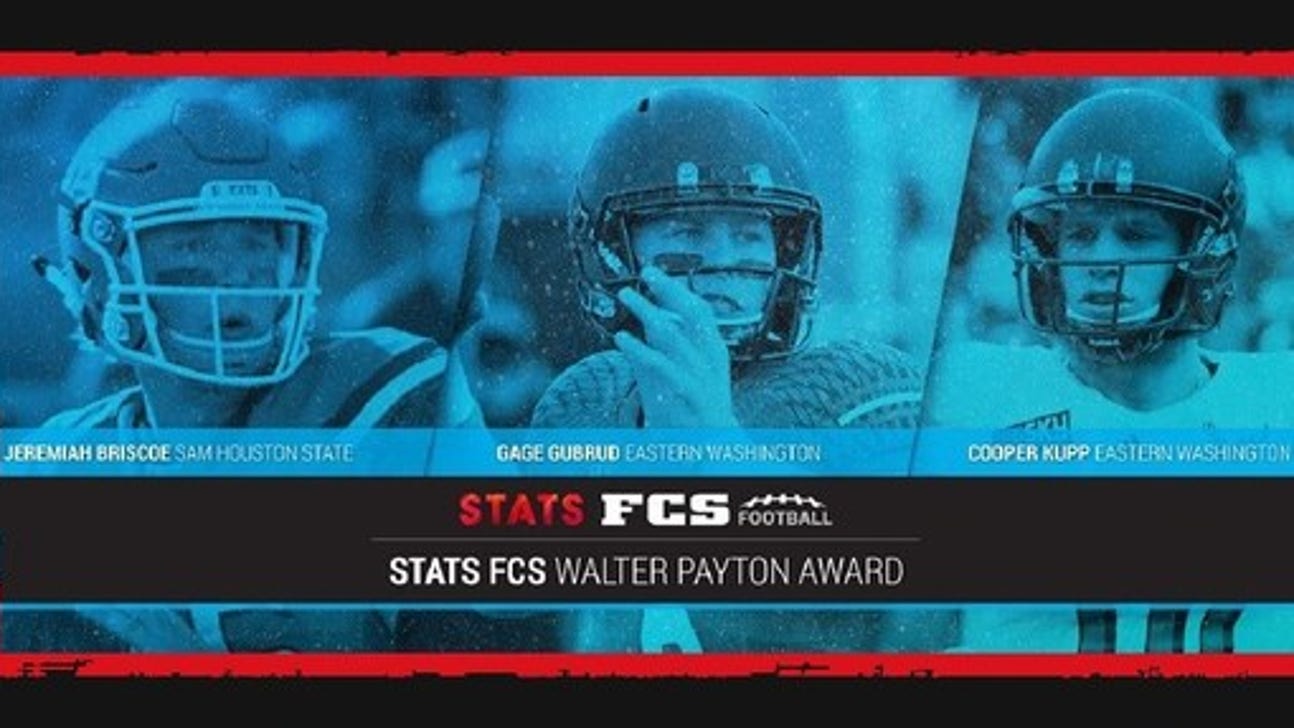 Briscoe, Gubrud, Kupp invited to Payton Award announcement
Published
Nov. 29, 2016 2:21 p.m. ET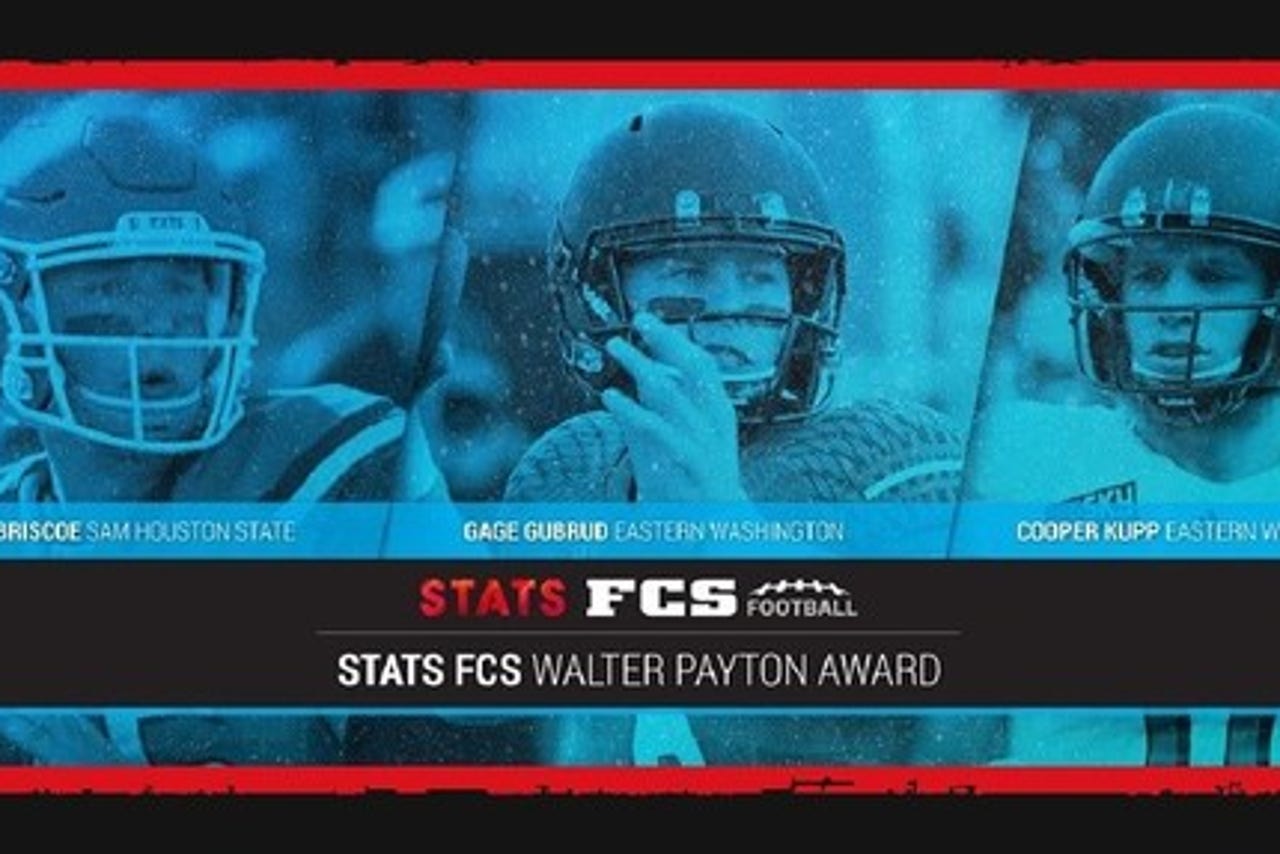 (STATS) - Record-setting performances have been a constant this season for the three players who Tuesday were invited to the announcement of the 2016 STATS FCS Walter Payton Award.
Sam Houston State's Jeremiah Briscoe and Eastern Washington teammates Gage Gubrud and Cooper Kupp hope to claim what's known as the Heisman of the FCS level, an award that is in its 30th anniversary season and will be handed out at the STATS FCS Awards Banquet and Presentation in Frisco, Texas on Jan. 6 - the eve of the national championship game.
A national panel of over 150 sports information and media relations directors, broadcasters, writers and other dignitaries voted on the Payton Award, which had 25 finalists from 13 FCS conferences. Briscoe and Gubrud are quarterbacks, while Kupp, last year's Payton recipient, is a wide receiver.
Briscoe, a 6-foot-3, 220-pound redshirt junior from Houston, has led Sam Houston State to the No. 1 ranking in the STATS FCS Top 25, the Southland Conference title and the No. 5 seed in the FCS playoffs. The Bearkats have the nation's top-ranked offense and his 52 touchdown passes are a Southland record and four shy of the FCS single-season record. The Southland player of the year has produced the top four single-game touchdown performances in Sam Houston history, including seven scoring passes against both Stephen F. Austin and Central Arkansas. In addition to leading the FCS in TD passes, he ranked No. 1 in passing yards (4,096), passing yards per game (372.4), passing efficiency (187.0), points responsible for (318) and points responsible for per game (28.9) during the regular season. He threw only seven interceptions.
"I have a really strong belief in Jeremiah's talent," coach K.C. Keeler said, "but maybe I have a stronger belief in his leadership skills."
Gubrud and Kupp are the first pair of teammates to share the Big Sky Conference's offensive player of the year award and have helped third-ranked Eastern Washington to a share of the conference title and the No. 2 seed in the playoffs.
Gubrud, a 6-2, 195-pound redshirt sophomore from McMinnville, Oregon, opened the season against Washington State with a school-record 551 total offensive yards in his first career start, and later set the Eagles' single-game standard for passing yards with 520 against Montana State. He is on pace to set the Big Sky record for total offensive yards per game (his average is a national-best 412.2) and ranked second in the FCS in completions (300), passing yards (4,071), passing yards per game (370.1), touchdown passes (40), points responsible for (266) and points responsible for per game (24.2) during the regular season. He went 222 straight passes without an interception, and led the Eagles with 463 rushing yards, scoring four times.
Kupp, a 6-2, 215-pound redshirt senior from Yakima, Washington, is enjoying his fourth straight monster season. In the regular season, he had 91 receptions for 1,297 yards and 12 touchdowns, ranking first in receiving yards per game (129.7) and second in receptions, receptions per game (9.1) and receiving yards. He rushed for a touchdown, passed for two and scored on a punt return. The NFL prospect owns 13 FCS, 10 Big Sky and 22 school records, led by the career triumvirate of 402 receptions, 6,061 receiving yards and 68 touchdowns receptions - each a FCS and Division I record. He's also caught a pass in 49 straight games, tying the FCS mark. With a repeat of the Payton Award, Kupp would become the second two-time winner with former Appalachian State quarterback Armanti Edwards in 2008 and '09.
"When you take a look at their seasons, Gage has had an outstanding debut year, and then Cooper's body of work is off the charts," coach Beau Baldwin said. "It's very deserving in terms of how teams have to prepare going against Gage and Cooper and what they bring to the table offensively. They just happen to be on the same team. With the work each of them has done individually, their accomplishments on paper statistically and the wins they've helped produce for our team, I think it's very deserving they are two of the three finalists. It's quite an honor."
The Walter Payton Award voting reflected the regular season and was conducted before the start of the FCS playoffs.
The results for fourth through 25th place were as follows:
---=
4. Chase Edmonds, RB, Fordham: 6-22-32-19-20-272
5. Tarik Cohen, RB, North Carolina A&T: 8-16-7-13-14-133
6. Eli Jenkins, QB, Jacksonville State: 5-13-6-4-6-109
7. Taryn Christion, QB, South Dakota State: 0-4-6-13-14-74
8. Khalid Abdullah, RB, James Madison: 0-4-7-13-8-71
9. Devlin Hodges, QB, Samford: 1-2-6-7-12-57
10. Jake Wieneke, QB, South Dakota State: 1-4-3-6-7-55
11. Karel Hamilton, WR, Samford: 0-3-3-6-13-46
12. Bryan Schor, QB, James Madison: 1-1-5-8-4-44
13. DeVante Kincade, QB, Grambling State: 2-0-5-4-4-37
14. Dallas Goedert, TE, South Dakota State: 1-0-4-5-5-32
15. De'Angelo Henderson, RB, Coastal Carolina: 3-1-3-0-1-29
16. Lenard Tillery, RB, Southern: 0-2-3-2-1-22
17. Kyle Lauletta, QB, Richmond: 0-1-1-2-6-17
18. Kamron Lewis, WR, Saint Francis: 0-1-0-4-1-13
19.(Tie) Austin Gahafer, QB, Morehead State: 1-0-0-1-2-9
19.(Tie) KD Humphries, QB, Murray State: 0-0-2-0-3-9
21. Troy Pelletier, QB, Lehigh: 0-0-0-2-4-8
22. Julie'n Davenport, LT, Bucknell: 0-0-1-1-2-7
23. Justin Watson, WR, Penn: 0-0-1-1-1-6
24. Tyrell Maxwell, QB, Gardner-Webb: 0-0-0-1-0-2
25. Dillon Buechel, QB, Duquesne: 0-0-0-0-0-0
A first-place vote was worth five points, a second-place vote four points, a third-place vote three points, a fourth-place vote two points and a fifth-place vote one point.
---