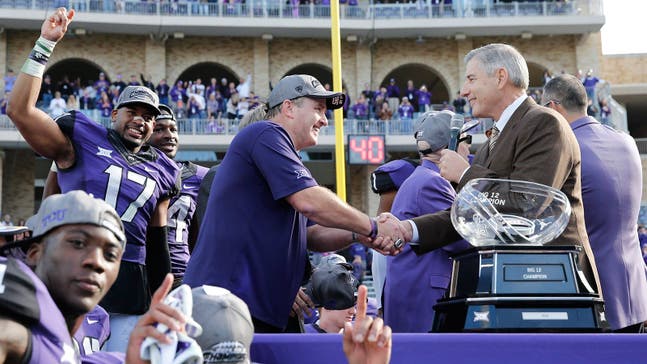 Big 12 commish backs off championship game talk after meetings
Published
May. 5, 2015 9:24 p.m. ET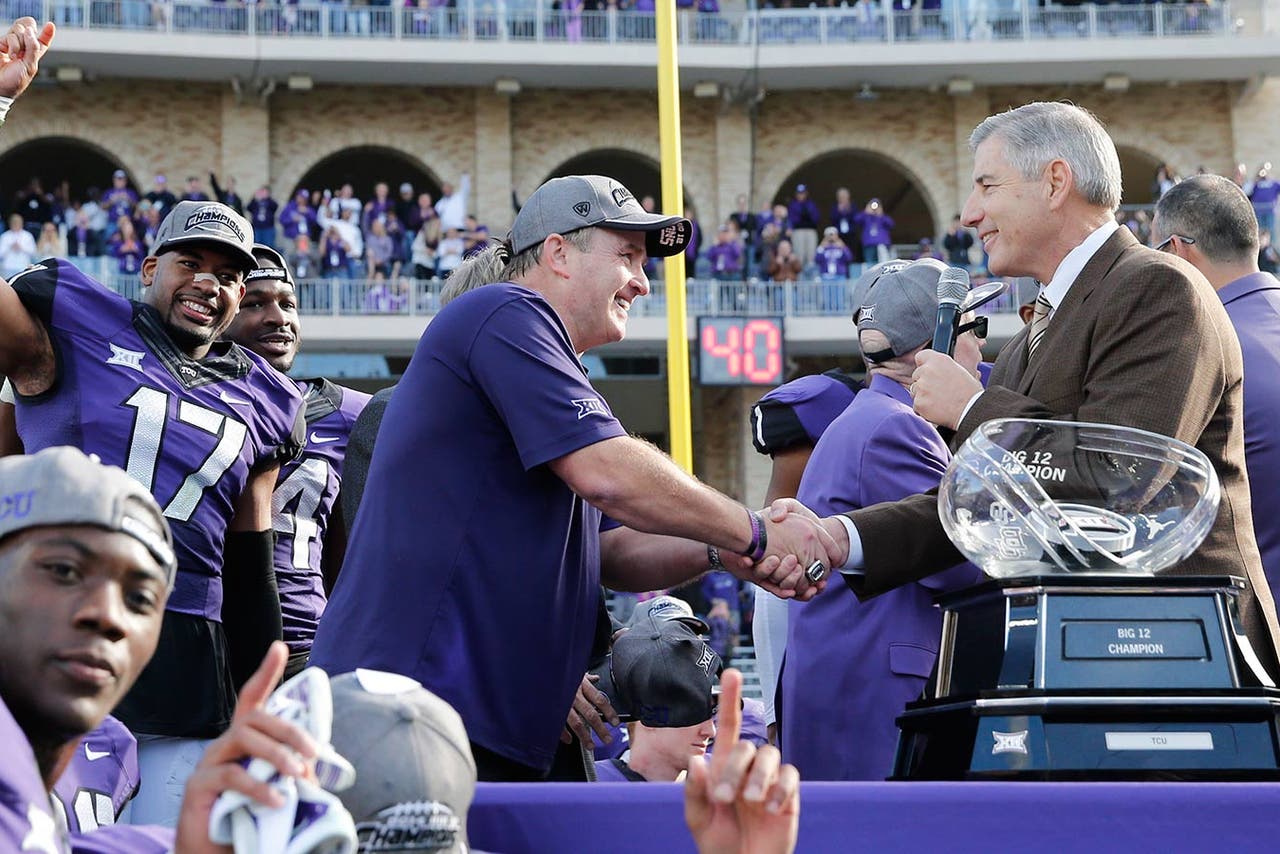 PHOENIX -- The Big 12 has tapped the brakes on the conference championship game talk.
Last week, Commissioner Bob Bowlsby strongly suggested the league would move toward bringing back its football championship to improve its chances of putting a team in the College Football Playoff.
After meeting with coaches and athletic directors Tuesday, Bowlsby said he does not sense the conference is headed toward a title game.
"I think we all believe that one year is not a long enough trial to draw any conclusions," Bowlsby said.
The Big 12 is the only Big Five conference without a title game.
TCU was ahead of Ohio State in the next-to-last rankings by the playoff selection committee, with Baylor just behind the Buckeyes. But the two Big 12 teams were finishing their regular seasons while Ohio State routed Wisconsin in the Big Ten championship game. The Buckeyes moved into No. 4 in the final committee rankings, grabbing the final spot in the four-team field and keeping the Big 12 co-champions out of college football's first playoff.
Bowlsby met with selection committee chairman Jeff Long in North Texas last week and said he came away believing the Big 12 was at a disadvantage having 12 data points instead of 13, like the other power conferences.
On Tuesday he said: "We may find ourselves in better shape than some other conferences as a result of our model rather than in spite of our model."
Baylor's Art Briles, speaking just before coaches met with the commissioner, said he was "very curious to sit back and listen and see what everybody that while he would listen" but liked the league setup as it is.
"We're judging everything on what we all just went through kind of wide-eyed and wondering what was going to happen," he said. "Now we've got a pretty good idea. But I still think it was a little different last year, that no upsets happened the last week of the season. That's pretty uncommon."
If there was a title game, it would always be a rematch because the teams all face each other in the regular season.
Much talk has centered on the league's No. 1 team playing the No. 2 in the title game.
"You could have a 9-0 team playing a 6-3 team. That could happen" Briles said. "It's not always going to be 8-1 versus 8-1."
Sometimes, not having a title game could be an advantage, he said.
"I think somebody runs the table in our league, they're in," Briles said. "I don't think there's any question because you're going to beat a couple of top 10 teams, probably three or four in the top 20. That's a pretty good resume."
---