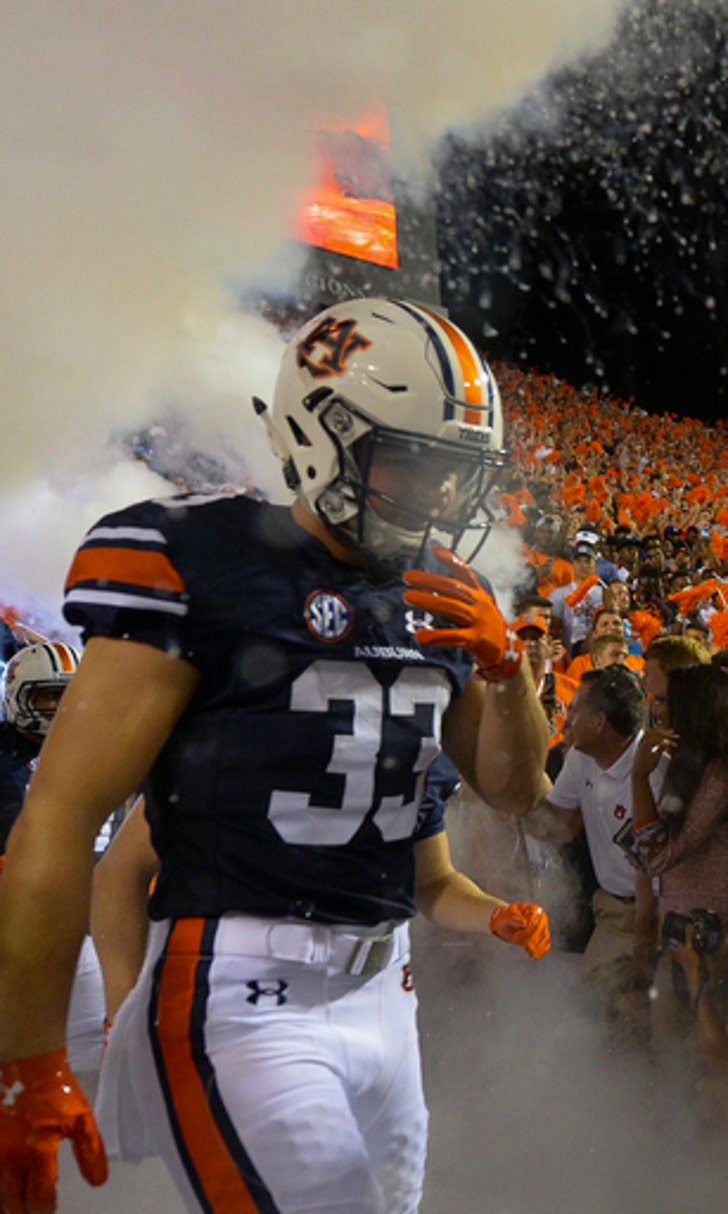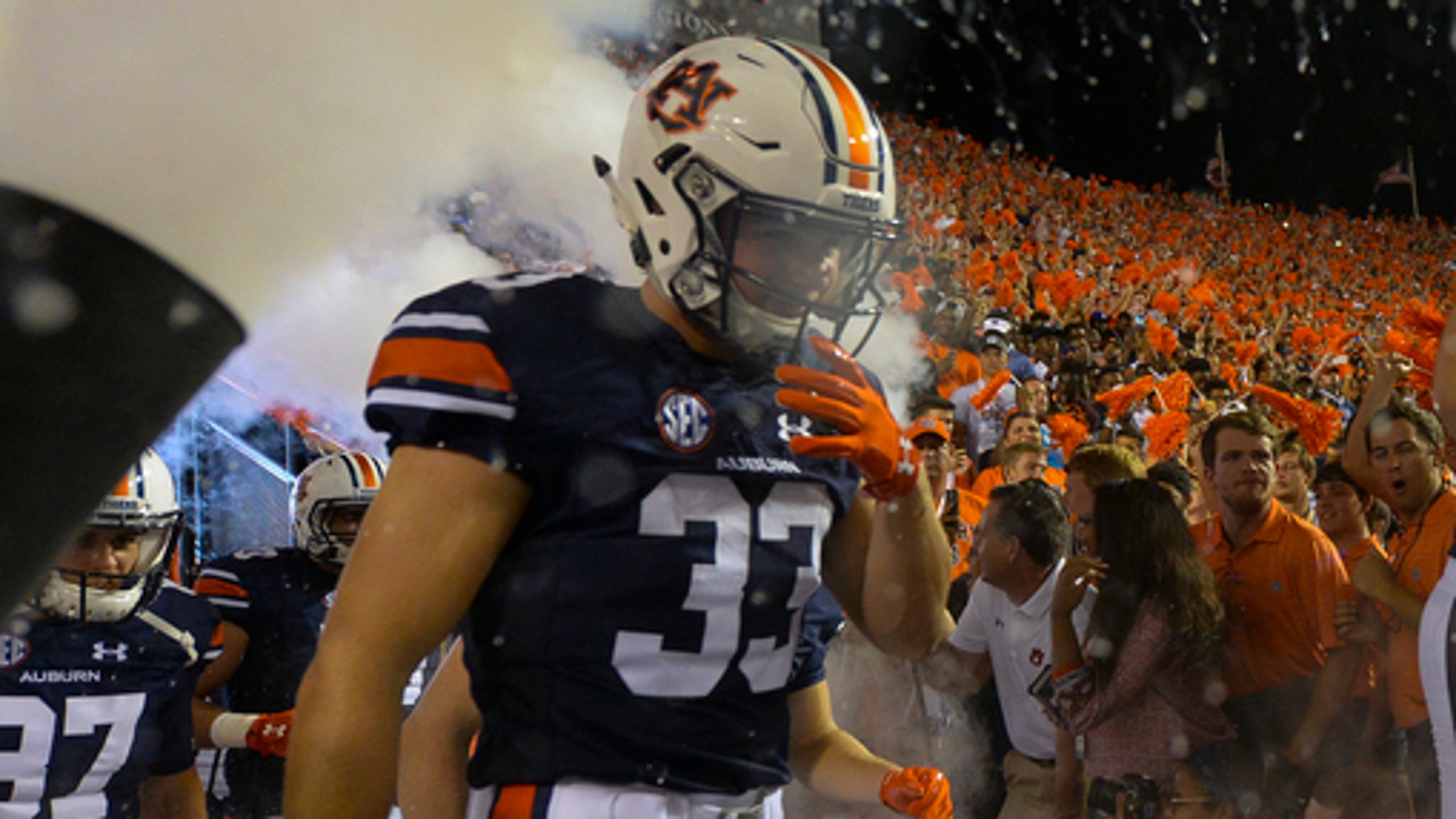 Auburn kicker-turned-receiver Hastings catching on already
BY foxsports • September 8, 2016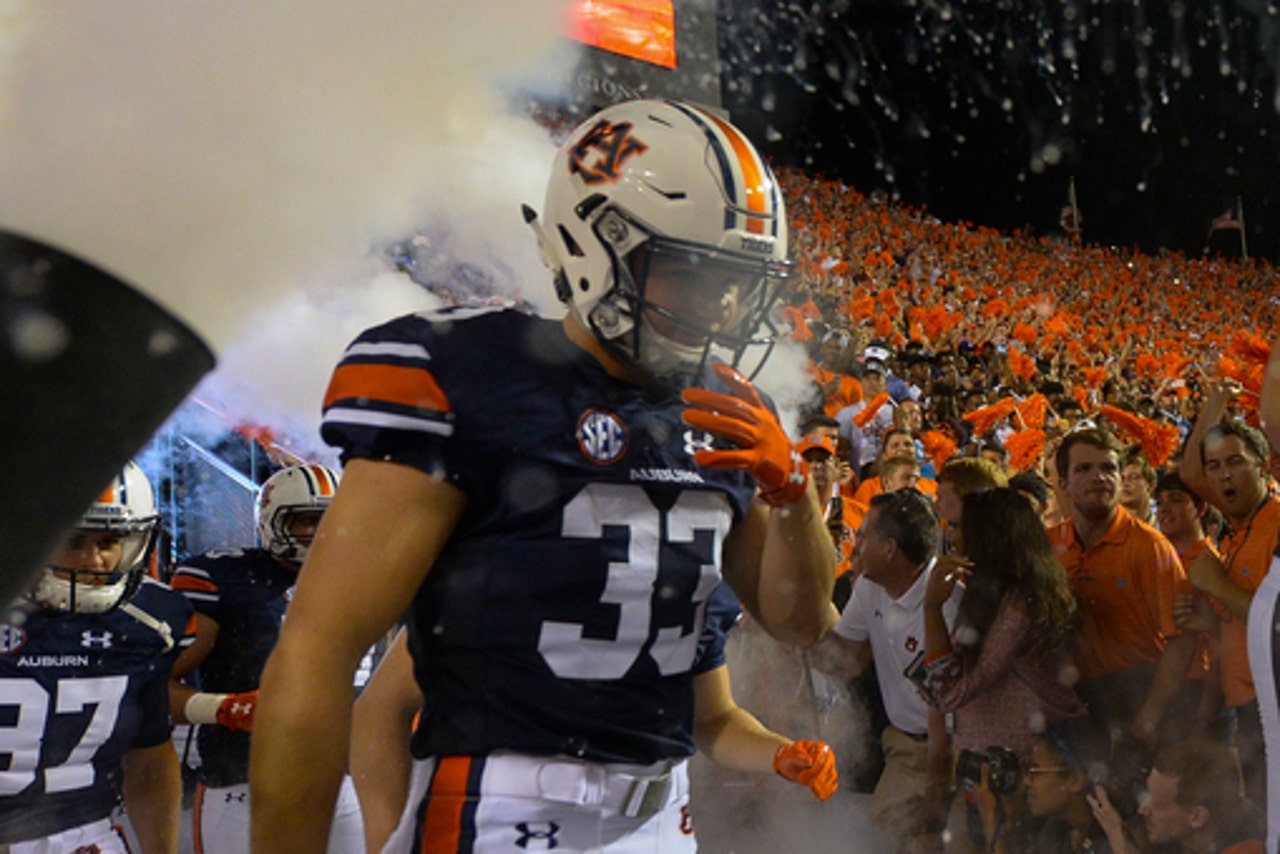 AUBURN, Ala. (AP) Undersized, baby-faced and sporting floppy blond hair, Will Hastings doesn't really look the part of a Southeastern Conference receiver.
Auburn's converted placekicker played the part pretty well in the opener against No. 2 Clemson. He caught two balls to convert third-and-long situations and his third catch moved the chains on fourth down.
He even drew a pass interference call on a second-half pass. Not bad for a 5-foot-10, 178-pounder who walked on two years ago as a kicker despite a prolific high school receiving career. Auburn tailback Kerryon Johnson doesn't think it really matters if Hastings looks the part or not.
''I say this to Will all the time: When you see him, no,'' Johnson said. ''If you go down to the weight room, he's got records on our board from this first summer. He has records on our board for pro agility and things like that, so he's an athlete.
''Don't be mistaken. He's very quick. He's very shifty. He's a competitor.''
And the sophomore has found his way from backup kicker to part of Auburn's young receiving corps, which also includes several highly rated freshmen.
Hastings was one of the most prolific receivers in Arkansas High School history for Pulaski Academy - the team that famously doesn't punt and routinely goes for onside kicks - but only drew interest from a few of the state's Division II schools. Hastings was only the state's second prep receiver to gain 2,000 yards in a season.
Auburn offered him a preferred walk-on spot as a kicker but his only action last season was an onside kick attempt at LSU that Auburn couldn't recover. He played a significantly bigger role in a primetime game against one of the nation's top teams after an offseason position switch.
''It was a ton of fun being out there again,'' Hastings said. ''I haven't played real football since my senior year in high school and it meant the world to me to finally go out there and catch a collegiate pass. That was really cool.''
Auburn needed some receiver, any receiver, to come through at the time. The Tigers played three quarterbacks early and Hastings came up with their initial two first downs when the offense was struggling badly.
''He's got some natural things to him,'' Auburn coach Gus Malzahn said. ''With a new guy you worry if the moment is too big. Obviously it wasn't and he responded pretty well in some pressure moments. He's a real quick guy, he's a fast guy. And I thought he did a solid job.''
Chances are, Hastings will face increasing competition as some of the four freshman receivers develop roles alongside senior Marcus Davis. One freshman, Kyle Davis, had a 43-yard catch in the third quarter. Fellow freshman Nate Craig-Myers also played.
Hastings' grandfather played at Arkansas State, which visits on Saturday. He said his only scholarship offers came from three small schools in his home state: Ouachita Baptist, Henderson State and Southern Arkansas.
''My family, friends and my whole high school believed in me and I called Auburn a couple days before signing day,'' Hastings said. ''I did a kicking camp here before the summer going into my senior year and I called a couple days before (signing day) and said, what's going on? I kept coming to the games and they kept recruiting me.''
---
AP College Football website www.collegefootball.ap.org
---