Army staring at a rare opportunity - securing a bowl bid
Published
Nov. 18, 2016 11:07 a.m. ET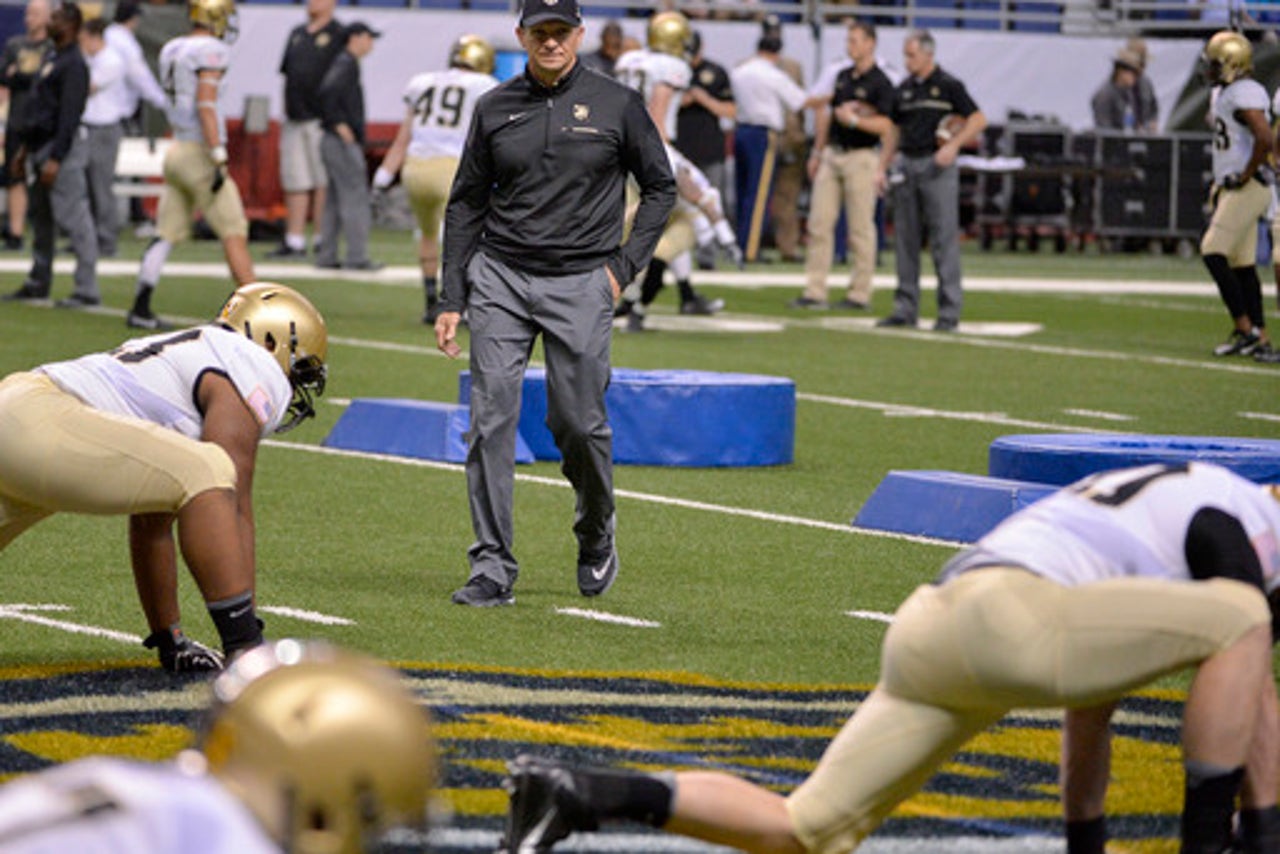 With two games left in its season, Army is staring at a rare opportunity. Despite two straight losses, the Black Knights still have a slim chance to play in a bowl game for only the second time since 1996.
''There's an opportunity out there if we can get a victory this Saturday,'' coach Jeff Monken said. ''We've got to get one this weekend if we're going to have any hope.''
Army (5-5) hosts FCS foe Morgan State (2-7) on Senior Day at Michie Stadium, a special moment for a class that's helped the program move forward in three seasons under Monken.
''I, as the head coach, have leaned on those guys for leadership in the locker room, and to build the culture that it takes to win,'' Monken said. ''I'm confident that culture is being built and we are headed in the right direction.''
Army allowed a season-high 44 points in a loss to Notre Dame last week in San Antonio at The Alamodome. The triple option stalled, held to only 229 yards, but the Black Knights remain second in the nation in rushing with an average of 311 yards per contest.
The loss followed a 31-12 setback at home the previous week against service academy rival Air Force . The triple option was held to a season-low 144 yards on 40 carries in that game.
The third try to reach six wins comes against a struggling Morgan State team that's near the bottom of the Mid-Eastern Athletic Conference. The Bears have lost five straight.
''The big thing for us is we've got to clean up our own mistakes,'' MSU interim head coach Fred Farrier said. ''We're just making too many mistakes at critical points.''
That was never more apparent than in last week's 22-21 loss at Florida A&M. Morgan State led 21-9 after Chris Andrews scored on a four-yard run late in the third quarter. Then Andrews lost a fumble early in the fourth quarter that FAMU converted into a touchdown, the Bears never got their offense going again, and the game slipped away. Alex Raya also missed field goals of 36 and 35 yards for MSU.
''It's another one of those situations where you're shooting yourself in the foot,'' Farrier said.
Other things to know when Army hosts Morgan State on Senior Day at Michie Stadium:
PRESSURE TIME: The Black Knights need a win to remain in the bowl discussion. Army's victory over FCS foe Lafayette a month ago does not count toward bowl eligibility victories. Just like a year ago, some of the 80 bowl slots available likely will be filled with five-win teams. Those teams are selected according to their latest Academic Progress Rate, and Army sits fourth on that list, behind Duke, Northwestern, and Vanderbilt. A year ago, three five-win teams played in a bowl game.
ROAD WOES: Morgan State has yet to win on the road this season. The Bears also lost 62-0 at Marshall, 22-12 at Hampton, and 27-14 at Norfolk State. MSU's last win away from Hughes Stadium was on Oct. 3, 2015, when the Bears beat Delaware State 26-6 in Dover.
RED ZONE SPUTTERS: Morgan State has scored just 16 times in 28 trips inside its opponent's 20-yard line to rank last in the MEAC. Twelve of the 16 scores have been TDs, and the Bears also have had four turnovers (three fumbles and an interception) and have converted only four of 10 field goals in the red zone.
ROOKIE TIME: Freshman QB DeAndre Harris is expected to start for MSU. Harris also started last week and completed just two of six passes for 12 yards and threw one interception before being replaced by Andrews in the second quarter. The Bears managed only 11 first downs in the game.
SENIOR SWAN SONG: Linebackers Andrew King and Jeremy Timpf lead a contingent of 17 seniors who will play their final game at Michie Stadium. Monken marvels at the contributions of what he considers a special class.
''This group of guys is what you hope for when you talk about leaders,'' Monken said. ''They lead by example. They have a great attitude. They believe they're the guys that turned it around.''
---
More AP college football: www.collegefootball.ap.org and https://twitter.com/AP-Top25
---
Follow Kekis at www.twitter.com/Greek1947
---