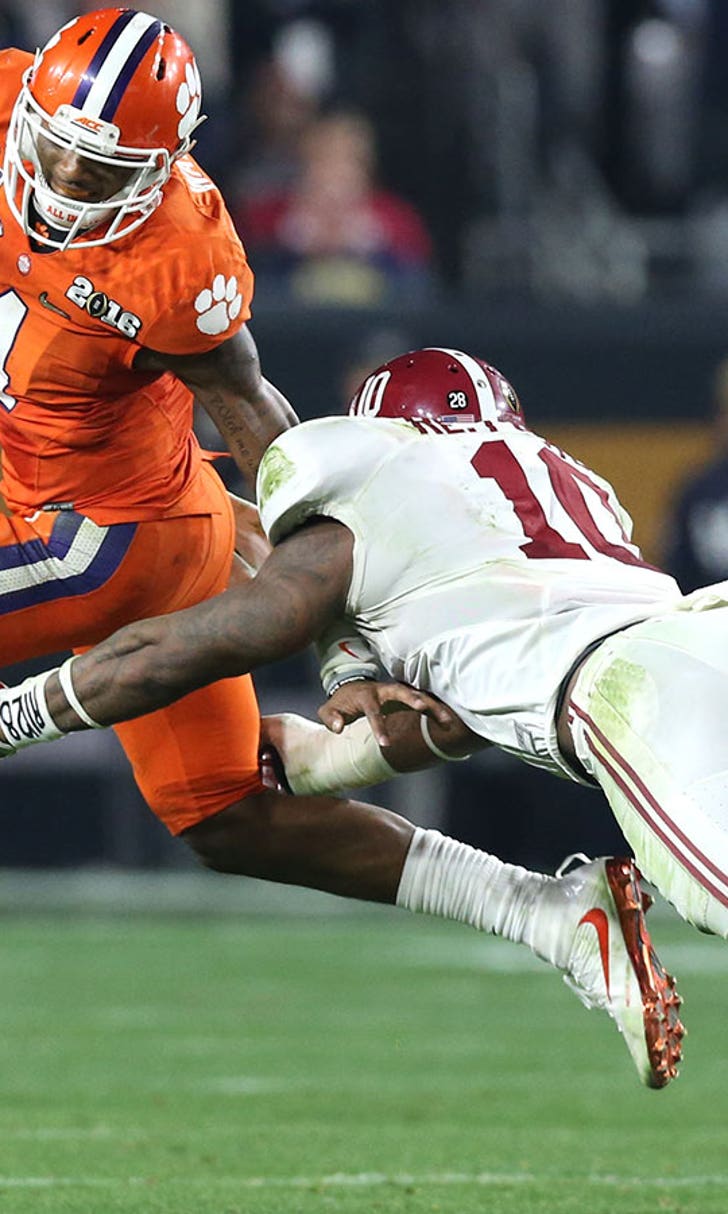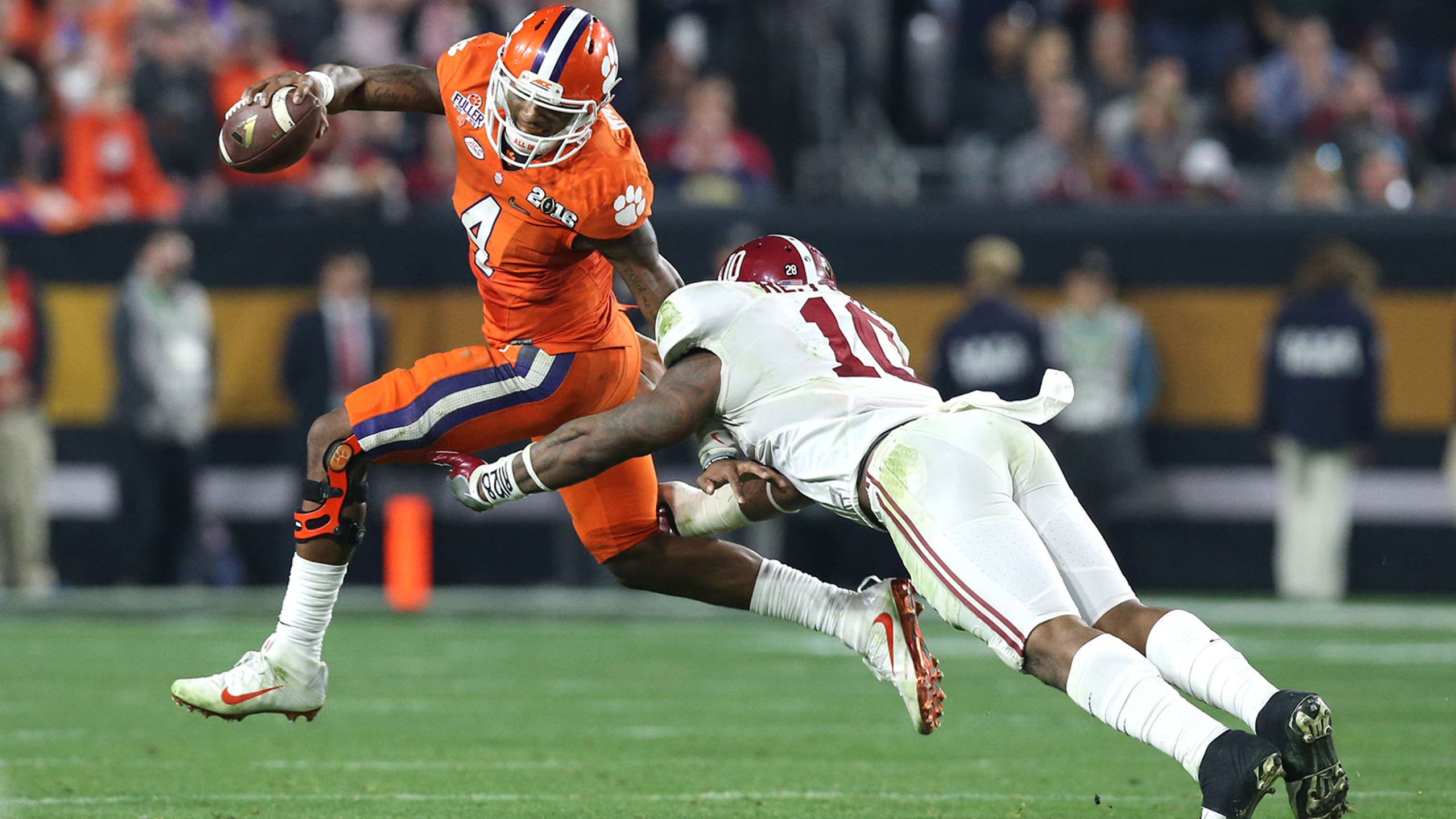 5 reasons Clemson is already the national title favorite next year
BY foxsports • January 12, 2016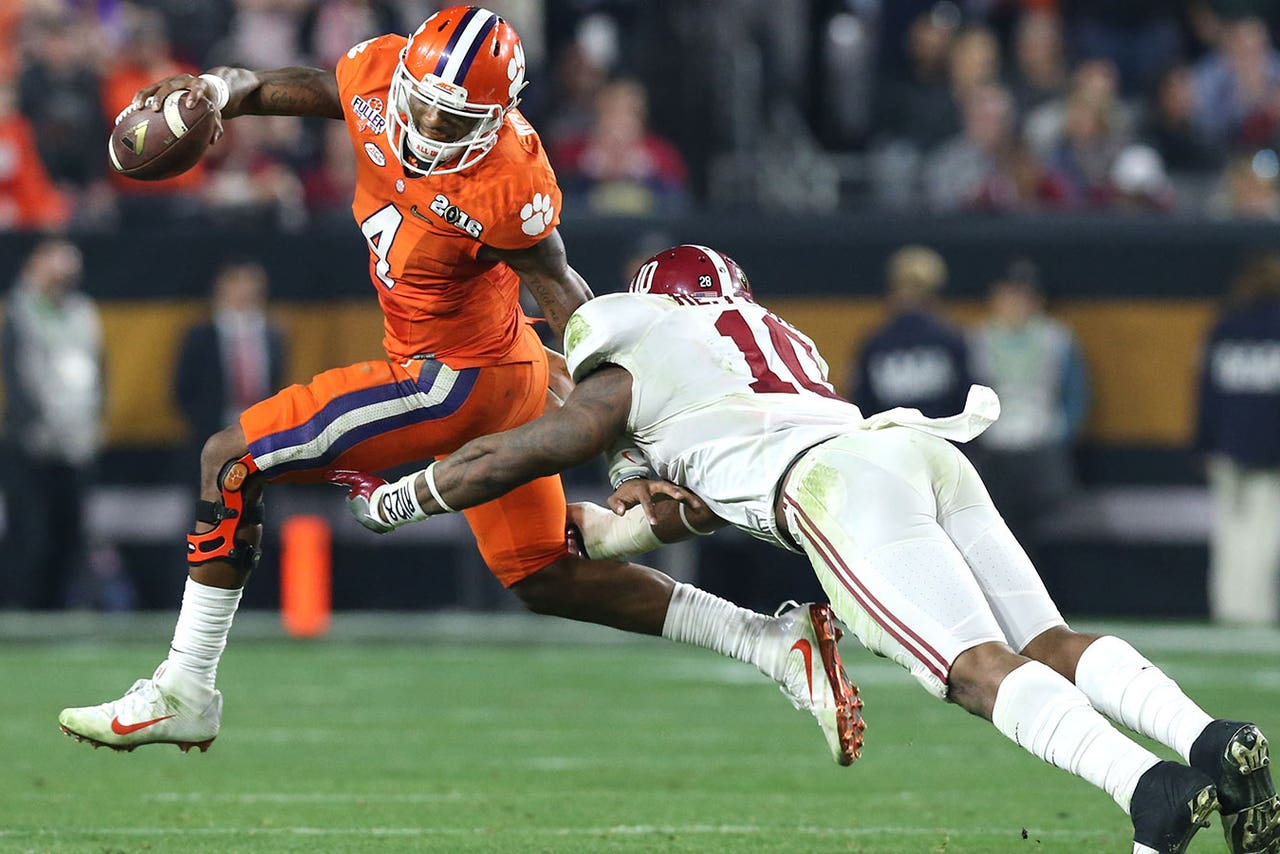 Clemson may have lost a heartbreaker to Alabama in Monday night's College Football Playoff championship game, but that will just make the joy of winning it all next season that much sweeter.
Yes, Alabama (14-1) was the better team during its 45-40 win over Clemson (14-1), but the dynasty known as the Crimson Tide needed a perfectly placed onside kick to take down a Tigers team that was battling key injuries on the defensive side of the ball all night.
There's a ton of reasons why Clemson will be the favorites to take home the title next year, but here are five to think about while college football heads into the offseason.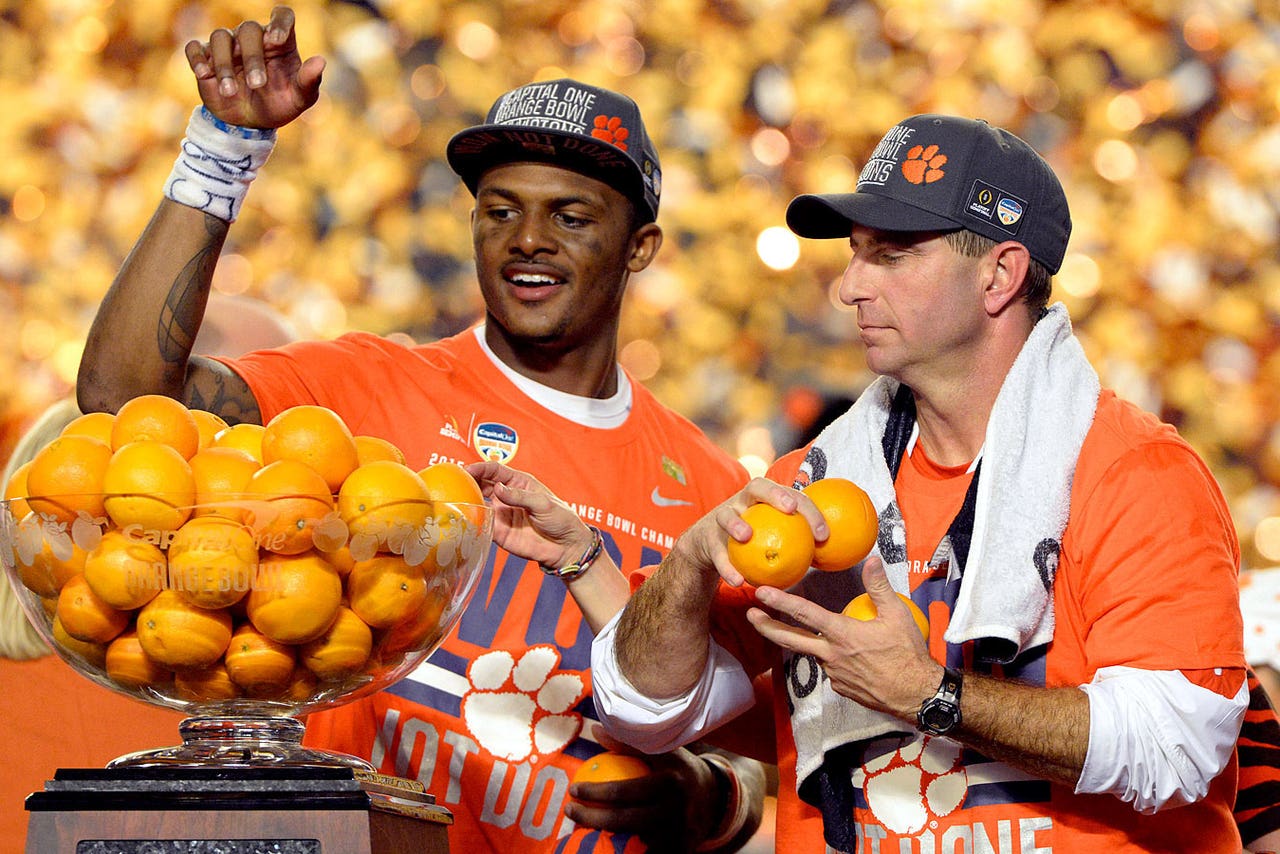 1. Deshaun Watson will be back
There's no doubt Clemson quarterback Deshaun Watson was the best player on the field during Monday night's heavyweight title bout with Alabama — and that field included the Tide's record-setting, Heisman-winning running back Derrick Henry.
Watson, who just concluded his sophomore season, bested Matt Leinart's record for passing yards in a championship game by airing it out for 405 yards and four touchdown passes. In the process, Watson became the first player in FBS history to throw for over 4,000 yards and rush for over 1,000 yards in the same season. Expect Watson to be a Heisman favorite heading into next year.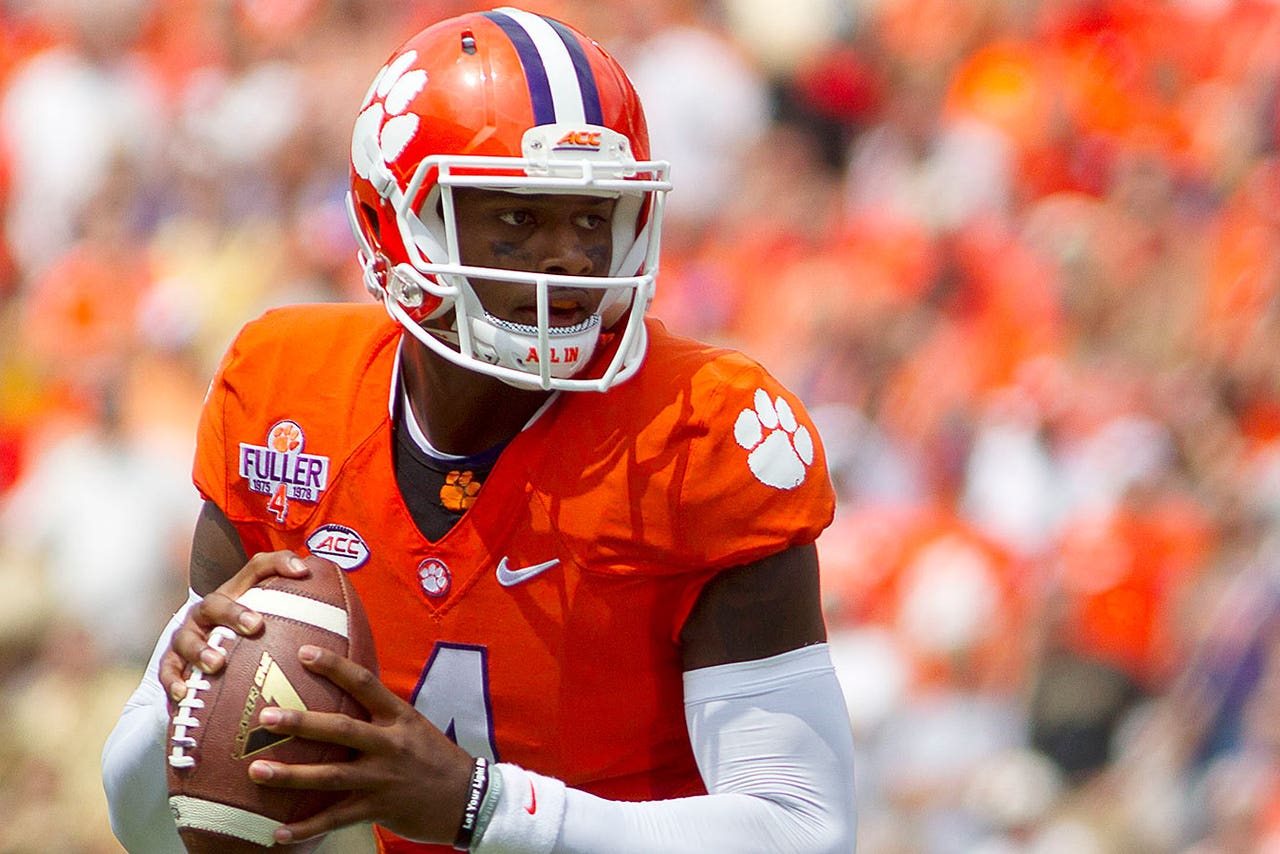 2. The return of Mike Williams
The Clemson offense was dynamic in 2015. It will be better in 2016.
The Tigers averaged 38.5 points and ranked 11th in the nation in total offense with 514.5 yards per game — and that was without star wide receiver Mike Williams, who sustained a neck injury while catching a touchdown in the first game of the year.
Williams is a dynamic, 6-foot-4, 220-pound junior who pulled in 57 passes for a team-high 1,030 yards and six touchdowns and was named an all-conference performer in 2014. A big, athletic target like Williams combined with Watson's ability to run will make Clemson nearly impossible to defend in the red zone.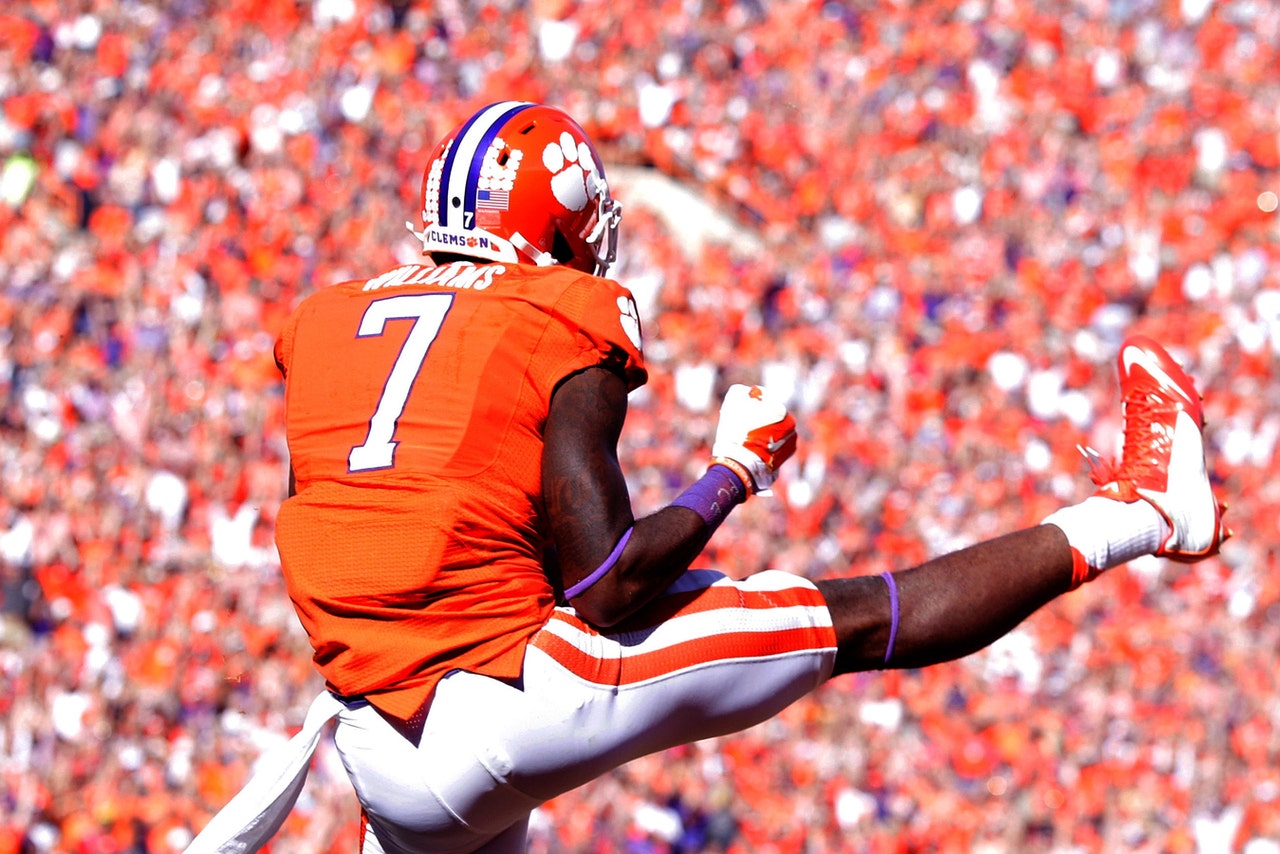 3. All those targets
The return of Williams not only adds another playmaker to Clemson's offense, but it adds essential diversity to its receiving corps.
At 6-4, Williams is the ideal outside receiver. When paired with receivers Artavis Scott, Deon Cain and Hunter Renfrow and tight end Jordan Leggett, there might not be a better stable of pass catchers in the country.
The speedy 5-11, 195-pound Scott led Clemson with 93 receptions and 901 receiving yards and was an all-ACC first-teamer. Leggett also landed on the all-ACC first-team thanks to his 40 catches for 525 yards and a team-best eight TD catches.
Meanwhile, freshmen Cain and Renfrow had sensational rookie seasons. Cain ranked fourth on the team with 34 receptions despite not playing in the final two games of the year for team rules violation. He was trailed by Renfrow, who pulled in 33 passes.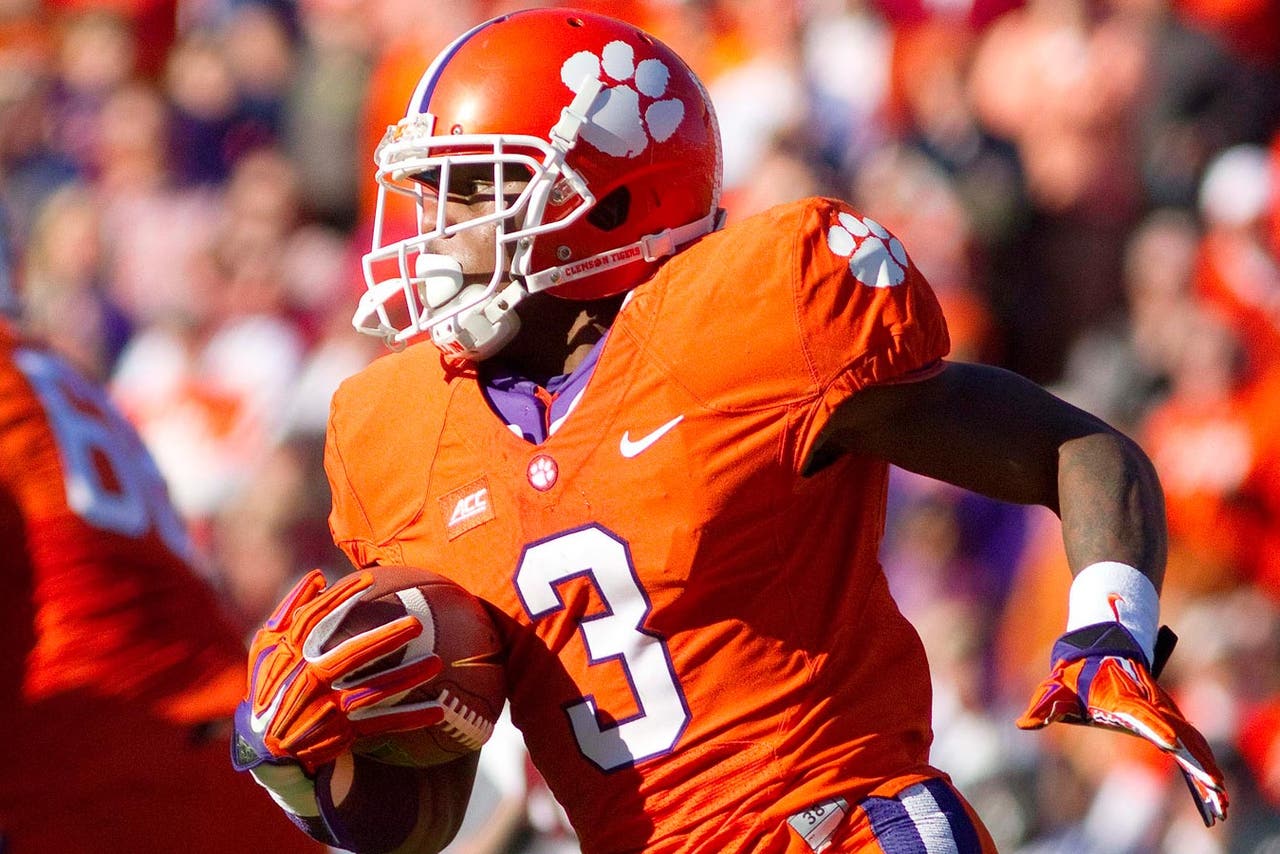 4. Coaching stability
Clemson coach Dabo Swinney, who won just about every coach of the year award that was given out this season, might just be the best college football coach this side of Nick Saban.
Swinney's staff is just as brilliant, and so far the key components have not been poached. Defensive coordinator Brent Venables has fielded one of the top units in the country for the second straight year, as the Tigers ranked 10th in the nation in total defense, allowing 313 yards per game. Venables is also a highly regarded recruiter.
On the other side of the ball, co-offensive coordinators Jeff Scott and Tony Elliot are the architects behind one of the most balanced and effective attacks in the country. Under their guidance, the Tigers tallied 38.5 points per game to finish 16th in the FBS. Their scheme also allowed for running back Wayne Gallman to set a school single-season record with 1,527 rushing yards.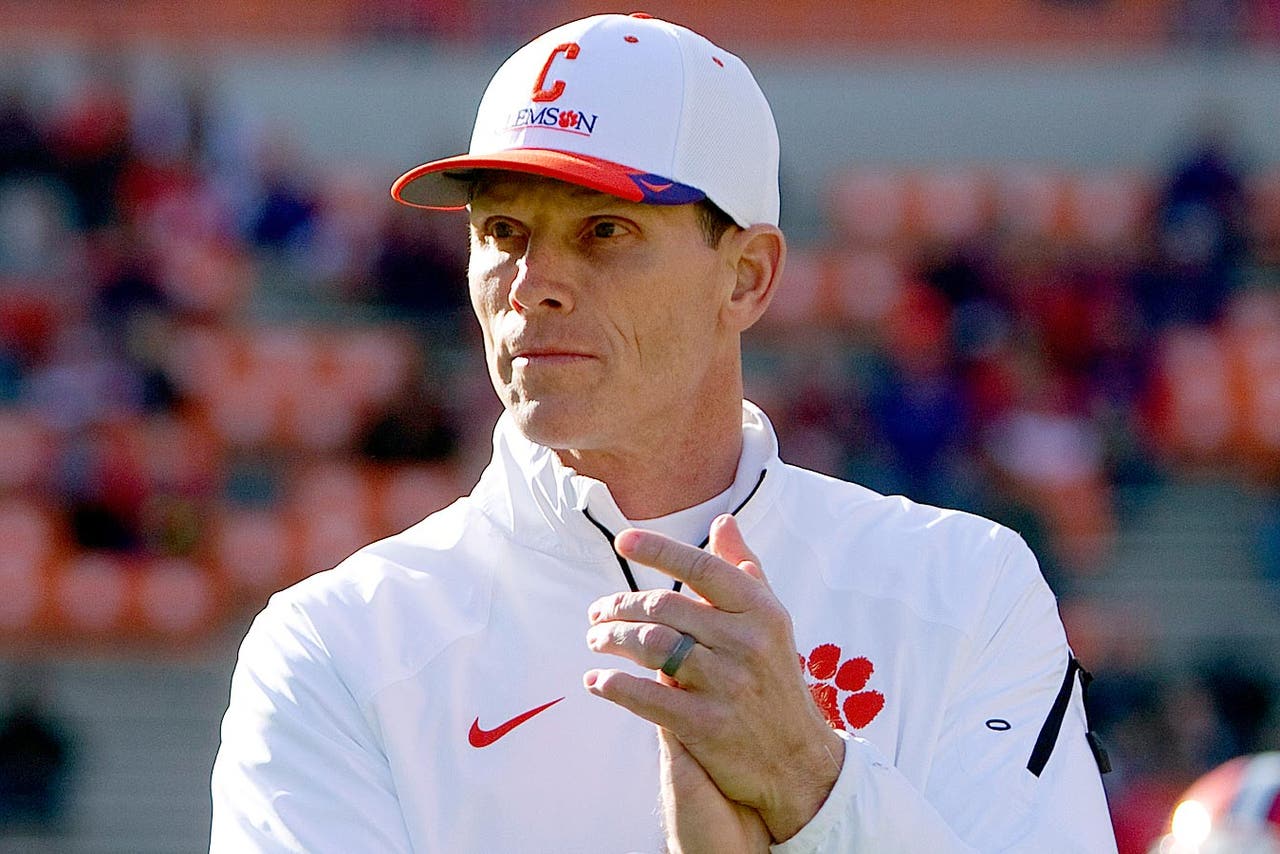 5. Tigers defense doesn't rebuild — it reloads
Heading into the 2015 season the big talk surrounding Clemson, aside from Deshaun Watson's ability to stay healthy, revolved around how the Tigers would replace star pass rusher Vic Beasley and a slew of talented players that moved on to the NFL.
It's safe to say Clemson was able to get by on defense this year.
Despite the upheaval, the Tigers' defense was once again one of the best in the country. Junior Shaq Lawson, who has declared for the NFL Draft, was named the ACC Defensive Player of the Year after racking up 12.5 sacks and an FBS-best 24.5 tackles for a loss.
In the secondary, star cornerback Mackensie Alexander, a redshirt sophomore who could also declare for the NFL Draft, was named an all-ACC first-teamer along with junior safety Jayron Kearse, who will also be looking to play Sundays some day soon.
The Clemson defense may once again lose some quality players, but that will only make room for more future stars.
---