4 Big 12 coaches most wins at schools; Rest of Power 5 has 2
Published
Nov. 30, 2016 4:18 p.m. ET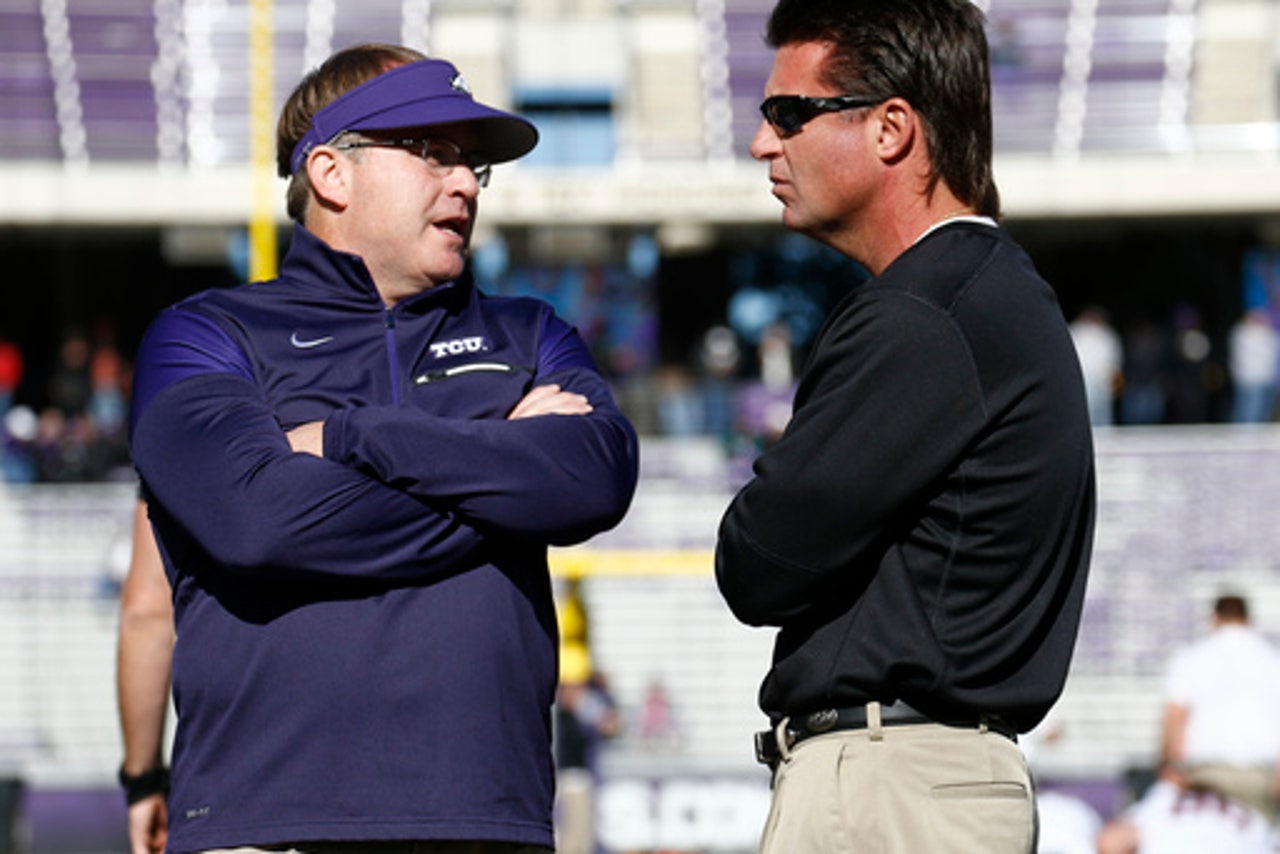 Bob Stoops was a young defensive assistant when he joined new Kansas State head coach Bill Snyder's staff way back in 1989.
Just winning a game was a big deal then for the Wildcats, who were coming off consecutive winless seasons and decades of mostly losing records.
There are now 388 career victories between Snyder, who just won his 200th game last weekend, and Stoops, who has 188 wins in 18 seasons as Oklahoma's coach. And they aren't the only Big 12 coaches who are the winningest coaches at their schools.
Kansas State finishes Snyder's 25th regular season Saturday at TCU, where winningest coach Gary Patterson will set the school record with his 202nd game coached while going for his 150th victory.
Stoops and the Sooners claim their 10th Big 12 title if they win the Bedlam rivalry game against Oklahoma State and Mike Gundy, the former Cowboys quarterback who with 103 wins is his alma mater's winningest coach.
''Well, first reaction is no,'' Stoops said, when asked if he initially imagined Snyder winning 200 games at K-State. ''But, you know, with coach Snyder, yes. I've spoken a lot about how determined and how successful I thought we would be when we arrived there. ... He's that good, and he's that determined to get it done, and he's the kind of guy, loyal too, to be there that long.''
Stoops was part of Snyder's first 46 victories at Kansas State, then left for three seasons and two national championships as Florida's defensive coordinator before taking over as Oklahoma's coach in 1999 - and winning a national title there in 2000.
More on the Big 12's winningest coaches:
BILL SNYDER, Kansas State (1989-2005, 2009-present).
Record: 200-105-1.
Highlights with Wildcats: After one bowl in K-State's first eight decades playing football, went to the Copper Bowl in 1993, Snyder's fifth season. That was first of 11 consecutive bowl appearances for K-State, which this year goes to its 19th bowl under the 77-year-old Snyder. K-State won 2003 Big 12 championship game, and shared 2012 league title with Oklahoma. Snyder has 64 wins in last eight seasons since his three-year ''retirement.''
Before being head coach: Hayden Fry's offensive coordinator from 1979-88 after two seasons on his staff at North Texas.
BOB STOOPS, OKLAHOMA (1999-present)
Record: 188-48.
Highlights with Sooners: Won record nine Big 12 titles, and only team in league history to win three in a row (2006-08). Oklahoma won national championship in 2000, and was national runner-up in 2003, 2004 and 2008 seasons. Only coach in BCS era to win the Rose, Orange, Fiesta and Sugar Bowls. Never missed bowl at Oklahoma. Coached two Heisman Trophy winners (Jason White and Sam Bradford).
Before being head coach: Grad assistant at Iowa, his alma mater, then assistant there and Kent State before K-State and Florida.
GARY PATTERSON, TCU (2000-present)
Record: 149-52.
Highlights with Horned Frogs: A 13-0 season in 2010, capped by Rose Bowl victory and No. 2 final ranking in AP poll. Part of three consecutive seasons undefeated in Mountain West Conference play before moving to Big 12 in 2012, the year he became school's winningest coach. Shared 2014 Big 12 title with Baylor. Currently tied for most games coached with Dutch Meyer, coach of TCU's only AP national champion team in 1938 led by Heisman winner Davey O'Brien.
Before being head coach: Grad assistant at K-State, his alma mater, which was pre-Snyder. Coaching stints at eight other schools. Defensive coordinator at TCU for three seasons before Dennis Franchione left for Alabama.
MIKE GUNDY, OKLAHOMA STATE (2005-present)
Record: 103-49.
Highlights with Cowboys: Won 2011 Big 12 title, and will finish no worse than second for third time in four years this season. Have been AP Top 10 team seven of last nine seasons. Team this season will go to 11th consecutive bowl game, longest streak in school history.
Before being head coach: Starting QB for 3 1/2 seasons at Oklahoma State. Was Cowboys assistant from 1990-95, then left for a season at Baylor and four at Maryland before returning to Stillwater in 2001.
NOT MANY LIKE THEM
The only active coaches from Power Five conference teams outside that Big 12 quartet who are their school's winningest coaches are Northwestern's Pat Fitzgerald (76 wins) and Louisville's Bobby Petrino (67). For the record, Nick Saban's 117 wins in 10 seasons at Alabama are still 115 shy of Bear Bryant.
LONG TENURES
Snyder, Stoops and Patterson are 1-2-3 among active FBS coaches for wins at their current schools, with Iowa's Kirk Ferentz (135) and Saban the only non-Big 12 coaches with more than Gundy, who in his 12th season is tied with Utah's Kyle Whittingham.
The average tenure for the current Big 12 coaches is 5.75 years, and that includes Tom Herman being at Texas less than a week since Charlie Strong was fired. The average coaching tenure in all the other Power Five leagues and Notre Dame is less than five years, with only eight of those 55 coaches having reached 10 seasons.
---
More AP college football at www.collegefootball.ap.org and https://twitter.com/AP-Top25
---