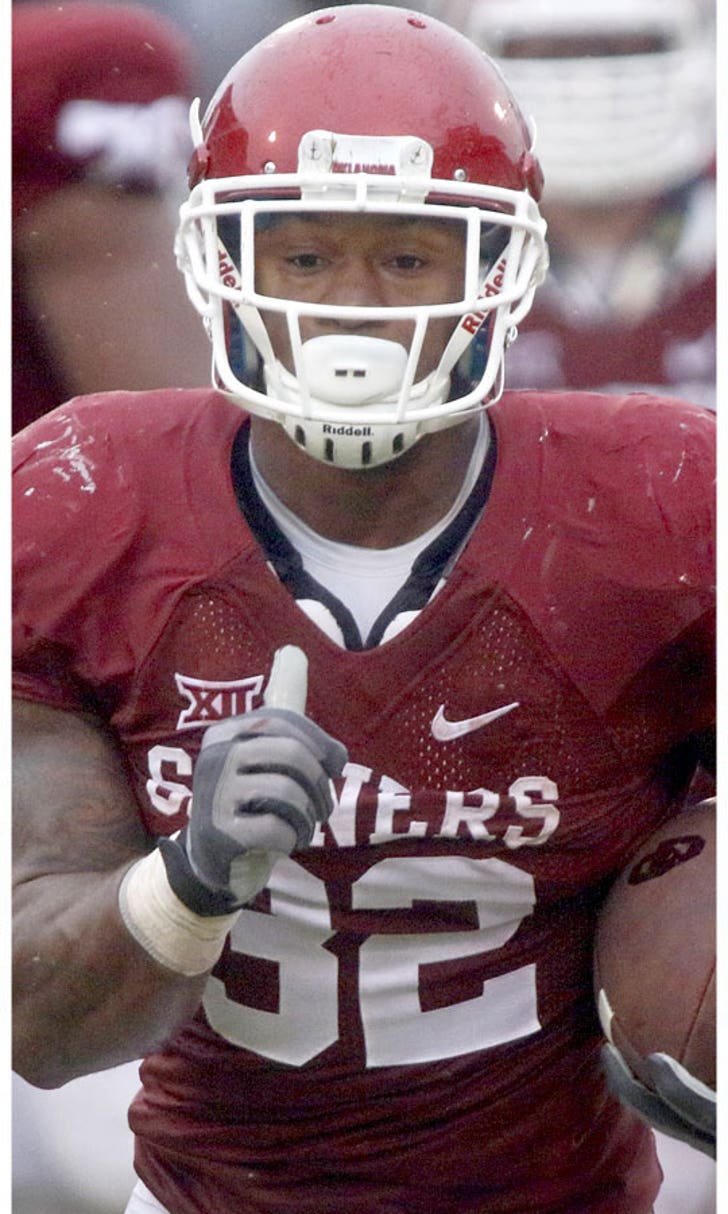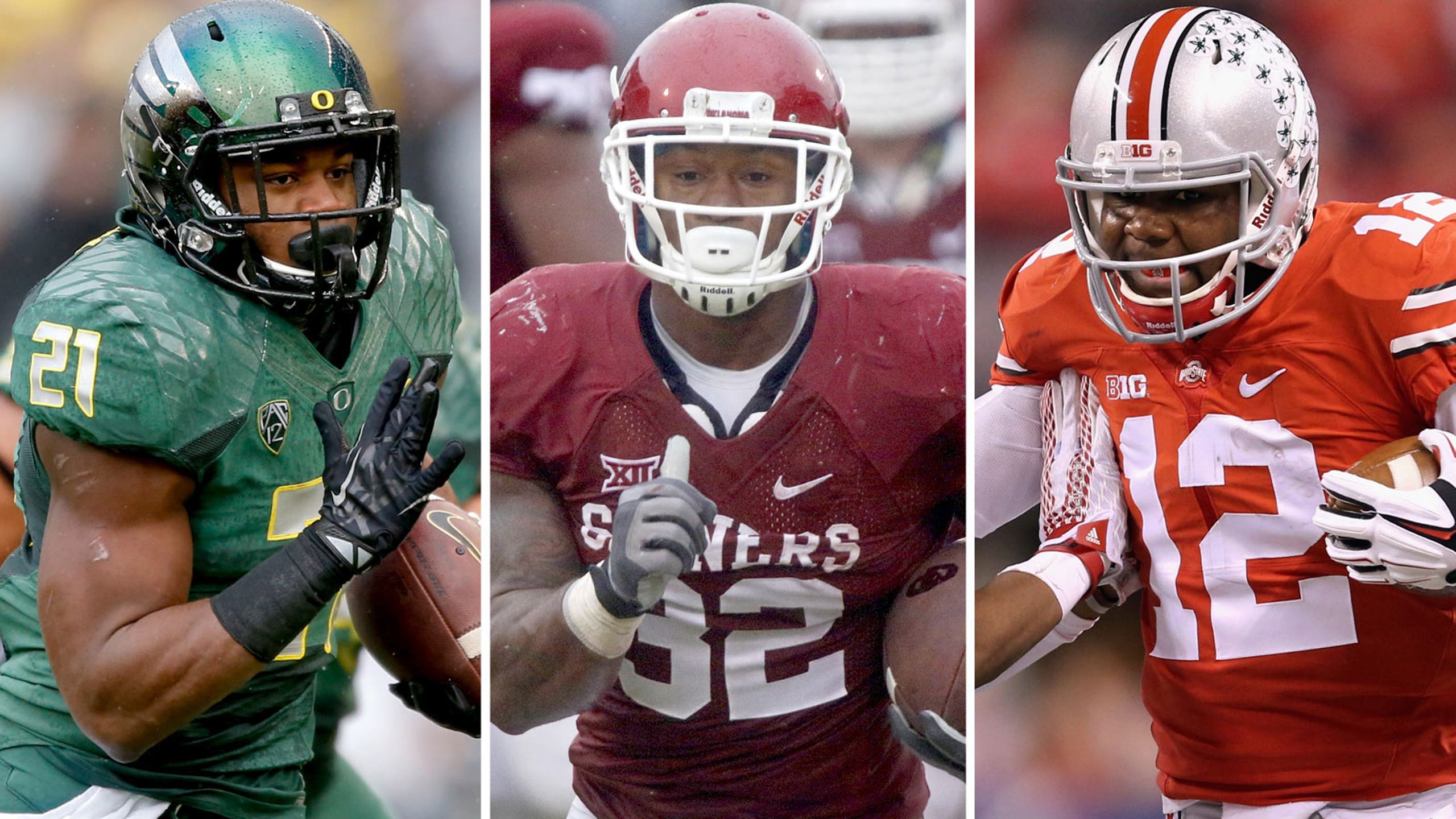 38 games, 38 stars: One must-watch player for every bowl this season
BY foxsports • December 17, 2014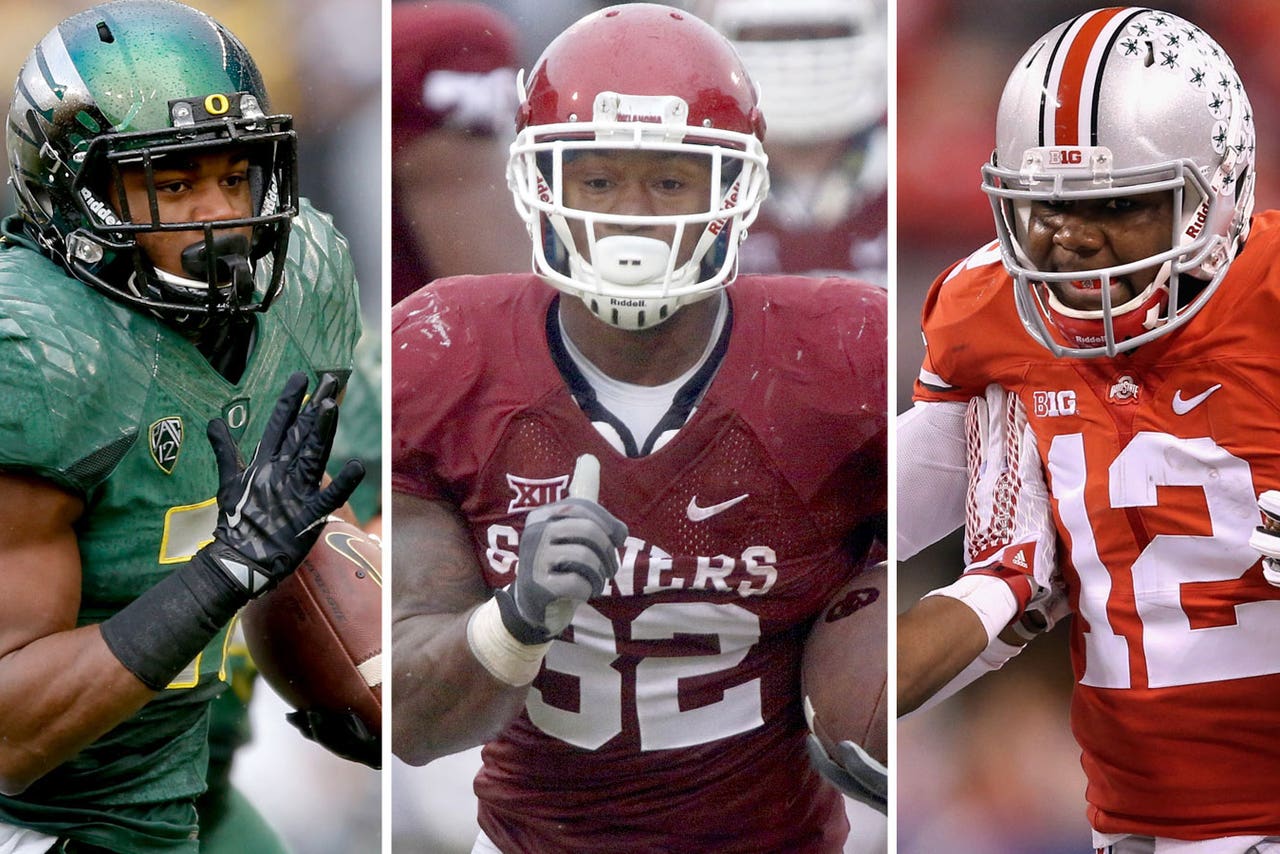 The bowl season is officially upon us, and we all know what that means. Upsets, excitement and big-time players stepping up for their teams when it matters most. Now, for most of us, we know high-profile players on the top teams in the country, but what about the teams who are playing in the Famous Idaho Potato Bowl? Or the Bahamas Bowl? Those players may not be as well-known, but it doesn't mean that there aren't stars you should be watching.
Let's look at the bowl games from day one all the way through to the final bowl, and check out which single player could light up the stat sheet in each of the 38 games.
ONE MUST-WATCH PLAYER FOR EVERY 2014 BOWL GAME
New Orleans Bowl, Nevada Wolfpack vs. Louisiana-Lafayette Ragin' Cajuns, Dec. 20
Cody Fajardo, QB, Nevada. Fajardo has been an absolute force this year, passing for 2,374 yards with 18 passing touchdowns. Solid numbers, without question, but when you tack on the fact that he also rushed for 997 yards and 13 touchdowns, he goes from good to amazing in the blink of an eye. Fajardo is the ultimate dual-threat, and is going to be a key player to watch in the season's opening bowl game.
New Mexico Bowl, Utah State Aggies vs. UTEP Miners, Dec. 20
Aaron Jones, RB, UTEP. The sophomore back has rushed for 1,233 yards and 11 touchdowns, while adding three receiving touchdowns. Jones currently ranks 23rd in the nation in rushing yards per game at 112.1, and is the Miners' season leader in carries, rushing yards, and touchdowns. UTEP hasn't made a bowl since 2010, and they've only been in five since 2000. It's safe to say that Jones has been a key part of their turnaround in 2014.
Las Vegas Bowl, Utah Utes vs. Colorado State Rams, Dec. 20
Rashard Higgins, WR, Colorado State. Higgins has put together an incredible 2014 campaign, hauling in 89 catches for 1,640 yards and a ridiculous 17 touchdowns. He leads the nation in touchdown catches, is second in yards to only Alabama's Amari Cooper and averages an impressive 18.4 yards per reception. If you want a stud, look no further.
Famous Idaho Potato Bowl, Western Michigan Broncos vs. Air Force Falcons, Dec. 20
Jarvion Franklin, RB, Western Michigan. The new face of Western Michigan football is the key reason for the Broncos' turnaround from a 1-11 campaign in 2013. Franklin, a freshman, was named MAC Offensive Player of the Year, while rushing for 1,525 yards and 24 touchdowns.
Camellia Bowl, South Alabama Jaguars vs. Bowling Green Falcons, Dec. 20
Brandon Bridge, QB, South Alabama. On a team that's run 124 more times than it's passed, Bridge has still managed to throw for 1,648 yards and 14 touchdowns. He's also tacked on three rushing touchdowns, and his 6-foot-5, 235 pound frame has garnished some major interest from NFL scouts. It will be interesting to see if the Jaguars turn to Bridge a bit more in this matchup.
Miami Beach Bowl, BYU Cougars vs. Memphis Tigers, Dec. 22
Paxton Lynch, QB, Memphis. Lynch has put up some absolutely gaudy numbers, throwing for 2,725 yards passing and passing for 18 touchdowns this season. Tack on his 284 rushing yards and 10 rushing touchdowns, and you're looking at a sophomore quarterback who has an incredibly bright future. The 6-foot-7 QB played incredible down the home stretch of the season, not throwing a single interception in his last six games.
Boca Raton Bowl, Marshall Thunder Herd vs. Northern Illinois Huskies, Dec. 23
Rakeem Cato, QB, Marshall. What can you say about Cato? He's definitely a household name at this point, but he's absolutely the man you'll want to watch in this game. The senior has now thrown for 30 or more touchdowns in three straight seasons, and finished up his 2014 regular season with 3,622 yards and 37 touchdowns, while also tacking on six rushing TDs. Cato will also be a man to watch when the NFL Draft talk starts to heat up.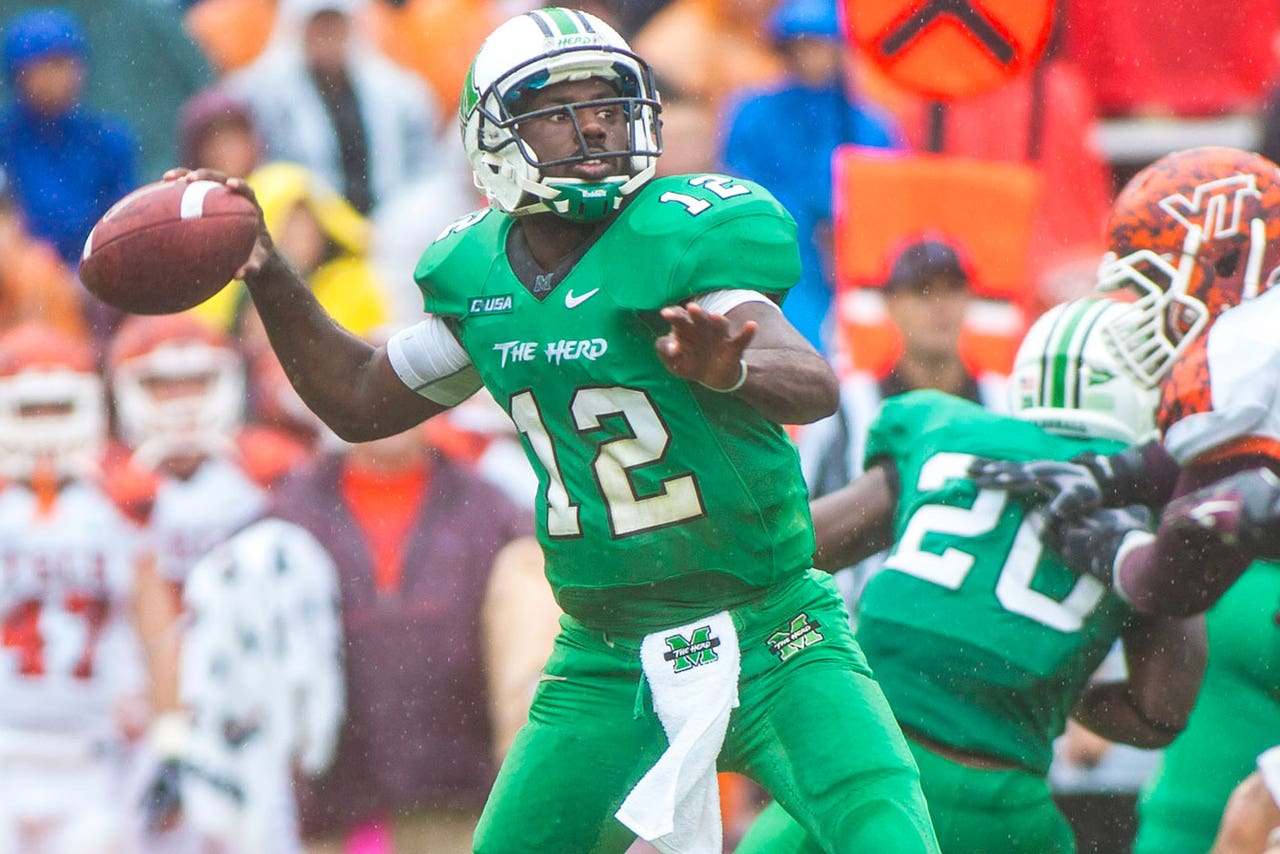 Poinsettia Bowl, Navy Midshipmen vs. San Diego State Aztecs, Dec. 23
Donnel Pumphrey, RB, San Diego State. Pumphrey has burst onto the scene in his sophomore season by rushing for 1,761 yards and 19 touchdowns. He ranks third in the nation in rushing yards, having surpassed Marshall Faulk for the greatest rushing year by an Aztec sophomore. Entering the bowl game, he's just 82 yards away from breaking George Jones' single-season school rushing mark.
Bahamas Bowl, Central Michigan Chippewas vs. Western Kentucky Hilltoppers, Dec. 24
Brandon Doughty, QB, Western Kentucky. Doughty just recently set a Conference USA record with eight passing touchdowns against the previously undefeated Marshall Thundering Herd. If that's not enough to catch your eye, then the fact that the senior quarterback finished the year up with 4,344 yards and 44 touchdowns should be. Doughty was able to top 490 yards passing in three games during 2014, and while he was asked to throw the ball a ton this year (510 times), he still managed a completion percentage of 67.5 percent.
Hawaii Bowl, Fresno State Bulldogs vs. Rice Owls, Dec. 24
Marteze Waller, RB, Fresno State. The junior rushed for 1,292 yards with a 6.2 yards-per-carry average and scored 11 touchdowns in 2014. Waller has the ability to have absolutely explosive games, as he's topped 100 yards seven times this year, while also finishing with 97 yards and two touchdowns against the USC Trojans in the season opener. Pair that up with the fact that the Bulldogs are taking on a Rice team that allows 30.3 points per game, and Waller should be in for a massive night.
Heart of Dallas Bowl, Illinois Fighting Illini vs. Louisiana Tech Bulldogs, Dec. 26
Kenneth Dixon, RB, Louisiana Tech. Dixon rushed for 1,236 yards (5.2 yards per carry) with a whopping 21 touchdowns. He's on quite a touchdown scoring run currently, as he's found the end zone in every game this season except for the first one and has scored 10 touchdowns in his last four games. Dixon could give this Fighting Illini defense absolute fits.
Quick Lane Bowl, Rutgers Scarlet Knights vs. North Carolina Tar Heels, Dec. 26
Marquise Williams, QB, North Carolina. Williams won the starting job back in camp, and the choice to roll with him has paid off, as he almost immediately became one of the stars of the ACC. Williams was a huge part of the Tar Heels becaming bowl eligible this year, throwing for 2,870 yards, rushing for 737 yards and accounting for 32 total touchdowns. The junior could be a true game changer at the quarterback position in this game.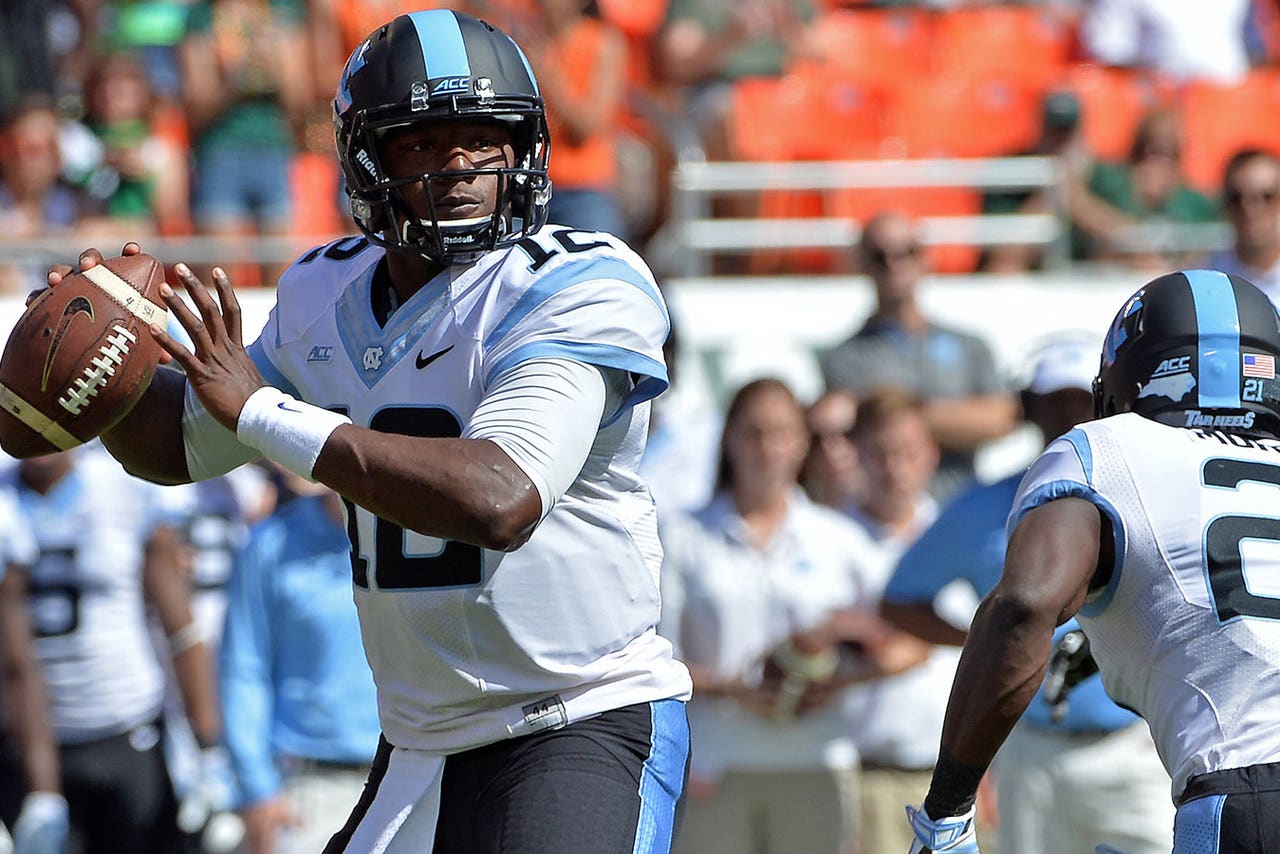 St. Petersburg Bowl, North Carolina State Wolfpack vs. Central Florida Knights, Dec. 26
Jacoby Brissett, QB, NC State. The Florida transfer has had some up and down games for the Wolfpack, but he was able to make it into an elite club when all was said and done this year. He's one of only three quarterbacks in the country with 20 or more passing touchdowns, 300 or more rushing yards and no more than five interceptions. Brissett has an uncanny ability to make plays with his legs and should play a major role both through the air and on the ground for the Wolfpack in this one.
Military Bowl, Cincinnati Bearcats vs. Virginia Tech Hokies, Dec. 27
Gunner Kiel, QB, Cincinnati. Not only does Kiel have one of the coolest names in college football, but he's got quite an impressive game as well. The sophomore burst onto the scene in Week 1 with 418 yards and six touchdowns vs. Toledo and has thrown for 3,010 yards and 30 touchdowns with only 11 interceptions this season.
Sun Bowl, Arizona State Sun Devils vs. Duke Blue Devils, Dec. 27
Jamison Crowder, WR, Duke. Crowder could potentially break a few school and ACC records in this game, which should be a pretty high-scoring. He's on the verge of breaking Conner Vernon's ACC record for career receptions, and could also potentially break the record for career receiving yards. Crowder has had an impressive career, and when Duke airs it out, the senior capable of becoming a major game-changer.
Independence Bowl, Miami Hurricanes vs. South Carolina Gamecocks, Dec. 27
Duke Johnson, RB, Miami. This is the first time in his collegiate career that The Duke ahs  played a full season, and he's showing us all what he can do. Johnson ranked seventh in the nation in yards per carry (7) and became the school's leading rusher with 3,387 yards. His six 100-yard games were obviously a huge reason why he was able to rack up 1,520 yards and 10 touchdowns in 2014, while also hauling in three receiving TDs. Could this be Johnson's final game in a Hurricanes uniform? The NFL may be calling his name. If somehow Johnson doesn't deliver vs. the Gamecocks, South Carolina wideout Pharoh Cooper is a solid backup option for the guy to watch.
Pinstripe Bowl, Boston College Eagles vs. Penn State Nittany Lions, Dec. 27
Mike Hull, LB, Penn State. We'll get to see Hull and quarterback Tyler Murphy go head-to-head at times. Both deserve some serious recognition, but Hull was named the Big Ten linebacker of the year and leads the top-ranked rush defense and third-ranked overall D in the nation. The man has racked up 134 tacked and 10.5 tackles for loss. Add on his two sacks, an interception and three pass deflections, and he's able to do anything the Nittany Lions ask of him.
Holiday Bowl, Nebraska Cornhuskers vs. USC Trojans, Dec. 27
Nelson Agholor, WR, USC. Trojans quarterback Cody Kessler and Nebraska running back Ameer Abdullah are going to draw the bulk of the attention, but let's look at Agholor, who has caught 11 of Kessler's 36 TD throws. Agholor had a few up and down games to start 2014, but he's been on absolute fire at the tail end: Over his final seven games, he had 62 receptions, 899 yards (128.4 yards per game) and eight touchdowns. He also had back-to-back games of 200-plus receiving yards, including a 16-catch, 216-yard outing vs. California.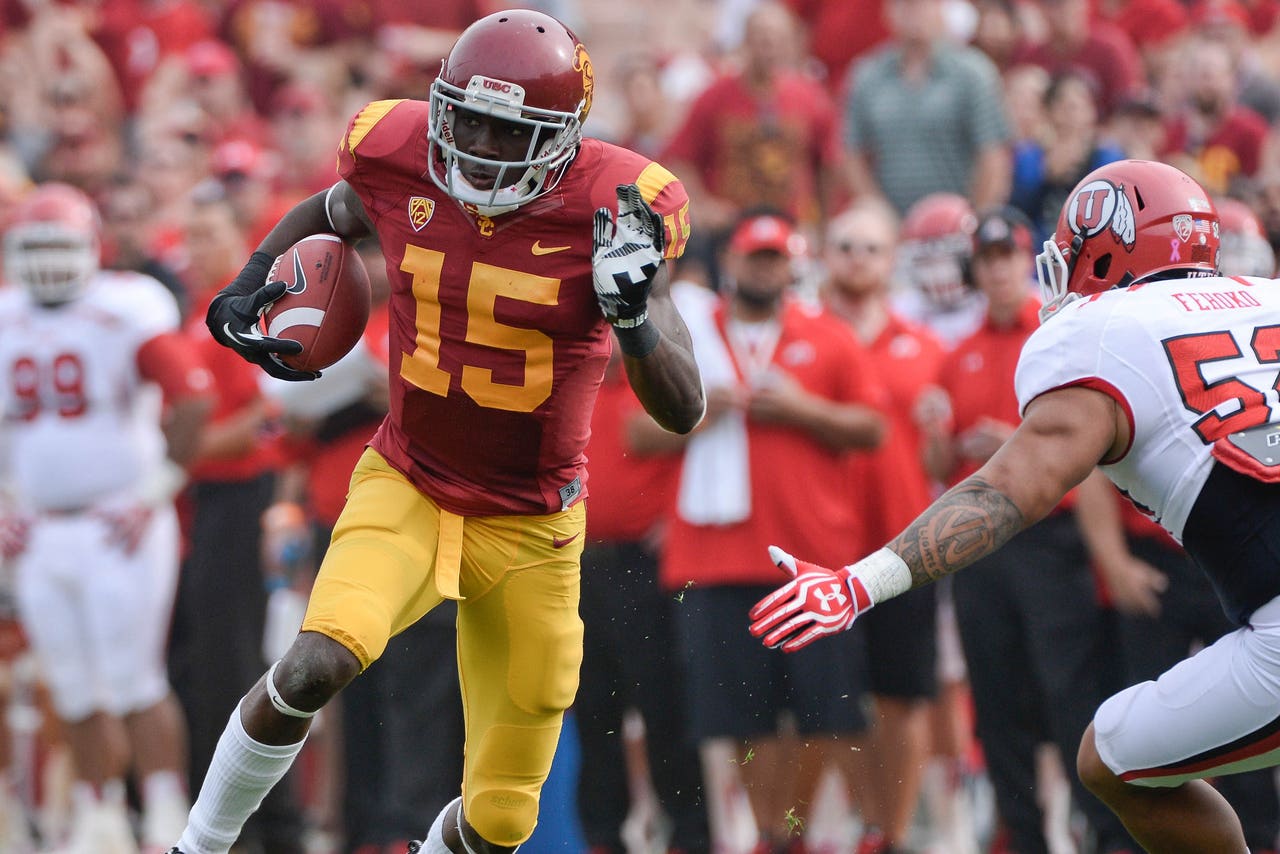 Liberty Bowl: Texas A&M Aggies vs. West Virginia Mountaineers. Dec. 29
Myles Garrett, DE, Texas A&M. While there are some interesting names in this one, Garrett immediately catches the eye as a player who can make a huge impact. Garrett was able to break Jadeveon Clowney's SEC freshman sacks record with 11 this year, while also adding 12.5 tackles for loss, a blocked kick and nine QB hurries. Garrett was slowed in his final two games after suffering an injury against Auburn, but time to heal should mean that he'll be back and ready to cause issues for the Mountaineers.
Russell Athletic Bowl, Oklahoma Sooners vs. Clemson Tigers, Dec. 29
Samaje Perine, RB, Oklahoma. The freshman Perine was brought along slowly to start the year, but before long it was obvious that he was the man for the Sooners' offense. Remember when Melvin Gordon broke the NCAA single-game rushing record? Well, Perine then broke Gordon's mark less than seven days later, rushing for 427 yards and five touchdowns against Kansas. Perine's rushed for 1,579 yards and 21 touchdowns on the year, and over his last three games has gone for 791 yards and 10 touchdowns.
Texas Bowl, Arkansas Razorbacks vs. Texas Longhorns, Dec. 29
John Harris, WR, Texas. Harris has been able to put up strong numbers regardless of the up-and-down play of sophomore quarterback Tyrone Swoopes. Obviously Swoopes will need to get the ball to Harris in order for him to have a strong game, but here's guessing both step up nicely here. Harris, a senior, will look to go out on a high note, and to this point in 2014 he's brought in 64 passes for 1,015 yards and seven touchdowns. We've seen glimpses of his serious potential, as he's racked up 110, 147, 165 and 117 yards in games this season.
Music City Bowl, Notre Dame Fighting Irish vs. LSU Tigers, Dec. 30
William Fuller, WR, Notre Dame. The Irish may have struggled down the home stretch, but Fuller did not. He averaged 109.5 yards per game over their four game losing streak, while also hauling in five touchdowns during that time. In total this year, he's caught 71 passes for 1,037 yards, with 14 touchdowns. As long as the offense can find a way to get the ball into Fuller's hands, he can make plays in a big way for the Irish.
Belk Bowl: Georgia Bulldogs vs. Louisville Cardinals, Dec. 30th
DeVante Parker, WR, Louisville- This one is full of stars, but it would be completely unfair to just ignore Parker because he missed the first seven games of the 2014 season with a broken foot. If he had played, he'd be considered one of the best players in the country. In the five games that he was able to play, the senior was a complete force, racking up 735 yards, placing him seventh in the ACC. In all but one of those five games, Parker surpassed six catches and 132 yards. He closed out the regular season with five touchdowns over the final three games.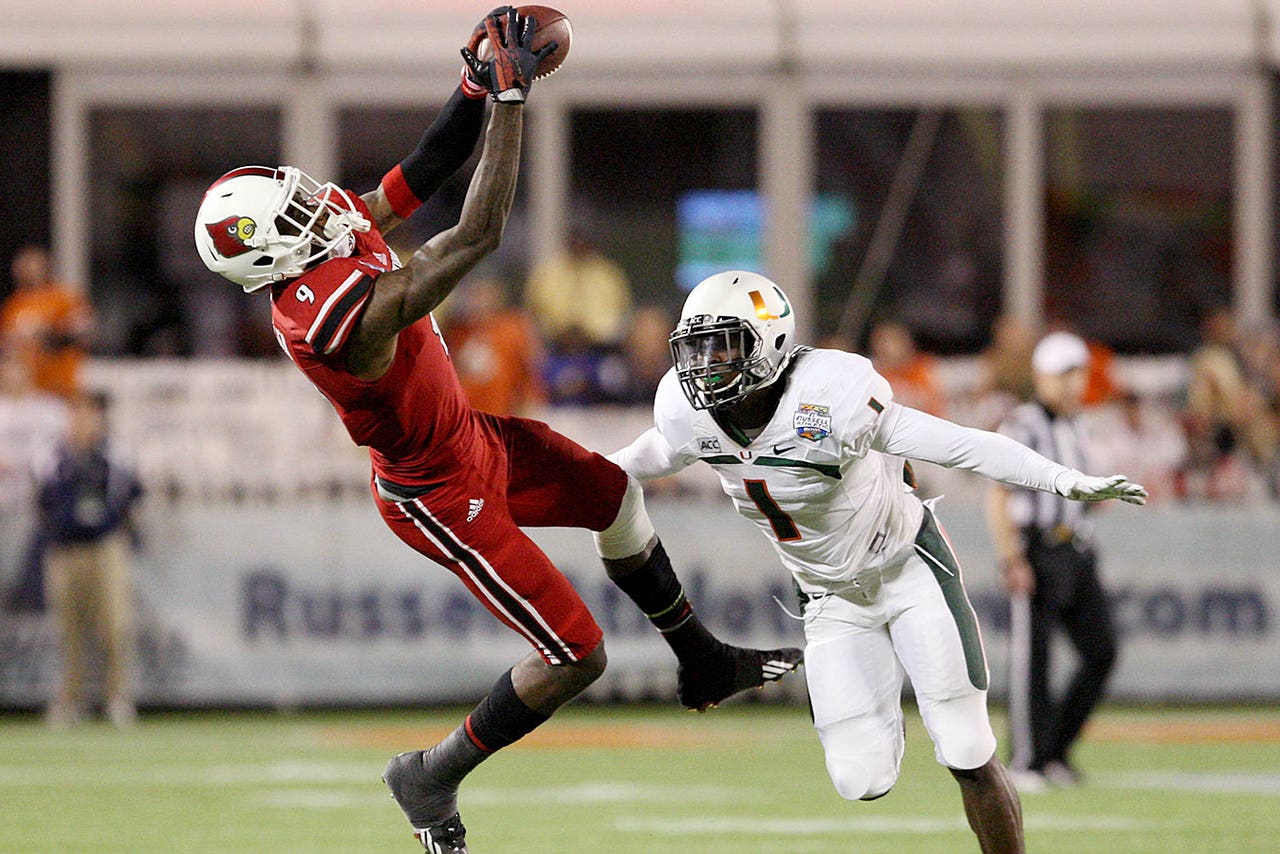 Foster Farms Bowl, Maryland Terrapins vs. Stanford Cardinal, Dec. 30
Stefon Diggs, WR, Maryland. The Terrapins wideout may have missed the final three games of the season due to a one-game suspension and a lacerated kidney, but he'll be back to take on Stanford. When Diggs gets the ball in his hands, he's incredibly dangerous, and is second in the Big Ten at 5.8 receptions per game, while ranking fourth with 72.7 receiving yards per game. Diggs is only a junior, and this bowl game may be a serious opportunity for him to make a statement.
Peach Bowl, Ole Miss Rebels vs. TCU Horned Frogs, Dec. 31
Trevone Boykin, QB, TCU. Boykin is probably the most improved player in the entire country this year. He finished up 2013 as a wideout, and is now one of the most exciting quarterbacks in college football. Boykin led the Horned Frogs to the fringe of the CFB Playoff, throwing for 3,714 yards and 30 touchdowns and running for 642 yards and eight scores. The man is simply electric, and he's going to be the one you'll be watching, even if you try not to, because he's simply THAT exciting. One of the biggest threats he'll face is Ole Miss' Senquez Golson, who has nine interceptions, one touchdown, seven pass deflections.
Fiesta Bowl, Boise State Broncos vs. Arizona Wildcats, Dec. 31
Jay Ajayi, RB, Boise State. It's really hard to not pick a linebacker who has 28 tackles for loss and 14 sacks on the year, and Arizona State Wright is a total stud. With that said, how can we overlook a running back in Ajayi who has racked up 2,225 all-purpose yards this year, as well as 29 total touchdowns. He's rushed for 25 touchdowns (second most in a single season in the Mountain West), and has scored multiple touchdowns in seven of the final eight games of the 2014 season. This guy has been a key part of helping Boise State reel off eight straight wins to end the year.
Orange Bowl, Mississippi State Bulldogs vs. Georgia Tech Yellow Jackets, Dec. 31
Josh Robinson, RB, Mississippi State. While Dak Prescott will get the bulk of the attention in this game, the former Heisman hopeful isn't the only player on this Bulldogs' roster who can make some noise. Robinson only ran the ball 177 times this year, but he was still able to put up 1,128 yards with 11 touchdowns. He's a major playmaker, who averaged 6.4 yards per carry, while also hauling in 28 catches for 370 yards and a touchdown. During their 9-0 start, the Bulldogs gave him the ball 146 times on the ground, and he rushed for 97 or more yards in five of those games, while scoring all 11 of his touchdowns. In the final three games, the Bulldogs went 1-2, and Robinson averaged just 10.3 rushes per game. Will they return to giving him a major workload vs. Georgia Tech?
Citrus Bowl, Missouri Tigers vs. Minnesota Golden Gophers, Jan. 1
Maty Mauk, QB, Missouri. The sophomore quarterback for the Tigers will be the deciding factor in this game. When he's on, he's really on. When he's struggling, though, things can go downhill quickly. We've seen Mauk have games with three, four and five touchdowns, but we've also seen him go 9 of 21 for 97 yards, zero touchdowns and four interceptions against Georgia. You take the good with the bad when it comes to Mauk, but he's thrown for 2,551 yards and 23 touchdowns while rushing for 335 yards and one touchdown on the year.
Outback Bowl, Auburn Tigers vs. Wisconsin Badgers, Jan. 1
Cameron Artis-Payne, RB, Auburn- It would be almost disrespectful to not give Gordon's 2,336 yards and 26 touchdowns a ton of praise. He's the obvious choice to watch here, and Tigers QB Nick Marshall isn't a bad choice either. But let's not forget about the running back on the other side of the field. Auburn's Artis-Payne has had a great year, rushing for 1,482 yards and 11 touchdowns, topping the 100-yard mark in eight games. Some of his top performances include 112 yards and three scores on just 16 carries against San Jose State, and a 221-yard, two-touchdown outing against Texas A&M.
Cotton Bowl, Michigan State Spartans vs. Baylor Bears, Jan. 1
Tony Lippett, WR, Michigan State- The obvious choice? How about Bryce Petty, senior quarterback for Baylor who has tossed for 3,305 yards with 26 touchdowns this year. However, Lippett is quite the story, not only due to the fact that he's had a great year, but because he's become a two-way starter for the Spartans. The 6-foot-3 wide receiver has chipped in as both a receiver and the man who shuts down receivers, as he's been asked to play cornerback since November. The focus, though, will mainly be on his offensive abilities, as he's gone from a reserve in 2013, to the best receiver in the Big Ten in 2014. Lippett has racked up 1,124 yards and 11 touchdowns (plus one rushing touchdown).
Rose Bowl (College Football Playoff semifinal), Oregon Ducks vs. Florida State Seminoles, Jan. 1
Royce Freeman, RB, Oregon- While the duel between Marcus Mariota and Jameis Winston will highlight the two obvious choices for this game, let's look beyond the two future NFLers and consider the ridiculously talented Freeman. The freshman running back was slowly eased into this offense through the early part of the 2014 season in terms of his touches, but we all eventually saw what he was capable of. He scored five touchdowns in the first three games before really heating up, topping 98 yards in each of the final eight games while also scoring 11 touchdowns. He ended up with 1,299 yards and 16 scores rushing, as well as one receiving touchdown. Freeman could change this game in a big way if given the opportunity.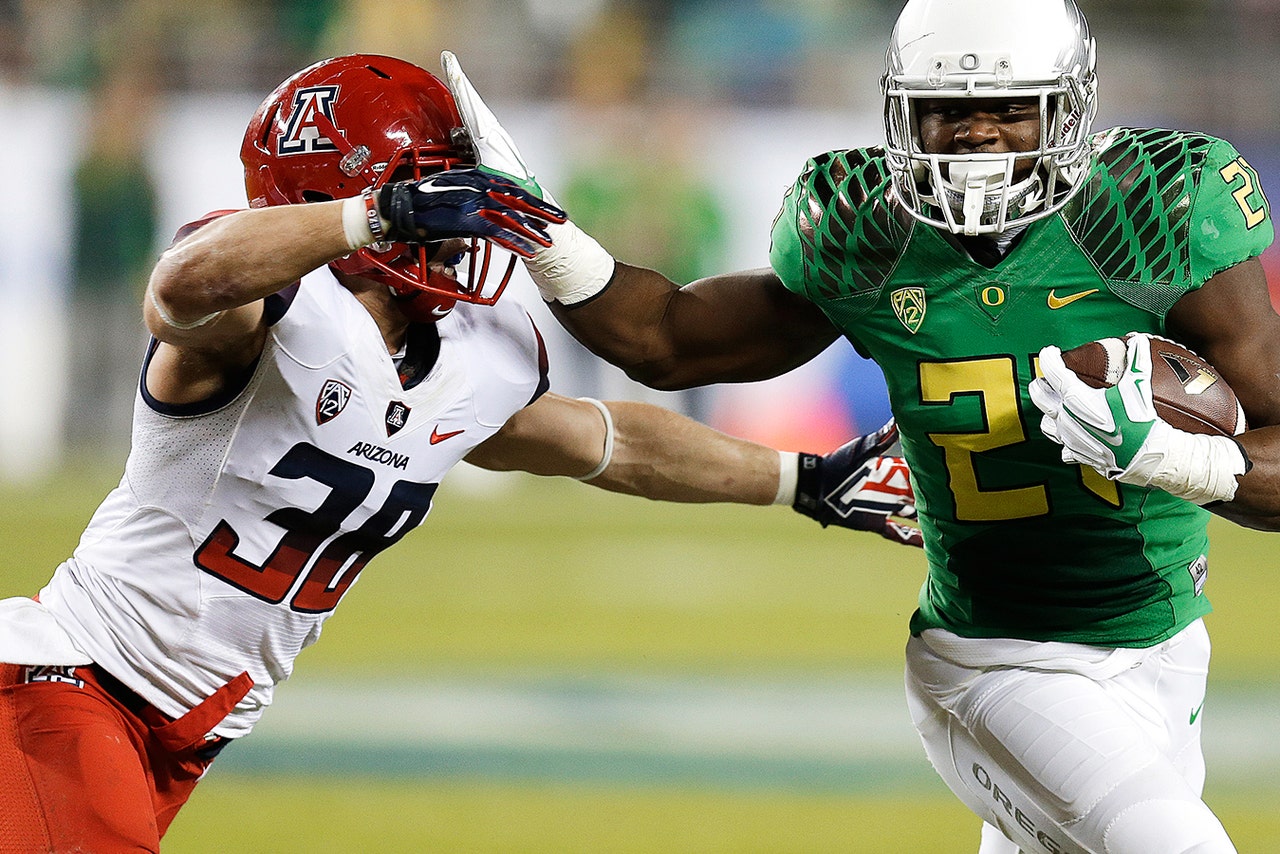 Sugar Bowl (College Football Playoff semifinal), Alabama Crimson Tide vs. Ohio State Buckeyes, Jan. 1
Cardale Jones, QB, Ohio State. While Alabama has an abundance of stars, is there anyone in college football who will have more eyes locked on them when bowl season kicks off than Jones. The third-string quarterback for the Ohio State Buckeyes was forced into action after both Braxton Miller and J.T. Barrett went down with injuries. In response, he led the Buckeyes to a 59-0 victory over Wisconsin in the Big Ten Championship game, launching OSU into the College Football Playoff. Jones went 12 of 17 passing with 257 yards and three touchdowns for a ridiculous 255.8 QB rating in his first start. Can he shock the world again when the Buckeyes take on the incredibly talented Crimson Tide defense?
Armed Forces Bowl, Houston Cougars vs. Pittsburgh Panthers, Jan. 2
James Conner, RB, Pittsburgh. To put this as simply as possible, Conner just doesn't get as much love as he should. The sophomore running back has been an absolute force this year, as he's rushed for 1,675 yards while tallying a ridiculous 24 touchdowns. Conner averaged 6 yards per carry in 2014, and over his final six games of the season he had TWO games with 220-plus yards; he also totaled 15 touchdowns over that span. He can single-handedly change a game and will make life tough for the Cougars.
TaxSlayer Bowl, Iowa Hawkeyes vs. Tennessee Volunteers, Jan. 2
Derek Barnett, DE, Tennessee. There have been some impressive young defensive players this year in college football, but not many as impressive as Barnett. The freshman defensive end has absolutely been on fire. He not only has 20.5 tackles for loss on the year, but also has racked up 10 sacks. Barnett is a stud, and nine of his 10 sacks came over the last six games, including two games with three sacks each.
Alamo Bowl, Kansas State Wildcats vs. UCLA Bruins, Jan. 2
Tyler Lockett, WR, Kansas State- UCLA QB Brett Hundley's name immediately jumps out from this game, but there's also Lockett, the senior wideout for the Wildcats and the all-time leading receiver in Kansas State history (passing his father last year). Lockett's also quite the punt returner. In addition to an impressive 93 catches for 1,351 yards and nine touchdowns, he has two touchdowns off punt returns and leads the nation in yards per return (19). Lockett is a major game-changer and will be looking to end his college career with a huge game.
Cactus Bowl, Washington Huskies vs. Oklahoma State Cowboys, Jan. 2
Hau'oli Kikaha, LB, Washington. The senior linebacker for the Huskies is, well, a force. He's recorded 24 tackles for loss and 18 sacks on the year. We could really name a few of the players on this Washington defense (Shaq Thompson and Danny Shelton for starters), but Kikaha is the player I'll be watching. He can cause issues for opposing offenses in multiple ways, and he's only had one game this entire season without at least earning half of a sack.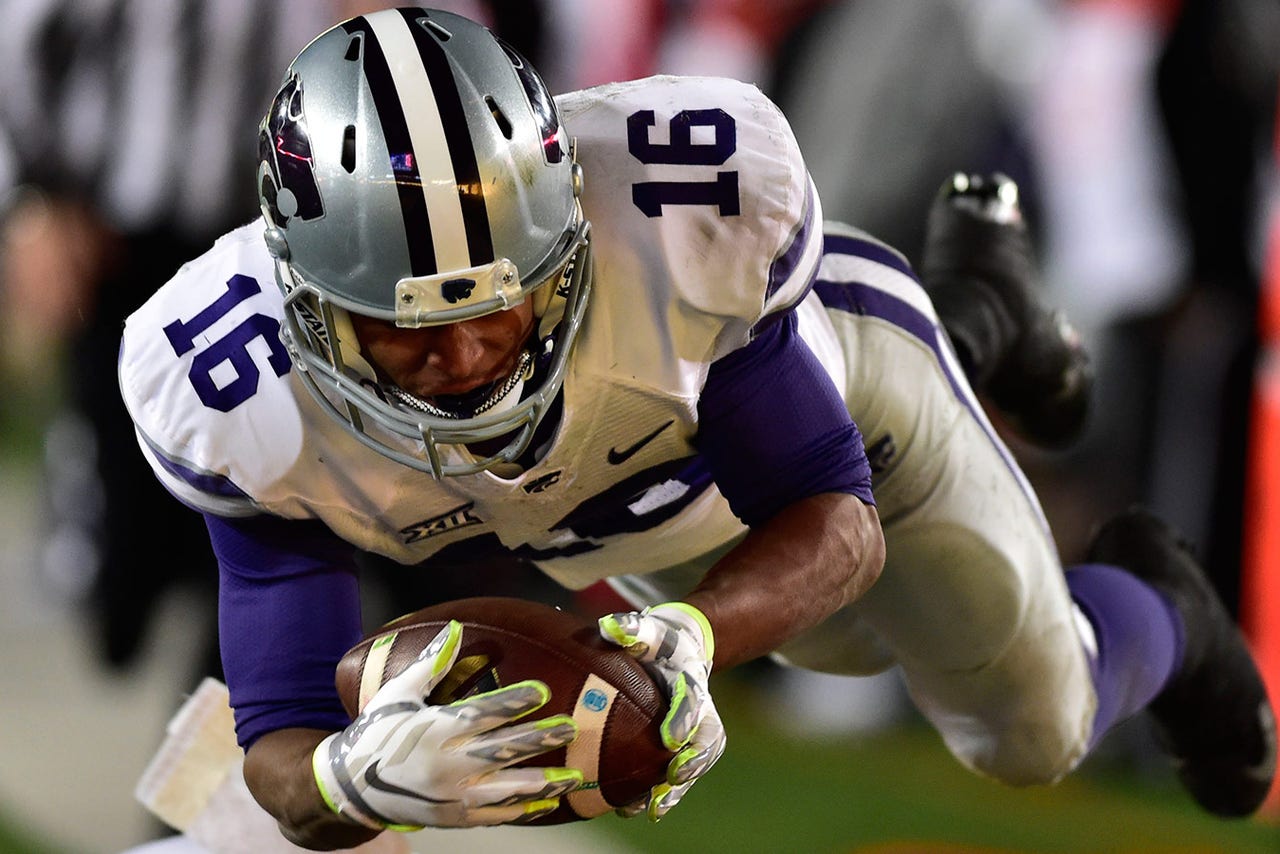 Birmingham Bowl, East Carolina Pirates vs. Florida Gators, Jan. 3
Shane Carden, QB, East Carolina. The Pirates had a few heartbreaking losses this year, and all four of them came by 10 points or less. While Carden gets the nod here, his top wideout, Justin Hardy, deserves plenty of praise as well. Hardy hauled in 110 receptions this year, which ended up breaking the NCAA record for career receptions. Carden gets the nod here, largely due to the fact that he's asked to do SO much in this offense. He's thrown an incredible 551 times this season, and has only thrown eight interceptions. Through his busy season, he's racked up 4,309 yards and 28 touchdowns, and has also rushed for six scores. Carden can do it both through the air and with his legs, leaving plenty of reason to believe that he'll cause problems for this Gators' defense.
GoDaddy Bowl, Toledo Rockets vs. Arkansas State Red Wolves, Jan. 4
Kareem Hunt, RB, Toledo. How good has Hunt been for the Rockets? The young running back missed three games this season, but still rushed for 1,360 yards and 11 touchdowns. He averaged an absolutely incredible 7.9 yards per carry on 173 rushes. If that doesn't impress you enough, then look at the fact that he topped 100 yards in every single game that he played in this season. The future for Hunt with this Rockets' program is incredibly bright. If he has an off game, turn to Fredi Knighten, the dual-threat quarterback for the Red Wolves.
Follow Jeff Smith on Twitter @JSM8ith.
---