8 things every UFC fan should be thankful for
Thanksgiving is an important time of the year, where everyone should take a step back and really think about the things in their life they appreciate. Let's take a look at eight things every UFC fans should be thankful for.
Brandon Magnus/Zuffa LLC
Zuffa LLC via Getty Images
Frank Fertitta and Lorenzo Fertitta
The UFC you know and love, today, is thanks in large part to the contributions and efforts from Frank Fertitta and Lorenzo Fertitta. The brothers purchased the fledging fight promotion company when it was at its lowest and built it into a multi-billion business with millions of fans around the world. Everyone has their gripes with the UFC, but mainly, we love it, and it's thanks to these guys, Dana White and the fighters around long before Madison Square Garden was even an option.
"No matter what happens from here, no matter what Ari and I do, no matter how big this thing gets, nobody -- from here on out throughout the history of this sport, forever -- will have contributed more to this sport than the Fertittas have," White said at the UFC 205 post-fight presser. "It's easy to get into this sport now. We're breaking records at Madison Square Garden, the numbers are through the roof, everything's crazy. They were doing this at a time when it didn't look good and it didn't look like the money was going to come back to them, yet they kept pumping money in. There will never be bigger contributors in this sport than the Fertitta brothers."
Michael Cohen
USADA
Don't get me wrong -- USADA (United States Anti-Doping Agency) has their flaws. But guys are definitely getting popped. It may ruin a few matchups -- a couple main events even -- and some of your heroes might surprise you. But it's for the best and it seems to be working, so far.
New York, NY
Breaking in to the New York market was a huge win for the sport of MMA and for the UFC in particular. UFC 205 proved such by breaking nearly every record in the book during a historic night for the promotion. The UFC will continue to visit the Big Apple with some of the best cards they have to offer, which is great news for fans.
WireImage
Bennett Raglin
Lightweight and middleweight logjams
There are almost too many contenders in the lightweight and middleweight divisions. Lightweight champion Conor McGregor will be out until May while having his first child, so top contenders Nate Diaz, Khabib Nurmagomedov, Tony Ferguson will have to wait until then to get a shot. At middleweight, Michael Bisping is holding the belt, but you could argue Yoel Romero, Luke Rockhold and "Jacare" Souza all deserve title shots. It's a beautiful mess. But surely the UFC would rather have a top heavy division with plenty of contenders, than, say, the current flyweight division.
Zuffa LLC
Zuffa LLC via Getty Images
Anthony Pettis at featherweight
The featherweight division got a whole lot more interesting with the addition of former lightweight champion Anthony Pettis. With McGregor fighting at lightweight and flirting with welterweight, contender Chad Mendes sidelined for two years (thanks, USADA) and Jose Aldo contemplating retirement, the division appeared to be on the downtrend. But now with Pettis cracking the 145-pound top 5, which adds a new level of intrigue and exciting matchups, starting with a tilt against top contender Max Holloway at UFC 206.
Zuffa LLC via Getty Images
Ed Mulholland/Zuffa LLC
Conor McGregor's success
Say what you will about Conor McGregor, but his success has been great for the sport of mixed martial arts. The Irishman's brash personality and entertaining fight style have attracted an entirely new segment of fans of the UFC and it has shown on the promotion's bottom line. You may be one of those people who dislike McGregor for your own reasons, and that's cool. But when you're dishing out all that MMA knowledge to friends and family who just started asking about the sport in the last few months, you can thank Conor for a bit of that.
Zuffa LLC
Zuffa LLC via Getty Images
Ronda Rousey's return
One of the biggest stars in UFC history returns this December, and I think we're all pretty thankful for this moment. The best part about Rousey returning is that she doesn't have to come back to prove she's a legend -- she's just doing it. Rousey has nothing to prove. She's defended her title in under a minute three times and all of her wins have come by submission or knockout. She lost her title in devastation fashion but she was an icon long before that thanks to her dominance inside the Octagon and popularity outside of it. Her return is something person. And I'm thankful I'll get to witness it.
FilmMagic
Jon Kopaloff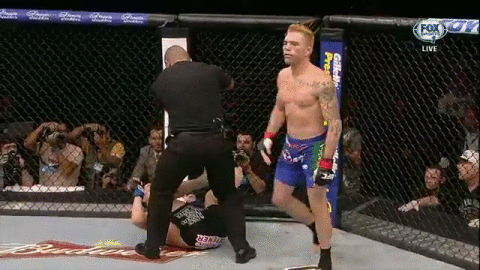 UFC on FOX
Listen, we aren't trying to toot our own horn … but FS1 is the only network where you can watch free and live fights from some of the UFC's best up-and-coming stars and future champions. Like this weekend, when middleweight contenders Derek Brunson and Robert Whittaker throw down. So save some of that turkey for Saturday and give thanks over some free brawls.