Gus Johnson
Lead College Football & Basketball Play-by-Play Announcer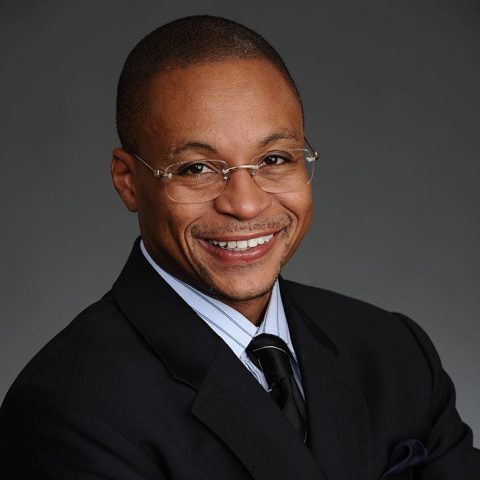 Arguably the most exciting voice in all of sports broadcasting, Gus Johnson is the lead play-by-play announcer for FOX Sports' college football, college basketball and BIG3 coverage. Johnson has served as FOX Sports' lead college football play-by-play voice since 2011, and of the network's college basketball coverage since 2013, the first year FOX Sports began carrying national college basketball games.
LAW OF GUS
Over the past several years, Johnson has cemented his role as the top voice of some of FOX Sports' most popular sports. For college football, he teams with analyst Joel Klatt and sideline reporter Jenny Taft to call Big Ten, Big 12 and Pac-12 games. Johnson pairs with legendary college basketball analyst Bill Raftery to form FS1's lead college basketball broadcast team, and with Jim Jackson for top games on the FOX broadcast network, calling the BIG EAST Tournament from New York's Madison Square Garden. Johnson and Jackson also team up to call FOX Sports' coverage of the BIG3, a professional 3-on-3 basketball league co-founded by Ice Cube and Jeff Kwatinetz.
RISE AND FIRE
Prior to joining FOX Sports, Johnson was one of CBS's top play-by-play voices for the network's college basketball coverage from 1996 to 2011. Clips of his dramatic, enthusiastic calls in the deciding moments of NCAA Men's Basketball Tournament games became part of the fabric of the event and were the foundation of Johnson's rise as a YouTube sensation. While at CBS, he also did play-by-play for NFL games, college football, track and field, boxing, the Hambletonian and both the bobsled and luge events at the 1998 Olympic Winter Games in Nagano, Japan. In 2009, he was named play-by-play announcer for Showtime Championship Boxing and was also the announcer for CBS EliteXC Saturday Night Fights. In conjunction with his work at CBS, Johnson held a position with the Madison Square Garden Network from 1994-2010 as the lead radio play-by-play announcer for the NBA's New York Knicks. Johnson also appeared in spot duty on the Knicks' TV broadcasts and was the face of MSG's TV coverage of the WNBA's New York Liberty. While with the network, he also anchored the AT&T Yankees Scorecard and hosted the Knicks and New York Rangers' GameNight programs. Currently, Johnson calls select Milwaukee Bucks games on FOX Sports Wisconsin alongside former NBA standout Marques Johnson.