WWE WrestleMania 33: 5 Potential Opponents for Goldberg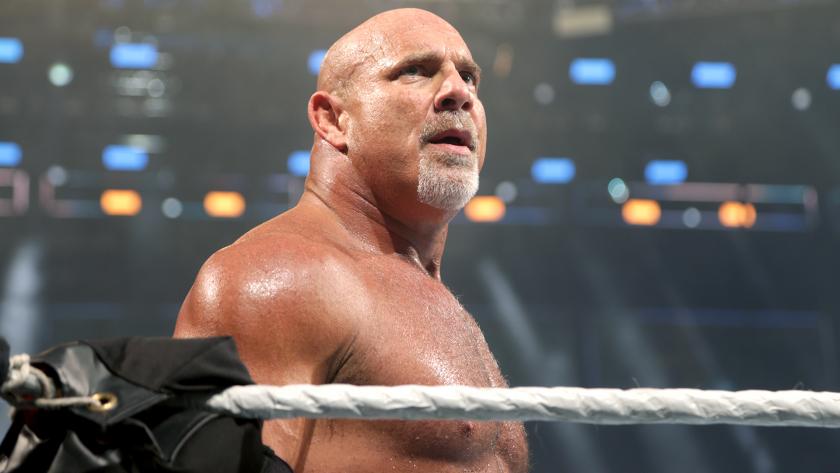 Goldberg just announced himself as the first entrant in this year's Royal Rumble, so if this leads to a WrestleMania match, who could he face?
Goldberg is molten hot and full of momentum after literally manhandling the Beast incarnate Brock Lesnar at Survivor Series 2016. He would announce this past night on Raw that at this year's Royal Rumble match everyone 'is NEXT'.
"At the #RoyalRumble match, EVERYONE is NEXT!" – @Goldberg #RAW pic.twitter.com/efJlwvxSV4

— WWE Universe (@WWEUniverse) November 22, 2016
Goldberg mentioned that Stephanie McMahon asked him whether he had one last title run left in him. He would go on to tell the fans that he most certainly did. How this would affect WWE's long-term plans and main event picture is yet to be seen. However, it is hard to imagine WWE handing the Universal title or the WWE title to a 49-year-old in this new era.
Having said that, the new era would also witness Goldberg destroying Lesnar in under 2 minutes. The only thing fans can be certain of is that Bill Goldberg is here for more than one last Jackhammer. He has more than one last spear left in him. At Royal Rumble, expect him to dish out spear after spear and level the field. But when all the dust settles down, what happens next? Who would be the next one to face Goldberg?
It would be wise to expect a showing from him at WrestleMania 33 as well. The only question would be with regard to his opponent. Would Goldberg do the unthinkable and win the Royal Rumble to book his place at WrestleMania's main event? Or would someone else take him out during Royal Rumble in some ways to set up a feud for WrestleMania? If that be the case, would that person be from Raw or would we witness another inter-brand war? Join us as we analyze and come up with 5 potential opponents for Goldberg at WrestleMania 33.
5. Braun Strowman
The likelihood of this happening is slim, to say the least. Braun Strowman is still developing as a wrestler. He is getting better with every passing week. Based on the confidence creative has placed at this mountain of a man, he would be showcased prominently at WrestleMania 33. However, would he be the one to step into the ring with Goldberg?
The dynamics of this match plays well into each other. Strowman is the classic monster heel of pro wrestling as he is big, fast and incredibly strong. He has been laying waste to everyone that dared to step into the ring against him. Goldberg, on the other hand, is a classic babyface. His character is the good guy, the superhero to the kids. The pairing mashes well on paper.
Strowman's matches aren't about pacing or long stretches of technical moves. It is all about brute strength. This should help Goldberg as well since we can't expect him to put on a 20 minute fast paced bout. Both these men are excellent at displaying short bursts of high impact offense. However, on the flip side, the majority of the match would have to be carried by Strowman. That would be a major challenge for the monster among men. But if he does, it would be a great opportunity to catapult him to the main event scene of WWE Raw.
4. Rusev
Rusev has some unfinished business with Goldberg. The Bulgarian Brute was sacrificed a couple of weeks ago to put Goldberg over. This would be the WWE's chance to correct their mistake. Rusev was already losing momentum after taking so many losses to Roman Reigns. Fans watched in awe as even the Accolade with a chain couldn't keep Reigns down at Hell in a Cell.
The very next week, Rusev falls prey to a 49-year-old part-timer who fell down while attempting a take-down on Rusev. What was the logic in that? Ever since then, the Bulgarian Brute has lost all his momentum he had built after reclaiming the US title. Facing Goldberg at WrestleMania 33 would be Rusev's shot at redemption.
The match works well on paper and in the ring. Much like Strowman, Rusev is a classic heel. He is also a class anti-American foreign heel. That makes it easy for Goldberg to step in and be the hero to kids all around. However, unlike Strowman, Rusev is a very polished wrestler and can carry the entire weight of the match on his own. He can work the match according to Goldberg's pace and has plenty of submission and grappling moves to use to give some breathing time. Defeating the legendary Goldberg at the grandest stage of them all can eventually transform Rusev into the superstar he is destined to be.
3. Roman Reigns
The Big Dog and Goldberg have a few things in common. A devastating Spear is one thing to start with. We saw how Reigns took down Shane McMahon in one second at Survivor Series. Being booked like a superhero is another thing these two have in common. However, as fate would have it, fans cheered for one and booed the other.
Booking this match would be a tough job for creative. There seems to be no signs of a heel turn for Roman Reigns. He might probably even win the Universal title at some point before WrestleMania. If that be the case, would Goldberg challenge Reigns for the title at the grandest stage of them all? The idea is a bit far-fetched but doable considering how much creative got behind Goldberg to put him over.
Reigns is getting better as a wrestler. However, he could take a lesson from Goldberg when it comes to displaying intensity in one's promos and actions. Both these men are better at a short burst of high-octane offense and that is a major challenge as far as the match is concerned. However, Reigns has continued to show the WWE universe that he can step up to the occasion and deliver a quality bout at times. However, without a clearly defined face and heel, this match is not something fans would look forward to.
2. Seth Rollins
Seth Rollins can work a better match with Goldberg than his Shield brethren Roman Reigns. The architect and Goldberg haven't crossed paths in the WWE yet. A few weeks ago, Goldberg appeared on ESPN 2. Wrestling Inc reported that during the segment the hosts played an old footage of Rollins talking about Goldberg. Rollins would go on to say that Goldberg was well past his prime and that he could take him down.
In response to this, Goldberg would say if he had anything left in his tank after Lesnar, he would serve Rollins' head on a platter.
Goldberg jokes that he used to be "The Man" but now he's an advanced aged man. He would say he is not past his prime and Rollins is just trying to get a rub that will get him put in the hospital. Goldberg says Rollins better pray to God that Goldberg doesn't have anything left in him after the Brock Lesnar match because he will serve Rollins' head on a platter.
Perhaps the WWE could play off this angle and have Goldberg go after Rollins. If Rollins is the Universal champion by that time, it makes everything easier. The question can be asked that what becomes of the Royal Rumble winner. There is always the WWE title on SmackDown Live. If a Raw superstar like Cesaro wins the Rumble and expressed his desire to move to SmackDown for a shot at the WWE title, that would be a great storyline. Regardless, expect Seth Rollins to carry the bulk of the match and deliver a standout bout that could very well be Goldberg's last match in the WWE.
1. AJ Styles
Styles is the only man on this list who isn't on Raw. The Phenomenal one has had an incredible first year in the company. Styles has achieved so much in this short time that it is hard to imagine he made his debut during last year's Royal Rumble only. The WWE champion is clearly the MVP of the year for WWE.
Unlike all the other names on this list so far this match would be excellent. Because AJ Styles can work a 5-star match with even a broom stick. Moreover, nobody has ever witnessed Styles and Goldberg collide. To add to the hype surrounding this once in a life time match, this would be an inter-brand title defense as well. Styles is all the way on SmackDown at the moment.
If Goldberg wants to get his hands on Styles and his WWE title, he would have to do the unthinkable and win the biggest Royal Rumble of all time. One can imagine the buzz in the air as a heel AJ Styles mocks the veteran. As far as the match goes, expect Styles to do exactly what he has been doing since day one. Put on a classic show. There would be no other word to describe this match other than 'Phenomenal'.
This article originally appeared on