WWE TLC 2016 Results: Highlights, Analysis, and Grades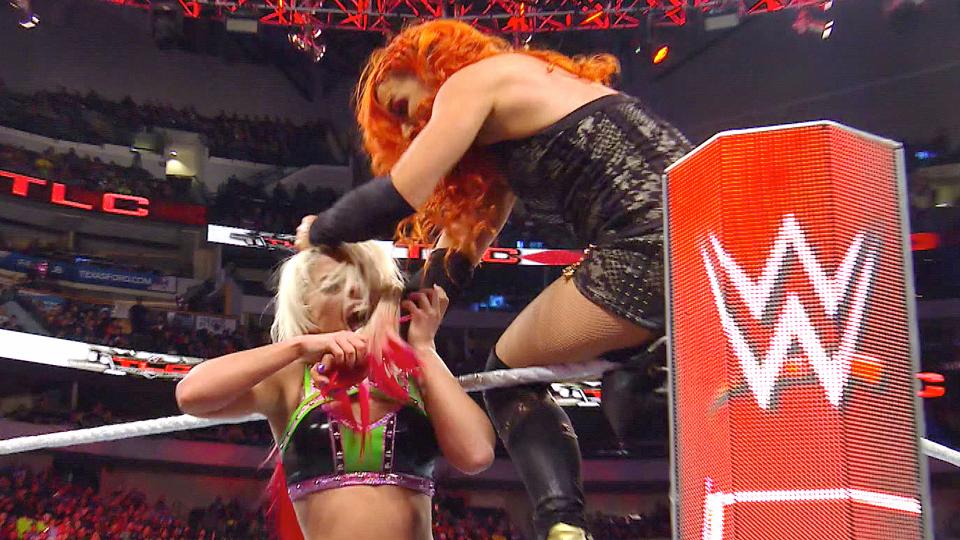 Follow along with our live coverage of the WWE TLC pay-per-view.
On Sunday night, SmackDown will present the WWE TLC pay-per-view from the American Airlines Center in Dallas, TX. This is the brand's third exclusive show since July's WWE Draft. The show will feature talents like AJ Styles, Dean Ambrose, Becky Lynch, Alexa Bliss, and Randy Orton in action.
The main event of WWE TLC will see Styles defend the WWE World Championship against Ambrose in a TLC match. This may culminate their three-month feud, which got going when the world title changed hands and went to the Phenomenal One at Backlash.
Since then, these two have traded verbals and physical jabs in backstage segments and matches. This includes the 5-on-5 match at Survivor Series, which saw Styles inadvertently eliminate Ambrose by fighting him before Braun Strowman got a successful pinfall.
Now, these two will battle for the world title with a bunch of tables, ladders, and chairs around the ring. Which WWE star will be able to climb up and grab the championship, though?
The SmackDown Women's Championship match will see Becky Lynch defend against Alexa Bliss. They will take part in a tables match to determine if there will be a second woman to hold this title.
The tensions between Lynch and Bliss have gone on for the past three months. They even wrestled each other for the belt about one month ago, but a referee blunder caused the decisions to be controversial. This led to a rematch being made for WWE TLC, which could either end the feud or crown a new champion.
With this in mind, here's a look at the full match card for WWE TLC. This includes the main event of the show.
TLC Match for the WWE World Championship
AJ Styles (c) vs. Dean Ambrose
Tables Match for the SmackDown Women's Championship
Becky Lynch (c) vs. Alexa Bliss
Ladder Match for the WWE Intercontinental Championship
The Miz (c) vs. Dolph Ziggler
SmackDown Tag Team Championship Match
Heath Slater and Rhyno (c) vs. Bray Wyatt and Randy Orton
Chais Match
Baron Corbin vs. Kalisto
No Disqualification Match
Carmella vs. Nikki Bella
Follow along with our coverage of WWE TLC at 7:00 p.m. ET!
American Alpha, The Hype Bros, and Apollo Crews vs. The Ascension, The Vaudevillains and Curt Hawkins
Result: American Alpha, The Hype Bros, and Apollo Crews defeat The Ascension, The Vaudevillains and Curt Hawkins via pinfall.
Rating: 2.5 out of 5 stars
A hardly surprising result here, to say the least. The babyfaces usually go over in the thrown-together-to-warm-up-the-crowd-but-no-one-really-cares match. This became the case at WWE TLC.
Most of the match was filler, especially with Chad Gable taking a heavy brunt of the offense. This eventually led to the Jason Jordan hot tag as he cleaned house and got the pin. American Alpha rebounded after taking the loss to Randy Orton and Bray Wyatt on SmackDown, which would have gotten them a tag team title shot at TLC. They should still get one eventually, but maybe not for a few months.
The Hype Bros, Ascension, and Vaudevillains aren't really going anywhere, with this match being more evidence of that. They have been stuck in pre-shows for a while and will remain the case as long as the tag division is this way. If Heath Slater and Rhyno lose the tag titles, then that would only further clog the tag division.
Crews and Hawkins are also aren't doing much, even though WWE still hypes the former as a "big-time prospect that has all the tools". Through eight months, those "tools" have been few and far between.
SmackDown Tag Team Championship Match
Heath Slater and Rhyno (c) vs. Bray Wyatt and Randy Orton
Result: Bray Wyatt and Randy Orton defeat Heath Slater and Rhyno via pinfall to win the SmackDown Tag Team Championship.
Rating: 2.5 out of 5 stars
Not really a special match by any means, but a significant one for sure. The ending may have been the biggest for two of the Superstars in their respective WWE careers.
To begin things, it looked like Wyatt and Orton have a combined entrance theme, which came off pretty sweet with the nod to the latter's original music. It would seem that these two are going to be together for a little while if they're getting a personal theme.
As for the match, it was pretty short, maybe lasting about eight minutes. Given that there are only six matches on the three-hour show, this could have used at least 4-6 more minutes to tell its story. The one that did get told wasn't too shabby, though.
In the closing moments, Rhyno looked to Gore Orton outside the ring. However, in a surprising sign of solidarity, Luke Harper stepped in the way and took the finishing move. This led to the Viper tagging in without the Man Beast realizing, hitting the RKO, and winning the belts.
An interesting moment would take place during the celebration with Orton letting Harper hold the tag titles. This could be a symbol of the Wyatt Family never having held titles in their three years on the WWE main roster (except for Harper with his very short Intercontinental Championship run), so it's a big moment for the stable. The Apex Predator has held tag titles before (nearly 10 years ago), so he let his fellow stablemate hold the belt in another sign of solidarity.
Now, we have the Wyatt Family running over the tag team division as SmackDown Tag Team Champions. Who will they face next?
Carmella vs. Nikki Bella
Result: Nikki Bella defeats Carmella via pinfall.
Rating: 2.0 out of 5 stars
Nikki Bella and Carmella would see their feud end at WWE TLC. With this win, the "Total Bellas" star went up 2-0 and seems to be moving onto Natalya. The Princess of Staten Island cut a brief promo that the Cat Woman was the one who attacked Bella at Survivor Series.
A Nikki vs. Natalya feud isn't the most riveting thing. It seems like a way of integrating a "Total Divas" storyline into WWE programming, a show that only about 500,000 people watch. So, how many are really going to care about it?
What would have been better is for Bella to have moved to the title scene, if Alexa Bliss wins later in the show. There's more value to that then a feud with someone who isn't the most relevant in the women's division. Nothing about it screams "big-money women's feud". Neither did the one with Carmella, but it was entertaining to see the transition of a long-time babyface into an effective heel.
WWE Intercontinental Championship Match
The Miz (c) vs. Dolph Ziggler
Result: The Miz defeats Dolph Ziggler to retain the WWE Intercontinental Championship.
Rating: 4.0 out of 5 stars
Miz and Dolph Ziggler have wrestled each other a handful of times over the past few months. They may have faced off a bit too much, but they have never failed when given the opportunity to wrestle on pay-per-view. It's something that will be missed since these two work so well together in matches, as was the case at WWE TLC.
This ladder match may have been Miz and Ziggler's best one yet. They went at each other for about 20 minutes and brutalized one another with the steel object. The legs were especially targeted here, which looked painfail at times; how about when the A-lister fell from the hanging title? Suffering an injury in that instance is possible, but he looked fine and carried on.
What's next for Miz remains to be seen. He'll probably get a new title contender which could be determined by Tuesday or the middle of the month. Hardly anyone in SmackDown's mid-card scene will be able to do what Ziggler did, but someone will hopefully step up.
As for the Showoff, he's probably out of the title picture and will have to move onto something else. A non-title feud, something he hasn't done in about five months, is probably in store.
Chairs Match
Baron Corbin vs. Kalisto
Result: Baron Corbin defeats Kalisto via pinfall.
Rating: 3.50 out of 5 stars
Greatest chairs match ever. Seriously.
This was not a high-level, elite match by any means. However, for the standard of chairs matches, this was incredible, something that worked far better than it probably should have given the history of this gimmick bout.
Corbin and Kalisto used the size dynamic extremely well. This saw the Lucha Dragon use the chairs as much as possible to counter being so much smaller than his opponent, which worked numerous times. This allowed him to pull off big moves like the moonsault onto Corbin, who had a chair on him.
Among the other great moves in this match, we had Corbin catch Kalisto and hit a Deep Six at ringside. A pretty wild move that seems to work every time the Lone Wolf tries it; kudos to whoever developed this trademark move.
The finish of the match looked absolutely brutal. It had Corbin smack Kalisto in the face as he tried doing a move off the turnbuckle. Then, the End of Days onto the chairs! A vicious way to end a very good match.
SmackDown Women's Championship Match
Becky Lynch (c) vs. Alexa Bliss
Result: Alexa Bliss defeats Becky Lynch to win the SmackDown Women's Championship.
Rating: 2.75 out of 5 stars
Alexa Bliss and Becky Lynch have had a very fun rivalry. They even put on an entertaining match in Glasgow, Scotland. On Sunday, though, this one threatened to mar that program.
For a while, these two didn't seem to click much, mostly due to the use of the tables. They struggled with the spots, called everything out somewhat loud, and had some clunky action. It's only a blip on the radar for Lynch and Bliss, but leading into the main event, this didn't look too great for a time.
However, the match did pick up at the end and resulted in a new women's champion. Alexa biting Becky also had been a highlight of this match.
This is Bliss' first-ever title reign in WWE. She had attempts at the NXT Women's Championship in developmental, but never walked out successful. However, on the main roster, Ms. Five Feet of Fury proved her worth from the start and has done some of the best work of her career; this goes for in the ring and her character.
As for Lynch, this ends her somewhat unremarkable title reign at nearly three months. It didn't go bad, but it had no memorable moments. She'll still get a chance to make up for it in a likely rematch with Bliss, though.
TLC Match for the WWE World Championship
AJ Styles (c) vs. Dean Ambrose
Result: AJ Styles defeats Dean Ambrose to retain the WWE World Championship.
Rating: 4.5 out of 5 stars
What a main event, folks! There never seemed to be a low point during the match, which can make for much at times, but Ambrose and Styles absolutely dominated out there for nearly 30 minutes. There's plenty that happened, so let's dive in.
The Lunatic Fringe looked sharp for the first half of the match. He had full control of the champion, including doing the elbow drop from the top of the ladder. An incredible move that really got the fans going and highlighted everything that Ambrose did to get to Styles.
However, after that, it became the AJ Styles Show. He hit a Phenomenal Forearm as Ambrose climbed the ladder. He then hit a 450 splash to Ambrose, who was laying on the table, and went through it. This may have been the move and moment of the evening, which got the silent Dallas crowd off its feet and cheering for everything that happened.
A comedic note from mid-way through; Styles seemed to have ripped a hole in his pants. Unfortunately for him, it was located on his rear. Fans noticed it at the arena, and so did everyone on Twitter, leading to plenty of laughing.
The ending will get everyone talking, though.
James Ellsworth, who had seemingly been out of action with an injury (Styles Styles Clashed him on SmackDown), made an appearance. So, given his hatred for the Chinless Wonder, Styles attacked him. Ambrose made the save for his buddy, and the match carried on.
However, as the former Shield man climbed the ladder, Ellsworth jumped into the ring and pushed him off the ladder, going into the table! This shocked everyone in attendance, something that fans may have guessed at first, but in the heat of the match, it came off very surprising. He then cheered on Styles to climb the ladder and claim the title.
We now have an even more unusual alliance between Styles and Ellsworth, that's if the former even wants company. We'll see how this plays off on SmackDown, which could be something to watch for as the year concludes.
This article originally appeared on