WWE TLC 2016: James Ellsworth Turns on Dean Ambrose (Video)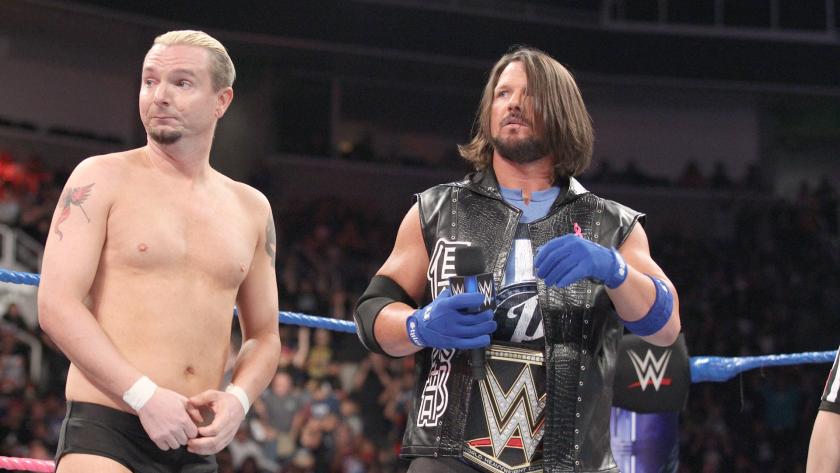 James Ellsworth turns his back on Dean Ambrose in one of the most shocking moments in TLC history.
James Ellsworth is one of the most popular wrestlers in WWE right now but his stock may have changed at the end of the main event from TLC.  The fans were in a frenzy at the biggest Oh My God moment of the night.
Ellsworth has joined forces with AJ Styles and helped him retain his WWE World Heavyweight Championship.  Originally, it looked like Ellsworth was there to help his ally Dean Ambrose but the tide would quickly turn.  As Dean Ambrose was all alone in the ring ascending the ladder to take back the World Heavyweight Championship, Ellsworth comes turns the ladder over. This happened even though AJ had hit the Styles Clash off the stairs to the floor last week on Smackdown.  This sends Dean Ambrose over the ropes through two tables on the outside of the ring.  It also solidified AJ Styles' retention of the championship
The biggest swerve of Tables Ladders and Chairs was James Ellsworth turning against Dean Ambrose.  Obviously, this brings up a variety of questions for the future of Smackdown.  Does this make Ellsworth full on heel despite the fact that he received many cheers after the turn?  Also, will he join forces with AJ Styles or does this just set him on a collision course against Dean Ambrose?
Going into Royal Rumble, there is potential to finally allow James Ellsworth to be the wrestler he could be.  He has been overlooked considering he came into WWE as a jobber to Braun Strowman.  This could be Ellsworth's time to make a name for himself as a serious competitor going into Wrestlemania season.
How shocked were you by James Ellsworth's actions at WWE TLC?
This article originally appeared on