WWE TLC 2016: 4 Losers from the PPV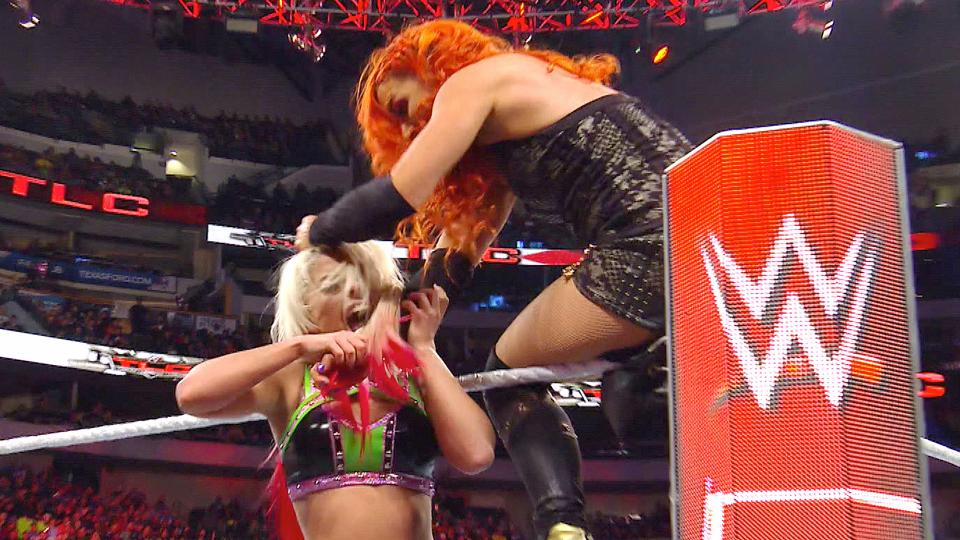 WWE TLC promised chaos and brutality and delivered. Join us as we look at the biggest losers from the show.
TLC 2016 surpassed its expectations in many ways. Though the match card seemed repetitive at times, thanks to the abundance of talent, TLC was a memorable PPV. Dolph Ziggler and Miz crafted the final chapter of their rivalry. So did AJ Styles and Dean Ambrose. Heath Slater and Rhyno would find that their Cinderella story has turned into a nightmare.
Elsewhere on the card, Nikki Bella and Carmella would square off in a no-disqualification match. The two would fail to make full use of the stipulation in an underwhelming contest. The Women's division was also represented by Becky Lynch and Alex Bliss who later squared off a tables match. Though there were a number of sluggish spots, the match was great and Bliss came out of the PPV as the new Women's champion.
We would also see American Alpha come on top of their opposition in a 10 man tag team match during the pre-show. TLC 2016 produced broken tables, twisted chairs, and bent ladders. There were winners and champions. Then there were losers who were winners on paper and losers who actually lost. Join us as we find the stars who lost the most momentum after TLC 2016.
4. American Alpha
American Alpha has so much talent, energy, and potential that it is sad to place them on this list. However, being on the pre-show does not help much either. Chad Gable and Jason Jordan would get the win. However, a week ago, they were potential number one contenders for the tag titles. In a week's time, the duo was relegated to a pre-show bout alongside the Hype bros, Ascension and Vaudevillains.
When American Alpha made their roster debut, they were perhaps the hottest team in the tag division. However, a few weeks later, their momentum began to diminish and now the duo is lingering around without direction or motivation. WWE could have done so much more with them. They are still entertaining and their matches are great. However, their story just doesn't connect with the crowd.
American Alpha has not provided fans with a reason to invest in them. For all we know, they are incredibly talented athletes who want to win the tag titles. But so does Breezango. Fans want that factor that distinguishes them from any other tag team. WWE has to turn things around for American Alpha before the team becomes a stale act.
3. Heath Slater
Yes, Heath Slater is entertaining and charismatic. He is a lovable loser. However, beyond that, it is hard to imagine Slater's character. The former member of 3MB had a memorable run atop the SmackDown tag division alongside Rhyno. Until they stepped into the ring against the Wyatt Family at TLC.
The match was exceptionally short considering the tag title were on the line. The fact that Slater couldn't put up any fight at all adds insult to injury. Had the match gone on a little longer, or had Slater tried to put up more of a fight, he wouldn't have made it to this list. However, as it stands, Slater is one of the biggest losers from TLC.
One can not imagine what is next for the lovable loser. Perhaps, Rhyno turning heel on him would give us a short feud to carry him on for the next few months. However, beyond that Slater could very well be back where he started. Heath Slater is a very entertaining character. However, every character needs to evolve to remain relevant over the course of time.
2. Carmella
Carmella turned heel without much of a logical reason behind that. She was envious of Nikki Bella's success and all the attention she had been receiving. However, clumsy as that would be, she did seem better off as a heel than a stale face. Carmella's biggest flaw is that outside of her comfort zone alongside Enzo and Cass she is a very one-dimensional act.
Even her heel act feels one-dimensional and flat. Carmella would, however, bring a lot of intensity into her match with Bella. Kendo stick shots were a pleasant surprise. However, it was the ending that significantly affected her momentum. All that build-up over the last few months was practically ruined by a clumsy ending that put over Bella.
The fact that, Carmella would then go on to become a novelty act that paves the way for Bella's next feud further worsens it. Moreover, who loses a match after being sprayed on with a fire extinguisher in the WWE? Carmella still has potential and a shot and redemption and for that reason, she is not the biggest loser from the PPV.
1. Becky Lynch
As bad as it hurts to say it, Becky Lynch was the biggest loser of the night. It disheartening to see such a talented female wrestler being placed here. However, that would be the case during TLC 2016. Due to a number of factors, Lynch's title reign has been mediocre. While Sasha Banks and Charlotte have been creating classics week after week on Raw, Lynch has failed to find traction on the blue brand.
It can not be attributed to her alone. Raw's women's division has more depth and talent than SmackDown. Though SmackDown has done a better job with the women's division, Lynch's title reign failed to have that one defining moment. For Sasha and Charlotte, that was their Hell in a Cell bout. Unfortunately, for Lynch, that moment came when she crashed down through a table, losing a title in the process.
Becky Lynch can now go back to the drawing board and start over. She is a very talented performer. Perhaps, much like Dean Ambrose, chasing the gold can make her a more intense character. Perhaps, she could feud with the returning Mickie James if the reports are true. However, when all was said and done, Lynch lost the most momentum this Sunday.
This article originally appeared on