WWE Survivor Series 2016 Review: What we learned, takeaways, future projections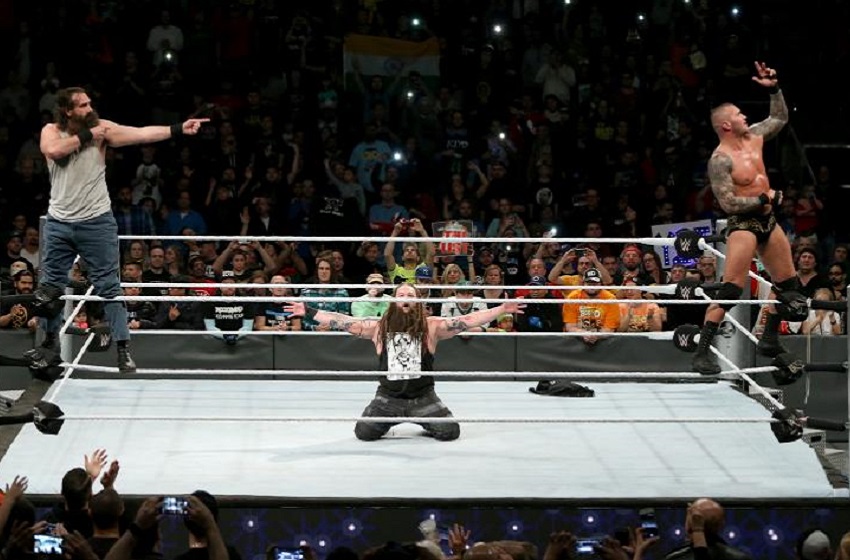 What we took away, what we learned and what the future holds for WWE following Sunday night's Survivor Series pay-per-view in Toronto.
There's only two WWE pay-per-view events left in 2016 and TLC and Roadblock will have a lot of work to do to generate the buzz that Survivor Series created on Sunday night in Toronto. Whether it be a controversial ending, a controversial winner, a surprise or just simply some great matches, the 30th annual Survivor Series had just about everything, didn't it?
But now that Survivor Series is behind us, where do we go from here? Did we learn anything? Let's take a look at the six matches from the main card (not that Kane vs Luke Harper wasn't exhilarating) that saw two championship matches, three traditional Survivor Series contests and one grudge match that had the whole world talking.
5-on-5 Traditional Survivor Series Women's Elimination Match
What we learned: There's certainly a few things to take away from this classic Survivor Series match but the most important thing we learned following this match is that the women's division is in a very good place right now; it was very nice to see all of these talented ladies get a chance to shine on the big stage. I thought it was a great call to have them open the show as it shows confidence that they can get a "Big Four" show going and get the crowd hot. And Toronto certainly had a hot crowd all weekend, didn't they?
On the RAW side of things, I was actually pleased to see Sasha Banks get eliminated a little earlier than expected. As I noted last week, I thought it was important to start to move away from the Sasha Banks vs Charlotte feud and give a few more of the ladies in red a chance in the spotlight and I think this match did just that. Yes, Alicia Fox likely isn't going to elevate any higher than she is now but it was nice to see the veteran in a big match like this. She's done everything that's ever been asked of her and showed on Sunday night that she's still a true professional. And outside of the questionable tap to Becky Lynch, Nia Jax did what she needed to do in this match and that was establish some dominance. She's still a bit green and her time will definitely come down the line.
But the night was about Bayley and Charlotte and I thought this was done very well. It was important for Bayley to get the win and stand out from the rest in this match and that's exactly what happened. While she's insanely over with the crowd, she hasn't had that monster moment on the main roster just yet and keeping her in there with two champions proved that she's ready to take that next step. Charlotte just keeps being Charlotte and there's nothing wrong with that at all. She's a natural heel just like her father was and she showed once again why she's on top.
On the Smackdown Live side of things, they've just got so many talented women on their roster and I'm digging what's going on over on the blue show. They didn't need to win this match and I never expected them to. Leaving Nikki Bella completely out of the match was a surprise but seeing as she's been in the spotlight for a long time, I think it was good to let everyone else take a turn on Sunday night and it's just setting up something for the future anyway. While I do hope Naomi gets a nice run at some point, she's just not quite there yet. Natalya is and always has been the most consistent worker on the women's roster and proved that yet again on Sunday night in front of a crowd that was really behind her. Carmella has that little "it" factor about her that will serve her well moving forward and she's only going to keep getting better as time goes on. Becky Lynch is probably the most talented woman on the women's roster not named Charlotte and Alexa Bliss is impressing me more each and every week. This match allowed her and every other woman in this match to get some good screen time and show the world what they can do. Pretty solid stuff here.
What's next: Well, as much as I thought they were getting away from the Charlotte vs Sasha Banks feud, that's obviously not going to happen right away as her return match for the RAW Women's Championship has been set for next week. But I really don't see them switching the title yet again.
This is Bayley's time to shine against Charlotte and hopefully this leads us to the Sasha Banks vs Bayley singles match on the big stage that everyone is waiting for. A slow build to WrestleMania would be ideal so I hope they don't jump the gun on this.
Hopefully Nia Jax won't be just thrown back into a long series of squash matches. While I do think she still has a lot to learn and that those types of matches do help her, she needs a good program to keep the momentum she picked up on Sunday night moving forward.
On the blue brand, the question will be who attacked Nikki Bella and the most likely answer is Natalya, who had been wanting to be in the Survivor Series match for weeks leading up to the show and I think a program between those two would be pretty solid. The feud between Becky Lynch and Alexa Bliss is far from over after what transpired in Scotland and they're likely headed towards a match at TLC. I really hope they give them some kind of specialty match to spice things up a bit but I suppose it would take quite a bit of force to get Alexa Bliss through a table, wouldn't it?
The Miz (c) vs Sami Zayn-Intercontinental Championship
What we learned: Well, things went down exactly the way I expected them to in this one so I really didn't take much away here. I'm not saying that it wasn't a solid match but I don't think I'm alone in thinking that Dolph Ziggler facing Sami Zayn for the Intercontinental Championship would have brought the house down. The decision to keep the IC title on Smackdown Live was the right call and the outcome was quite obvious from the start, don't you think?
Even with that being said, The Miz and Maryse are really good at what they do. It's nice to see Miz getting more ring time these days as he's always been a decent worker and he's really stepped up his game since his wife returned to WWE. And putting him in the ring with guys like Ziggler and Sami Zayn only make him that much better. The crowd absolutely despises him and that means he's doing his job well. It's the guys that get no reaction one way or the other that you have to worry about and The Miz certainly doesn't have that problem.
What's next: Well, we saw what came next for Sami Zayn last night on RAW as he was completely destroyed by Braun Strowman as punishment for losing his match at Survivor Series. Zayn is just in this awkward spot right now as creative really doesn't seem to have a ton for him to do these days. So, let's just throw him in with Braun and run that for a few weeks until we figure it out seems to be what's happening at the moment. And with the push that Braun is going to get leading up to the Royal Rumble, I wouldn't expect Sami Zayn to get the better of him at any point.
As for The Miz, he's likely headed towards a feud-ending match with Dolph Ziggler, who once again has lost any momentum he had as he was completely left out of Survivor Series. This feud has been fun to watch but it is time to bring it to an end as we enter the new year. A ladder match for the Intercontinental Championship in a couple of weeks at TLC would do just that.
10-on-10 Traditional Survivor Series Tag Team Elimination Match
What we learned: I think we learned in this match that WWE is ready to showcase more tag teams. At least that's what the early elimination of The New Day said to me. Now, if they actually end up following through with this is still to be determined but I liked what they did with that.
It was a little disappointing to see Breezango out that quickly but with 20 guys in a match, you knew that a couple of teams had to go out early and they were the easy call. But that gimmick is gold and those two are absolutely perfect together and it was really nice to see these teams get some decent time in the ring. It wasn't the best match that could have happened by any means but I think it served its purpose for the time being. There are a lot of good teams in WWE right now that could do some great things and hopefully they continue to build the division on each brand.
What's next: I really thought that Cesaro and Sheamus had a real shot to win the tag titles on RAW on Monday night but I think that WWE is just waiting for The New Day to surpass Demolition for the longest reign in history before taking those titles off of them. Seeing as how Ax and Smash are part of that class action lawsuit against WWE and I'm sure Vince would just love to see them out of the record books. So expect to see them hang on to the titles for a little bit longer, most likely at least until Roadblock where they'll likely face the new number one contenders in Anderson and Gallows, who squashed Golden Truth on Monday night to earn a shot.
And what's next for the Smackdown Live champs, Heath Slater and Rhyno? Well, we'll find out who they'll face at TLC tonight as six teams (The Usos, American Alpha, The Hype Bros, The Ascension, Breezango, The Vaudevillains) will compete in a tag team turmoil match to determine the new number one contenders, which I absolutely love. I'm always a sucker for these types of matches and it's yet another opportunity for these teams on the blue brand to elevate themselves to the next level.
Brian Kendrick (c) vs Kalisto-WWE Cruiserweight Championship
What we learned: Well, we learned that the cruiserweight division isn't going anywhere and that's absolutely the right call. While the division does seem like more of a Smackdown Live type of thing, I just don't think the blue brand has the time to properly showcase it. Monday Night RAW is a three-hour show and has plenty of time to do so, making what happened at Survivor Series the right play.
I think we also learned that Brian Kendrick is still the real deal and deserves this spot he's in right now. Yes, a good match was a bit tarnished by the finish that saw Baron Corbin interfere but that needed to happen. Kendrick nor Kalisto had to do the job and Corbin continues his "I'm only looking out for Baron Corbin" thing that he's got going. No harm done.
What's next: It's quite obvious that Kalisto will be looking for some revenge on Corbin and that will likely take these two to TLC for some type of specialty match to end things. Then it's really tough to tell from there. Kalisto really does need to be on RAW at this point as there's just too much big talent on Smackdown Live for him to really go anywhere unless he gets himself a new tag team partner. Perhaps Shane and Stephanie can work out some type of trade to where Kalisto gets himself a rematch with Brian Kendrick, saying he never lost and everything that goes along with that.
As for Brian Kendrick and the cruiserweight division itself, I think it's got nowhere to go but up. While the crowds haven't been the most generous towards these matches in the beginning, I think they'll start to catch on to the brilliance of it very soon. There's so much talent in the division with guys like Cedric Alexander, Noam Dar, TJ Perkins and the new number one contender for the Cruiserweight Championship, Rich Swann. Next week's premiere of 205 Live should only help things. We can only hope that show doesn't mean that they'll get less time on Monday nights.
5-on-5 Traditional Survivor Series Men's Elimination Match
What we learned: The 5-on-5 traditional Survivor Series Men's Elimination Match was easily the best match of the night and I think we learned exactly how much fun WWE can be when things are done right. As much as I thought AJ Styles would be the sole survivor to push his ego even further, what transpired between he and Dean Ambrose was perfect. Smackdown Live did need to win this match but the champ didn't have to be the guy to do it.
And we learned that Shane McMahon is still an absolute maniac.
Seriously, the 46-year-old commissioner of Smackdown Live took a beating, and while some thought that he took a spot away from someone else, I think it worked in this case. They're telling a story in there and this only added to it. He wanted his brand to win and Shane put his own body on the line to get it done. You can tell that he genuinely enjoys being in that ring, even if it means he's going to get knocked out …. literally.
But we also learned that Randy Orton is a better guy than he used to be. Come on, how cool was it when he broke character and walked over to Shane's to let him know that he was okay? And speaking of Orton, we learned that this duo of Randy and Bray Wyatt isn't going anywhere. Bray FINALLY got a big win, which I thought was one of the biggest surprises to come out of Survivor Series.
What needed to happen with the RAW team happened and I thought it was done pretty well. Braun Strowman was going to look like a monster and they accomplished what they needed to with him. He's nowhere near ready for a title run yet but he looked big and strong and him hurling Ellsworth off the stage was pretty damn funny. You knew they'd tease a little more tension between Kevin Owens and Chris Jericho as their inevitable split continues to take shape and using Jericho's list to make that happen was great.
As I expected, the final two members of the red team were Roman Reigns and Seth Rollins. And yes, since we're talking about it, the mini-reunion of The Shield was pretty cool. I'll tell you what, though, I really thought that Reigns was going to flip the script and turn on Rollins while they were standing in the middle of the ring looking at the Wyatts. But it was interesting to see them working together again and it will be even more interesting to see how they interact moving forward.
What's next: We know that AJ Styles and Dean Ambrose are set for a TLC match in a couple of weeks and that match should be the end of this feud. It's been one of the best feuds of the year, maybe right behind Styles and Cena, but a TLC match is a good way to end it. Styles should hang on to the belt and Ambrose is likely to be one of the final guys in the Royal Rumble. But I suppose I've been wrong before.
Shane McMahon just needs to heal for a while and will likely stay out of the ring until WrestlMania. As for Orton and Wyatt, it will be very interesting to see what happens with these two. Bray Wyatt has so much momentum right now that it would be a crying shame to kill it. He needs to be booked very strongly over the next few months and he needs/deserves a really big payoff at some point. Whether it be for a title or not, it's his time for something huge.
Well, it looks as if we're building towards a Kevin Owens vs Roman Reigns program after RAW last night. Seth Rollins seemingly had his last chance at the Universal Championship for a while and while Owens and Reigns battle it out, he'll likely get involved with Jericho for a while as 2016 winds down. Braun Strowman will continue to do the Braun Strowman thing as we move towards the Royal Rumble and is likely your Andre the Giant Memorial Battle Royal winner at WrestleMania 33 next year.
Goldberg vs Brock Lesnar
What we learned: Did we really have time to learn anything here? I suppose we learned that WWE can still shock us whether we like it or not. I think we also learned that Goldberg still can't wrestle.
Now, I really didn't expect much from this match but give me something. Don't give me a buildup like that and disappoint me like that, but we've seen this before and we'll see it again. Not every match is going to be a winner and while there are some people out there that wanted to see this — I just wasn't one of them. Maybe there's a bigger payoff that I'm not seeing but I really don't understand what happened. They've been building Brock Lesnar as this unbeatable force and the guy who took him down was going to get a big rub from it. Owens? Nope. Wyatt? Nope. Goldberg? Yeah, that'll work.
WHAT?!
What's next: Well, apparently everybody is next. At least that's what Goldberg told us on Monday night as he announced that he'll be competing in the Royal Rumble. Oh joy. At least the Rumble is a match where he won't have to do much except the only things that he actually does well. While it may be interesting to see him in there with some talent he hasn't faced before, how many times do we have to go through this? Will Lesnar also enter the Rumble to get his revenge? And does that lead to a Lesnar vs Goldberg match at WrestleMania? Because that really worked out so well before. There are rumors swirling that Lesnar saw the dollar signs in a Goldberg program and that one match just wouldn't cut it. So is this where they're going?
There's no way that Goldberg wins the Rumble, right? They saw how well that worked with Batista a few years back, didn't they? Or do we get that type of situation where Roman Reigns wins the Universal Championship, Goldberg wins the Royal Rumble and those two face off in the main event of WrestleMania? Yeah, the fans wouldn't hijack that match at all. There are a number of possibilities here and only time will tell what's next for Goldberg and Lesnar.
What were some of your thoughts on Survivor Series? What did you like? What didn't you like? What surprised you? Sound off in the comments section and we'll see you right back here at FanSided in a couple of weeks for TLC.
This article originally appeared on