WWE Survivor Series 2016 Results: Men's Elimination Match Video Highlights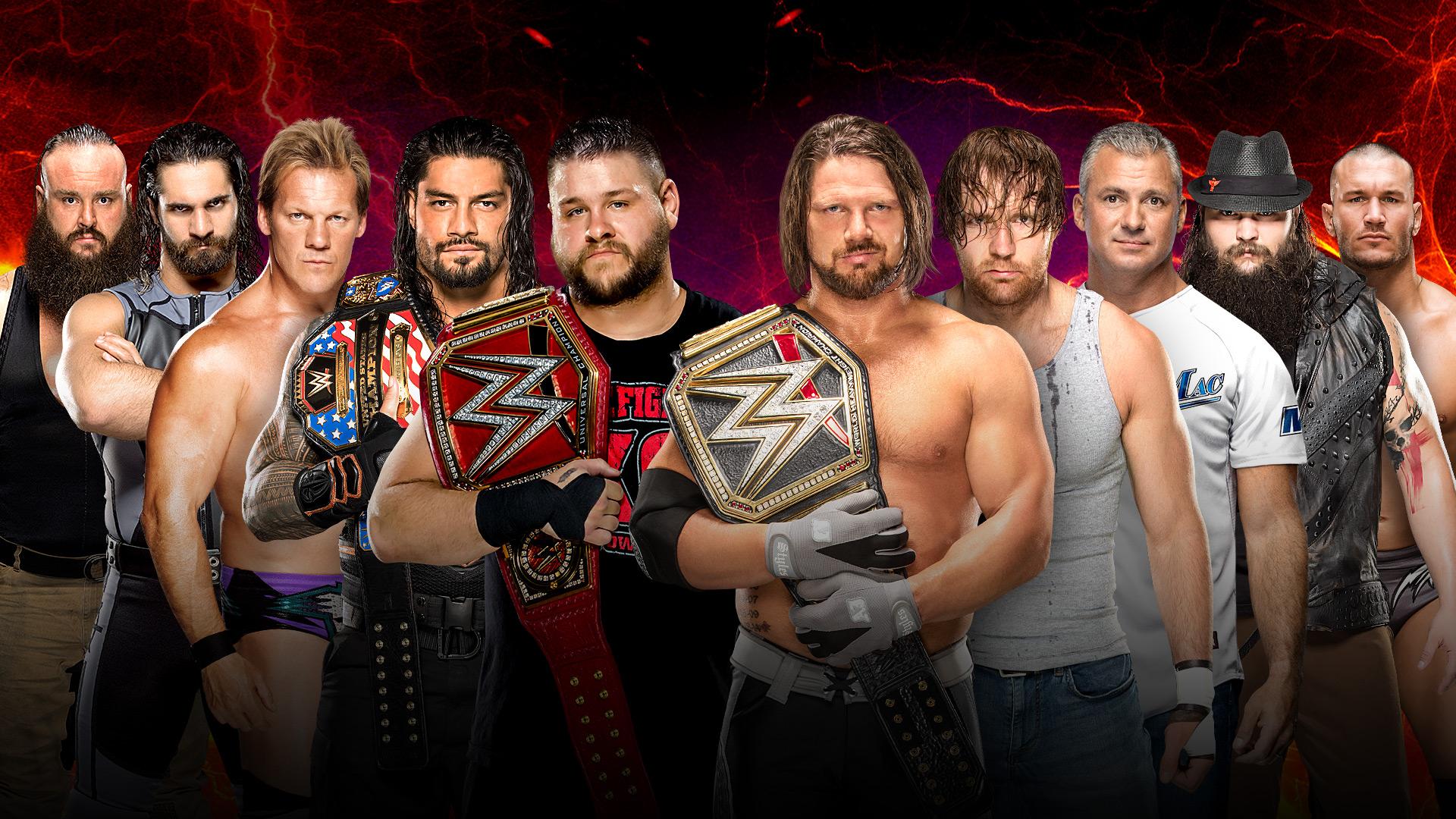 Who came out on top when the men of Team Raw faced Team Smackdown Live at Survivor Series?
The big problem WWE has faced with their Raw vs. Smackdown elimination matches at Survivor Series is making them mean something. In previous years the stakes amounted to individual beefs, but it's more difficult when it's brand vs. brand. So how did WWE address this problem? The way they always do, with a McMahon.
Raw commissioner Stephanie McMahon has threatened her team that their jobs may be on the line. Does that somehow include Universal champion Kevin Owens and U.S. champ Roman Reigns? How does that work? Over on Smackdown Live, we have The Undertaker suddenly returning and feeling strangely nostalgic for the blue brand. He threatened, basically, to bury them if they lose.
With that in mind, we do get to see another "reunion" of The Shield, only with Reigns and Rollins opposing Ambrose. And there's the chance to see Bray Wyatt vs. former thrall Braun Strowman, and whatever that weirdness is with Randy Orton (I smell an RKO in Bray's future). And the chance to see Owens vs. AJ Styles, a match we may not get to see for quite some time in WWE, if ever.
So who gets to keep their job and/or life?
And first out is the Chinless Wonder himself, Team Smackdown "mascot", James Ellsworth…
Here comes the money!!! Ellsworth can't do that.
Anybody else weirded out by seeing Randy Orton alongside Bray Wyatt?
Let the team dissension begin! Can someone smack Ellsworth?
It's champion vs. champion to start the match! Fans have wanted this match forever! Can we just clear everyone else out and let Styles/Owens be the main event?
Styles missed the pele kick early on, Owens had the package piledriver reversed. So far so well-scouted.
With "Stupid Idiot" chants raining down, Jericho tags in and….awwww! Best friends forever!
Rollins tagged in and Styles didn't want none. Here comes Rollins' former Shield mate, Dean Ambrose!
Jericho tags in and he's still pissed over the $15,000 jacket Ambrose ruined. Old grudges die hard.
In comes Smackdown commissioner Shane-O-Mac like a house afire!
Reigns tags in to a chorus of boos that don't seem to be dying down even as he and Rollins beat down Shane.
Owens and Ambrose renewed their old rivalry, with both nearly hitting their finishers. But then things began to break down with all ten men getting involved. Is there a second, maybe a third referee available?
Check out the Universal champ flying into the pile!
But out of the chaos, Ambrose and Styles ended up at one another's throats. Smackdown is coming apart at the seams. Strowman enters the ring and powerslams Ambrose practically through the ring for the 1-2-3! Ambrose is eliminated!
Strowman isn't finished! Crushing Shane, AJ, Orton, and everybody on Team Smackdown!
But it all came to a stop when he came face-to-face with his former leader, Bray Wyatt.
RKO out of nowhere! Orton just RKO'ed Strowman into the announcers table! And they aren't finished…Shane-O-Mac with the flying elbow! This is why he's there!
And Strowman got counted out! Why? Because of James Ellsworth holding his feet from under the ring! Ellsworth's about to get massacred, isn't he?
And yep, he got massacred. Just look at Strowman's face after hurling Ellsworth through the equipment. No more chin, no face, no nothin'.
It's now tied 4-4 but Raw has lost its strongest weapon. And Smackdown faces the potential loss of Shane at the hands of Jericho.
Somehow Shane kicked out of Jericho's Codebreaker! How many can say that?
Styles tagged in and he hooks Jericho in the calf crusher, but Jericho reverses by slamming his head into the apron. But Owens enters the ring and hits Styles with the List of Jericho and gets himself eliminated. Say what!? The crowd is not happy.
RKO out of nowhere! It's suddenly 2-4 Smackdown as Orton takes out Jericho as he tries to fix his List!
It's now only the Shield's Reigns and Rollins vs. Orton, Wyatt, Styles, and Shane. But more importantly, can the List of Jericho be saved?
Orton gains the upperhand and nails Rollins with a gorgeous Superplex. Wow.
The Big Dog tags in and he's cleaning house. He nearly finishes off Styles with a huge powerbomb, shades of the Undertaker!
But in comes Shane and he's taking out all members of the Shield! This is nuts! Be careful that's the boss's son!
Shane was going to go coast-to-coast but Reigns drilled him with a spear that nearly cut him in half. Want to see the result? Shane's eliminated, and needing to be carried away from ringside. Uh oh, the boss may not be happy about this…
And here comes Rollins but it's still 2 on 3.  He needs to take out someone on Smackdown, and he's off to a good start, rocking Styles' head with a kick to the head.
Whenever the members of the Shield get together, announce tables better get clear.  Why put stuff on them at all?
All of a sudden Ambrose is back and he's attacking Styles! Smackdown is doing more damage to themselves than their opponents.
But wait! It's a Shield reunion! All three members of the Shield with a powerbomb! Styles put through the table! Holy crap! Suddenly it's 2-2 as Styles is eliminated!
Suddenly it's all evened up.
Suddenly Luke Harper, the third member of the Wyatts, has emerged out of nowhere. Raw is back at a disadvantage until Rollins takes him out with a suicide dive!
But again, RKO OUT OF NOWHERE!!! Orton caught Rollins as he was going for the frog splash! And it's now 2-1 Smackdown with Reigns the last of his team. He's on his own against all three members of the Wyatts.
Turns out not even "The Guy" could get it done. Just as he was going for the big spear on Wyatt, Orton took the bullet. That left Wyatt open to hit Sister Abigail on Reigns for the win!
Trav's Thoughts: Red hot match from start to finish and, so far, the best match of the night. Smackdown is going to be insane on Tuesday with all of the chaos caused by Ambrose, Styles, and Corbin earlier in the night. Plus, Shane's injury opens up some interesting angles as well. The solidifying of Orton as a member of the Wyatts is also unexpected. I figured he would betray them at some point, and WWE went in the opposite direction. Raw losing also means Stephane McMahon will be out to exact revenge tomorrow night. Something tells me her focus will be on Reigns and Rollins.
This article originally appeared on