WWE Survivor Series 2016: Predicting the Full Match Card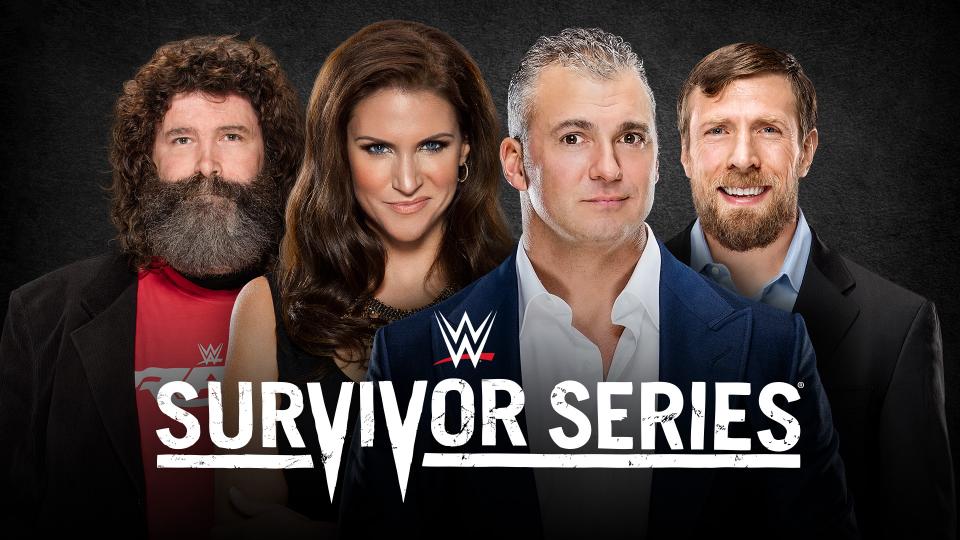 With WWE Survivor Series arguably getting more talk than Hell in a Cell, it's time to look at the potential match card for the show.
WWE Survivor Series will take place on Sunday, November 20 from Toronto, CA and combine the Raw and SmackDown brands for one night. The show has already received build, arguably more than the upcoming Hell in a Cell pay-per-view.
There's a decent idea of what will be featured on the Survivor Series match card already. Three of them will feature 5-on-5 Elimination Matches, which Raw agreed to do this past Monday. However, it's unknown who will be taking part in any of these bouts. Neither Raw or SmackDown have announced how they're going to form the teams.
Goldberg vs. Brock Lesnar may also be headlining the PPV. This match hasn't been announced for the show yet, but it seems this could stretch another four weeks. It would be the former WCW star's first match since WrestleMania XX in 2004.
World title matches could be added to the card to balance out the traditional contests and Goldberg vs. Lesnar. Who might be seen in those?
There's still one month left to fill out the Survivor Series card, so let's speculate on how it could look.
5-on-5 Traditional Survivor Series Elimination Match (Tag Teams)
The 5-on-5 Traditional Survivor Series Elimination Match for tag teams will put the best duos from Raw and SmackDown against each other. We could see each show's tag team champions featured and even future No. 1 Contenders.
Raw
New Day – The Raw Tag Team Champions recently crossed 420 days with the belts. It's a historic reign, which is coming close to Demolition's. To inadvertently extend the title run, expect two of Big E, Kofi Kingston, and Xavier Woods to be involved.
Enzo Amore and Big Cass – This match would be pretty SAWFT without having these two involved.
Karl Anderson and Luke Gallows – Anderson and Gallows have struggled for the past few months. They didn't receive much help with Big Cass destroying The Machine Gun on the recent episode of Raw. However, expect them to be the top heel tag team from the Flagship Show involved at Survivor Series.
Cesaro and Sheamus – It's no guarantee that this odd couple will even survive after Hell in a Cell, but given Raw's lack of tag teams, they should be in for this match.
The Shining Stars – Primo and Epico survived into the Brand Split, and probably will make it into this Survivor Series match.
SmackDown
Heath Slater and Rhyno – Adding in Slater and Rhyno would mean no tag team title matches for Survivor Series. Given these three de facto tag matches that will happen, though, there probably won't be room for one of those belts being on the line.
The Usos – The Usos may have lost two title matches, but they are still SmackDown's No. 1 heel tag team. They should be able to make their way into this.
American Alpha – Chad Gable and Jason Jordan have been relatively quiet since their mini-feud with The Usos. They should be able to make some noise in this Survivor Series match, potentially stealing the show.
The Hype Bros – This match will need some hype from two of WWE's wackiest Superstars.
The Ascension – Konnor and Viktor haven't done too much, but they should make their way in as the second heel tag team.
5-on-5 Traditional Survivor Series Elimination Match (Women)
The 5-on-5 Traditional Survivor Series Elimination Match for the women will see WWE's best female competitors battle. The division has grown over the past year, so it will be entertaining to see the best of the best go head to head.
Raw
Sasha Banks – The Boss is probably walking out of WWE Hell in a Cell with the Raw Women's Championship still around her waist. By putting her in this match, it would delay the need to build a feud for at least a few weeks. A slow-burn one could be in play too.
Charlotte – After all Charlotte has done for the WWE women's division this past year, there's little doubt about her placement in this match.
Bayley – She's about to head into a feud with Dana Brooke, which should probably end quickly. After that, Bayley's destination should be this match at Survivor Series.
Nia Jax – Jax has received an extoardinarily slow build, which may not be the worst thing. This could be her breakout opportunity and a chance to create Banks' next challenger.
Alicia Fox – Foxy has nothing else to do, so why not?
SmackDown
Carmella – The Princess of Staten Island has been making a name for herself on SmackDown, and could get a chance to shine here.
Eva Marie – Remember Eva Marie? She hasn't returned since her Wellness Policy suspension ended in September. This could be a way of bringing her back.
Naomi – After losing an unofficial No. 1 Contender's match to Alexa Bliss, Naomi is likely heading for this match at Survivor Series.
Natalya – Natalya already tried making her claim for a place in this match. With a potential women's title match taking place at the show, there should be a place for her.
Nikki Bella – Given Carmella's placement in this match, WWE would probably throw Nikki Bella in to create some tension for their program. Could they work together?
5-on-5 Traditional Survivor Series Elimination Match (Men)
The men's Survivor Series match should see some of WWE's best in-ring performers in action. We could see a star-studded contest that rivals the 2014 one, except without the implications. Who might be involed in this?
Raw
Roman Reigns – Given that Reigns remains out of the world title picture, he'll probably receive a spot in this match.
Rusev – Rusev is probably going to fall out of the United States Championship picture after Hell in a Cell. He's one of Raw's top heels, so a spot at Survivor Series should be likely.
Seth Rollins – The Architect is set for a rematch with Kevin Owens at Hell in a Cell. This may be the end of his time in the main event scene, though, meaning a spot may be open one month from Thursday.
Kevin Owens – Owens may end up doing double-duty at Survivor Series, but with good reason.
Sami Zayn – Zayn is about to be eaten alive by Braun Strowman. If this is a oone-off feud, he would be available on November 20.
SmackDown
AJ Styles – The WWE World Champion will make his way into this match, potentially reluctantly. He'll be one of the headliners for SmackDown.
Dean Ambrose – These two have feuded for the past two months, so putting them on the same team could make for an interesting dynamic.
John Cena – This is hardly a guarantee, but if Cena can return for at least one match in this hiatus, he would make his way into this match. Ambrose, Cena, and Styles working together could be fun to watch.
Dolph Ziggler – This may keep the Intercontinental Championship match off the show, but after Ziggler's 2014 performance in this specific bout, he belongs back in it.
The Miz – This SmackDown team would be full of tension if The Miz got added. It's not just a wrestling show, though, right?
SmackDown Women's Championship Match
Becky Lynch (c) vs. Alexa Bliss
At least one of WWE's Women's Championships should make its way onto the Survivor Series card. Sasha Banks vs. Charlotte is about to end at Hell in a Cell, so there may not be time for WWE to properly build the next challenger.
On the other hand, Becky Lynch vs. Alexa Bliss is continuing to develop. They were supposed to have a match at WWE on Mercy, but due to an injury to Lynch, it got called off. These two will instead are facing off on November 8 in Glasgow, Scotland. One TV match may not be enough for this feud, though, so it could finally move to the pay-per-view stage at Survivor Series.
Lynch's title run has already been in place for six weeks, and by the time Survivor Series comes, it will be about 10 weeks. She had her moment at Backlash, but could this be the end of the story?
Bliss has yet to hold a title in WWE, making November 20 her potential moment to shine. She's only been on the main roster for three months, though. Could it be too soon?
This match would go along with the men's top title bout and something else that may outdue everything else.
WWE Universal Championship Match
Kevin Owens (c) vs. Chris Jericho
Kevin Owens may be feuding with Seth Rollins right now, but there's something else brewing.
Owens has had a friendship with Chris Jericho for the past few months, which saw them win a SummerSlam match together and work through a world title reign. However, the second month of KO's time on top has seen some dissension with Jericho. He hasn't stood by Y2J's everytime Rollins attacked him. After this happened for three consecutive weeks, Jericho became frustrated and started arguing with his buddy. It hasn't led to anything more, but something is surely on the horizon.
It's possible that at Hell in a Cell, Owens and Jericho have their tensions come to a head and split. This could lead to a feud that eventually culminates at Survivor Series for the Universal Championship. It would make for a fine one-off feud with the former ROH star potentially standing tall before moving on.
To create some heat and controversy, Owens could be placed in the 5-on-5 Traditional Survivor Series Elimination Match. It might be against his will via Mick Foley's orders, who would make him pull double-duty for the sake of Raw getting a win. During the match, Jericho could run in and attack Owens, coincidentally taking him out of this bout early on. The odds may then be swayed in Jericho's favor, but would it work?
This is not the main event, though.
Brock Lesnar vs. Goldberg
Recently, Goldberg made his WWE return to answer Brock Lesnar's challenge for a match. When Paul Heyman announced this the week prior, he never announced a place or time. The former WCW star never did so either when he accepted. However, all signs point to a Survivor Series match.
Goldberg and Lesnar would be having a rematch 12 years in the making. They faced off at WrestleMania XX in possibly one of the most disappointing matches in The Show of Shows history. Both men were set to leave WWE after the event, which fans got wind of beforehand. Poor crowd reactions overshadowed this from the start and led to an underwhelming in-ring performance. Goldberg never wrestled another match afterward.
Their Survivor Series match would triumph the 5-on-5 matches, Kevin Owens vs. Chris Jericho, and Becky Lynch vs. Alexa Bliss. Obviously, Goldberg wrestling again when it seemed like he never would is the reason. Lesnar also seems to make his way into most show's main events, except for WrestleMania 32.
Lesnar vs. Goldberg may not be the choice of the fans, but there's little doubt of it not going down at Survivor Series. It should make for a spectacle and one that could top expectations, even 12 years later.
This article originally appeared on