WWE Survivor Series 2016: Predicting 12 Things That Must Happen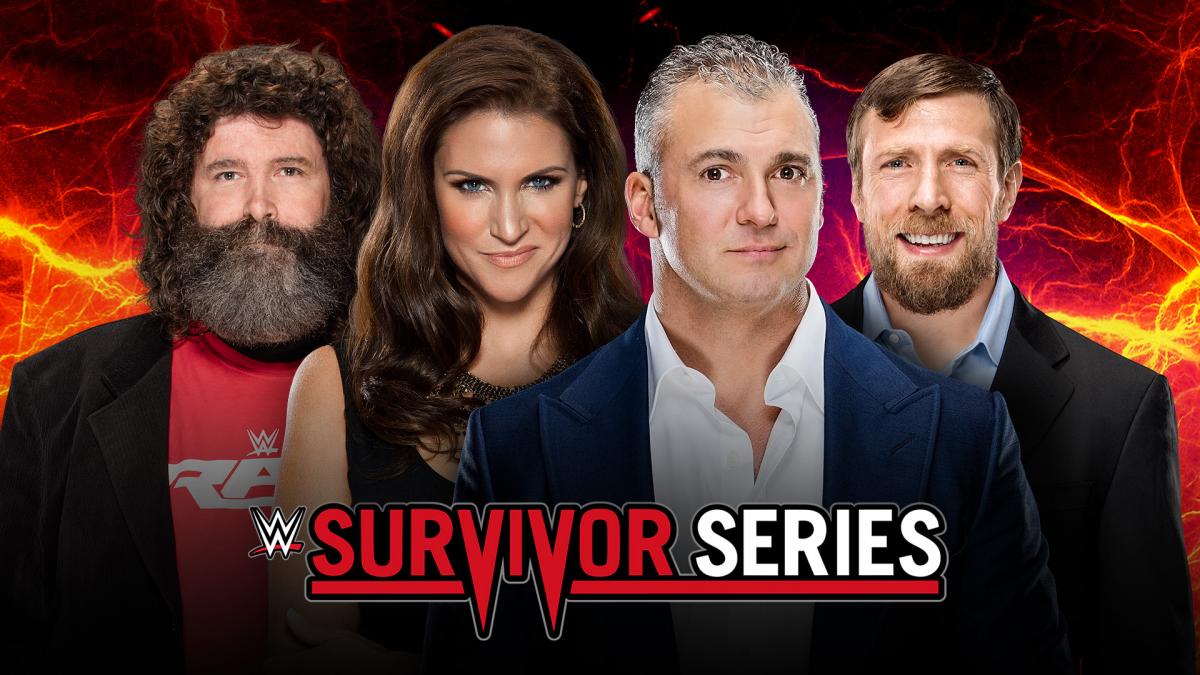 WWE can make the Survivor Series pay-per-view successful by pulling off these following things.
On Sunday, November 20, the WWE Survivor Series pay-per-view will take place and be the second joint show since the draft. It's going to be filled with Raw and SmackDown going head to head to determine which brand is the best. All of this will take place in elimination matches, a tradition of Survivor Series.
There's also a main event set for the show with Brock Lesnar and Goldberg wrestling each other. This will be the latter's first match since WrestleMania 20, where he beat Lesnar.
These matches will highlight Survivor Series and are enough to get people watching. However, when it gets to the shows, WWE has become prone to making questionable decisions, making fans wonder the thought process of some of these moves.
Given that Survivor Series is being treated like a big show, there are a handful of things that need to go down at the event. This includes people standing out in the elimination matches, booking decisions to make sure things to smoothly, and even a surprise or two. It will get people talking about the show in the days afterward, which has been a struggle for recent shows like Clash of Champions, Hell in a Cell, and No Mercy.
In less than two weeks, there should be plenty of moves that WWE makes for the better of their programming. So, here are 12 things that they should have happen at Survivor Series.
12. Tease Tension Between Chris Jericho and Kevin Owens
For the past month, the friendship of Kevin Owens and Chris Jericho has begun to break down. They started close going into SummerSlam, beating Enzo Amore and Big Cass in the process. The duo even seemed strong with the Seth Rollins feud, which has seen Owens successfully defend the WWE Universal Championship twice.
However, before the second defense, we saw Owens and Jericho not exactly on the same page. This lasted for a few weeks until WWE suddenly decided to not have them at each other's throats. If anything, they were closer than ever at Hell in a Cell, which had Y2J help KO retain the belt.
At Survivor Series, the tensions need to increase between the two Canadians. It has seemed odd that they suddenly stopped fighting, so once they team at the PPV, maybe the miscommunication gets rekindled. This could be from failing to back each other up or Owens having a backstage segment with Jericho prior to their elimination match. They could try to one-up each other, which leads to the Universal Champion getting annoyed and walking out of the match. Things could then escalate the next night on Raw.
11. New Day Needs to Have the Winning Pin
New Day is closing in on Demolition's all-time record for being reigning tag team champions. The magic number is 478, and the current titleholders are at 440 days and counting. With only five more weeks needed, it wouldn't be surprising to see New Day break the record. If anything, WWE has made it pretty clear after all the references and ways they've gotten out unscathed from title matches.
These title bouts haven't been the best, though. It's not the in-ring work, but the booked finishes for New Day to win or lose by disqualification, but retain their titles. WWE has gone to this numerous times which has hurt the endless momentum they had earlier this year. It's not their faults either, so it's time for WWE to help them out a bit at Survivor Series.
Should New Day look like the most dominant tag team? No. There are other duos that deserve to have a bigger standout performance than the Raw Tag Team Champions.
By getting the winning pin, it wouldn't mean they are the last Raw team left. But it would cement them with a badly needed big-time victory. After a directionless feud with Anderson and Gallows and going nowhere with Cesaro and Sheamus, actually getting a successful pinfall would light a new fire of momentum under Big E, Kofi Kingston, and Xavier Woods. They're probably going to break this record anyway, so why not make them look strong for the first time in months?
10. Sasha Banks Looks Like "The Boss" Again
Sasha Banks had the Raw Women's Championship defense all lined up for her at WWE Hell in a Cell. Her reign had been just 27 days old and the show took place in her hometown of Boston, MA. Plus, she got to main event the pay-per-view with Charlotte, inside the cell.
However, after a 20-plus minute affair, The Boss surprisingly came out unsuccessful. She then missed the following episode of Raw, making her status in doubt.
Raw's women's team at Survivor Series is still in need of two people. With their division thin as it is, there's little reason to not include Banks in this match.
At the November show, Sasha needs to look like a star again. She's had two short title reigns, which have done no favors for her. Losing quickly both times doesn't make her look like a strong performer in the Raw women's division, and puts per below Charlotte and Bayley, for now. So, to get back on their level, Banks has to look like The Boss again. This means pulling off eye-popping spots, getting the crowd going, and eliminating at least two of SmackDown's women. It would slingshot her back into the title hunt on Raw, and potentially set up another match with Charlotte down the line.
9. Raw's Tag Teams Need an Incredibly Strong Performance
New Day may need to get the victory for Raw's tag teams, but more than just them has to stand out at Survivor Series.
There are three notable tag teams in Anderson and Gallows, Cesaro and Sheamus, and Enzo Amore and Big Cass below the tag team champions. It's not a big group, but all are talented WWE stars on the microphone or in the ring.
However, none of them have momentum. Anderson and Gallows (who also lost a Trick or Street Fight) lost four title matches to New Day. Enzo and Cass can't win a PPV match for anything. Cesaro and Sheamus should have won at Hell in a Cell, but after the disqualification finish, they've been moved out fo the spotlight.
While it's going to be difficult for WWE to make all three teams look sharp at Survivor Series, someone needs to break through. Raw's tag teams have looked significantly weaker than SmackDown's, which is, unfortunately, due to booking decisions. WWE has found a way to make many people in these elimination matches look good before, so they need to find a way to make Raw's duos look relevant or become the bathroom break of Monday nights.
8. Intercontinental Championship Stays on SmackDown
Dolph Ziggler is set to have an open challenge at Survivor Series for his WWE Intercontinental Championship. He chose to do this after a segment with The Miz on the recent episode of SmackDown.
The intriguing part to this is he offered the opportunity for a Raw Superstar. There's no indication as to who this could be, but whoever it is can't walk out of Survivor Series with the belt.
As it stands, Raw has five titles already: Universal, United States, cruiserweight, women's, and tag team. Adding a sixth one would imbalance the picture as SmackDown would retain just three. Unless Roman Reigns decides to drop the U.S. Title and have it traded, WWE shouldn't be moving around belts after just three and a half months of the Brand Extension.
If the Raw challenger wins, it would be surprising and probably enact one of these changes. Seeing Ziggler lose, especially after his rollercoaster ride of a match at No Mercy, would open even more eyes too.
WWE shouldn't be cause the title scene to be lopsided between their two brands, so Ziggler must walk out with the Intercontinental Championship.
7. Alexa Bliss Looks Like a Star
Possibly the breakout star from SmackDown has been Alexa Bliss. She's only been on the main roster for three and a half months, but her impact in the women's division has been strong.
Despite being the first eliminated in the inaugural SmackDown Women's Championship match in early September, Bliss has since pulled in a strong two months of work. She's provided some great character ability, and not just with her Harley Quinn-inspired look. She's played a sassy, no-nonsense heel that always tries to get her way, and so far, that has succeeded. This has been by beating Becky Lynch on countless occasions and standing tall in just about every second she has been in.
The only thing Bliss has missed in her rise to fame is the big pay-per-view spot. She could have had this at No Mercy, but Lynch's undisclosed injury caused this to be postponed for Tuesday, November 8. The elimination matches at Survivor Series have provided opportunities for people to shine before, though, so this may be the chance for the former NXT star to have her breakout performance.
To shine as a heel, Bliss needs to be destroying the best of Raw's women's division. This is by attacking Bayley, getting after Sasha Banks, and even wrestling with Charlotte. These three are not only Raw's top women, but arguably the top ones in WWE. For Bloss to stand face to face and even outdo them would be a positive for her developmental, and further establish the 25-year-old as a possibility to hold the SmackDown Women's Championship.
6. Baron Corbin's Coming Out Party
Baron Corbin has quietly been dominant on SmackDown. He's hardly taken a pinfall loss and is being carefully kept in the background by WWE. This includes attacking Kalisto in the locker room, being one of the few to have a vignette air of them, and destroying Jack Swagger.
Well, with Corbin's spot in the Survivor Series elimination match, he has an opportunity to break out, getting his biggest opportunity since WrestleMania 32.
WWE probably isn't going to book Corbin to just walk in and hit End of Days on just about all of Raw's members. However, he could come in and obliterate Chris Jericho, who would be distracted by Kevin Owens leaving the match. It might not look 100-percent strong, but taking out a long-time star of WWE will, especially one of Y2J's caliber.
If WWE wanted to create a moment in this match, they would have The Lone Wolf even have a face off with Braun Strowman or Roman Reigns. They could do one of those classic staredowns in the middle of the ring, but get interrupted by others fighting. If this is with Reigns, it may make Corbin look like a million bucks and even draw increased crowd reactions for him. These type of standoffs have worked before, so if WWE wants to make Corbin a star on SmackDown, give him a big moment with someone who means something.
5. Braun Strowman Doesn't Get Pinned, Gets Eliminated
Braun Strowman is being made into a monster heel on WWE Raw. There's little doubt this is being done to make him a future challenger for the Universal Championship, whenever that may be. It could even be for developing a WrestleMania challenger for him.
For the Survivor Series elimination match, Strowman got in by winning a battle royal. It means he has to work with a team, which doesn't seem to fit his current character well (despite previously being with The Wyatt Family). He has to work with the likes of Chris Jericho, Kevin Owens, and Roman Reigns. Is that actually going to work for long?
There are two ways WWE could have this go. The first is making Strowman walk out of the match early on. While we noted that Owens is an option for this, there's always a chance he doesn't show tension with Jericho, especially the way the past few weeks have gone. So, if it's not KO, expect the Black Sheep to be the one to exit on his own. This wouldn't force him to get pinned or submitted, something WWE hasn't made happen to him since debuting in August 2015.
Option two is getting Strowman counted out. Despite 10 people being involved, since it's a regular tag team match, disqualifications still count. He could be brawling outside the ring with someone like Dean Ambrose, and as the latter makes his way into the ring, he could beat out Strowman for the 10-count. That would also keep him from being pinned or submitted.
Even with WWE booking Strowman as a dominant force, having him take over and win this match for Raw is still too early in his development. He has had a slow burn for months, with a victory at Survivor Series pushing things a bit much. This big of a win isn't needed yet and could be saved for later this year or in early 2017.
4. Sami Zayn Answers Dolph Ziggler's Challenge
Sami Zayn has been an invisible part of WWE Raw since the Brand Extension. This is even despite beating Kevin Owens one day before it began at Battleground. The momentum seemed to be there for the former long-time NXT star. However, WWE decided to make him an insignificant part of Monday nights, even with the three hours of programming.
Since this all began in July, all Zayn has done is lose to Chris Jericho at Clash of Champions and get attacked by Braun Strowman. As Survivor Series stands, there doesn't seem to be an opportunity for him either.
However, one opening on the card may suit The Likeable One pretty well.
As noted, Dolph Ziggler is hosting an open challenge for any Raw Superstar at the show. This would be for his Intercontinental Championship. With Zayn not doing anything else of important, why not have him answer the call?
A big reason for this is that Survivor Series is taking place in Toronto, Canada. Zayn just happens to be from Quebec. While it's not in the same province as Toronto, the Canadian WWE fans still give all of them a rousing applause whenever they're on their side of the border. Given that it's on a PPV and for a surprise challenger, the Air Canada Centre would surely pop for Zayn and give him one of the best reactions of the year.
As for Zayn winning, he probably wouldn't have much luck in that department. However, like previous matches throughout 2016, he could put on a star performance. Remember his match with Shinsuke Nakamura at NXT TakeOver: Dallas? While he and Ziggler would have a difficult time replicating that, a four-star match could definitely be in the cards.
3. Triple H Shows During the Men's Elimination Match
Triple H seemed to kick off a huge angle in August when he helped Kevin Owens win the WWE Universal Championship. He turned on his protegé, Seth Rollins in the process too.
However, since that eventful night, we have only seen The Game on a WWE fallout video on YouTube, in September. That's just one time in nearly 10 weeks since. His absence hurt Owens and Rollins' program from September to October because we still didn't really know why this was taking place. Sure, Triple H set everything up, but he never gave a reason, which is mind-boggling.
At this point, we're probably not going to get an explanation until Rollins and Triple H get closer to a potential WrestleMania 33 match. In the meantime, though, there's a way to further the feud between these two.
Would Triple H just walking into the Survivor Series elimination match to take out The Architect make sense? Probably not because we still don't know why these two hate each other. However, that could be a question Rollins asks the night after the show. He could ask why The Cerebral Assassin suddenly hates him, and we would then finally get our answer. Triple H just showing up on Raw with no reason wouldn't to say why wouldn't be enough, so something would need to lead to this happening. That would be him invading Survivor Series, taking out Rollins, and actually getting going a feud that should have more to it.
2. Brock Lesnar Defeats Goldberg
Brock Lesnar and Goldberg are going to headline Survivor Series in a rematch. It may not be the one everyone wants to see, but it's going to happen. This will be Goldberg's first wrestling bout in 12 years and potentially his last one, which should indicate who's going to win.
There should be little to no chance of Lesnar losing this match. He's simply going to be around longer than Goldberg, so why would WWE give the win to someone who isn't scheduled to show up afterward? The exception to this has been The Undertaker because of his legendary and loyal status with the company.
Having the former WCW star be the first to successfully pin The Beast Incarnate since WrestleMania 30 makes little sense either. That reward should eventually go to a younger star that needs the rub, and could be made into a bigger star out of it. The beneficiary could be someone like Kevin Owens, Roman Reigns, or Seth Rollins, who are already top stars, but could still use something to cement their legacy as a top performer in today's WWE.
Past fans of Goldberg are probably going to want to see him walk out of Survivor Series with a win. However, it just makes little sense for him to be victorious if this is a one-shot deal. He's doing it for his wife and kid to see him wrestle once, and that's about it.
1. Survivor Series Closes with a Swerve
The element of surprise in WWE has been perceived to have disappeared with the rise of social media. However, it could be argued that WWE has failed to close a pay-per-view with anything to surprise the fans since June's Money in the Bank.
Here is every ending to the live specials since that show:
Battleground – Dean Ambrose successfully retains the WWE World Championship over Roman Reigns and Seth Rollins.
SummerSlam – Brock Lesnar F-5's Shane McMahon after beating Randy Orton via TKO.
Backlash – AJ Styles beats Dean Ambrose to win the WWE World Championship.
Clash of Champions – Kevin Owens successfully retains the WWE Universal Championship over Dean Ambrose.
No Mercy – Bray Wyatt defeats Randy Orton with the help of the returning Luke Harper.
Hell in a Cell – Charlotte defeats Sasha Banks to win the Raw Women's Championship.
Were some of these finishes unexpected? Sure. They aren't really swerves, though, as in something to create intrigue in a storyline. None of those six endings developed a new angle that people didn't see coming, which has hurt the PPV and the weekly programming.
Survivor Series should be the time to end this, though. It can't just end with Brock Lesnar beating Goldberg and the show going to dark. Why not plant the seeds for Lesnar's WrestleMania match? Have that person come out to have a face to face before closing the show. It could be someone unexpected, a Superstar that may be rising up the ranks. The person can be a face or heel too and doesn't have to be one or the other. This is due to The Beast Incarnate being a bit of a hybrid character.
If WWE closes Survivor Series with a swerve, there could finally be some intrigue carried over into Raw and SmackDown. Not giving people a reason to watch the weekly shows is one of many explanations for ratings continuing to tank, so we'll see if WWE comes through at Survivor Series.
This article originally appeared on