WWE Survivor Series 2016: 6 Winners from the Show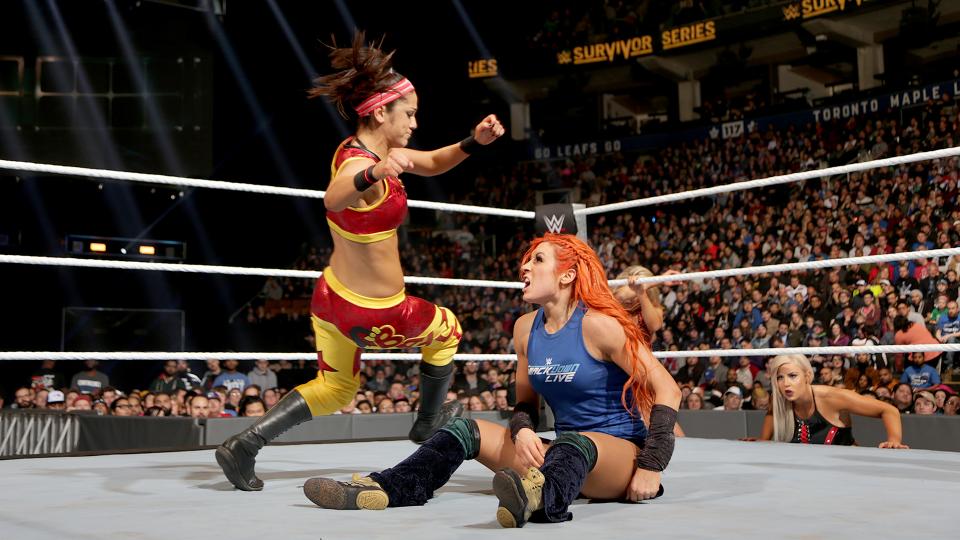 WWE Survivor Series had all the makings to be the best PPV of the year until Goldberg faced Lesnar. Here is a look at the real winners coming out of the show.
WWE Survivor Series gave the fans all that they wanted and more. However, fans still question the ending of the PPV as WWE went with shock value ahead of logic. Goldberg absolutely squashed Brock Lesnar in what seemed like a match out of Braun Strowman's playbook.
It is surprising to see that Lesnar agreed to this. It was also a warm surprise to see Lesnar sell Goldberg's moves as much as he did. Regardless of this last-minute let down, when all is said and done, Survivor Series was a great PPV. There were a number of huge spots and a Shield reunion. We were all winners to have seen that.
However, overall, team Raw came on top of team SmackDown except in the men's elimination match. Baron Corbin cost more than the cruiserweight title when he interfered. Chris Jericho might have a few words for Kevin Owens after what he did to the list. What about Rollins and Reigns? Are they done being on the same team?
On the blue brand, Bray Wyatt finally got some momentum on his side. We are yet to find out whoever attacked Nikki Bella. Also, what repercussions lie ahead for Corbin? The Miz successfully defended his IC title against Sami Zayn, thanks to Maryse. Regardless of all this, who were the real winners coming out of Survivor Series 2016? Join us as we analyze and break it down for you.
6. Bayley
Despite being taken out by Charlotte and Dana Brooke, Bayley was a winner. Not only did she outclass the SmackDown Live Women's champion Becky Lynch, but she did that in a decisive fashion. Bayley now rides on a ton of momentum after Survivor Series. She would probably be in line for a shot at Charlotte's Women's title as well.
The post match beat down at the hands of Charlotte gained her a lot more sympathy with the crowd. This also firmly establishes her as the gutsy baby face that fans can get behind. On a team that boasted the boss Sasha Banks and Nia Jax, it was Bayley who finally got the job done. The fact that she took out Lynch adds so much more credibility to her character.
Up until now, fans were yet to witness what Bayley was capable of. She was a smiling, lovable and huggable babyface. But last night, she showed the WWE universe that when all the fun and games end, she is a survivor. Expect Bayley to chase Charlotte's Women's title and expect a couple of quality bouts out of this feud.
5. Nia Jax
There is something hauntingly beautiful about Nia Jax. However, there was nothing beautiful for team SmackDown when they crossed paths with Nia Jax. She looked dominant and in the spot from the moment the bell rang.
WWE has stayed true to the new era and made sure to give the women ample time to work a match. Each woman was given a spot to shine and Nia Jax made the most of her time. Remember last week when she would terribly run into the barricade after Lynch had already rolled away? Nobody would remember that after witnessing Jax double suplexing Bliss and Lynch.
Also, when a brawl broke out at the initial stages of the match, Jax would single-handedly restore order to the match. That was quite the sight. However, one thing remains to be seen. How well would Nia Jax fare in a singles match environment? It is easier to be dominant with a few moments of explosive action. Would she be able to carry the weight of an entire match and make it work? The months ahead should give us an answer as Nia Jax seems poised for a push.
4. Brian Kendrick
Kendrick often refers to himself as 'The' Brian Kendrick. After a phenomenal show at Survivor Series, Kendrick absolutely deserves that title. Not only did he thrive under the spotlight; Kendrick also did whatever he needed to do to ensure the Cruiserweight division stays on Raw.
One of the very few well-developed characters on the Cruiserweight division, Kendrick portrayed a great heel. He was vicious and cunning. Corey Graves would describe Kendrick's character perfectly during the match.
"There's a fine line between madness and genius; Brian Kendrick dances on it."
His heel antiques would eventually establish the tone of the match. On top of that, it clearly established Kalisto as someone for whom the fans could cheer for. Had it not been for Baron Corbin, Kalisto could have headed back to SmackDown with the Cruiserweight title and the entire division with him. Kalisto equally deserved to go on this list too. However, at the end of the day, it was Brian Kendrick who gave character and tone to this highly entertaining match.
3. Cesaro
Cesaro was clearly the star of the tag team elimination match. In a match that failed to deliver as much excitement as it could have, Cesaro thrived as the centerpiece of all the action. The fact that he got the win for team Raw instantly adds his name to this list. Moreover, according to Stephanie McMahon, Cesaro and Sheamus are in line for a shot at the tag team titles as well come Monday.
TOMORROW NIGHT, @WWECesaro & @WWESheamus will get a shot at the #RAW #TagTeamTitles against #TheNewDay inside @AirCanadaCentre! pic.twitter.com/JasobqRaKg

— WWE (@WWE) November 21, 2016
Cesaro literally took out the Usos single-handedly to get the win for team Raw. During a spot on the match, Cesaro would use a double stomp to break a pin on Sheamus. Later, he would hit a 619 on Jey Uso and a flying cross body. Who else does that when they are built like the Swiss Superman?
Cesaro deserves to break away from the tag team and be on the hunt for the Universal title. However, for the time being, I wouldn't mind watching him knocking it out of the park every night along with Sheamus. They do make an entertaining duo and a physically dominating team. However, last night, Cesaro would outshine and outperform everyone else.
2. Braun Strowman
WWE continues to make the best use of Braun Strowman. He was featured in a really entertaining backstage segment alongside James Ellsworth. Later, he would be heavily featured in the men's elimination match as well. Strowman was simply basking in all the attention he was receiving.
It took a flying elbow from Shane and almost all of James Ellsworth to eliminate Strowman. Even then, he would get eliminated only via count out. That is a move creative would keep reserved for a monster they want to protect. 2 years ago that monster was Rusev. Last night it was Strowman. Strowman would eventually have his revenge as well.
He would go on to grab SmackDown's mascot, grab him and threw him from the entrance ramp. The men's elimination match was about an hour long. Strowman was the clear star of the first half of the match. He was manhandling anyone who crossed paths with him. This included the WWE champion AJ Styles as well as the number one contender Dean Ambrose. Strowman was carrying Ambrose around like a child at one point. However, the question concerning Nia Jax must be repeated with Strowman as well. Would he be able to carry an entire match on his own? Strowman seems to be getting better with every passing week. At this rate, expect great things eventually for the monster among men.
1. Bray Wyatt
For many years, Bray Wyatt would promise chaos and anarchy but fall at the last hurdle. He would promise to be the new face of fear and then loses to the Undertaker. He claimed to have had the whole world in his hands. Last night, Wyatt did have the entire Raw team in the palm of his hands.
The fact that he would take down the most protected wrestler on the entire WWE adds to Wyatt's credibility. Bray Wyatt would hit a Sister Abigail on Roman Reigns. This came right after Randy Orton sacrificed himself to protect Wyatt from a Spear by Reigns. That adds another layer to his character as well. Wyatt is a monster. Wyatt is a myth. He is a brooding presence that captivates the WWE Universe and his teammates.
The fact that he was able to force the apex predator of the WWE to sacrifice himself is a huge statement. Then comes the aforementioned Sister Abigail on Reigns. For months Wyatt has been struggling to find traction. Now that his big moment in a PPV is finally here, will we see the age of darkness unfold before our very eyes? Regardless of what the future holds, Bray Wyatt was the biggest star of them all last night at Survivor Series.
This article originally appeared on