WWE Survivor Series 2016: 3 Potential Opponents for Kevin Owens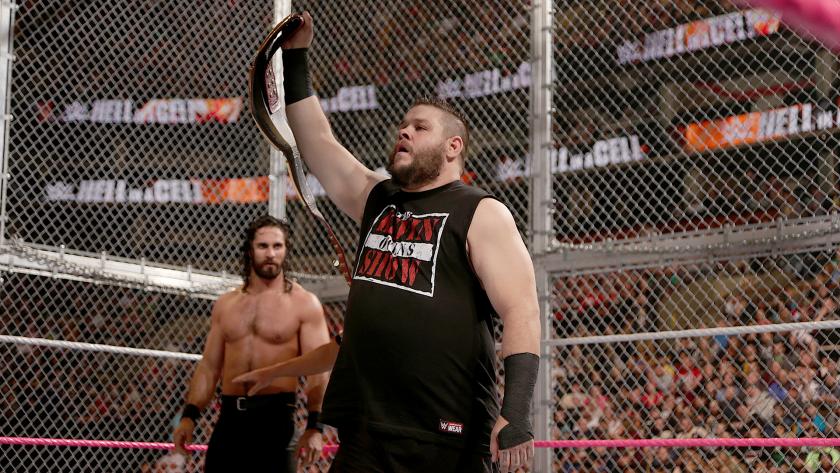 Following his victory at WWE Hell in a Cell, who should be next in line to face Kevin Owens?
When Kevin Owens received his call-up in May 2015, he had the potential to be a world champion in WWE. It had been unknown exactly when that would happen, especially with Dean Ambrose, Roman Reigns, and Seth Rollins all over the main event scene. However, a little over one year later, Owens became the Universal Champion on the Raw brand.
At Hell in a Cell, KO would go for his second championship defense. He beat Rollins at Clash of Champions, but with the help of Chris Jericho and a referee being knocked out. It would set up a rematch on Sunday night, inside Hell in a Cell. Anything would go this time around, though.
After a hard-fought contest, Owens would beat Rollins to retain the Universal Championship. It came with help, however, from Jericho.
This likely means Rollins is out of the title picture, meaning someone new will have to face Owens. A match could take place at Survivor Series even with the 5-on-5 Elimination matches taking place. Who would step up to go for the Universal Title, though?
With the brands split, there aren't a ton of options, but potential opponents are on the horizon. Who could those be for Kevin Owens?
3. Seth Rollins
Seth Rollins has been around the title picture for pretty much two consecutive years. He could probably use something else to do at this point, even though he's transitioning into Raw's top babyface. However, given the lack of credible world title competitors on the brand, Rollins remains an option to face Kevin Owens for the third time.
We have seen Owens pin Rollins twice for the Universal Championship, even though both matches involved Chris Jericho interfering. The Architect wasn't able to overcome this, but may target the title one last time and look to have Y2J away from the ring. It would make sense after all the interruptions that happened in their bouts.
While Jericho and Owens have their friendship going, WWE has established that the former will interfere in any circumstance to help the Universal Championship stay with its current owner. So, if Rollins and Owens are going to face off again, another messy finish will likely happen. It would be the same old thing, but with potential opponents few and far between, WWE may resort to this match one last match.
2. Roman Reigns
Before Hell in a Cell, Roman Reigns didn't seem to be an ideal opponent for Kevin Owens. He already has the United States Championship, and given recent history of WWE having that titleholder going for the top prize, it caused the secondary belt to be overshadowed and disappear. This happened with John Cena and Seth Rollins in 2015, which hurt the title for a few months.
After Hell in a Cell, Reigns still didn't seem to be an ideal opponent for Owens. However, he cut a promo on Raw Talk to say he wants to go for the Universal Championship.
#USChampion @WWERomanReigns says if there's someone who can capture the @WWE #UniversalTitle from @FightOwensFight… it's HIM! #RawTalk pic.twitter.com/jhMizwnio7

— WWE (@WWE) October 31, 2016
Reigns going back for the top title probably won't be any fan's dream scenario. He's still one of the most hated Superstars in WWE, so him going back for the top prize that he's hovered around for years may seem like a regurgitation. However, a feud with Owens would be fresh.
However, a feud with Owens would be fresh. They have wrestled TV matches before, but never on a big PPV stage. Survivor Series may be the chance to do this, which would fill out a card fill of Elimination matches and Goldberg vs. Brock Lesnar. It wouldn't have to be the main event either, unless WWE gets trigger happy since The Big Dog is in the main title match. This would still be something new to see unfold, a thing fans always look for.
1. Chris Jericho
Perhaps one of the most surprising parts of Hell in a Cell had been Chris Jericho not teasing any tension with Kevin Owens. If anything, they seemed to be on better terms than ever. Nothing about KO being on The List or anything. All we saw was Y2J helping him retain the Universal Championship over Seth Rollins, again.
Owens and Jericho may be on great terms, but that may only last for so long. Frustrations between the two had to of been showcased for a reason, so could that mean everything boils over at an unexpected moment? If that's the case, this could set up Owens vs. Jericho for Survivor Series.
This November PPV would be a great spot for this match. The show is already going to be overshadowed by Brock Lesnar vs. Goldberg and a bunch of 5-on-5 Elimination matches as it is. Putting a world title bout in there wouldn't hurt, especially one that will give the former NXT Champion a win over a long-time WWE star.
A Jericho vs. Owens match probably wouldn't be enough to main event a Raw PPV, unless it had retirement implications. That doesn't seem to be happening for The Ayatollah of Rock 'n' Rolla anytime soon, however. So, putting it before Goldberg vs. Lesnar, the likely main event, would work. Plus, it would be a battle of Canadians in Canada. Making the Air Canada Centre have to choose between their favorite star would be fun and create a unique atmosphere for the show. All of this would make Chris Jericho the best potential opponent for Owens.
This article originally appeared on