WWE SmackDown: Where Does Dean Ambrose Go from Here?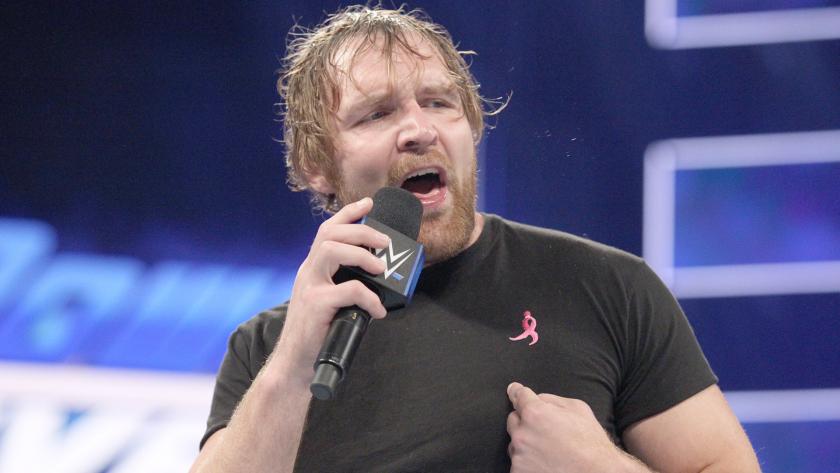 Dean Ambrose found himself somewhat lost in the shuffle Sunday night at No Mercy, putting his direction in doubt.
2016 has been a wacky up and down year for Dean Ambrose. He and Kevin Owens tore the house down at the Royal Rumble for the Intercontinental Title in one of the better Last Man Standing matches. Ambrose would later that night wind up being one of the final two participants in the Royal Rumble match itself alongside Triple H for the vacated WWE World Heavyweight Championship, although he would ultimately be eliminated by The Game.
From there, Ambrose would drop the IC Title back to Kevin Owens in a Fatal 5-Way, but find himself inserted into a triple threat match at Fastlane against Roman Reigns and Brock Lesnar. He lost the right to face Triple H at Wrestlemania 32, however, he regardless still received a one-on-one match with The Game for the WWE Championship at Roadblock. In an emotionally charged main event that saw the referee render Ambrose's pin over Triple H null and void, the Lunatic Fringe would fall short.
Ambrose went on to face Brock Lesnar at Wrestlemania 32, a match that a great deal of hype but ended up being a dud, due in part to what he described as 'laziness' on Brock's end. Ambrose lost the No Holds Barred match to Lesnar at Wrestlemania, which put a dent in his overall value as a top guy. To counter this, he engaged in a two-month feud with Chris Jericho at Payback and Extreme Rules.
Things changed considerably for the Lunatic Fringe when he won the Money in the Bank ladder match and later that night cashed in on Seth Rollins to become WWE World Heavyweight Champion. Ambrose defended the title twice against Rollins, once on Raw and once on the inaugural SmackDown Live on the night of Draft. He was successful both times and would go on to defend his title at Battleground against both Rollins and the returning Roman Reigns, and once again, he successfully retained, effectively making the WWE Championship the property of SmackDown.
However, as it did during in the aftermath of Wrestlemania, Ambrose's momentum took a hit. He was criticized by Stone Cold Steve Austin for being complacent. His high-profile feud with Dolph Ziggler at SummerSlam ended up being a largely forgettable affair. The following month at Backlash, he would lose the title to AJ Styles. he earned a rematch on SmackDown Live, however, he lost as well, albeit under controversial circumstances. This past Sunday at No Mercy, Ambrose failed to regain his title in yet another triple threat match, his third of the year, against Styles and John Cena.
Ambrose found himself the odd-man out in the triple threat title match. Fans cheered loudly for the champion Styles and Cena, who was attempting to tie Ric Flair's record of sixteen world championships. He, from the sound of the TV, had nary any real vocal support in the match, an unusual and uncomfortable spot for him to be in considering he had consistently been one of the more popular stars in the New Era, stemming from his success and impact with The Shield.
This may have to do with Ambrose targeting John Cena and calling him a lazy part-timer, ironically, in the same fashion Cena went after The Rock. The logic behind the pros and cons, mostly cons, of Cena turning heel was that it would severely hurt the merchandise and revenue that Cena brings in because of his devoted, unyielding fanbase. But the same can be said for being a fan favorite babyface or tweener and turning on Cena. Many of the CeNation, whom were most likely fans of Ambrose, may have turned on the Lunatic Fringe for going after their hero in a rather negative and derogatory manner.
No matter how you slice it, it is quite unbelievable that at this particular moment, Dean Ambrose is worse off than Roman Reigns, despite Reigns being suspended for violating the Wellness Policy earlier in the year. Ambrose has been the workhorse of the WWE, and yet finds himself lost in the shuffle. It was thought that once the Shield broke up that Ambrose and Seth Rollins would have been the breakout stars, that Roman Reigns would have been weak link without both Ambrose and Rollins to lean on and downplay his weakness. Instead, as Cena pointed out, it is in fact Ambrose who is still trying to find his way solo, while Rollins and Reigns have, in his eyes, cemented themselves as true superstars.
Where does Ambrose go from here? With both he and Cena tapping Styles out at No Mercy, the two men have a legitimate claim to a rematch with the champ. A potential number one contenders match between Ambrose and Cena for the right to face AJ Styles one-on-one at Survivor Series is perhaps the best way to solve the situation. Furthermore, the Ambrose-Cena feud has quickly become not only must-see TV, but one of the more intriguing rivalries in all of WWE.
Ambrose has already pinned Cena clean on SmackDown, amusingly enough, with a simple roll up. The question is will WWE allow Ambrose to go over Cena once again and face Styles, presumably, at the next interpromotional PPV Survivor Series, in a rematch of their fantastic title bout at Backlash? Or with the frenzied Canadian crowd in Toronto be far more appropriate for 'Big Match' John and the venerated and ultra-respected AJ Styles for the richest prize in all of wrestling? On paper, should Raw feature Canadian heroes Kevin Owens and Sami Zayn for the WWE Universal Championship, an AJ Styles/John Cena bout for the WWE World Championship would be the perfect answer for Team Blue, given what the two men did at SummerSlam.
If it is to be Styles vs. Cena for the WWE Championship at Survivor Series, with the underlying motif of Flair's record hanging in the balance, this would most certainly mean that Ambrose would head back down into the mid-card, a crushing move for the popular Lunatic Fringe. WWE can't just have Ambrose go down the ladder and go after the Intercontinental Title with his disappointing feud with Dolph Ziggler still relatively fresh in the minds of the fans. Who could he feud with? Miz? Bray Wyatt again? Randy Orton again?
What do you think? Depending on how this development with Cena unfolds, where does Dean Ambrose go from here? Is Ambrose truly a main event player? Or just an upper-mid card workhorse?
This article originally appeared on