WWE SmackDown, January 17: Early Expectations for the Show
Tom/FanSided via Daily DDT

Fansided
A look at what to expect on the January 17 edition of SmackDown Live after the events that unfolded this week.
SmackDown continued to ride on the momentum it created in the weeks prior. The blue brand would often put together a show better than Raw on every aspect. That would continue to be the case this Tuesday as well. Except for Carmella's chemistry-less squash match every other segment had some value or meaning. Characters evolved and feuds developed before our very eyes. At the end of it all, a blockbuster announcement that we would have a steel cage match for the Women's title capped it all off.
Dolph Ziggler continued his journey towards the dark side. He refused to explain his actions during the show. But the show-off would give some much-needed explanation during talking smack. His words would make sense. However, his actions spoke louder than words as Ziggler beat Crews and Kalisto with chair shots.
The Wyatt Family once again were at the verge of implosion. However, Bray Wyatt would try his best to keep his clan together. Predictably, Baron Corbin lost to Cena, but not without an impressive outing. In the midst of it all, more superstars announced their entry in the royal rumble including the Miz. After such an eventful edition of SmackDown, what could possibly happen next week? Read on for the early predictions.
4. Ziggler's Journey to the Dark Side
Dolph Ziggler finally snapped last week on SmackDown Live. The show-off and Kalisto would have a match to settle the scores this week. However, despite his best efforts and new-found aggression, Ziggler would lose courtesy of a quick roll-up. An irate and enraged Ziggler would blast Kalisto with chair shots to the back.
Apollo Crews tried to play the savior but eventually fell to the chair shots as well. Earlier in the show, Ziggler would get asked to comment on his actions but the show off refused to make a statement. However, during Talking Smack, we would see a much more vicious Ziggler who was obviously vocal about his heel ways.
"I felt this relief that I haven't felt in years." @HEEZiggler explains his attack on @KalistoWWE and @ApolloCrews on #TalkingSmack. pic.twitter.com/hJIK13Ncvi

— WWE (@WWE) January 11, 2017
Ziggler would go on to add that he believed that a portion of the audience enjoyed what they saw. He said people believe that is the Dolph that they know. Such subtle comments would help to cement Ziggler's heel turn. Expect him to address the crowd next week and reiterate his comments. One could also expect the show-off to blast a few more chair shots directed at his former friends.
3. Wyatt Family Addresses the Events from This Week
The Wyatt Family battled American Alpha in their rematch for the tag titles. However, confusion caused by Luke Harper at ringside caused Orton to fall to a roll-up pinfall attempt. This would result in an exchange of angry words between Orton and Harper. Things got physical and that was when Bray Wyatt tried to calm his clan.
However, Bray's attempts would prove futile as Harper and Orton went at it again. A misplaced kick from Harper would take down Wyatt instead of Orton.
OH NO!!! @LukeHarperWWE misses @RandyOrton, nails @WWEBrayWyatt!! #SDLive pic.twitter.com/Kxfr04OAbl

— WWE Universe (@WWEUniverse) January 11, 2017
This was a first time for Wyatt and the stunned leader of the Wyatt Family kept his nerve and his team intact. However, creative would seek to find more ways to tease an implosion in the coming weeks as well. But still, one would expect Wyatt to come out or appear on the big screen and address the situation.
The implosion of the Wyatts could come at the hands of Orton or Harper equally. Regardless of who is responsible, it would be big moment and would need a bigger stage. The nearest opportunity would be the Royal Rumble. However, all three of the Wyatt Family are yet to enter in the rumble. But expect them to do just that in the coming weeks.
2. La Luchadora Helps Bliss to Retain the Title
Bliss has done a great job with the Women's title. The sneaky, arrogant heel persona is portrayed well by her. For that reason alone, one would expect her to hold on to the title at least until Royal Rumble. Besides, the more Lynch gets within touching distance of the gold, the better the storyline gets. When Lynch eventually recaptures the title, it would effective become a big deal.
IT'S OFFICIAL: Women's Champion @AlexaBliss_WWE defends her title vs. @BeckyLynchWWE inside a #SteelCage NEXT WEEK on #SDLive! pic.twitter.com/k8P1uZErVG

— WWE (@WWE) January 11, 2017
Bliss would defend her title once again next week in a steel cage match. SmackDown has turned up the intensity in the women's division lately and this would be the latest addition to that. Expect Bliss and Lynch to put on a stronger performance than their tables match at TLC. However, when the cage is finally raised, Bliss would retain her title courtesy of La Luchadora.
The intrigue surrounding the masked wrestler has created a sub plot here. Fans still wonder who could be under the mask. Hence, more moments like this to showcase La Luchadora would eventually make the big reveal a strong segment. Expect the masked wrestler to interfere on behalf of Bliss and save her once more from the Irish Lass Kicker.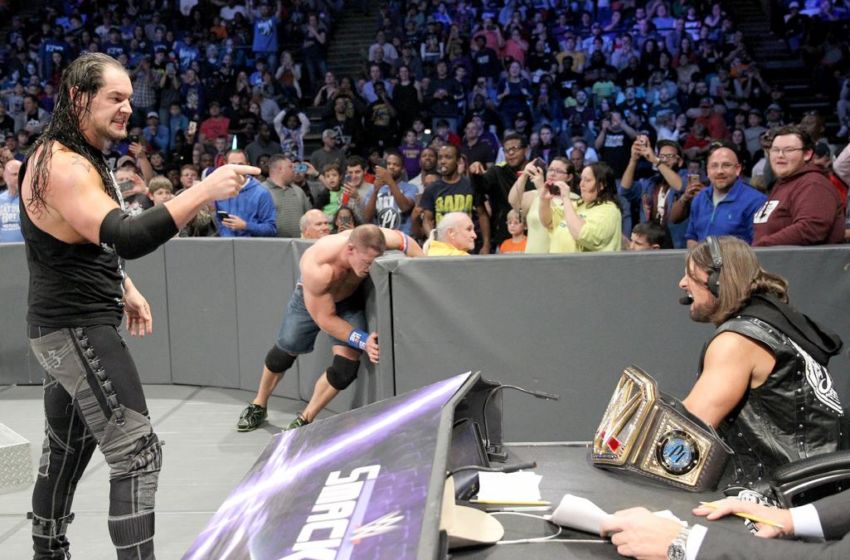 1. Baron Corbin Confronts AJ Styles
Baron Corbin looked to end Cena's glory days and hit the End of Days on the 15-time champ this week on SmackDown. However, quite predictably, Cena would go over Corbin; hitting all his signature moves in the process. Despite that, the match was anything but one-sided. Corbin put on a strong display and gave Cena a run for his money.
AJ Styles was of course on commentary. The lone wolf would take any opportunity to take verbal jabs at the champion. However, Corbin would place a little too much attention to Styles and that would eventually cost him the match. Expect Corbin to confront Styles during a backstage segment or during a verbal exchange with Cena and the latter.
.@BaronCorbinWWE has words for the WWE Champion @AJStylesOrg, watching from the commentary desk. #SDLive#CenaVsCorbinpic.twitter.com/QuvhsBZ2jK

— WWE (@WWE) January 11, 2017
Losing to Cena this week has taken a toll on Corbin's momentum. All that sense of invincibility he has built has disappeared overnight. Creative would need to come up with ways to make him relevant and give him momentum heading into Royal Rumble. One would always expect a strong showing from someone of Corbin's build. But for that to make an impact, Corbin needs to do something big in the coming weeks.
This article originally appeared on