WWE Six-Pack: The Miz Steals the Show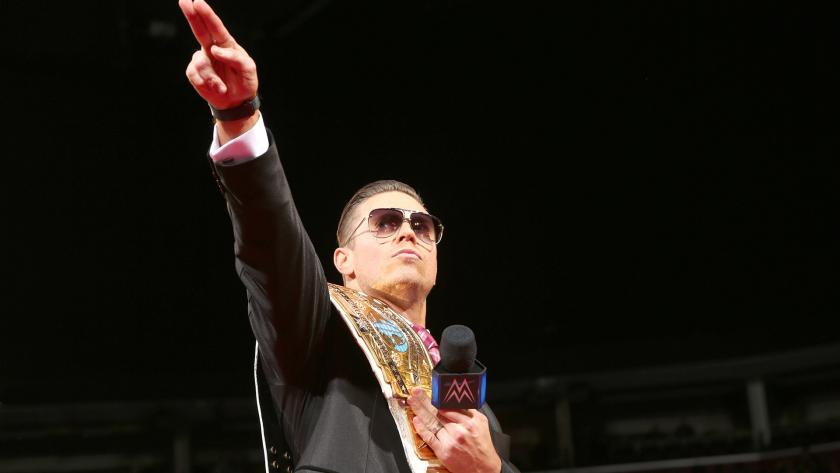 In our weekly WWE Sixpack review, The Miz kept improving, while we also pick our match of the week, biggest loser and more.
Perhaps sensing from fans and critics that it was being lapped in both wrestling and storytelling, Raw came out of the gates Monday with an immediate match, pitting United States champion Roman Reigns against Rusev in a rematch from their Clash of Champions battle.
It showed Raw trying to take a page from its Tuesday counterpart: show more action and get to it quickly.
Still, Smackdown once again turned in the better week. It developed existing stories, delivered a better in-ring product, and tried something different from a storyline perspective. Having The Miz operating at a career-best level doesn't hurt either. We'll cover it all here shortly.
That's not to say Raw didn't have its moments. Stephanie McMahon returned to form with a brilliant promo, while New Day showed what we hope is the slightest precursor to some upcoming changes.
There was something for everyone between the Red and Blue brands this week. So let's get to the weekly sixpack of awards, including Promo of the Week, Biggest Winner and Loser, Worst Nitpick, and Favorite Moment. But first, let's start off with the Match of the Week.
Match of the Week: A.J. Styles vs. Dean Ambrose, Smackdown
Even the most novice wrestling fan could've predicted a screwy finish heading into Smackdown's main event this week. There was no way A.J. Styles would drop the title so soon back to Dean Ambrose, and there was no way the title would switch hands so close to No Mercy, which would threaten the overall momentum of that PPV's main event.
If that wasn't enough, having John Cena ringside for commentary screamed of some kind of extracurricular activity affecting the match's outcome. Of course, it did.
That shouldn't take away from the overarching quality of the match, though, particularly from Ambrose's side. In a PPV-level match that spanned two commercial breaks, Ambrose unveiled some desperately needed innovation to his repertoire against the technically masterful Styles.
He broke out a Texas Cloverleaf that caused John Cena to throw a compliment. We hadn't seen anybody escape Styles' calf crusher with repeated head slams like that before. Ambrose even broke out a sit-out, front-facing slam of Styles that the commentary team had a hard time naming.
Add some PPV-level high spots to all that – like Ambrose's top-rope standing elbow to the outside, his clothesline to Styles while he sat prone on the top rope, Styles' beautiful missed springboard 450, and Cena's involvement – and you had a match worthy of a Sunday night coming to our screens on a Tuesday.
Promo of the Week: Stephanie McMahon, Raw
First, some props to Charlotte, who spoke so much truth to power that you almost couldn't boo her: nobody in the division can touch her right now. Also, teasing the crowd with a Sasha Banks match before pulling the rug out for next week was heel 101. Charlotte's doing incredible work right now.
But the promo of the week came from a woman who's been doing it for nearly two decades.
Stephanie McMahon spent the better part of the time before and after the brand extension trying to suppress her heel tendencies. She embraced the return of Shane McMahon. She attempted to foster a respectful working relationship with Mick Foley. She tried appeasing the fans in every city. And we all kinda saw right through it.
Her promo on Mick Foley backstage brought back Stephanice McMahon at her evil, venom-spewing best. Poor Mick is just trying his best to not be overwhelmed by his general manager duties and to do right by everyone.
Then Stephanie spends a couple minutes cutting right to his core. A line like "Did I hire you for your medical expertise?" perfectly put Foley back in place after he got a little power hungry recently in his booking decisions. Stephanie delivered some ferocity throughout, and her closing line of "Don't ever forget who you work for" beautifully and succinctly re-established the Raw pecking order and her heelish persona.
Biggest Winner: The Miz, Smackdown
The Miz just keeps doing the damn thing.
Not only does he keep performing at a peak heel level, he keeps raising that peak with both nuance and bluster each week.
This week, he returned to his hometown of Cleveland for what looked to be a rare positive celebration. Heels denigrating whatever town they're in is a hallowed wrestling tradition. But often, a heel will make an exception for when he's home, and for a brief second, that appeared to be the case with The Miz. Instead, that feeling evaporated as soon as he chastised the crowd for being so small and the people of Cleveland for cheering for a traitor in LeBron James.
Speaking of, Miz continues to add little flourishes that make him the best at what he does. Having his headshot ready to replace LeBron's in the tunnels of Quicken Loans Arena was just perfect. Introducing his "Real World to WWE" career montage with nothing more than a silent wave of his hand is the kind of subtle action that keeps putting him over. In that one movement, The Miz told us he literally needs no introduction.
It didn't stop there: his improvisation once the crowd started chanting the name of his dad's sandwich shop is the kind of quick-thinking crowd play many younger superstars would kill for. Going after Dolph Ziggler's parents bought him even more heel currency. And mocking Ziggler for being close to the top but not quite there – considering Miz rose from similar ashes not too long ago – added extra weight to the promo that eventually forced Ziggler to put his career on the line.
All we can say is this: the millionth iteration of a feud between two guys we'd gotten sick of seeing together is now all of a sudden the most hotly anticipated match at No Mercy. And it's all thanks to The Miz's A+ work.
Biggest Loser: Mick Foley, Raw
After a couple weeks of running around unchecked, Mick Foley had his legs cut out from under him this week.
We already covered Stephanie McMahon putting him in his place for ineffectively overstepping his bounds. But there was also Seth Rollins' complete disregard for Foley's edicts. Rollins essentially told him he was going to crash Chris Jericho's "Highlight Reel" and there was nothing Foley could do about it. And that's exactly what happened.
Then there was the matter of putting Sheamus and Cesaro in a tag team. Deciding to throw those two together certainly qualifies as outside-the-box thinking. But to pair them off in doubles competition when both thought they'd be fighting for a singles title opportunity retroactively cheapens their best-of-7 series.
It also punches a giant hole through Foley's credibility as a GM moving forward. What Sheamus and Cesaro got was not what they were promised. At least not what was inferred, anyway. So next time Foley promises somebody a vague opportunity, why should they take his words at face value when this precedent has just been set?
Plus, putting Sheamus and Cesaro together required Foley to essentially grovel to get them to put their hatred aside for the sake of teamwork. Making your general manager plead and beg his wrestlers is not a good look for a guy you need to imbue with authority. 
Worst Nitpick: Randy Orton, Smackdown
Everything about the Randy Orton-Bray Wyatt interaction this week was great.
For one, how do more superstars not go searching for Wyatt's "secret" broadcast location whenever he interrupts with those Titantron promos? You know he's in the building, probably in some janitor's closet or empty accountant's office. Go find him.
Further, a big criticism of current-era WWE programming is the lack of narrative thread throughout an episode. Particularly during Seth Rollins' title reign, the company fell into a rote formula. Start the show with a long promo surrounding the main event. Replay that same promo ad nauseum and eventually return to it at the close of the show.
What WWE should be doing more of is what they did with Orton hunting Wyatt down all episode. Each vignette didn't rehash what happened earlier in the night; it moved the story forward. It kept you waiting throughout to show to see where it would go next. It started the show but didn't feature as the main event, either. It was fresh and worked tremendously.
So, where's the negative? It truly is a nitpick this week, because everything else about this story was so great. But, why couldn't Orton have left his sheep mask on long enough for Wyatt to see it?
Popping up behind Wyatt while wearing Erick Rowan's old visage was a perfect touch. But, in the end, it provided nothing more than fan service, as Orton took the mask off before Wyatt turned around. If Orton had kept it on for Wyatt to see it, that would've only added to the psychological games as Wyatt would've suffered double the shock: not only that Orton had found him, but that Orton was mimicking one of Wyatt's own weapons of destruction in taking him out.
It's a very, very tiny piece of psychology that would've taken an already excellent story over the top.
Favorite Moment: New Day, Raw
It was brief, but no single moment got a bigger reaction from us than a Xavier Woods musical number.
As the New Day went to drop Karl Anderson with their Midnight Hour finisher, Woods played the opening of Taps on Francesca II the trombone, ostensibly signaling the end of the match.
It was something new, and funny, and perfect.
Hopefully, it signals a path of innovation for the New Day. Having reigned as champs for more than 400 days now, some are starting to find the New Day's gimmick a bit stale. Maybe even the guys themselves.
In a way, New Day reminds us of Apple. Everybody still loves Apple, but there isn't the craze around the brand that existed in its recent heyday. "Power of Positivity" is New Day's iPhone. Francesca is their iPad. Booty-O's are their Apple Watch. Just like Apple needs something new and big and gamechanging to really get back atop the mountain, New Day could use a little reinvention to stay relevant.
Maybe you do that by expanding what Woods can do on the trombone. Maybe it's by the group mocking its opponents more. Maybe it's by employing a more physical style to counteract the unicorn positivity. Seeing Kofi Kingston with a crimson mask at match's end certainly jolted viewers in a good way.
Something with the group has to change soon, lest New Day reach their expiration date and overstay their welcome. It was just a couple seconds of playing a new song, but maybe Woods, Kofi, and Big E are also aware of their gimmick mortality and wondering what they can do to stay fresh.
This article originally appeared on