WWE Six-Pack: Seth Rollins Stakes His Claim on Raw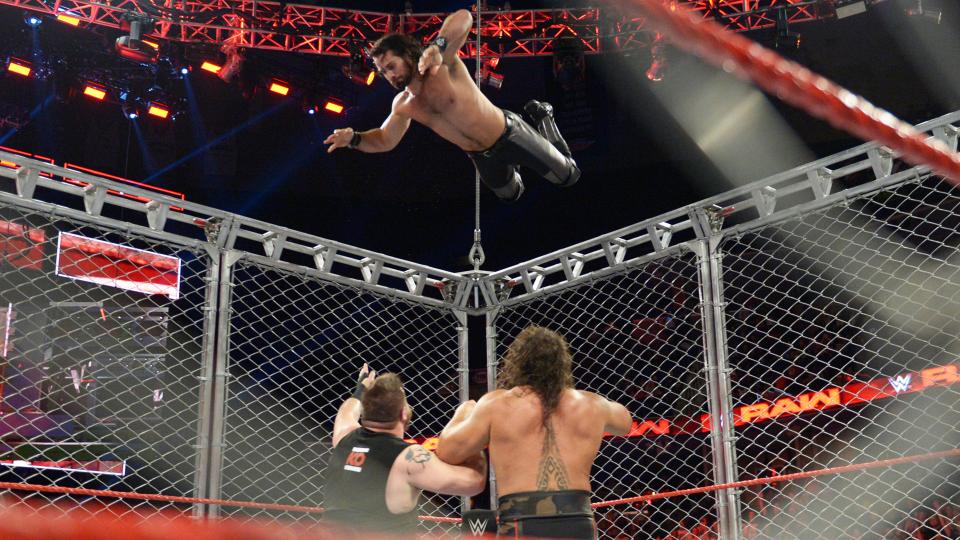 While the WWE Universe spent all week coronating Kevin Owens, Seth Rollins waited. The Architect owned Raw this week, while Smackdown did a lot of talking. We hand out our weekly six-pack awards.
Some weeks as we hand out our awards, WWE Raw will trump Smackdown. Others, it'll happen in reverse. Sometimes, both shows will split our attention.
This week, it wasn't close: Raw dominated on the shoulders of its franchise cornerstone, as the increasingly fan favorite Seth Rollins lived up to his No. 1 draft pick status. The debuts of the cruiserweights also caught our attention, while Smackdown didn't offer much up in the ring.
On the Blue brand, brief matches from Randy Orton, John Cena/Dean Ambrose, and the Usos/American Alpha didn't leave any indelible marks. What could've been a memorable Intercontinental Championship match relied on a familiar Dolph Ziggler/Miz pairing and rote storytelling to continue their feud.
On the Red side, the main event scene continued to simmer, as did the tag division. While Smackdown's women's roster is deeper and nobody can match Cena's star power or A.J. Styles' work rate, Raw appears the stronger show in terms of top-end talent. It showed this week, particularly as we get to our first award, handed out to a quad of debutantes.
Match of the Week
We give it to the cruiserweights, who debuted on Raw via Fatal 4-Way this week. It was an interesting choice not having champion T.J. Perkins in the house, even for commentary. It only added to the task at hand for the four guys there, who had to introduce the division to the masses. And man, based on the crowd reactions to their entrances, Cedric Alexander, Brian Kendrick, Gran Metalik, and Rich Swann had their work cut out for them.
In yet another reminder that just because something gets massively over via the WWE Network and Internet Wrestling Community doesn't mean it'll translate to the mainstream, each of the four came down the ramp to near silence. Immediately, you couldn't help but wonder if these incredible workers would die on the vine. They needed to, in their first match, not just introduce themselves to a new audience. They also needed to convince that audience why they deserved to invest their time.
Mission accomplished.
In a little more than 12 minutes, the crowd went from crickets to "This is awesome" chants. The high flying and athleticism quickly won Memphis over, peaking with Alexander and Metalik's consecutive dives over the top rope to the outside. By the time Kendrick, the only established heel in the bunch, won the right to face Perkins at Clash of Champions, the crowd had bought in.
The match also did well to give Perkins a heel foil for his first feud in Kendrick. Remember, the Cruiserweight Classic didn't do the heel/face thing. It was just Dude A vs. Dude B and you basically cheered for both. That works in the indies and the CWC. The casual Raw fans need to know who to root for and against. Kendrick going over while the rest made memorable first impressions gave us the best of all worlds.
Promo of the Week
Aside from Kevin Owens, arguably nobody has risen higher faster since the brand extension draft than Becky Lynch. No more than an also-ran in the burgeoning Charlotte and Sasha era, Lynch getting Smackdown to herself was a gamble. Considering the pops she gets now as that division's women's champion, that gamble's certainly paid off.
But Lynch still has her stumbles on the mic. It afflicts her mainly when she tries to be the plucky jokester. That giggling, slap-ya-on-the-back goofiness is what made her a doormat for Charlotte and Sasha to step over in previous feuds. So to hear Lynch tap into her Lass Kicker side this week was Irish Spring-level refreshing.
Angry and motivated Becky is exponentially more compelling than humorous Becky. If you're going to call yourself the Lass Kicker, you need to back it up with your promos – less laughter, more lasskicking. Enter Alexa Bliss, who provided the perfect opportunity once she questioned Becky not being born for title prestige.
Becky's "started from the bottom, now I'm here" rant seethed with the chip-on-her-shoulder rage that's driven her to the heights she's achieved. Entitlement vs. determination is a timeless story, both outside and within wrestling. To have the smallest competitor in the division play the role of the entitled one is a nice spin on the trope, but it's passionate promos like this that make us believe in the idea of "Becky Balboa."
Biggest Winner
It's Seth Rollins and it isn't even close.
After being told by Kevin Owens last week that The Architect has already seen the WWE pass him by, Rollins reasserted himself this week, reminding everyone of the talismanic totem he can be in the wrestling landscape.
First of all, Rollins is now officially a babyface, but in the best way: not the John Cena or Sami Zayn rah-rah types, but the same way he was in The Shield. That is, be a devil-may-care badass and let the rest fall into place. Rollins always carried himself with the swagger of the kid from the other side of town who did what he wanted, love him or hate him for it. Obviously, you loved him, until he got in bed with The Authority.
Now, acting as a lone wolf, everything he does is cool again.
First, pitted against a pure heel in Rusev, Rollins continued to expand his move-set back to the athleticism he displayed in The Shield, peaking with the cross-body off the announce table. Matching up against Rusev also gave the crowd every reason to cheer for Rollins full stop.
Second, his "you can't play a player" promo with Stephanie McMahon squared him firmly against his old Authority colleagues.
Third, and most importantly, he provided the highlight of the night with his leap from the top of the cage to knock out Rusev and Owens. What's important to note there is his run-in didn't reek of coming to save Reigns. Thanks to not interacting with Reigns at all, this screamed of Rollins acting in his own best interests: steal the spotlight, attack the two guys he has current beefs with, and remind everyone why he's the man.
Rollins held true to himself and provided the narrative thread that ran through the entirety of Raw. A slighted Rollins is the best kind of Rollins, and the No. 1 overall draft pick knows it.
Biggest Loser
Poor Xavier Woods, the wrestler.
See, Xavier Woods the hype man is doing just fine. So is Xavier Woods, Ph.D., and Xavier Woods, YouTube channel host.
But Xavier Woods, wrestler, is on life support.
Triple H famously stated in developmental that, if Woods was just taller, he'd be the total package. Unfortunately, we're seeing more and more that the geekiest member of the New Day maybe isn't long for ring work.
It's understandable to keep Woods out in tag matches or title defenses. But multi-team tag matches should be a place where he can at least get a little rub. Instead, it set up as Shining Stars with The Club and Jericho against Enzo, Cass, New Day and…Sami Zayn in Woods' place?
It makes sense in furthering the Zayn-Jericho feud, obviously. But to have Woods not even worthy of in-ring action in a 10-man tag cuts the wrestler at his knees. Even when the full-out brawl portion of the festivities broke out, Woods couldn't get some licks in. He just stood on the turnbuckle, filming everything with his phone.
For such a charismatic and talented worker, it's a shame Woods continues to get marginalized amid his own teammates.
Worst Nitpick
Lots of options for this one, as seems to be the case every week.
How has Triple H still not returned to TV to explain his Universal Championship actions? Why does Mauro Ranallo continue to force hip-hop analogies where they don't make sense? How did American Alpha not get a more hyped return?
But we hand it to Dana Brooke, who went out of her way to point out to Charlotte and Mick Foley that the Triple Threat match finish between Sasha and Bayley last week should've been a double pin. Oh yeah, a Triple Threat match…that Brooke was the third participant in!
After turning on Charlotte last week, why would Brooke so happily point out a referee's mistake and try to turn it in Charlotte's favor? If Brooke really wanted that opportunity last week, wouldn't she be campaigning to have the match ruled a no-contest thanks to the double pin and to restart it?
There's a story here to be told. Maybe Dana realized the error of her ways after the match and slapping Charlotte and begged for reconciliation. Maybe Charlotte had a talk with her protege about forgiving her and how Brooke had to bide her time before being able to compete at that level.
But we weren't told us any of that. Instead, we return from openly rebellious Dana Brooke last week to subservient Dana Brooke this week with no explanation.
Favorite Moment
Chris Jericho is working on a different plane right now. His "It" gimmick, best friendship with Kevin Owens, name-baiting of Tom Phillips, and "stupid idiot" retort all continue to click.
His in-ring work still delivers and he still knows how to deliver an overt signature moment, like slapping Sami Zayn with his phablet last week.
But this week's moment was much subtler. Jericho spent the first half of the show compiling the grievances he had against Mick Foley as Raw general manager. When he promised he was going to deliver these grievances live on the air, part of us hoped it would be a reprieve of his famous "I know 1,004 holds" promo from WCW.
Instead, it was just a nod to that all-timer, but when Jericho finally confronted Foley, it provided the funniest moment of the week. After hearing what Jericho had to say, Foley called him a stupid idiot and Jericho, without missing a beat, added "No. 5: stealing people's catchphrases." The comic timing and delivery were what you'd expect from a 25-year veteran, but no less impressive from one of the industry's all-time great mic men.
Having Jericho around continues to be a gift. Drink it man.
This article originally appeared on