WWE Rumors: Goldberg Signed On for Royal Rumble 2017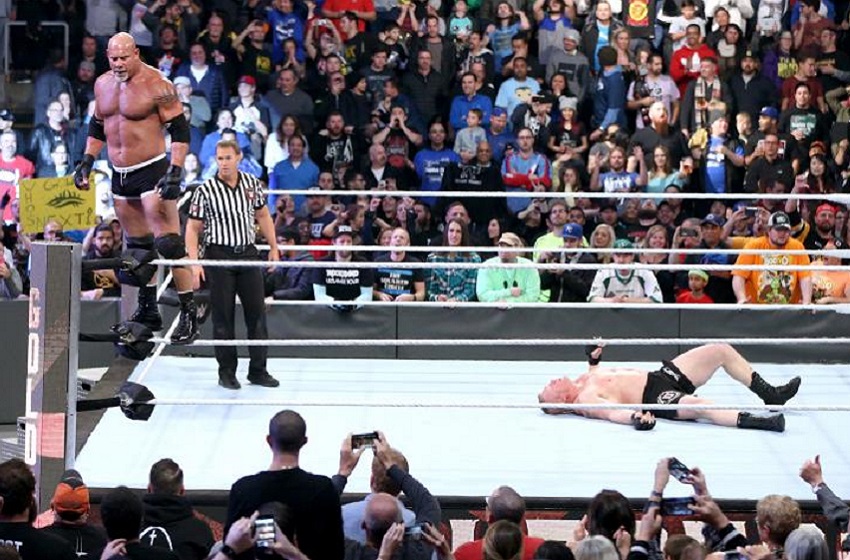 Goldberg could be sticking around for quite a little bit past his Survivor Series match, including being an entrant in the 2017 WWE Royal Rumble
Wrestling for the first time in WWE since 2003, Goldberg returned to the squared circle on Sunday night at WWE Survivor Series. In a rematch of his last bout with the company, he faced off with The Beast Incarnate, Brock Lesnar. The result was one of the most shocking in recent memory as Goldberg dominated Lesnar to beat him in a matter of only a couple of minutes. Surely there will be a storyline that will follow this. However, there may also be a behind-the-scenes reason as it pertains to the 2017 Royal Rumble.
According to Pro Wrestling Sheet, Goldberg signed a deal with WWE this weekend to be an entrant in the 2017 Royal Rumble. While they did not outright say that had influence in the outcome of the Lesnar match, they did speculate that it could've been a factor. That would make sense given the unexpected events at Survivor Series.
What's more, Goldberg is already set to appear on Monday at WWE RAW the night after Survivor Series. This could be for him to set up either his next program or to set himself up for that appearance at the Rumble.
At 49 years old and with virtually no in-ring work over the last decade, it's highly unlikely that he is going to be working a full-time schedule in WWE. However, landing him for the Royal Rumble is absolutely huge for the company. If you saw how the crowd in Toronto received him at Survivor Series, the allure of the former WCW legend is still there. He'll get a massive pop at the Rumble—and it could lead to a program at WrestleMania 33 as well. However, a Mania appearance is not yet on the table.
WWE Royal Rumble 2017 is slated for Jan. 29, 2017 at the Alamodome in San Antonio, TX.
More from FanSided
This article originally appeared on