WWE Royal Rumble 2017: 3 Potential Opponents for AJ Styles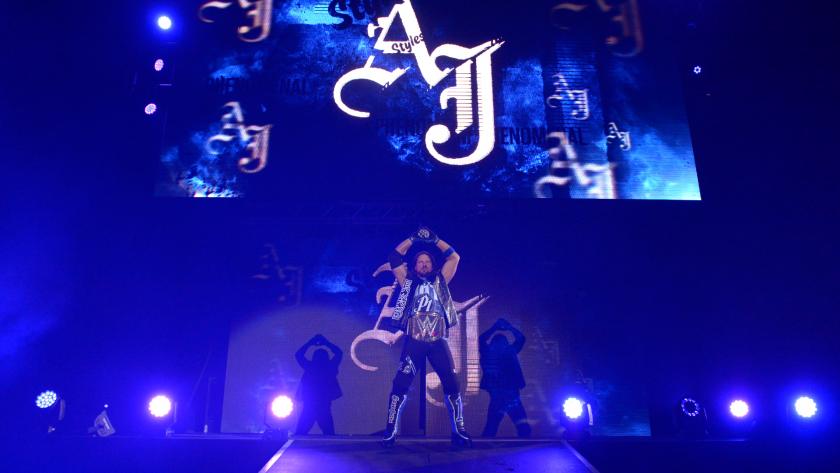 A look at 3 superstars who could challenge AJ Styles for the WWE Championship at the Royal Rumble.
The 2017 Royal Rumble is scheduled for January 29th.  That leaves the WWE less than two months to get set up for what is always one of the most popular and important pay per views of the entire year.  The Rumble begins the push for Wrestlemania each year and therefore is the springboard for what the year will bring.  A bad Rumble is almost always a precursor for a bad year and the WWE needs a good year in the worst way right now.
Since becoming its own show in 1989, a world championship has been contested at 27 of the 29 Royal Rumble shows.  And of those 27 how's, the title has changed hands only 5 times, and two were when the belt was on the line in the rumble match itself.  So as important as the Royal Rumble is, it appears that whoever the current champs is at the time tends to bring the goods that night in January.
This January the WWE Champion will most likely be AJ Styles.  After his scintillating victory in a career altering battle with Dean Ambrose at TLC, "The Champ That Runs The Camp" has got himself set up for some big business ahead of Wrestlemania 33.
Ahead we break down three potential opponents for AJ Styles at the 2017 Royal Rumble.
3. Samoa Joe
Now this is a bit of a stretch but a guy can dream, can't he?  Joe is still in NXT but we're talking about a guy who is a near 18 year veteran of the sport who has a been a world champion in TNA, Ring of Honor, and is the first ever two-time NXT champion.  So needless to say, Joe is ready to make the jump to the main roster.
In AJ Styles, Joe would have a ready-made feud based on their history alone.  The two superstars spent the better part of a decade battling each other in TNA over the both the TNA Heavyweight Championship and the X-Division title and Joe has far and away wrestled Styles more times than he has anyone else.  The two have battled 115 times.  The person Joe has wrestled the second most times is Christopher Daniels but that was only 62 times.  And want to talk evenly matched?  Joe's career record against Styles is 56-57-2 (cagematch.net). Yeah, this feud needs some closure.
There would have to be a lot of moving parts for this program to happen.  Joe will need to end his feud with Shinsuke Nakamura which should be just about drawing to a close after Nakamura took the NXT title back a few night ago in Osaka.  Plus Joe would need a signature win on the main roster to become the number one contender so that may be tough to sell.  But one thing is for sure, when and if these two former foes do battle again, expect brilliance.
2. John Cena
The reality is that if Cena is around, he'll be at or near the world title picture.  Absent from WWE programming for close to two months, it looks like "The Leader of Cenation" is ready to return to the main event picture.  Cena is scheduled for a December 26th house at Madison Square Garden in a triple threat match against Styles and Ambrose.
Now although Styles has only been with the WWE for less than a year, he already has history with Cena.  Styles and his buddies Karl Anderson and Doc Gallows feuded with Cena through the summer in which Styles bested Cena twice on pay per view, once at Money In The Bank and the other at SummerSlam.  Cena could very well work a revenge angle and take another run at becoming a 16-time world champion.
Is a Cena world title pursuit the most intriguing story the WWE could ever come up with?  Of course not.  In fact, it may be a step back for what the company is trying to do.  But that doesn't mean it wouldn't be fun.  Cena has proven time and time again that when matched with a talented superstar, he can perform and then some.  It's unoriginal and uninspired but a Styles/Cena program could still be really good.
1.The Undertaker
It's crazy, right?  But really think about it for a second.  The two mentioned before Taker on this list are first, a long shot, and then second, a bit stale.  Outside of these two, all that's really left for Styles would be Baron Corbin.  As much as "The Lone Wolf" has huge potential, he's not quite ready for the main event.
So what we're left with is The Undertaker who returned to Smackdown right before Survivor Series last month and threatened the five participants who would be in the main event that if they lost, there would be hell to pay.  Well, Smackdown won and now Taker needs a reason to get involved.  After all, he did mention that he was back and with Wrestlemania right around the corner, The Deadman is clearly ready to step in the ring again.
On paper, this isn't the most exciting matchup from a great match perspective.  But we're talking about two of the most decorated professional wrestlers of all time and a showdown between the two would be a massive moment.  The Rumble seems the better option for a matchup between these two as Mania should be dedicated to furthering the WWE title as opposed holding it hostage for a few months.  Even at 51 years old, defeating The Undertaker still means so much in the wrestling business.  If the company is truly dedicated to Styles, beating The Deadman will firmly entrench him as the biggest superstar on the roster.
This article originally appeared on