WWE Roadblock 2016: 5 Potential Finishes for Kevin Owens vs. Roman Reigns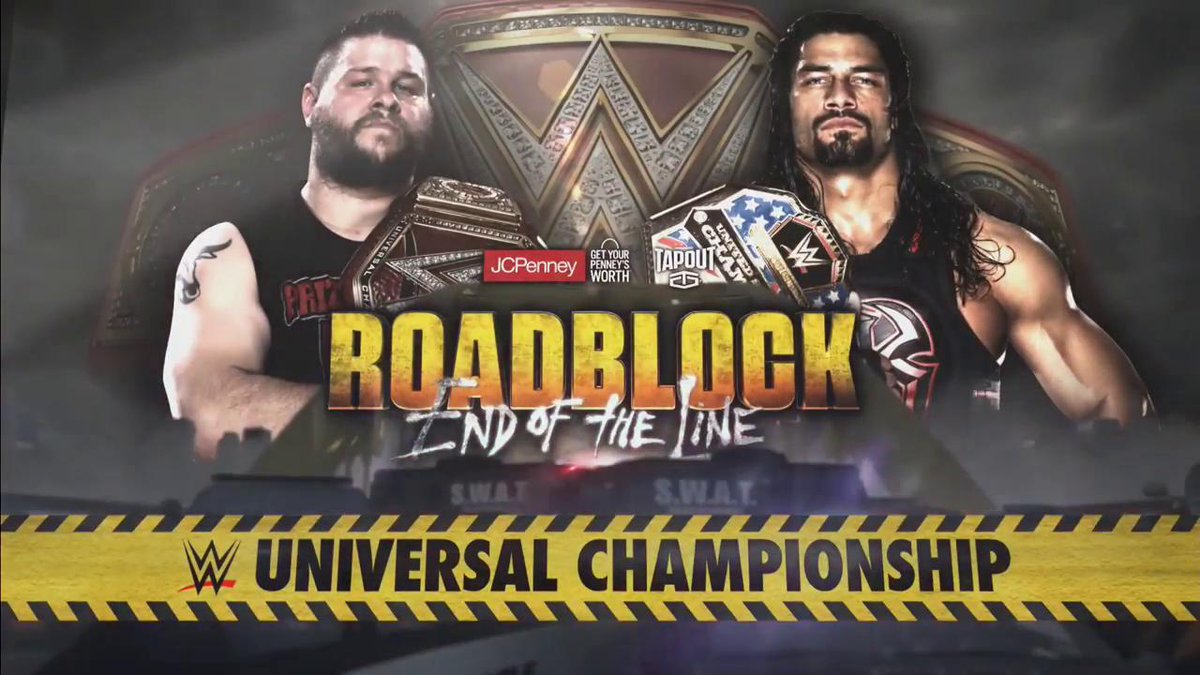 At WWE Roadblock Kevin Owens defends his WWE Universal Championship against Roman Reigns. Here are five of the many potential finishes.
With the Royal Rumble and WrestleMania season around the corner, it's time to close the book on 2016. WWE Roadblock will be the final pay-per-view of the year. This show will feature WWE Universal Champion Kevin Owens defending his title against Roman Reigns. Reigns, who is the WWE United States Champion, will be looking for his fourth world title reign.
This is one of the more unpredictable championship matches in some time. That said, it would be surprising if Roman Reigns doesn't walk out as champion. With his relationship with Chris Jericho still up in the air, it is unclear whether or not Owens will have back up. Reigns, to some degree, still has a target on his back; the WWE United States Championship. While he won the US Title in September, he has yet to defend it.
As it stands right now, Reigns will attempt to be the first person to hold, both the Universal and US title simultaneously. While he is champion right now, it is possible for him to drop the title before the December 18 pay-per-view. Owens is still seeking a clean marquee win during his first world title reign. Owens has benefitted from outside interference from Chris Jericho in his previous title defense. With this in mind, here are five of the possible finishes.
5. Roman Reigns Wins Clean
While this may not be the most popular finish to the WWE Universe, it is certainly possible. Regardless of how the crowd feels about Roman Reigns one this is clear: he gets a reaction. As good as Kevin Owens is, his title reign has been lackluster due to poor booking. Throughout the feud with Rollins, the WWE Universal Championship never really took center stage. As time went on, crowds started caring less and less about the title and more about The List of Jericho.
Reigns as WWE Universal Champion would help bring the title to the forefront. Regardless of who he is facing, the entire crowd would be invested. Those that like him will be cheering and hoping he stays champion. Those that hate him will be booing and be looking forward to the day he finally drops the title. Reigns being this polarizing will be enough to elevate the title and anyone he's feuding with.
Reigns beat Owens clean to earn this title match, what's to say he can't do it again?
4. Chris Jericho Causes Owens to Lose
Last week on Raw we saw the tension between Owens and Jericho reach an all time high. The show opened with Owens and Jericho celebrating Owens' win over Seth Rollins the previous week. The celebration was cut short when Reigns' music hit and made his way to the ring. Reigns said the Owens being Universal Champion was joke. When Reigns said Owens needed Jericho to be champion Owens responded by saying he doesn't need him. Reigns continued to drive a wedge between the two best friends until he threatened to put him on The List. Before Jericho had a chance to do that Owens told him to shut up which led to a short but tense Jericho.
Later, in a backstage segment, Owens and Jericho got into another argument. Jericho brings up all the times he's had Owens' back and said that Owens does need him. Owens came back by saying that Jericho is the reason people don't see him as a respectable champion. This led to Jericho leaving the area, only to get attacked by Rollins later in the show.
So, with the tension between these two former best friends, it wouldn't be one bit surprising to see Y2J cost Owens his championship at Roadblock.
3. Chris Jericho Helps Kevin Owens Retain
If WWE TLC has taught us anything with the James Ellsworth heel turn, it's to expect the unexpected. While I did mention the tension between Jericho and Owens; what if all an act? We've seen this between partners before, a teased split up that only sets up a sneak attack. However, it does look like Jericho is going to be feuding with Rollins.
If Jericho did get involved it wouldn't be the first time we've seen him twice in one night. At WWE Clash of Champions Jericho defeated Sami Zayn. Later that same night, Jericho came out to run interference in Owens' match against Seth Rollins. Regardless of what happens between Jericho and Rollins I do believe Jericho will be a factor in the main event of Roadblock. Helping Owens would continue the tension between these two whereas costing him the title would kick off the Owens-Jericho feud.
2. Rollins Gets Involved in the Main Event
One man that has history with both Owens and Reigns is Seth Rollins. It's looking like The Architect will be taking on Chris Jericho at Roadblock but that shouldn't prevent him from involving himself in this match. Rollins' last title reign came when he pinned Roman Reigns at Money in the Bank. Ever since losing the title to Dean Ambrose just a few moments after beating Reigns, Rollins has been looking to capture championship gold. It'll be interesting to see if he tries to insert himself back into the title picture and who his involvement will help.
On one side we have Reigns, both former members of The Shield. In recent months we have seen Reigns and Rollins work together. Then we have Kevin Owens, WWE Universal Champion. Rollins and Owens went back and forth for the better part of two months. The hate between the two could very well factor into Rollins possibly costing him the match. Rollins' run as a face has been good but there are still some that haven't bought in. Perhaps this could lead to Rollins helping Reigns win only to hit him with a pedigree after the match is over.
1. A US Title Contender Costs Reigns
While Reigns is challenging for the WWE Universal Title, he is still the WWE United States Champion. Reigns' polarizing character would elevate almost anyone in the roster that would challenge him for his championship. Reigns won the title at Clash of Champions but hasn't yet defended it. With the title somewhat dormant, someone interfering at Roadblock for a chance at the title would help bring it back to the forefront.
It is possible that Reigns drops the title on Raw before Roadblock but, with the pay-per-view less than two weeks away, that may be very unlikely. However, that doesn't mean someone can't emerge as a challenger before then. We could see someone confront Reigns on Raw to plant the seed of a possible feud, but I'm guessing the US Title picture will become more clear after Roadblock. Tune in to Roadblock : End of the Line on Sunday, December 18 to see how this main event plays out.
This article originally appeared on