WWE Roadblock 2016: 3 Reasons Roman Reigns Should Defeat Kevin Owens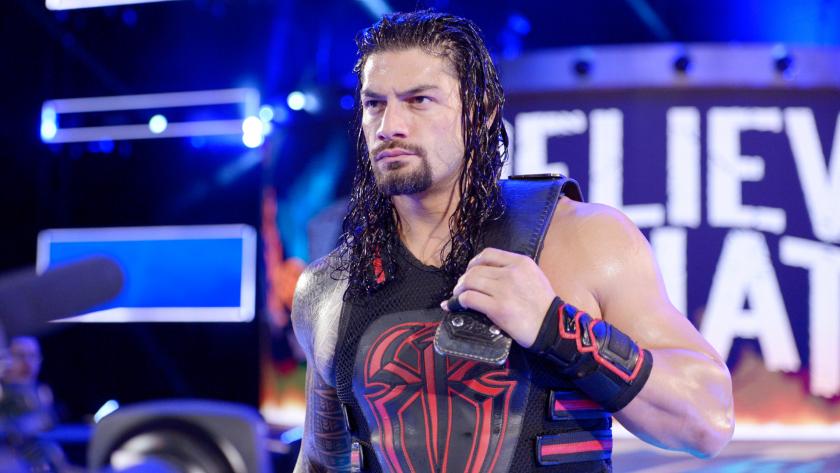 At WWE Roadblock, Kevin Owens defends the WWE Universal Championship against Roman Reigns, the latter of whom should win this match.
Roman Reigns will look to become a dual champion at WWE Roadblock. The current US Champion will look to win his first WWE Universal Title on the December 18th pay-per-view. At the beginning of the show, with some nagging from Reigns, Owens and Jericho got into an argument. Reigns said that Owens being champion was a joke. He followed that by saying he would've lost the multiple times had it not been for Jericho. That was the breaking point for the Universal Champion. Jericho threatened to put Reigns on The List of Jericho before being interrupted by Owens. After telling Jericho to shut up, Owens accepted Reigns' challenge for No. 1 contendership.
This feud has featured some of Roman Reigns' best mic work as Reigns did a good job driving a wedge between the two best friends. Reigns defeating Owens on the November 28th episode of Raw earned him the No. 1 contendership. Owens blamed the loss on lack of focus due to the Jericho argument.
It will be interesting to see if Jericho gets involved in the match , with the Owens-Jericho relationship up in the air. Jericho running interference means this match could go a number of ways. Y2J or no Y2J one thing is for sure: Roman Reigns should walk out of Pittsburgh as both the United States and Universal Champion. Here are three reasons why.
3. Owens-Jericho Feud
First, Owens dropping the title to Reigns would really open up the possibility of a feud with Jericho. With rumors swirling that Jericho could be taking time off after WrestleMania, it's time for this feud to happen. That being said, this feud doesn't have to last until WrestleMania. With the amount of time that WWE has invested in these two the blowoff match could easily be set up for the Royal Rumble.
Many people probably want to see Owens in the Royal Rumble instead of in a regular match. that being said, Owens has pulled double duty at the Rumble before. Just last year he kicked off the show against Dean Ambrose in a Last Man Standing Match and made in back for the 30 man battle royal. Part of the reason I believe Owens should drop the title is because Jericho had stolen his spotlight. The List of Jericho, in some ways, became more important than the Universal Title. This is more than enough to lay the groundwork towards a feud.
2. Frees Up Reigns to Drop the US Title
Secondly, as we saw with the UFC's Conor McGregor, holding two championships could be short lived. The UFC two weight division champion was forced to relinquish his featherweight title just two weeks after winning the lightweight title to become a dual champion. The same thing could very well happen with Roman Reigns.
It is possible that Reigns, should he win at Roadblock, could vacate the United States title and perhaps kick off a tournament to crown a new US Champion. However, we did see Jericho almost defeat Reigns last week on Raw. While it is possible for someone like Reigns to defend and retain two titles, it would still be difficult to pull off.
Since Reigns has won the title at Clash of Champions he really hasn't done much with the title. With how strongly Reigns is booked dropping the title will have to something out of the ordinary. Regardless what direction WWE decides to go with the US Title, whoever defeated Reigns will benefit greatly.
1. Roman Reigns Would Bring Importance to the WWE Universal Championship
Love him or hate him, Roman Reigns draws a reaction from every single person in a WWE crowd. As I mentioned early, with Owens as champion, the Universal Title took a back seat to The List of Jericho. That will change if Roman Reign can defeat Kevin Owens at Roadblock. The people that love him, want him to never lose the title. The people that hate him, can't wait to see someone beat him.  On top of the undeniable crowd reaction he gets, he also stepped it up in the ring.
Reigns has had an incredible string of good match that really date from WrestleMania 31 until now. If not for one AJ Styles, Reigns would be in the Superstar of the Year discussion. Some people have used the wrestler Reigns has wrestled against him, saying that he was carried to great matches. Reigns should win this match because of the good matches, crowd reaction and unfinished business with the first Universal Champion.
As some of you may recall, Finn Balor defeated Roman Reigns for a match against Seth Rollins at SummerSlam to crown the inaugural WWE Universal Champion. After the match, Reigns said that he hoped for a Balor victory because we wants another shot at the Demon King. Balor recently said that his targeted return is WrestleMania, if not sooner. With a win at Roadblock, Roman Reign may finally get that second shot at Balor.
This article originally appeared on