WWE Raw Results: Highlights, Analysis, and Grades for November 7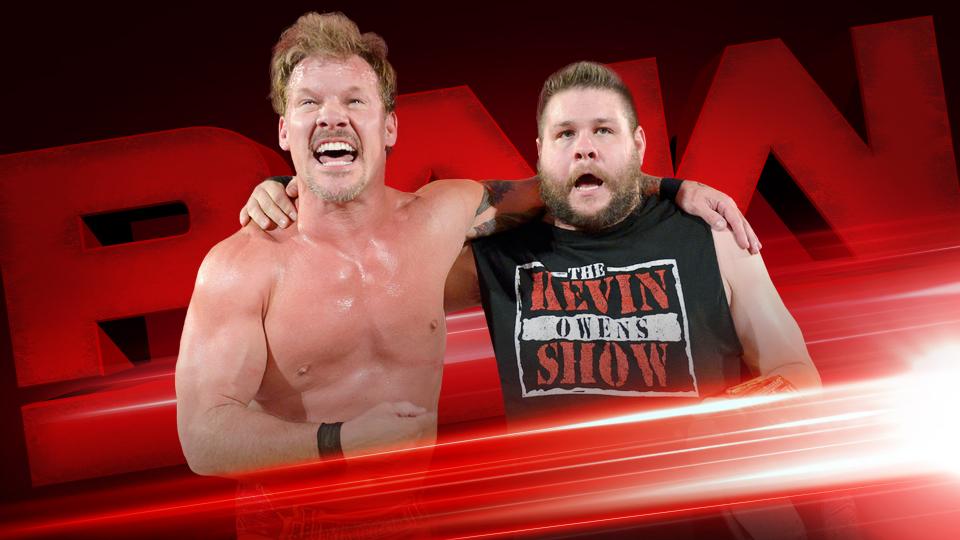 Follow along with our live review of Monday's episode of WWE Raw.
Monday's episode of WWE Raw will have a Scotish flavor to it as the show will take place from Glasgow, Scotland. Note that this will not air live since WWE is recording this at 2:00 p.m. ET.
In WWE's preview of Raw, they are hyping up Chris Jericho and Kevin Owens clashing with Roman Reigns and Seth Rollins. This stems from the end of last Monday's episode, which saw Rollins come to Reigns' rescue after Jeri-KO beat him down in the ring.
The next step for this could be a tag match. It would be one of the rare times that Reigns and Rollins have teamed since The Shield split, a likely selling point of WWE's for this ongoing program. They hinted early signs of this old group being pieced back together, so we'll see if Dean Ambrose eventually works with them at Survivor Series in some capacity.
The last spot on the men's Team Raw being filled for Survivor Series is also being teased in the preview. Braun Strowman, Jericho, Owens, and Reigns already have the first four memberships, so it's possible a big name joins them. Could it end up being Rollins? Might Sami Zayn be in the mix after coming close to winning last Monday's battle royal?
Along with the men's Team Raw, the women's and tag team squad also may be filled up by the end of the night. Bayley, Charlotte, and Nia Jax were the first three announced for the women. Given the limited roster behind them, those last two spots may be a guarantee to go to Sasha Banks and Alicia Fox. New Day is the only part of the tag team squad that's been announced, but like the women, there aren't many options to fill the remaining spots. Expect obvious names like Karl Anderson and Luke Gallows, and Enzo Amore and Big Cass to join them.
All of this and more will be seen on Monday's episode of Raw. Follow along with our coverage right here at 8:00 p.m. ET.
Raw Opener
Stephanie McMahon opens Raw. She brings out Team Raw for Survivor Series—Chris Jericho, Kevin Owens, Roman Reigns, Braun Strowman, and Seth Rollins. Owens and Rollins start going back and forth, with Rollins saying that their business is not finished after Survivor Series. Stephanie says everyone's job depends on it at the pay-per-view.
Jericho and Owens say that they are co-captains of Team Raw. They then turn to Rollins and Reigns and bring up their past Shield implosion. Everyone then brawls. McMahon comes back out and says they need to get the anger out of their system with a fatal five-way match.
#RAW Team Co-Captains @FightOwensFight & @IAmJericho could have their hands full keeping team unity at #SurvivorSeries! pic.twitter.com/odU3esVP5Z

— WWE (@WWE) November 8, 2016
The least surprising thing here is seeing Rollins named as the fifth member of Team Raw for Survivor Series. He had been the last of the brand's big name stars to not be included. With three people he's recently been involved with, Jericho, Owens, and Reigns, all involved, it makes too much sense for The Architect to join them.
As for this fatal five-way, it should be a hot main event pitting some of Raw's best talent against each other. It doesn't have many implications, but will provide some dramatics and a potentially good wrestling match.
Brian Kendrick and Noam Dar vs. Rich Swann and Sin Cara
Result: Sin Cara and Rich Swann defeats Brian Kendrick and Noam Dar via pinfall.
Rating: 2.0 out of 5 stars
Dar got a HUGE reaction as he's a native of Scotland. This match also is his WWE main roster debut after competing in the Cruiserweight Classic.
Welcome to @NoamDar, making his #RAW debut in his home country of Scotland! #Cruiserweight #DarWars pic.twitter.com/m9fDEeWVjM

— WWE (@WWE) November 8, 2016
Nothing special really happened during the match, but Swann getting the pinfall is intriguing. With WWE announcing that TJ Perkins would be out for a little bit of time, this could set up a match between All Night Long and Kendrick for the Cruiserweight Championship. There's a little PPV coming up called Survivor Series, so could they face off there?
The post-match antics to get Dar a reaction was cool. It probably got done to just satisfy the crowd and won't mean anything toward the title, but it's a great moment for the newly-debuted star.
Stephanie McMahon with Sami Zayn Backstage
Stephanie says she finds Sami Zayn's presence irritating, but Mick Foley wants him to face Dolph Ziggler at Survivor Series. McMahon thinks the spot belongs to Rusev, so the two are going to face off on Raw to battle Ziggler for the Intercontinental Championship.
We now know the two competitors vying for Ziggler. However, none of what Stephanie said was necessary except for Zayn vs. Rusev being set. Did she really need to dress him down?
Team Raw's Tag Teams Segment
All of Raw's tag team for Survivor Series, except New Day, are out. Sheamus starts saying he's the tag team captian since New Day didn't come out yet. After all the teams start making fun of each other until the tag champions come out wearing kilts. Anderson and Gallows say they're out of Survivor Series because they'll lose with New Day as captains (they didn't actually drop out). Big E then starts quoting Braveheart.
Anderson and Gallows said they will not be led by anyone and will stab everyone in the back. New Day then comes back with how they've beaten the former IWGP Tag Team Champions multiple times, and will face them in a tag match next.
A fun and silly segment that got enhanced by the crowd. It really accomplished nothing except for how these teams aren't going to agree on much of anything. This dynamic is all too similar across the Raw teams for Survivor Series, which is unfortunate.
Just about sums this up.
New Day vs. Karl Anderson and Luke Gallows
Result: Karl Anderson and Luke Gallows defeats New Day via pinfall.
Rating: 2.0 out of 5 stars
There's not much to takeaway from here other than Gallows and Anderson could be in line for a future title shot. Why do they deserve it after taking so many losses, though? What about Cesaro and Sheamus getting screwed out of an opportunity at Hell in a Cell. Why haven't they received their next chance at the Raw Tag Team Championship?
Kevin Owens and Chris Jericho Backstage
Jericho and Owens decide that they want to get Braun Strowman on their side and go into his locker room. They try talking to Strowman, who mocks The List. He says he's only on Team Braun.
"We think Team Chris and Team Kevin and TEAM BRAUN sounds pretty great!" – @FightOwensFight to @BraunStrowman #RAW #SurvivorSeries pic.twitter.com/Y2ED4wIljs

— WWE (@WWE) November 8, 2016
Team Braun is probably on The List.
The Shining Stars vs. The Golden Truth
Result: The Shining Stars defeat The Golden Truth via pinfall.
This would be for Golden Truth's spot at Survivor Series.
Do Primo and Epico know something about Vince McMahon that we don't?
Women's Team Raw Announcement for Survivor Series
Michael Cole is out to announce the women's Team Raw. He brings out Charlotte who calls Team SmackDown "peasants". Nia Jax is next and says she doesn't work for Charlotte. Alicia Fox is announced as the newest member. Bayley is next and gets an overwhelming chant from the fans that lasts minutes. Eventually, Sasha Banks became the fifth member of the team.
Were the Bayley chants fun? Sure. It made this segment run ridiculously long, though, as she and Charlotte could barely speak. Even Sasha Banks had trouble getting out her handful of lines. This should have lasted maybe five minutes, but ran for nearly 15 instead.
The frustrating thing about not only this women's team, but the other two Survivor Series teams for Raw, is the dynamic; it's all about no one being able to get along. It's boring, overused, and stale. Why can't some of them, even though there are heels and faces, simply have a storyline where team chemistry isn't the issue?
Alicia Fox, Bayley, and Sasha Banks vs. Charlotte, Dana Brooke, and Nia Jax
Result: Alicia Fox, Bayley, and Sasha Banks defeat Charlotte, Dana Brooke, and Nia Jax via pinfall.
Rating: 2.0 out of 5 stars
Once again, team chemistry issues came up. We don't know if Charlotte and Nia Jax can work together now, but that's the case with pretty much everyone on Team Raw. No one will be able to coexist and will probably lead to Team SmackDown winning, at least, with the way things are being booked.
Seth Rollins Backstage
Rollins talked about everyone who didn't like him in the locker room, until Braun Strowman came up and said he's pretty much going to eat Rollins alive in the main event.
Team Braun for the win!
No. 1 Contender's Match for the WWE Intercontinental Championship
Sami Zayn vs. Rusev
Result: Sami Zayn defeats Rusev to become the No. 1 Contender to the WWE Intercontinental Championship at Survivor Series.
Rating: 2.25 out of 5 stars
Zayn getting the win over Rusev sends him to his home country of Canada for this title match. It will surely feature the Air Canada Centre favoring him to win, even if the odds may be unlikely. This is due to Raw already having more titles than SmackDown, so adding one more kind of makes no sense. The exception would be Zayn going to The Blue Brand to defend the title, but WWE seemed to indicate that he would stay on Raw with a win at Survivor Series.
Who will advance to face @HEELZiggler for the Intercontinental Title at #SurvivorSeries? @ILikeSamiZayn or @RusevBUL? #RAW pic.twitter.com/j5RB5e1CLk

— WWE (@WWE) November 8, 2016
As for Rusev, he's got nowhere to go heading into the November PPV. Team Raw is filled up and he doesn't have a title to go for anymore. It's going to leave the former United States Champion, who just finished holding the belt for four months, off a big show.
While this is one of many options for The Bulgarian Brute, we analyzed why a face turn may be the best choice for his character. The heel run has ran its course over the past two-plus years, so it may be time for a change.
Chris Jericho vs. Kevin Owens vs. Roman Reigns vs. Seth Rollins vs. Braun Strowman
Result: Kevin Owens defeats Chris Jericho, Roman Reigns, Seth Rollins, and Braun Strowman via pinfall.
Rating: 2.75 out of 5 stars
This fatal five-way match wasn't bad whatsoever. The table spots were cool, even the one that teased Rollins and Reigns doing The Shield powerbomb.
However, other than that, this match meant nothing.
Having these five fight had no meaning. It stressed the similar, tired dynamic that we previously analyzed about the Raw team chemistry issues. This has become more about no one getting along instead of fighting to determine which brand is better. Yes, faces and heels are supposed to hate each other on WWE TV. They don't have to suddenly sing kumbaya until Survivor Series. However, they're all trying to make each other weaker in the process for absolutely no reason, and it's only hurting the storyline further.
This match capped off a bad episode of Raw, which has been the narrative since the August 29 show. There are no signs of turning this show around, but we'll try grading it anyway.
Grade: D
This show isn't receiving an F because Sami Zayn vs. Rusev had meaning behind it.
Other than that, what did you think of this episode of Raw?
This article originally appeared on