WWE Raw Results: Highlights, Analysis, and Grades for November 14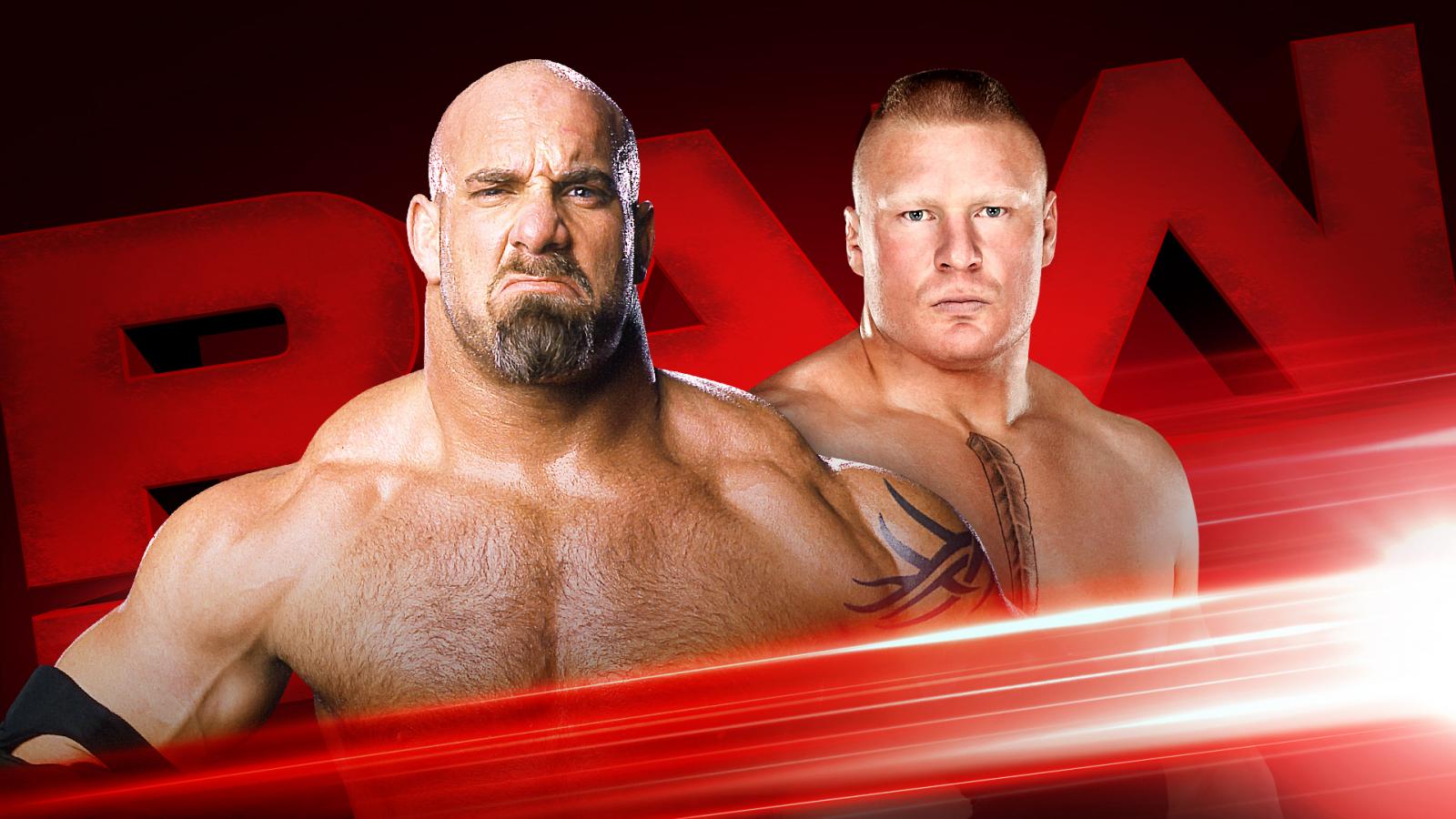 Follow along with our live review of Monday's episode of WWE Raw.
On Monday night, the latest episode of WWE Raw will take place. It's also the final one before Sunday's Survivor Series pay-per-view, which is a joint program with Raw and SmackDown Superstars featured.
The November 14 show will go back to being live after taking place in Glasgow, Scotland last Monday. WWE taped the show five hours in advance before airing at its usual time of 8:00 p.m. ET.
The highlight Raw will be Brock Lesnar and Goldberg going face to face. They are both advertised to appear and should meet at some point before their Survivor Series match. WWE hasn't said what kind of segment they will have, but expect them to stand toe to toe in the ring as the main event of the evening. Seeing a brawl take place wouldn't be surprising either if WWE wants to get some excitement going for Sunday.
The build for Lesnar vs. Goldberg has been a bit of a letdown. It started hot with the former WCW star's return in October, but a poorly setup segment by WWE and a random brawl with Rusev have been the only things to note of. This isn't a great sign for a match that fans haven't been too enthused about seeing, so whatever happens on Raw will go a long way toward making sure the fans want to see these two battle.
SmackDown's Shane McMahon and Daniel Bryan will appear on Raw as well. They are showing up after being invited by Stephanie McMahon and Mick Foley. There's not much of an indication of what will happen during the show, but after it, WWE is having a debate between the two brands on the WWE Network. It's kind of late since the election took place six days ago, but we'll see what they have in store for this.
Begin following along with our coverage of Raw at 8:00 p.m. ET.
Raw Roster on Stage
The Raw participants for Survivor Series are already on stage, and Stephanie McMahon and Mick Foley are in the ring. They say that SmackDown's Shane McMahon and Daniel Bryan will be here. Foley turned to a bunch of the Superstars and said they have something to prove on Sunday. Stephanie did the same. They announced two matches—Kevin Owens and Roman Reigns vs. Cesaro and Sheamus, and Seth Rollins, Braun Strowman, and Chris Jericho vs. New Day. Charlotte and Sasha Banks vs. Nia Jax and Alicia Fox is then made.
It seems like a night of having these Survivor Series teams joining forces while also going against each other, in some cases. Owens and Reigns teaming is an interesting dynamic, and could spell their future. Rollins, Strowman, and Jericho aligning against New Day should be fun too, but the cohesive unit is probably going to win this one.
Pitting the women against each other feels like a regurgitation of the whole "teammates trying to work together, but fighting each other" shtick, which has gone on for weeks. However, the Raw women's division isn't deep enough, so matches like this are necessary.
Kevin Owens and Roman Reigns vs. Cesaro and Sheamus
Result: Kevin Owens and Roman Reigns defeat Cesaro and Sheamus via pinfall.
Rating: 2.5 out of 5 stars
A match that seemed fine for a little while turned into a battle of egos, again. This saw Owens tag himself in on Reigns, and started an argument. It was a brief one, though, and somewhat helped them win the match.
Obviously, the face and heel aren't going to completely be on the same page, so this one not resulting in too much is fine. If anything, it will mean more toward their probable match at WWE Roadblock in one month.
Braun Strowman, Chris Jericho, and Seth Rollins Backstage
Jericho asks why everyone is glaring at each other. He tells them to work together and forget about the past. Strowman and Rollins each get handed a box. Jericho gives Rollins the "Scarf of Jericho". Strowman asks for Jericho's and rips it up.
Bo Dallas vs. Sami Zayn
Result: Sami Zayn defeats Bo Dallas via pinfall.
Zayn pretty much destroyed Dallas in about three minutes. It ended anything of whatever Dallas' mini hot streak was and set The Likeable One up with momentum for Survivor Series.
As of now, I don't think he's a favorite to win. Having the Intercontinental and United States Championships on Raw doesn't make much sense, but neither does most things in WWE.
Brian Kendrick Backstage
Kendrick is backstage with all the cruiserweights. He tries putting everyone at ease to retain at Survivor Series. Ironically, Sin Cara got in the middle of everything.
New Day vs. Braun Strowman, Chris Jericho, and Seth Rollins
Result: Braun Strowman, Chris Jericho, and Seth Rollins defeat New Day via pinfall.
Rating: 3.0 out of 5 stars
This match seemed like a highlight reel for Braun Strowman, who looked very impressive. His ringside attack on Big E and Kofi Kingston got a huge reaction from the crowd, bigger than anything else that happened in the match. It was a tease of what he could do during the 5-on-5 match at Survivor Series, which could be great.
Paul Heyman with Raw Executives Backstage
Heyman interrupts Stephanie McMahon and Mick Foley backstage and starts talking about being competitive. Heyman says the word around the locker room is the SmackDown roster looks pretty good.
Charlotte and Sasha Banks Backstage
Charlotte and Banks argue about Survivor Series and their Hell in a Cell match. Sasha says they still have a rematch to get to, but not yet.
Yeah, no chance these two get along.
Brian Kendrick vs. Sin Cara
Result: Brian Kendrick defeats Sin Cara via pinfall.
Rating: 2.0 out of 5 stars
It's kind of a shame that the cruiserweights have been toned down as much as they have been since the Cruiserweight Classic. This match showed every bit of this with Kendrick and Cara not doing much to get the crowd going. "Boring" chants even filled the arena.
The match wasn't bad, but the lack of interest canceled most of it out. Will 205 Live actually do anything?
Enzo and Cass with Anderson and Gallows Backstage
The two teams trade comedic barbs. Enzo and Cass then call out Anderson and Gallows for wanting to stab their Raw teammates in the back.
Goldberg and Brock Lesnar Go Face to Face
At the 10:00 p.m. ET hour of Raw, Goldberg and Lesnar would come out to the ring. However, per Mick Foley's request from earlier in the evening, a group of security guards filled the ring to divide the two men.
As Paul Heyman went to speak, Goldberg interrupted him and said it's about he and Lesnar. Heyman went on, but Goldberg cut him off again and demanded the security to leave so they can brawl. The Advocate then said how the security was there to protect his client from any attack.
Heyman kept going until Goldberg interrupted and said how Lesnar never conquered him. A few comments got made about his family, which led to the 49-year-old nearly snapping. Heyman then made an offer to him, but got cut off when Goldberg ripped his shirt off. Heyman then made comments about his family, leading to the security guards being attacked. Then the real brawl began.
The tease of fighting was great here. They didn't need to brawl with each other before Survivor Series, so fans will have greater desire to see the match. The hot crowd helped as well with the "Goldberg" chants being by far the loudest thing heard on Raw tonight.
Charlotte and Sasha Banks vs. Alicia Fox and Nia Jax
Result: Charlotte and Sasha Banks defeat Alicia Fox and Nia Jax via submission.
Rating: 2.0 out of 5 stars
A lot of fighting and miscommunication with Charlotte and Sasha Banks highlighted this. They did work together at times and resulted well, including getting the win. They'll have to keep this going at Survivor Series.
Mick Foley Backstage
Foley is backstage with the men's Team Raw for Survivor Series. He tells them to stick around for the "fireworks show" when Shane McMahon and Daniel Bryan show up.
This is going to be the main event of Raw, so hopefully, this is something worth watching. That debate is happening right after it and may mean whatever happens is going to be a cheap plug to get everyone watching on the WWE Network. A WWE debate, though? Pass.
Enzo Amore, Big Cass, Karl Anderson, and Luke Gallows vs. Golden Truth and Shining Stars
Result: Enzo Amore, Big Cass, Karl Anderson, and Luke Gallows defeat The Golden Truth and Shining Stars via pinfall.
Not much to see here other than the top two teams of this match getting a win. It won't do much for Survivor Series.
Survivor Series Summit
As Stephanie McMahon went to speak, Shane and Daniel Bryan both entered the arena. The two sides pretty much went on for about 10 minutes of debating which brand is better and who will win. Team Raw then got brought out and surround Shane and Bryan, who then bring out Team SmackDown. Kevin Owens and AJ Styles would go back and forth on the mic. Chris Jericho then put Styles on The List. James Ellsworth made his way on there too.
Bray Wyatt then called out Braun Strowman for being on the other side. It led to Randy Orton and Strowman staring each other down.
Ambrose then got on the mic and immediately started a brawl.
This was badly needed for Survivor Series; a hot a segment to get fans invested in the Team Raw vs. Team SmackDown match. The only storyline had been Team Raw not being able to get along, but this hopefully put the tensions in the background for what should be an exciting match on Sunday.
So, what did you think of the go-home episode of Raw before Survivor Series?
This article originally appeared on