WWE Raw Preview: The Kevin Owens Era Begins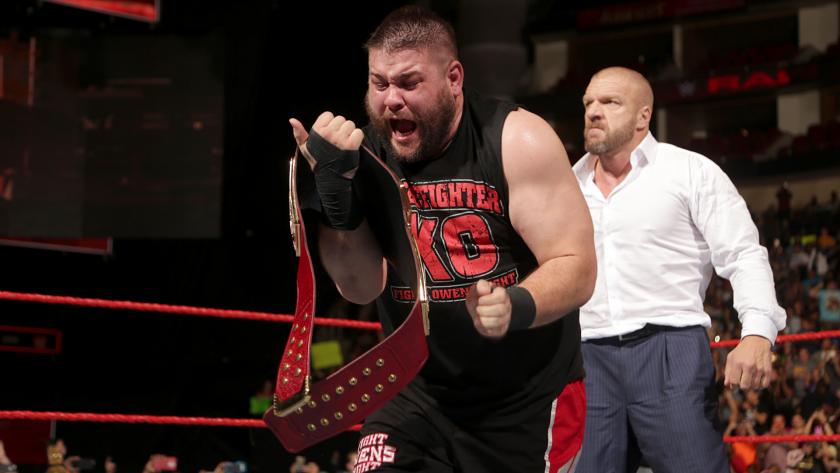 The commencement of Kevin Owens' title reign will headline WWE Raw. What else can we expect to see on the show?
Every once in a while, Raw provides those pay-per-view worthy moments you simply don't see coming. With the WWE Universal Championship on the line, we knew last week's show would be relatively important. What we didn't know was that the match would end with one of the most shocking Raw moments in years.
Triple H returned and promptly demolished Roman Reigns, leading to Seth Rollins eliminating him from the match. Then The Game shocked the world by turning on Rollins and basically handing the Universal title to Kevin Owens.  Owens is a guy who has always had what it takes to be world champion in WWE, it just wasn't clear when his time would come. Apparently, his time is now. This is all made even more shocking by the fact that it was a re-write by creative; Finn Balor was supposed to be champion and none of this would have happened.
With that said, the fallout from this match is bound to be the talking point of tonight's Raw. We'll likely see what's next for each of the match's participants, along with some other things as well. Let's get into the full preview for this week's WWE Raw.
Kevin Owens Begins His Title Reign
So many questions arose after the main event last week. Why did Triple H help Kevin Owens? Why did he betray Seth Rollins in the process? Is this the beginning of a Seth Rollins face turn? Why exactly was Big Cass even in that match?
Well, we'll probably get answers to these questions (aside from that last one) tonight. It will be interesting to see why Triple H decided to help Owens this way. Perhaps this storyline will be based somewhat in reality and he'll talk about how he brought Owens to WWE and always believed in him. If we go by that logic, of course, he would help his golden boy. But the questions obviously don't end there.
What made Triple H sour on his Authority poster boy, Seth Rollins? All betrayals happen for a reason, so tonight we should find out what's behind this one. Is it just because Rollins couldn't win the title since coming back from injury, aside from a brief period before Ambrose's cash-in? Or does Triple H simply like Owens better? Further, is this whole situation going to create a rift between him and Stephanie? After all, she obviously didn't know the interference was going to happen, so this is far from an Authority rebirth. Heck, even Owens didn't know it was going to happen.
There will be a lot of interesting fallout from last week's happenings tonight on Raw. Owens will begin his title reign, and we'll get a look at why things went down the way they did.
What's Next for Roman Reigns?
Roman Reigns' story has been an interesting one as of late. After shockingly losing the WWE World Championship at Money in the Bank and being subsequently suspended, things have gone much differently for "The Guy". Now, he's just "The Guy" that gets pinned a lot and keeps going back and forth between storylines.
Despite having never lost a singled match clean on the main roster prior to Money in the Bank, Reigns has since been pinned by Seth Rollins and Finn Balor, clean as a whistle. Then, he started what felt like a re-boot as he began a feud with Rusev over the U.S. title. But last week, he seemingly took a break from that narrative as he found himself in the world title picture yet again. It seemed like he would likely lose the match and go back to feuding with Rusev since they haven't had their championship match yet, but now things aren't as a clear.
Reigns didn't just lose the fatal-4-way. He was pedigreed by his old nemesis, Triple H. Is he supposed to just forget about that? Where exactly does Reigns go from here? There's really no singular logical next step for him. If he goes back to Rusev, he'll be disregarding the attack from Triple H. If he goes for Triple H, he'll be re-hashing a feud that was paid off at WrestleMania, and the Rusev feud would be unceremoniously dropped. The next move for Reigns will certainly be something to watch for tonight.
Will Bayley Get Her Title Shot?
On a non-last-week's-main-event note, we have Bayley who is pursuing the Women's Championship in just her first month on the roster. While her NXT pedigree should be reason enough to deserve a title shot, she's been destroying Dana Brooke over the past few weeks just for good measure.
Last week, in particular, was quite entertaining as Bayley aligned with the New Day, unwittingly creating the happiest group of all time. Inevitably, it ended with Bayley pinning Charlotte's protege for her second win in two weeks. This is all leading toward the huggable one eventually getting a shot at the Women's title. Plus, Charlotte needs an opponent for Clash of Champions where every Raw champion will be defending their title/titles. It doesn't take a genius to see that Bayley will get her shot at the PPV. The question is if it will be formally announced tonight.
No one else is even in the picture, so the notion of Bayley needing to continue proving herself is a little absurd. At a PPV where every champion has to defend their title, who else is Charlotte going to face? Renee Young? Maybe Cathy Kelley? What about Linda McMahon? Bayley will likely be in another match tonight in an effort to "earn" her title shot, but it seems fairly likely she'll be announced as Charlotte's opponent for Clash of Champions sooner rather than later.
This article originally appeared on