WWE Raw Preview: Clash of Champions Fallout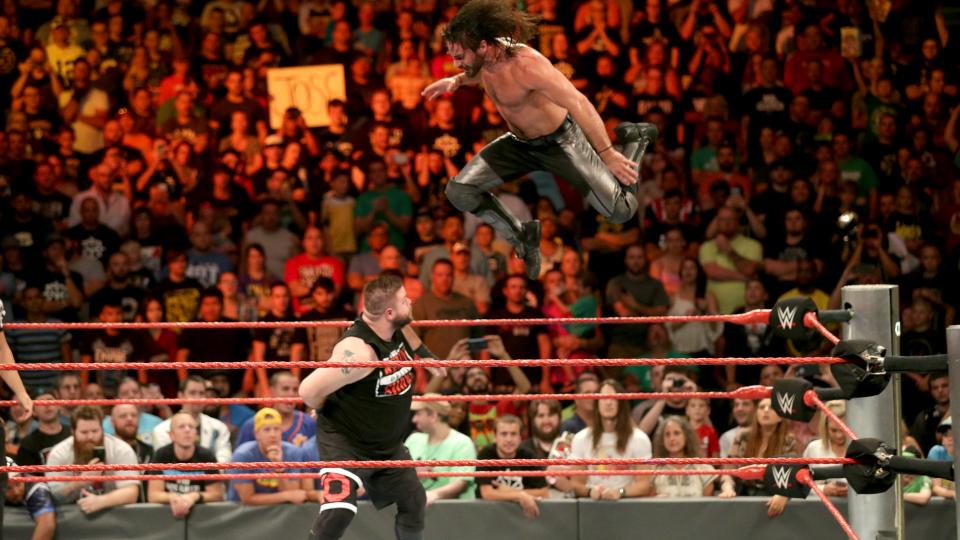 Following WWE Clash of Champions, what can we expect to see on the upcoming episode of Monday Night Raw?
WWE Clash of Champions had some big shoes to fill. After the first brand-exclusive pay-per-view of the New Era, Backlash, occurred two weeks ago for the SmackDown brand, expectations were raised. It made fans realize that with smaller rosters, these PPVs could allow matches to run a bit longer and tell better stories. Rather than rushing to fit 10-plus matches into a 3-hour time slot, things could be fleshed out a bit more, leading to more interesting and investing stories.
So how did Raw follow up a PPV like Backlash that absolutely shattered expectations? Well to sum it up, they did OK. Overall, Clash of Champions was nothing particularly special, but it wasn't bad by any means either. There was solid wrestling and continuation of storylines, but overall there wasn't anything to make it feel like anything more than just another PPV.
Monday will follow up on what was a decent brand-exclusive PPV debut for the flagship show. The most pressing matters include what's next for the holder of each of Raw's championships. There's no clear next step for any of the champions following last night's show, so Raw will certainly answer a lot of our questions in that regard. With that, let's go a little more in-depth with the most important headlines for Raw.
How Will Roman Reigns Kick Off His U.S. title Reign?
WWE is in full rebuild mode with Roman Reigns right now. Much like a sports franchise that needs to replenish their talent from the ground up, WWE is working to replenish Reigns' popularity. They allowed him to falter a bit, losing to Finn Balor thus establishing Reigns as more of a mid-card player for the time being, but the end game is clear. They want him to be in the main-event picture at some point. Apparently, the first step toward that is a U.S. title reign.
This was a reasonable time for Rusev to lose the championship. He had held the title for over 100 days and losing it to Reigns who, for the most part, is considered one of the biggest threats in WWE, doesn't hurt Rusev too much. What remains to be seen is if taking the title off the Bulgarian Brute was worth it. Will Reigns be as effective of a champion given his mixed (mostly negative) crowd reaction? One of the best things about Rusev is that although people appreciate what a great talent he is, he's a bonafide heel that people are willing to root against. If WWE continues to book Reigns as a babyface now that he's champion, that could cause fans to turn on him again, or rather continue to boo him, since he's still not great in that role.
As for the immediate future, it will be interesting to see what lies ahead for Reigns. Will he continue to feud with Rusev on the basis of an impending rematch, or will he move on to someone else? Either way, the U.S. title figures to be a prominent part of Raw in the coming weeks. Like him or not, Reigns is a big deal and him having the title does nothing but positive things for the prestige of the belt itself.
What's Next for the New Day?
Every time it looks like the New Day could lose their tag team championships, they just keep chugging along. No one can deny how great they are both in the ring and on the mic. That's why what has become a 400-day title reign hasn't really dragged along very much. They're consistently entertaining and that's why they're the longest reigning tag team champions in WWE history.
However, for anyone who felt it was time for a change, Gallows and Anderson certainly seemed like the right ones to take the straps off the ever-so-positive trio. They're really the only credible heel tag team on the Raw roster right now and with this being their third shot at the titles on a PPV, it would've made sense. Now it's unclear what's next for the New Day since the Club figures to have to move to the back of the line after so many consecutive losses.
That brings us to tonight. Who is going to step into the tag title picture and challenge the New Day? Enzo and Cass seem to be occupied with the Shining Stars at the moment. Plus, pitting the two most popular tag teams in the company against each other might make for a weird dynamic, albeit a hilarious one. Perhaps Luke Harper makes his long-awaited WWE return and teams with Braun Strowman to go after the titles? Anything can happen, and with the title picture so wide open, tonight's show will be extremely important as it relates to those titles.
What Will We See from Kevin Owens and Seth Rollins?
Kevin Owens vs Seth Rollins was a fantastic main event up until the end. With Chris Jericho coming out, a referee getting taken out, and endless distractions between Owens and Rollins, it all felt very jumbled. While having a match end in shenanigans is nothing new in WWE, this felt like overkill. On the bright side, it means the Owens vs Rollins feud is likely to continue, and Rollins will be more ticked off than ever.
Usually Rollins is the one on the winning side of these kinds of finishes. But as he progresses methodically toward a full face turn, he's becoming the one who needs to overcome the odds and defeat the cheating heel. Considering he was already mad about being robbed of the Universal title in the fatal-4-way on Raw a few weeks back, he must be absolutely seething about what happened last night. We're probably going to see some more progression of this anti-hero version of Rollins, and that's a very good thing.
There are obviously a lot of directions WWE could go with Owens vs Rollins. There could be a rematch on Raw either tonight or in a few weeks, there could be a stipulation match scheduled for the next PPV, or we could get something else entirely. Either way, tonight marks the beginning of the next chapter in the Owens vs Rollins feud, and that alone makes this Raw worth the watch.
This article originally appeared on