WWE Programming: Is Too Much Comedy Ruining the Product?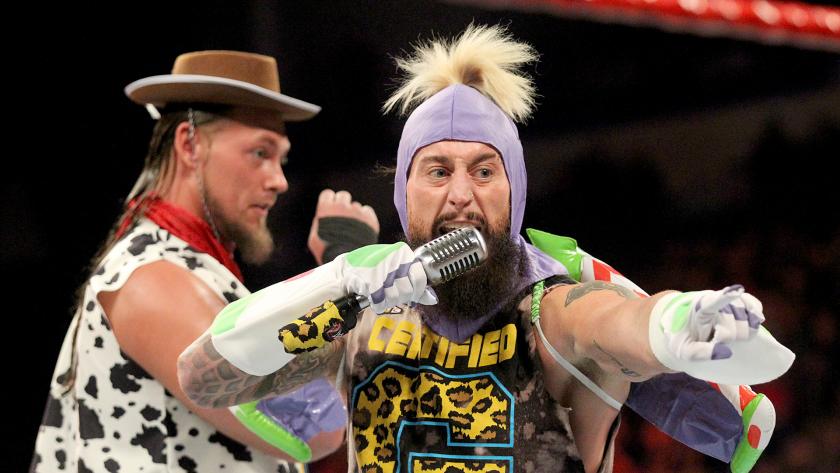 Time removed from the in-ring action and more on what's considered an attempt at comedy could be hurting the WWE viewing experience.
Remember when professional wrestling was solely about two wrestlers, or two tag teams, going into the ring to see who was the better of the two sides? This isn't meant to be a "Pepperidge Farms remembers" joke. The WWE has been known to toss in some humor here and there. Sometimes, it works out perfectly. And then there are times when you, as a fan, feel like they crossed a line somewhere about 2,000 miles back. Mae Young delivering a hand that was fathered by Mark Henry might fall somewhere in that category.
Watching WWE television recently, it seems like there are less and less serious moments. It's always been known that WWE programming has taken away more time from in-ring action to be devoted towards backstage vignettes and interview segments. In the middle of that, the company seems to be attempting more comedy.
Most people would turn on a sitcom or a stand-up comedy special if they wanted to get a good laugh. Their first thought wouldn't be to turn on Monday Night Raw or SmackDown Live to get a chock full of chuckles. WWE shouldn't try to come across as an episode of Family Guy of Friends. Although the latter could be a WWE Network option for Kevin Owens and Chris Jericho.
The problem is that it feels like there might be too much joking around when it comes to WWE programming. The entire reason many wrestling fans want to watch is for the matches. This is especially true as there has been an influx of superstars coming into the WWE. We want to see long feuds involving the likes of Cesaro, Seth Rollins, Sami Zayn and Dolph Ziggler.
While the "best buddy" storyline between Owens and Jericho have given us some fun content, it has to end at some point. There is such a thing as having too much fun. Having a "Trick or Street" match with Enzo Amore dressed up as Buzz Lightyear getting the win over Luke Gallows can take away from the amusement we would normally have watching the New Day.
When your best moments are about how hard you laughed and not how good the match was for the WWE Universal Championship, there's a problem with the product. Fans should be talking about their thoughts on Roman Reigns defending his United States Championship against Chris Jericho; not on how a pumpkin was used in the finish to a gimmick match.
It becomes too much. Not everything can be happy-go-lucky and comical. Maybe that's what's leading to the ratings falling every week. Fans are seeing a lot less time being devoted to what the wrestlers can do in the squared circle. Fans aren't getting what they really want to see and that could ultimately hurt WWE in the end when it comes to getting a new television deal.
Ratings can only fall so much before the network officials begin to think about cutting ties with WWE programming. See how TNA Wrestling fell from Spike TV, down to Destination American and now on Pop. If WWE doesn't reset their focus on what fans want, a similar fate could fall on them.
This article originally appeared on