WWE NXT: Who is the Next Big Thing in the Women's Division?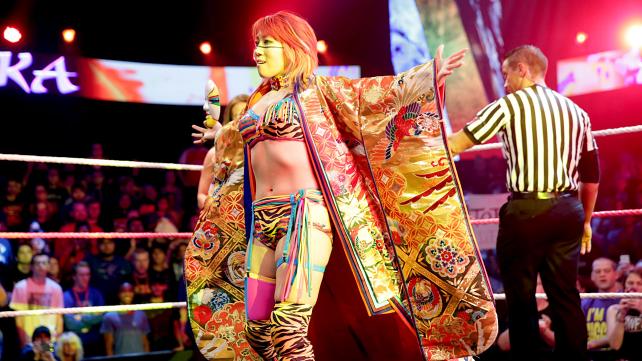 With the elevation of a number of notable talent from the NXT women's roster, it currently appears quite thin. Outside Asuka, who is a viable contender for the NXT Women's championship?
The NXT women's division right now begins and ends with one woman and one woman only, and her name is Asuka. When the recent announcement was made to have former WWE women's champion, Mickie James come in and face Asuka for the title, it said a lot about the women's division in NXT at the moment. That is, there could be concern about there not being enough quality talent to contend with the champion. Asuka's striking ability and experience really puts her on a different level.
So the promotion is in a position where they need to develop the women that are a part of the division. These women currently in the promotion haven't been built up enough yet for anyone to take them seriously as a threat for the championship. That is fine; contenders aren't made overnight, but over a period of time. When we look at the division, a number of names who aren't necessarily considered threats now are beginning to have steam built around them, in order for fans to see them as viable options to contend for the title, perhaps at the next NXT Takeover event.
Who exactly can be considered a viable option as a contender? As it stands right now, the heels that appear to be the most prominent right now are Peyton Royce and Billie Kay. Both Australian show a nasty attitude combined with their accents, and have had solid booking lately. They also have striking looks, and are very experienced have been part of the roster for some time. They are working hard to convince the audience that they are the baddest of bad girls.
The greatest challenge is elevating women that are faces as well. Forming teams of heels has worked lately, such as the tandem of Emma and Dana Brooke. Currently, there is an effort being made to make Mandy Rose the second of Eva Marie, but with a slight difference. Rose was first runner-up in the Tough Enough contest, and has been groomed to be on television as part of the NXT roster. So far, she has just put others over, but the long-term plan is to be a contender for the championship, and develop an on-screen character that fans can either love or love to hate.
There are very few faces that could be seen as a formidable threat to Asuka and her championship. One female had an amazing debut, but has rarely been seen since, and that is Ember Moon. The shorter in stature Moon had fans talking about how amazing her finishing move was, her top rope twisting stunner. The promotion of her first appearance really suggested that this was someone that could offer some semblance of a challenge for Asuka. This is exactly why there may be a conscious effort to not have both Asuka and Moon cross paths yet because this could be a feud for down the road.
Other than Ember Moon, the division consists of performers such as Liv Morgan and, more recently, Aliyah, who are still working to earn credibility. Morgan has received a great deal of television time and has been billed as this typical girl from New Jersey.
Since Bayley left NXT, there has not been a female character that all fans can rally around other than Asuka. It's a real challenge to see who will rise above the rest in order to be considered the next in line to become champion. The division is rich in talent that simply needs to be honed, and the opportunity to rise above the rest is truly there for all the women in NXT.
This article originally appeared on