WWE No Mercy 2016: AJ Styles vs. John Cena vs. Dean Ambrose Set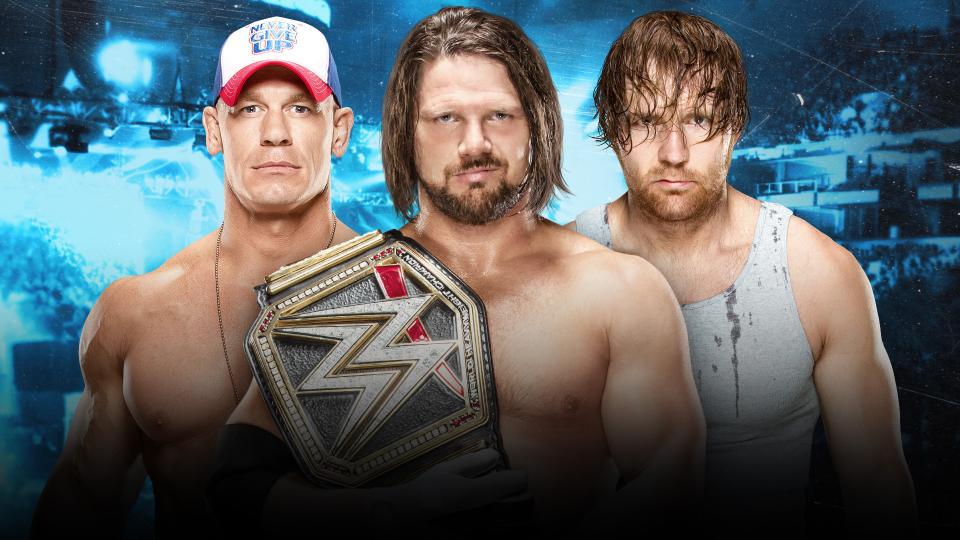 John Cena made his return to SmackDown, challenged for the WWE World Championship, and partially got his wish for No Mercy.
At WWE Backlash, AJ Styles defeated Dean Ambrose for the WWE World Championship. A rematch seemed likely, but John Cena would make his return on Tuesday's episode of SmackDown. He demanded a chance at Styles' title, and Shane McMahon would grant it to him. However, Ambrose would get the chance as well. It will be a Triple Threat at No Mercy between Styles, Ambrose, and Cena for the world title on Sunday, October 9.
It should be noted that McMahon said The Lunatic Fringe will get a rematch at some point.
Cena's last WWE TV appearance came at SummerSlam, where he lost to Styles in a non-title match. This put their feud at 2-0 in favor of Styles, who moved onto the WWE World Championship feud with Ambrose. He symbolically left his armband in the middle of the ring at the August show, but nothing much got mentioned from it on Tuesday.
For Styles, this will be his first title defense in WWE. He had two opportunities at the WWE World Heavyweight Championship during the spring, but lost both matches to Roman Reigns.
Ambrose will seemingly get two chances at the title, with this match and a future singles match.
It should be noted that Cena is going to be filming the second season of "American Grit" in mid-October, so he may not be a favorite to win this match. If he takes the fall, it would mark his latest attempt at not getting a 16th world title reign. We'll see how WWE rolls with this by next month, however.
AJ Styles vs. Dean Ambrose vs. John Cena at WWE No Mercy should be an entertaining main event, and a potential Match of the Year candidate.
More from Daily DDT
This article originally appeared on