WWE No Mercy 2016: 3 Reasons John Cena Should Win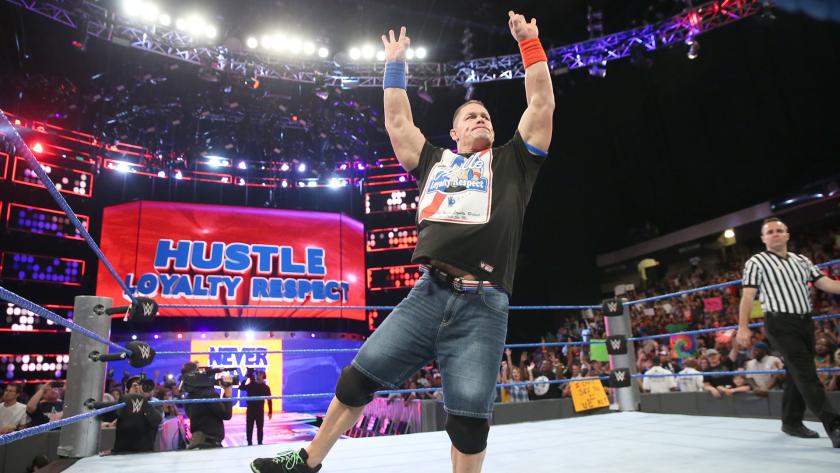 John Cena faces Dean Ambrose and current champ A.J. Styles in a Triple Threat match for the world title at WWE No Mercy. Here's why Cena should win.
After dramatically leaving his "Never Give Up" headband in the ring following a SummerSlam defeat to A.J. Styles, renowned Today co-host John Cena gave the impression we wouldn't see him in WWE for awhile.
Be it rumors of new TV projects or existing commitments to Hollywood and his personal brand, many expected Cena to temporarily step aside as Smackdown found its post-brand extension footing, leaving the stage vacated for new stars like Dean Ambrose and A.J. Styles to shine.
Sike.
Two weeks ago, Cena returned to Smackdown. That was a surprise.
The "Face that Runs the Place" came back to a thunderous and polarizing reaction. Not a surprise.
And then he did something that ventured back to the surprise column: Cena explicitly set his sights on the WWE World Championship, a perch he'd reached 15 times prior. This surprised us because it's essentially been two years since Cena occupied a serious place in the world title picture. If you recall, he was devastatingly suplexed out of the picture by Brock Lesnar.
But now Cena's back with target acquired: tying Ric Flair's all-time record of 16 world title reigns. Two of the hottest names on Smackdown stand in his way. Here's why, despite a white-hot Styles and ascendant Ambrose, John Cena should win the WWE world title when the trio clashes in a Triple Threat match at WWE No Mercy.
3. Cena Will Eventually Pass Flair Anyway
John Cena sits one win away from tying Ric Flair's record of 16 title reigns and that's his end of the narrative coming into No Mercy.
But let's be real: Cena will not retire having tied or fallen one short of Flair's record. Not at long as Vince McMahon is alive, anyway. For as undeniable an icon as Flair is, Cena will endure as the biggest McMahon acolyte in the history of Vince's hallowed legacy.
Flair spent ages in other promotions. Hulk Hogan defected to WCW and recently found himself in, well, saying the doghouse may be kind. The Rock left for Hollywood. Steve Austin had off-camera issues with management. Bret Hart will always be tied to Montreal.
Cena is the only wrestler in WWE history to reach the heights he has entirely within the company and without ever leaving or enduring a period of bad blood.
Which is to say, he's McMahon's teacher's pet and will undoubtedly get title reign No. 17 someday. So, why not just get No. 16 out of the way now? There's no need to prolong the chase for No. 16 and the tie, when the inevitable chase for No. 17 by himself will be a major, Wrestlemania-level storyline some day.
Bottom line: on the assumption we have at least two more John Cena world title reigns on the way, it's best to get at least one of them now while Cena continues to operate at a physical peak that makes him believable in the main event picture.
2. Dean Ambrose and A.J. Styles Will Be Fine
Alright, but doesn't a John Cena win immediately neuter A.J. Styles, just as The Phenomenal One finds his footing as first-time WWE champ?
That's the beauty of the Triple Threat match: the outcome can protect anyone.
Recall Seth Rollins' win at Wrestlemania 31, when the high-flying CrossFitter stole the belt from human mastodon Brock Lesnar. He did it not by beating Lesnar, but by pinning Roman Reigns in an impromptu Triple Threat match after cashing in his Money in the Bank briefcase. That outcome did nothing to diminish Lesnar's reputation as destroyer of planets, gave Rollins the strap, kept Reigns in the main event scene, and everyone left happy.
Same principle applies at No Mercy. Despite only owning the belt for a month, Styles can lose it without suffering. Have Cena pin Dean Ambrose while Styles is incapacitated in some way and you give Styles the same benefit Lesnar enjoyed. Styles never loses the match, the Triple Threat stipulation was unfair to the champ, and now A.J. has a grudge to settle and a storyline to carry for however long he needs.
Styles fashioning himself Cena's heir apparent as Smackdown's marquee name would only receive added juice if he feels he unjustly lost his belt to WWE's golden boy.
1. It Creates a SmackDown Attraction
Say John Cena wins at No Mercy and takes back the belt he's owned 15 times before. What then, if he decides to go missing for a month or two for some Hollywood project after all?
Drawing another parallel to Brock Lesnar's most recent title reign: part-time champions work. An inadvertent but pleasant byproduct of Lesnar's contract situation was that, while he was champ, the belt grew in exclusivity. Unlike recent Seth Rollins or Roman Reigns title reigns, where they'd often start and end every weekly show and you'd get sick of seeing the champ, Lesnar's sporadic appearances heightened his own importance.
Doing the same with Cena could actually be a temporary goldmine for Smackdown.
Not only do you give the belt and champion more of a special attraction feel, but you set everyone else on the show in exciting motion.
Dean Ambrose has already bristled at how Cena's nothing more than a part-timer whose lack of commitment irks him. Can you imagine where Ambrose could go with that thread if Cena took the belt on a part-time schedule?
And you thought Styles liked to whine when things didn't go his way now? Picture how brilliantly petulant The Phenomenal One would become if he a.) not only didn't factor in the decision to lose his belt, but b.) sees his most hated foe carting the belt around to award show tapings instead of WWE events. Sign us up.
The idea in drafting John Cena to Smackdown in the first place was to get the A-list panache and story possibilities that only he can bring to compete with Raw. There's no better way for Smackdown to do that than by putting the belt back on the original "Face that Runs the Place" at No Mercy.
This article originally appeared on