WWE Hell in a Cell 2016: 3 Reasons Rusev Should Defeat Roman Reigns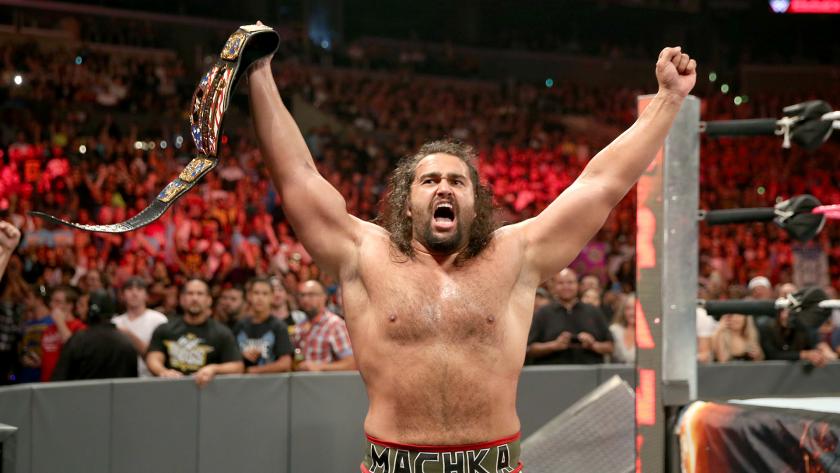 Rusev is looking to become a three-time United States Champion by defeating Roman Reigns at WWE Hell in a Cell 2016. Here are three reasons he should win.
WWE Hell in a Cell 2016 might have been considered a filler pay-per-view event at first glance. With the recent brand extension of the WWE roster, Hell in a Cell became a Raw-exclusive event that will solely focus on the Raw championship and feuds. As the name would suggest, some of the matches are going to take place inside the Hell in a Cell structure, including Rusev vs Roman Reigns.
Rusev has a lot more at stake than attempting to reclaim the WWE United States Championship. While he hopes to hold the red, white and blue belt for a third time, Rusev is at risk of falling into mid-card mediocrity if he loses to Roman Reigns Oct. 30 in Boston, Mass. It makes their encounter inside the infamous cage match extremely important for the future of Rusev.
While there is a lot of competition for attention within the match card, Rusev and Reigns have a real chance of stealing the show. Reigns is improving overall as a WWE superstar and Rusev has been a part of some quality matches during his run in the WWE.
There's already going to be a lot of attention on what happens between Seth Rollins and Kevin Owens for the WWE Universal Championship. There is also a good amount of buzz surrounding Charlotte and Sasha Banks competing in the first ever women's Hell in a Cell match.
Rusev and Roman Reigns have a good chance to being a dark horse candidate for "Match of the Night." But Reigns doesn't need to hold the United States Championship and doesn't need this win. It's just one of the main reasons Rusev should defeat Roman Reigns at WWE Hell in a Cell 2016.
xxx
3. Roman Reigns Doesn't Need Gold Right Now
It's obvious that the WWE would like to keep Roman Reigns out of the main event picture for a period of time. Their efforts over the last two years to put over Reigns have failed. The fans of the WWE Universe never wanted to accept him as the WWE World Heavyweight Championship. It felt forced and not as organic as it would have been with Dean Ambrose winning.
Fans should ultimately matter when it comes to who the main event superstars are. If we're behind certain superstars, the company should at least put them in a position to see if they can succeed. The problem with Reigns was that it felt forced down our throats. Fans didn't feel he was ready to be a main event champion back at WrestleMania 31. That may have led to the last-minute switch to Seth Rollins cashing in to take the title.
But Reigns was once again booked into the championship picture through WrestleMania season earlier this year. Fans didn't like the storyline between him and Triple H, but the WWE continued regardless of the loud criticism from the live crowds and online forums.
Reigns character needs to have the chance to develop and allow the fans to embrace him on their own. This is the big reason why right now is not the proper time to have him hold the United States Championship, or any championship in the WWE.
2. Rusev Benefits More with the United States Championship
The history of professional wrestling has seen a number of different types of gimmicks that have gone against the United States of America. Some of the biggest names in WWE have been anti-American. The list includes the Iron Shiek, Nikolai Volkoff and even Sgt. Slaughter – albeit for a very brief moment during the turn of the 1990s.
While we will likely never see another controversial character like Muhammed Hassan portrayed shortly after the events of 9/11, Rusev and Lana have proven to be very effective as heels. Lana does the necessary talking about how weak the American people have been. Rusev is able to show it through his brute strength. It has been toned down a bit after Rusev's first reign as the United States Champion ended.
But if there's one thing the WWE has done well over the years is book characters timely to current events. There have been a lot of issues surrounding the United States and Russia. This would be the perfect time for Rusev and Lana to resurrect their support for Russian president Vladimir Putin.
Rusev reclaiming the United States Championship would create a lot of attention around the WWE. While it would be rehashing an old storyline, it's one that may have been halted a little too early.
1. Rusev Cannot Afford the Loss
Rusev is definitely a talented big man who shows agility and strength that impresses fans of the WWE Universe. The problem is that it's hard to imagine what the WWE would do with him if he isn't holding the United States Championship. It's been so much a part of his overall character that it might seem weird not seeing him either challenging for or defending the title.
While many successful mid-card champions would drop the title for future plans to one day hold a heavyweight championship, things aren't really in favor for Rusev to receive that push. At least not at the moment. We can instantly rule out any chance to have Rusev face Kevin Owens for the WWE Universal Championship in the near future.
Rusev is a heel and probably wouldn't be very good as a babyface challenging Owens. The issue would be how long until Rusev would become a goofball like Vladimir Kozlov. Unless Rusev is planned for a big main event push after Hell in a Cell, it's better to keep him with the United States Championship.
The loss would place Rusev in a type of mid-card purgatory where he has to wait in the back of the line for the United States Championship and farther back of the WWE Universal Championship. It's the type of hole that might be hard for him to climb out of.
This article originally appeared on