WWE Cruiserweight Classic 2016 Review: Results, Analysis, and Grades for August 31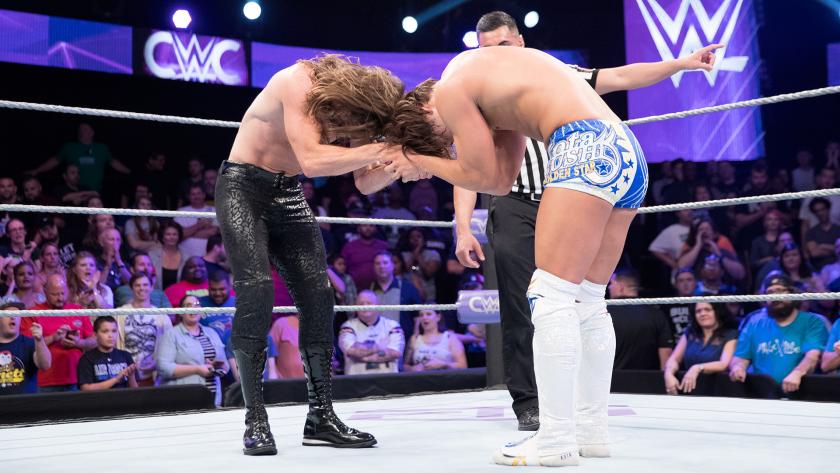 Reviewing Wednesday night's episode of the WWE Cruiserweight Classic.
The final 8 of the WWE's inaugural Cruiserweight Classic have been set.  Akira Tozawa, Kota Ibushi, Brian Kendrick, Gran Metalik, Zack Sabre Jr., Rich Swann, TJ Perkins and Noam Dar are your quarter-finalists.  After 2 rounds of action, the CWC has without question lived up to it's lofty expectations.  The matches have been top-notch, the drama has surprised, and superstars have emerged.  The WWE's Cruiserweight future is bright.
Tonight we get to see who will make it to the final four of this now prestigious tournament.  On the docket will be American Brian Kendrick versus Japan's Kota Ibushi and Mexico's Gran Metalik versus another Japan native, Akira Tozawa.  Tozawa and Ibushi have been heavy favorites ever since their inclusion to the tournament was announced but they will unquestionably have their collective hands full tonight with their opponents.
Metalik has been nothing short of breath-taking so far.  His wins over Alejandro Saez and Tajiri were two of the better matches of the first two rounds and his match up with Tozawa should continue that run.  Kendrick on the other hand, has been the surprise of the tournament.  An 18-year veteran, the 37-year-old has turned back the clock, employing a new devious side and heel edge that has carried him deep into the CWC.  Expect a slugfest between Kendrick and Ibushi.
The action kicks off with Daniel Bryan and Mauro Ranallo as your commentators.

Akira Tozawa vs Gran Metalik
Result: Gran Metalik defeats Akira Tozawa by pinfall.
Rating: 3.75 out of 5 stars
A highlight package retraces the journey so far for these 2 combatants before Tazawa and then Metalik enter Full Sail.  A handshake starts things and here we go.  This should be good.  Some grappling and reversals start things off, Tozawa seems to want to ground the high flyer. The action picks up and the two exchange beautiful arm drags before drawing stale with dropkicks.
Metalik gets the upper hand early scoring with a dropkick, a roundhouse kick, and then another dropkick, this one of the springboard variety.  A running dive to the outside and this is right up Metalik's alley.  Another springboard for Metalik, this time a cross body and Tozawa is hurting.  Metalik locks in a tight figure four on the knee Akira hurt last week but he escapes to the ropes.  A vicious kick gets Metalik a 2 count.
Metalik goes for a handspring elbow but is caught in the back with a beautifully timed dropkick.  Now is its time for Tozawa to fly to the outside and reciprocates the middle rope plancha and then does it again.  A jumping senton gets Tozawa 2 and they then trade vicious chops.  The sequence ends with Tozawa dropping his foe with a right hand.
Tozawa whips the crowd into a frenzy only to get countered with a rope-walk, springboard dropkick and then a running Shooting Star Press for a 2 count.
A springboard back elbow gets another 2 for Metalik and he goes for the Metalik Driver but Tozawa counters and after a roll through delivers a stiff running kick.  Another running kick and a Saito suplex gets Tozawa a close 2.  Tozawa riles up the crowd again only to run into a savate kick and yet another springboard dropkick.  It's back to the outside now as Metalik uses a flip over plancha that gets a huge pop, especially from Mauro Ranallo.
Metalik looks to finish with a moonsault but Tozawa's gets his feet up.  Tozawa works a superplex but Metalik counters with a highlight reel top rope hurricanrana as Tozawa stands on the middle rope.  A 2 and 3 quarters count brings the crowd to its feet and they stay there as Tozawa lands a lightning fast German suplex and then a stalling one for another near 3 count.  Tozawa goes for the package German suplex but his opponent counters with the Metalik Driver for the 1-2-3.
The match receives a standing ovation and the two embrace in the center of the ring.  Great display of sportsmanship.
Tim's Note:  Upset alert!  Tozawa has been  highly regarded as a front-runner in the CWC and to see him go down in the quarterfinals was a bit shocking.  But if he were going to lose to anyone, Metalik is a terrific option.  All 3 of his tournament matches have been outstanding so far and the guy clearly has the goods.
Hopefully, this isn't the last of Tozawa in the WWE.  The Full Sail crowd seemed firmly invested in him and his popularity may be too much to ignore .

Brian Kendrick vs Kota Ibushi
Result: Kota Ibushi defeats Brian Kendrick by pinfall.
Rating: 4.0 out of 5 stars
I love the handshakes in this tournament, such a throwback.  Kendrick and Ibushi have theirs and here we go.  Kendrick immediately goes outside and invites Ibushi out with him to which Kota doesn't bite.  Kendrick is back in and Ibushi is all over him delivering a series of strikes that send Brian back outside.  This time, Ibushi meets him there with a Golden Triangle Moonsault.
Kendrick is in trouble so he digs into his bag of tricks and hooks Ibushi's leg into the guard rail outside and hopes for a count out.  Kendrick is glorious.  Kota gets out and delivers a springboard dropkick to the American.  Ibushi delivers a series of heavy kicks to Kendrick's chest that echoes through the arena.  But Kendrick is never out of a match and he comes back with yet another original move, a neck breaker on the back of the turnbuckle.  That's the only way to describe it.
Kendrick is back after Ibushi's surgically repaired neck with a tight neck lock.  Ibushi is just too good, though.  He delivers a combo power slam and the middle rope moonsault for 2.  He tries a standing moonsault and Kendrick gets the knees up and gets a close two up with a small package.  After back and forth strike, Kendrick lands Sliced Bread for 2.
Kendrick is after the neck again and Ibushi maneuvers his opponent to the top rope, breaks free and lands a gorgeous Pele kick.  It's hard to explain the next spot but I'll try.  Kendrick is on the apron and Ibushi locks him in a German suplex hold but can't quite get the leverage.  Ibushi scales to the middle rope and drags Brian over the top for a highlight reel suplex.  Insane.
The crowd chants pretty evenly for both men, deservedly so.  It takes two tries but Kendrick locks Ibushi in a modified Bully Choke but Kota breaks free.  After another exchange, Kendrick lands the Burning Hammer right on Ibushi's neck which gets a shocking 2 count.  Ibushi regains the upper hand and goes up top for the Phoenix Splash.  He misses and Kendrick now has him in the Bully Choke.  Ibushi counters with a roll up for 2, an enzugiri, and then his patented sit out powerbomb for the victory.
After the show ended, Daniel Bryan embraced his good friend, Kendrick.
Tim's Note:  What a ridiculously good match.  Ibushi is so good.  He has this crazy blend of power, striking, and high-flying ability that is almost incomparable.   He's been a heavy favorite in this tournament since the beginning for good reason and his performance tonight proves that the hype is very real.
But let's talk about Kendrick for a minute.  Of every competitor in this tournament, no one has done more to raise their stock than him.  His new found heel character is not only working for him, but how innovative he is with it is a breath of fresh air.  The WWE would be insane not to bring Kendrick back full time and if the crowd had any say in the matter, it would happen.
These guys played their character's so perfectly tonight.  Kendrick, the dirty heel playing at a physical disadvantage and Ibushi, nailed the high prospect ceiling in spades.  It's matches like this that are slowly but surely making the CWC one of the best tournaments in the company's history.
This article originally appeared on