WWE Clash of Champions 2016: Roman Reigns vs. Rusev Set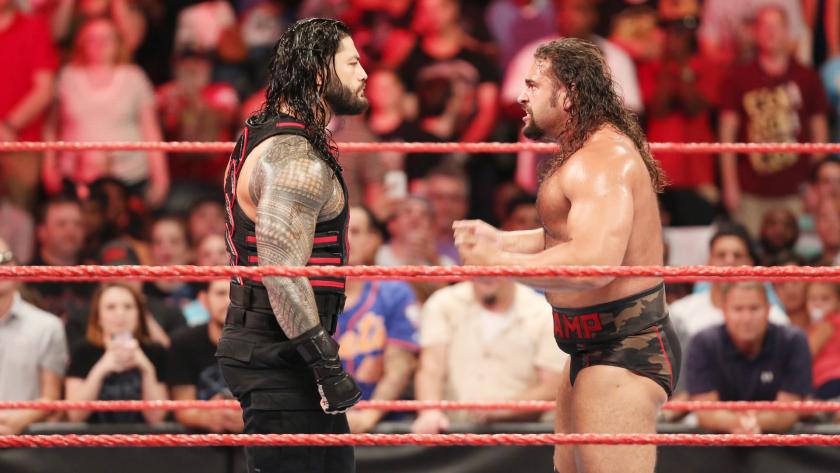 Roman Reigns will get another shot at the U.S. Title when he faces Rusev at this Sunday's Clash of Champions PPV.
Last week's Monday Night Raw had both Seth Rollins and the United States Champion Rusev help to screw Roman Reigns out of a Universal Championship match against Kevin Owens. Reigns won't have to wait long to get payback against one of those guys, as tonight Mick Foley confirmed he'll battle Rusev at Clash of Champions for the United States Championship. And this time, their match will be in a steel cage.
Reigns had been pretty pissed off all day, promising that he'd hijack Raw until he got some answers from Mick Foley and Stephanie McMahon, and that's exactly what he got. This is a continuation of the feud between Reigns and Rusev, which began in the weeks leading up to SummerSlam. Their match at the summer's biggest event never got off the blocks, ending in a brawl and a no contest.
From there it's been put on hold while Rusev and Lana celebrated their wedding, while Reigns pursued the newly-formed Global Championship.  Reigns was screwed over there, as well, when Triple H got involved. That beef is far from over, and if you think Triple H can't break through a steel cage to screw Reigns again then you might want to check the WWE Network archives.
Placing Reigns firmly in the U.S. Title hunt is an interesting move by WWE. With fans still openly hostile against "The Guy", it places him against an undeniable heel while keeping him out of the World Title picture. At least for now. We all know eventually Reigns will be back on top, but WWE clearly want him to get there as a face, and beating someone like Rusev could be the way to achieve that.
This article originally appeared on