WWE Clash of Champions 2016: Preview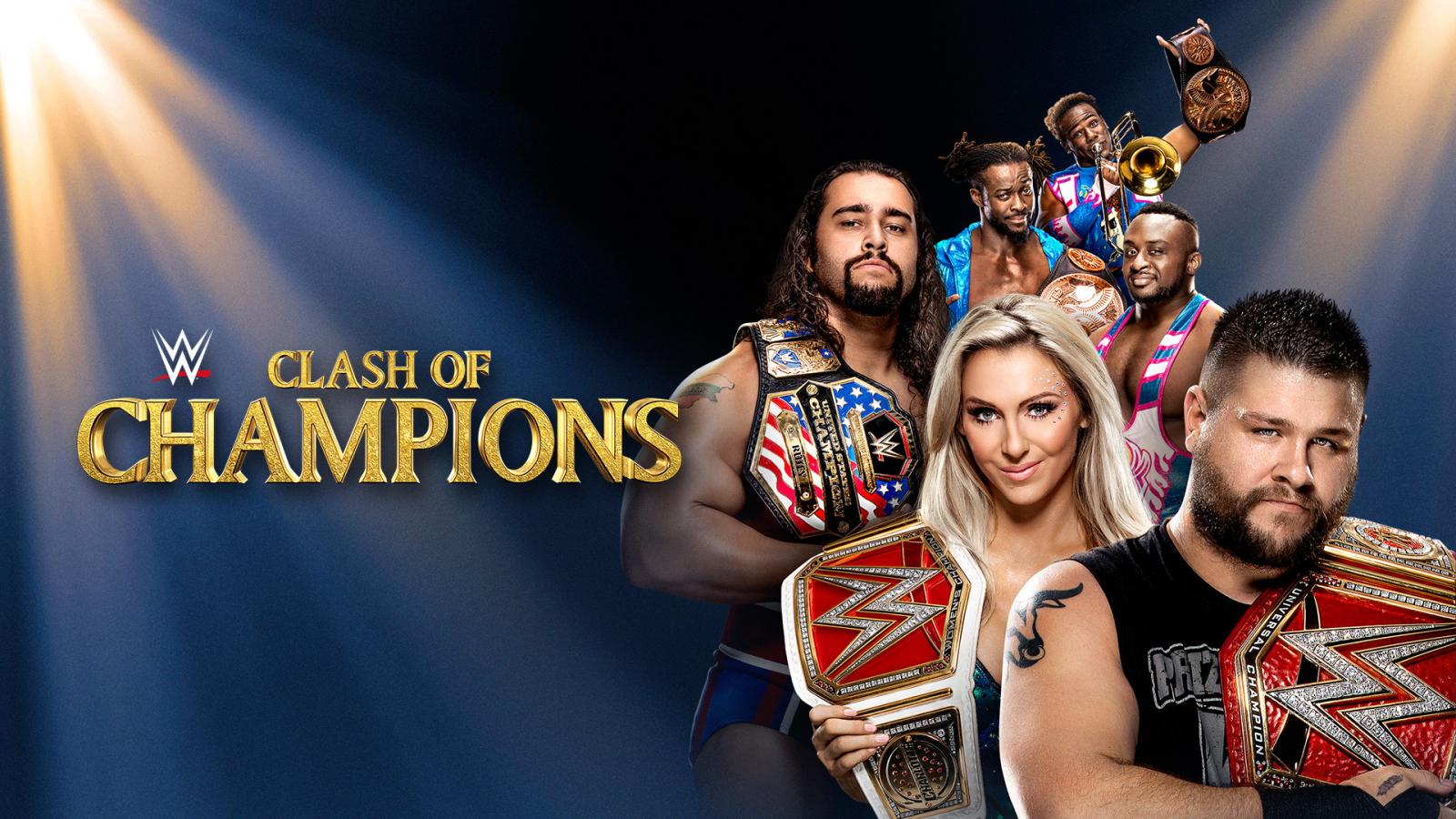 WWE Clash of Champions is the first Raw exclusive pay per view in nearly a decade. With every championship for the brand on the line, the course of the show can change in an instant.
On Sunday, September 25, WWE and Raw present Clash of Champions. Taking place live from Indianapolis, Clash of Champions is an interesting mix of two former long running series of wrestling events.
For the past several years, WWE held a "Night of Champions" pay per view, most often in September. The defining characteristic of Night of Champions was that every championship in the company would be defended. This would ensure the best possible competition each year. With Clash of Champions this year, every title on the Raw brand is up for grabs.
Of course, the name for this year's event comes from Clash of the Champions. It was a semi-regular event held by the NWA and, mainly, WCW between 1988 and 1997. In all, WCW produced 35 supercards under the Clash of the Champions banner. Despite airing on TBS for free, many of the Clash of the Champions specials were of a pay per view caliber – the first two events even aired opposite WrestleMania.
As WWE's "New Era" continues to take its cues from the company's rich history, Clash of Champions promises a night of high intensity action. With five championship matches scheduled, everything that has defined Raw since the draft could change. In addition, a sixth match has major championship implications, as well.
In all, seven matches are currently scheduled for the main show, and one on the kick off show. As Raw gets its first brand exclusive pay per view in roughly a decade, can they match SmackDown's success with Backlash earlier in the month?
Please continue reading to find out everything that's scheduled for WWE Clash of Champions on Sunday.
Kick Off Show: Nia Jax vs. Alicia Fox
Since being drafted to Raw, Nia Jax has spent her Monday nights making short work of her opponents. Most made their first appearance with WWE when they encountered Jax, and none have been seen again.
Several weeks ago, Jax defeated Ann Esposito, one of Alicia Fox's best friends. Following the match, Jax and Fox argued backstage, and they would be placed in an official match the following week.
That match was the first one in which Jax did not emerge victorious, though she didn't lose, either. Instead, the match was a no contest, ending after Fox took a brutal spear through the barricade at ringside. Such viciousness is rarely seen in the WWE Women's Division.
Credit to Alicia, she has not backed down from the challenge. She's got a rematch on the kick off show for Clash of Champions against Jax. Will she fare any better on the second go?
Chris Jericho vs. Sami Zayn
For many weeks, Chris Jericho and WWE Universal Champion Kevin Owens have formed a close relationship. They refer to each other as their "best friend," and spend most of their time making fun of Tom Phillips and others.
If there's anyone who knows about being Kevin Owens' best friend, it's Sami Zayn. Owens and Zayn spent many well-documented years as the best of friends, but now they are the most bitter of enemies. With Jericho so closely associated with Owens, he and Zayn have gotten on each others' nerves lately.
Zayn supposedly ended his rivalry with Owens back at Battleground, but now that KO is Universal Champion, he seems to have the upper hand. During an episode of the Highlight Reel, Zayn tried to convince Jericho that KO had surpassed him as well, but caught a cell phone to the face for his troubles.
With Mick Foley making the match for these two to settle their score, who will emerge victorious as Kevin Owens' Best "Best Friend"?
Cesaro vs. Sheamus, Best of Seven Series (Match Seven)
Following the brand extension draft, Cesaro and Sheamus both expressed displeasure at being drafted to Raw. They channeled that frustration into beating up on each other to try and prove they deserved consideration for a championship match.
Cesaro was able to defeat the Celtic Warrior not once, but twice. Just before SummerSlam, Mick Foley announced that the two would face off in a best of seven series of matches, so no fluke could determine the victor.
With a "championship opportunity" at stake, Sheamus got off to a quick start, winning the first three matches. Worse for the Swiss Superman, Sheamus also looked to injure an already battered Cesaro. Dealing with a weak shoulder is one thing, but a bad back makes it incredibly hard to compete.
Improbably, Cesaro began to mount a comeback. He won a match on the European tour to get on the board, and has won the past two weeks on Raw to even the series at three matches apiece.
Foley decreed that the final encounter between the two bruisers will take place at Clash of Champions. It's fitting, since the winner will earn a championship opportunity of some sort.
Who will dig down the deepest to find something in the tank for this final confrontation?
WWE Cruiserweight Championship Match: TJ Perkins (c) vs. Brian Kendrick
Over the summer, WWE aired a tournament dubbed the Cruiserweight Classic. Thirty two men from all over the world who weigh less than 205 pounds fought to be crowned the victor.
During the tournament, it was announced that the Cruiserweight Division would be heading to Raw after the draft, and after the conclusion of the tournament. In the finals, TJ Perkins defeated Gran Metalik, and became the new WWE Cruiserweight Champion in the process.
The Cruiserweights finally debuted this past Monday on Raw, with four of the CWC's top stars competing in a fatal four way match. It was announced ahead of time that the winner would meet Perkins at Clash of Champions in a title match.
Metalik, Rich Swann, and Cedric Alexander put up a good fight, but it was wily veteran (The) Brian Kendrick who came out on top. The former WWE Champion Kendrick has experienced a career renaissance since the CWC, and winning the Cruiserweight Championship would be icing on the cake.
Perkins won't just lie down, though, so this match will be fast paced and full of high energy. Who will leave Indianapolis as Cruiserweight Champion?
WWE Tag Team Championship Match: New Day (Big E, Kofi Kingston, Xavier Woods) (c) vs. Luke Gallows and Karl Anderson
The New Day have been WWE Tag Team Champions for well over one year now. Any and all challengers to the titles have been turned away amidst trombone serenades, cereal plugs, and booty shaking.
Enter Gallows and Anderson. The standouts from New Japan were the most recent team to attempt to dethrone the champions, but were unsuccessful. They even tried a divide and conquer approach by taking out Big E. No luck, though, as Kofi and Woods were able to retain at SummerSlam.
In the weeks since, Gallows and Anderson subjected the WWE Universe to possibly the worst segment of the past decade, as "The Old Day" came down to the ring. After "retiring" The Dudley Boyz, Gallows and Anderson looked to mock the New Day, but it came off tasteless and flat.
In actual in-ring competition, though, Gallows and Anderson have held a recent advantage in non-title competition. If that pattern holds true, Gallows and Anderson may be the team that finally wrests the gold away from New Day.
With jokes being put aside for the time being, this match is shaping up to be all serious. No funny business could spell trouble for New Day, as the former IWGP Tag Team Champions look to add WWE gold to their resume.
Will Gallows and Anderson finally get the championships away from New Day?
WWE United States Championship Match: Rusev (c) vs. Roman Reigns
When the dust from the draft had settled, Rusev was the only male competitor on Raw holding a singles title. Dean Ambrose and the WWE Championship ended up on SmackDown, as did Intercontinental Champion The Miz. The Bulgarian Brute took the opportunity to proclaim himself the greatest champion on Raw.
Rusev has also had issues with Roman Reigns for months now. The Big Dog interrupted a wonderful wedding ceremony between Lana and Rusev, raising the ire of the newlyweds. A non-title match ended in a Reigns victory, but the title match at SummerSlam was a no contest. Rather than compete officially, Rusev and Reigns just brawled before the bell.
Following his seeming failure to capture the United States Championship, Reigns set his sights on the Universal Championship. Given a match against Kevin Owens, Reigns had the opportunity to add himself to the championship match between Seth Rollins and Owens – all he had to do was win.
Interference from Rollins looked like it would keep Reigns out of the match, but Mick Foley restarted the match. This time, Rusev appeared to cost Reigns his Universal Championship opportunity – then he assaulted Reigns after the match.
Because Raw is contractually obligated to keep dishing out title matches to Roman Reigns, he gets his chance for revenge against Rusev. Not only is it a rematch from the non-existent SummerSlam match, but it gives Roman yet another chance to win a championship.
What will happen at Clash of Champions when Reigns gets another chance at singles gold?
WWE Women's Championship Match: Charlotte (c) vs. Sasha Banks vs. Bayley
While maybe not the original plan, three of the Four Horsewomen will compete at Clash of Champions for the WWE Women's Championship. Charlotte is set to defend the championship against perennial rival Sasha Banks and Raw rookie Bayley.
The history between these superstars dates back several years to their time between the yellow ropes in NXT. All three were NXT Women's Champions at one time or another. With all being elevated to Raw over the past year or so, the intensity of their encounters should grow exponentially.
It initially appeared that this would be a singles match between Banks and Charlotte. After all, Sasha lost the title back to Charlotte at SummerSlam and was likely due a rematch. Before that became official, she needed to win a triple threat match against Bayley and Dana Brooke.
While announced as the winner of that match, Sasha actually had her own shoulders down while pinning Bayley. Dana Brooke pointed this out to Mick Foley in an effort to get the championship match herself, but the General Manager added Bayley to the encounter at Clash of Champions instead.
After Charlotte tried to not only beat Sasha at SummerSlam, but seriously injure her and end her career, The Boss is out for revenge. The champion wants to retain the title at any cost. And the Huggable One is looking to make a huge impact early in her Raw career.
Something has to give on Sunday, with one of these gifted superstars outlasting the other two. Who leaves Indianapolis as the WWE Women's Champion?
WWE Universal Championship Match: Kevin Owens (c) vs. Seth Rollins
At Clash of Champions, Kevin Owens defends the Universal Championship for the first time. His opponent is Seth Rollins, who is 0-2 in attempts at winning the top prize on Raw.
Rollins felt he should be the hand-picked superstar to hold the Universal Championship when the title was announced. However, he needed to defeat Finn Balor at SummerSlam to earn the championship.
And he failed.
But when Balor was forced to relinquish the championship due to injury, Rollins got another shot. He earned his way into a fatal four way match for the title with Owens, Roman Reigns, and Big Cass. The appearance of Triple H near the end of the match seemed to signal a Rollins victory. The Architect was long The Game's protege, after all.
But Triple H shocked everyone by attacking Rollins, incapacitating him with a Pedigree and allowing Owens to win the match.
Mick Foley, who was upset at the interference of Triple H, granted Rollins a rematch against Owens. Stephanie McMahon, who initially wanted Rollins suspended indefinitely, begrudgingly agreed, because she claims not to know what her husband is up to.
Owens has expressed frustration at how Foley is treating him as champion, and is out to prove he can hold the title without anyone's help. But we still don't know what Triple H's motivations are. He hasn't been seen since Owens had his arm raised in victory.
With Rollins looking to avenge his status as a cast off from the former Authority, he's out for blood. Will that be enough to propel him to victory at Clash of Champions?
Don't miss Clash of Champions this Sunday, and follow Daily DDT on Twitter to keep up with the action!
This article originally appeared on