WWE Clash of Champions 2016: 3 Worst Moments
What were the worst moments from Clash of Champions?
Clash of Champions was the first exclusively RAW-Branded pay-per-view since the brand split. With the SD Live effort Backlash being a tremendous show, RAW would really need to bring the A-game to keep up with their Tuesday night counterparts.
They… kind of did?
Some of the action on the night was tremendous. The women's match was a hard-hitting affair. The Cruiserweight Championship was defended in a tremendous contest. All five of these competitors came out looking great, especially the retaining champions TJ Perkins & Charlotte.
Other matches on the card were mired by terrible finishes. The Universal Championship was one example where the finish fell flat. The interference by Chris Jericho, the lack of a Triple H appearance, and the length of time that ref was down after the bump all made for a strange finish to a good match. Seth Rollins was having another tremendous main event, and Kevin Owens was stealing the show in the role of champion. Instead, we're left with a sour taste in our mouth to end the show.
There were other matches that failed to meet expectations for one reason or another, and that's why we're here. If you want the best moments of the show (and there were some) check them out here. Without further ado, here are the three worst moments from Clash of Champions 2016.
3. Another Day, A Weird New Day
A side note: if you read any of my articles before, you know how much I love New Day.
In one of the biggest surprises of the night, the New Day managed to retain their WWE Tag Team Championships against Karl Anderson and Luke Gallows. The New Day will get to see the 400th day of their tag title reign. It seemed like a loss was in the cards for the champs which would potentially lead to a much-needed dose of character development.
Remember when New Day were heels, and on an episode of SmackDown, they dragged Dolph Ziggler out after laying him out? That was the last time we really saw a definitive edge from the tag team champs.
The title change could have been the catalyst for the change. Having Kofi, Big E & Xavier chase the gold again instead of holding onto it could've made for a good character change. The Club would have also benefited, finally legitimizing them in the eyes of the WWE audience after all of their success over in Japan.
Instead, now the division stays the same. Who become the new challengers to New Day? Are the Shining Stars ready for this spot? Or do Enzo & Cass go up against the New Day in an all-face matchup?
On that note… are the New Day heels? Faces don't cheat this much and this consistently. As much as the New Day got over to a point where they needed a face run, it's starting to feel more like their initial schtick. Might be time to let them go back to insulting the cities they're in and gyrating to tainted victories.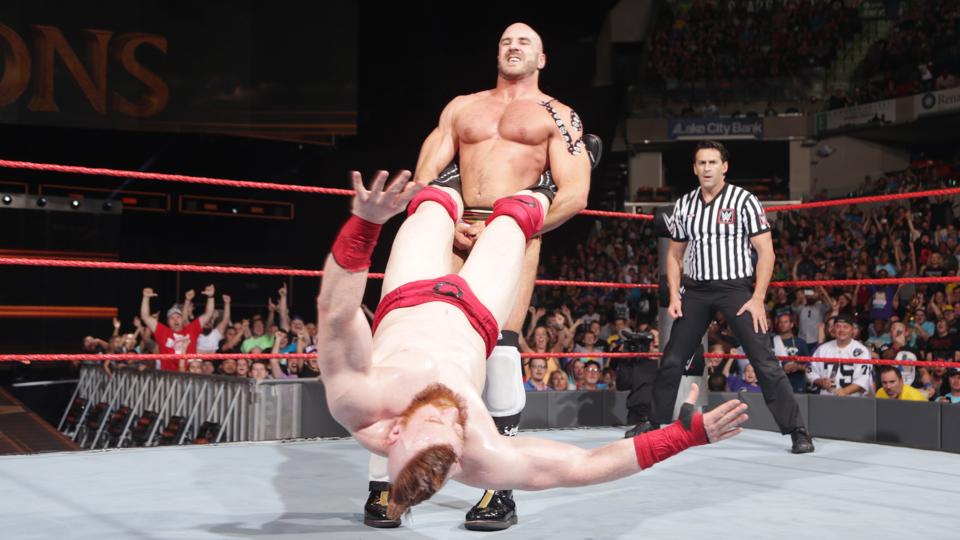 2. Will It Ever End?
Fellow DailyDDT Contributor Joshua Gagnon put it best after the non-decision finish off the seventh and supposedly final match between Sheamus and Cesaro:
It feels like WWE is building toward another match between them to keep the suspense up, but wasn't that the whole point of the best-of-seven stipulation? Between Sheamus starting the series out so hot, and Cesaro even resorting to underhanded tactics, the series has been better than anyone would have imagined.
The worst part of the non-finish, which saw the two men not able to answer a ten count and end up physically destroyed, was that this was their best match of the series. Cesaro whipped out a 619. Both men were physically impressive and totally spent.
WWE should have ended this series here. At least have Cesaro gut out a count out victory by rolling in the ring as the count reaches 10.
Now this "feud" continues when one could've been moved up to a next level. Both men have earned shots at a higher level competition, and Cesaro could make for a great foil for current Universal Champion Kevin Owens. Instead, these two are probably destined for a match on Monday, or even worse, waiting until Hell in a Cell.
WWE will have to do booking gymnastics to solve this problem of keeping both men hot and finding a definitive winner.
1. The Reigns Keep Coming
Oh, Vince McMahon. Your love of Roman Reigns the valiant face is admirable at this point.
When Roman Reigns suffered his wellness policy violation, it seemed like his demotion would  be a long-term thing. He was no longer presented as the top dog in the promotion. That did not last long.
He still has been mixing it up with the main event level talent, squaring off against Kevin Owens and battling for the Universal Championship. When it was announced he'd be resuming his feud with Rusev, many felt this was a great way to get the Bulgarian Brute over as the dominating heel mid-card champion he once was.
Instead, Reigns now is a Triple Crown champion and has ended a promising run from Rusev. The crowd in Indianapolis didn't seem to want it, and the internet definitely didn't want to do it either.
Where does Rusev go from here, after he predictably loses his rematch? Did Roman Reigns need to be given a title win so quickly after losing the WWE World Heavyweight Championship? My guess is no, but Vince McMahon will get what Vince McMahon wants.
Those were my three worst moments from Clash of Champions, but I'm sure you didn't like some either. Know how I know that? It's the internet. With that, chime in below with your least favourite moments of Clash of Champions 2016.
This article originally appeared on