WWE Backlash 2016: American Alpha to face Rhyno and Heath Slater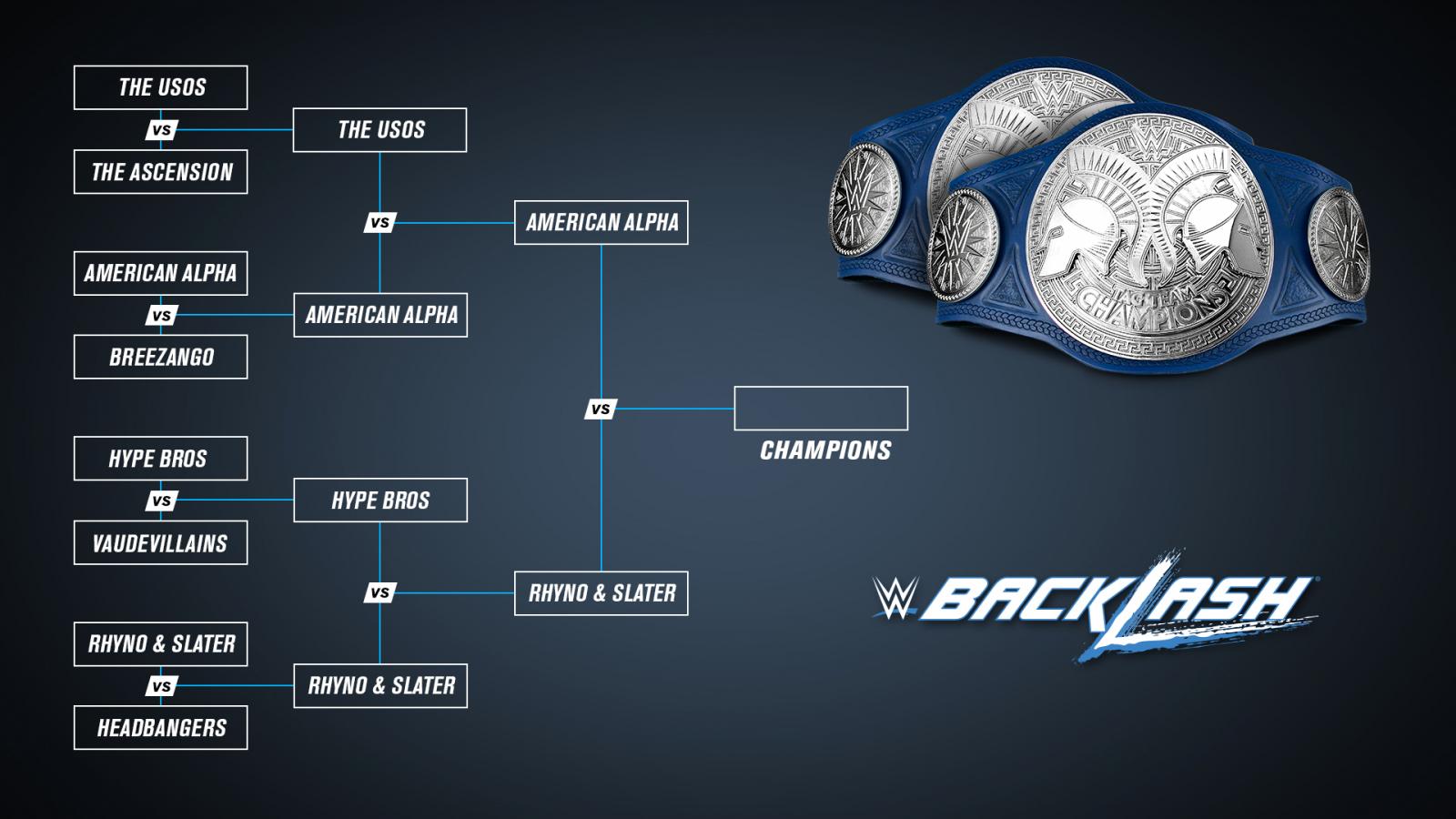 During the go-home episode of SmackDown before WWE Backlash, the final match of the tag title tournament got created.
Following WWE SummerSlam, SmackDown announced they were getting their own tag titles, known as the "SmackDown Tag Team Championship". A tournament would be set up for this, culminating at the WWE Backlash pay-per-view on Sunday, September 11.
On the September 6 episode of SmackDown, the semi-finals of the tag title tournament took place. The first match saw American Alpha defeat The Usos in less than one minute to advance. Then, Rhyno and Heath Slater took down The Hype Bros to secure the other spot in the match. They will face off at Backlash for the new belts.
As for Chad Gable and Jason Jordan, they were put into an injury storyline for this match. Following their victory, The Usos turned on them, superkicking Jordan in the face and attacking the left leg of Gable's. Renee Young would state during SmackDown that the former Olympian's status for Backlash is questionable.
Besides this, since coming to the main roster in July, Gable and Jordan have proved to arguably be SmackDown's best tag team. Their work and popularity have translated from NXT to WWE, and should lead to an eventual tag title reign. Whether that happens on Sunday or down the line, remains to be seen.
Slater and Rhyno joined forces before the tag tournament began. The One Man Band got told by Shane McMahon and Daniel Bryan that if he wins the tag titles at Backlash, he'll get a contract on SmackDown. So, all he has is one more match to win.
Rhyno recently returned to the main roster full-time, despite his ongoing political campaign in Michigan. He'll go for his first title in WWE in over a decade.
We'll see on Sunday which tag team prevails to become the first SmackDown Tag Team Champions.
This article originally appeared on